Lot 248, Isabella II, Queen of Spain single-row natural pearl necklace, circa 1850. Estimate £30,000 - £40,000 ($56,100 - $74,800). Price Realized £39,435 ($73,743). Photo Christie's Image Ltd 2004.
Comprising ninety-four graduated pearls measuring 5.9 to 9.2 mm. diameter, circa 1850, 78.0 cm. long
Accompanied by report No. 974992 dated 2 April 2004 from the Precious Stone Laboratory, London, stating that the pearls were found to be natural
Provenance: Isabella II, Queen of Spain (1830-1904)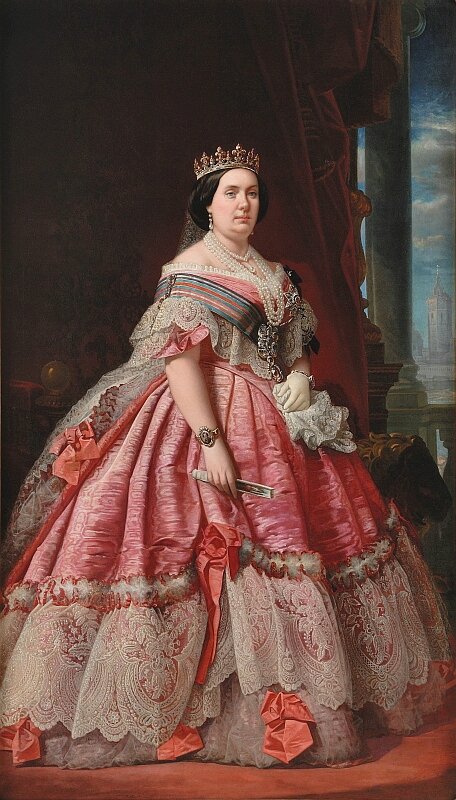 Isabella II, Queen of Spain (1830-1904)
Notes: Isabella II of Spain (1830-1904) was the eldest daughter of Ferdinand VII, King of Spain, and his fourth wife, Maria Christina. Her life and reign were dominated by continual political upheavals and her personal life too was full of intrigue. Although proclaimed Queen at the age of three on the death of her father in 1833, she was not officially crowned until 1843. This was following the regency of her mother, a seven year battle by her uncle Don Carlos pretending to the throne, and a further 2 years' regency of Esperato, the army general. At the age of sixteen she was forced into a political marriage with her cousin, and despite his rumoured impotence, bore twelve children. Her constant and unscrupulous interference in politics led to her exile in 1868, and finally an enforced abdication in Paris on 25th June 1870 in favour of her son, Alfonso XII. As a result of her continual political meddling, Isabella was forbidden from returning to her homeland and died abroad in April 1904.
CHRISTIE'S. IMPORTANT JEWELLERY, 24 November 2004, London, King Street