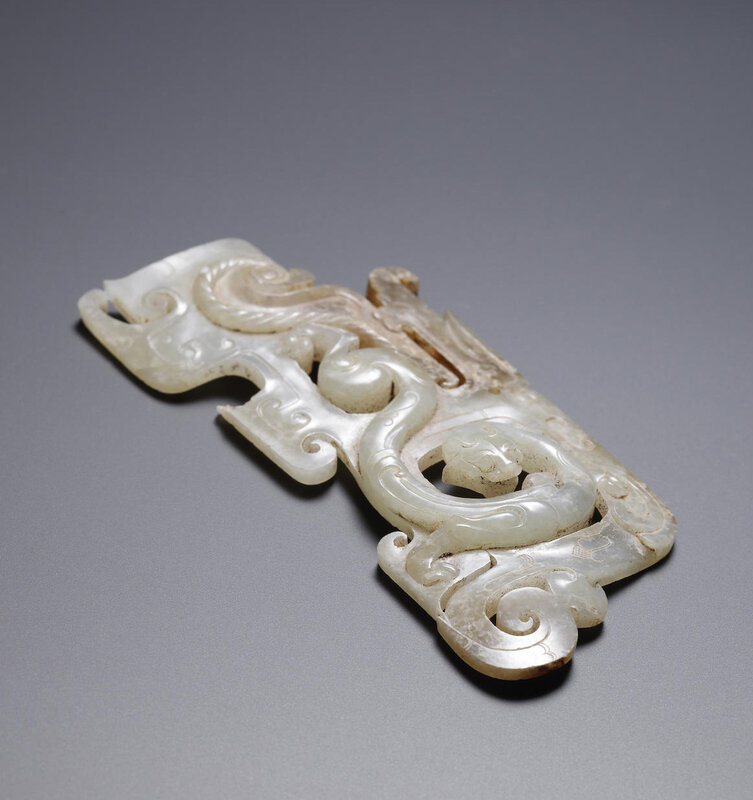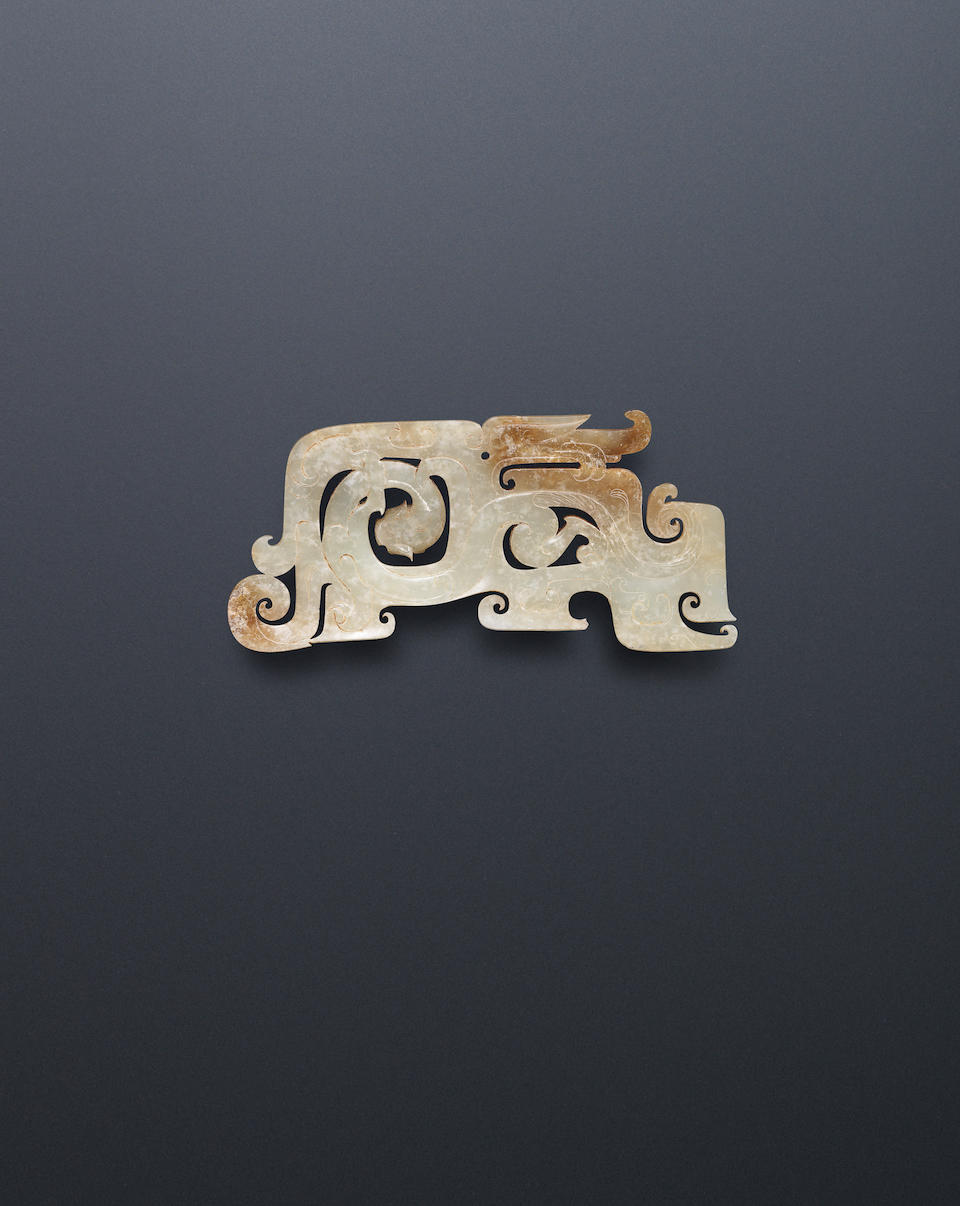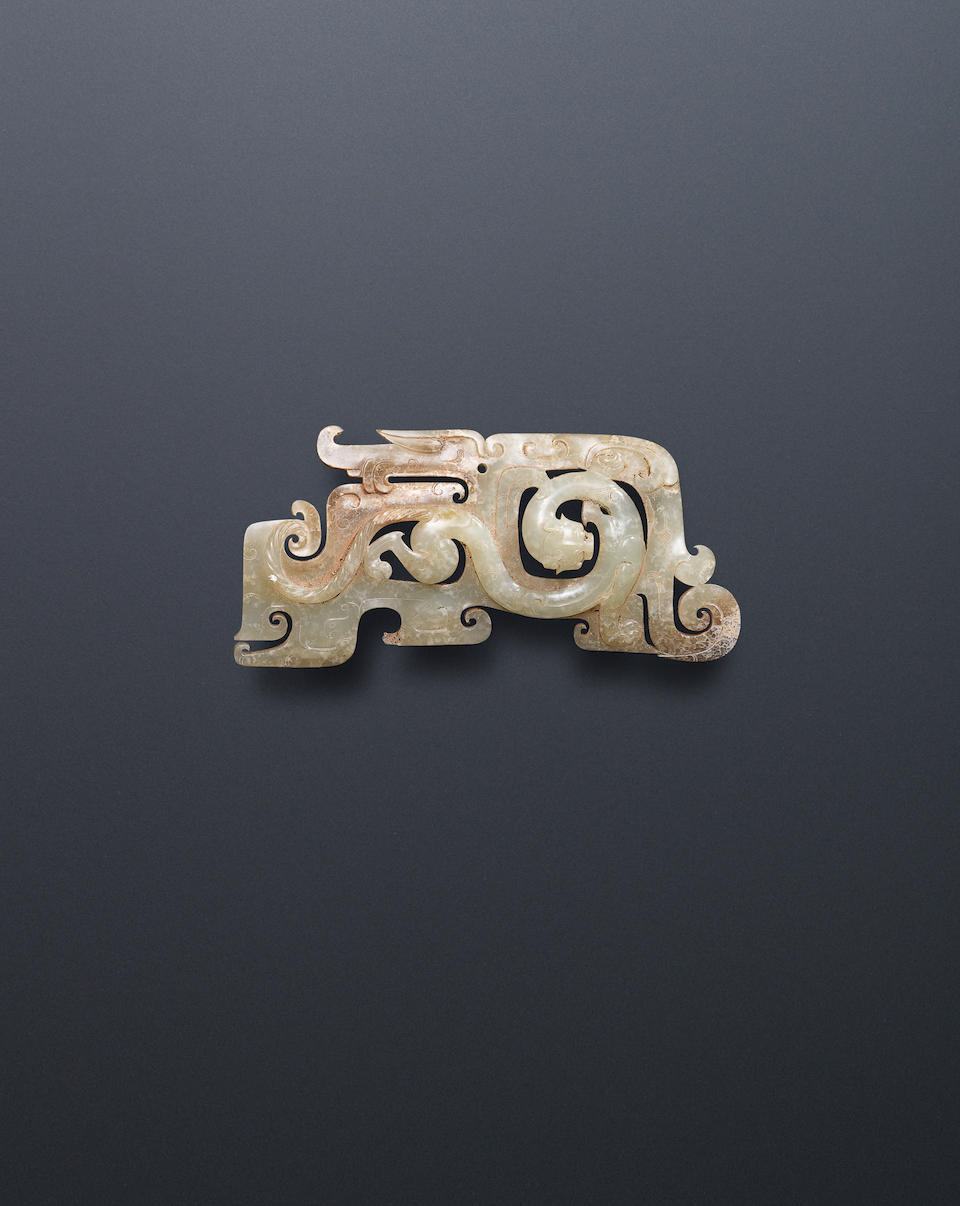 Lot 21. A very rare grey jade 'chi' dragon openwork plaque, Warring States Period-Han Dynasty (475 BC–220 AD); 10.9cm (4 1/4in) long. Estimate HK$ 500,000 - 600,000 (€58,000 - 69,000). Sold for HK$ 1,720,000 (€ 204,033). Photo: Bonhams.
Deeply carved in openwork with a twisted chi dragon clambering amidst asymmetric archaistic scrolls incised with ruyi-head and geometric designs, the greyish stone with russet and speckled inclusions.
Note: From the end of the Warring States period to the Han dynasty, the scale and quality of jade production reached an unprecedented level. Many historians and connoisseurs regard it as China's first high point in the development and art of jade. Carvings from this period typically possess a combination of intricacy in detail and boldness of design, enabled greatly by technological improvements with bronze implements and tools. Stylistically, designs and compositions often included long sinuous creatures in openwork with ornate surface decoration of linked scrolls. The present lot is an excellent example of this. Furthermore, its remarkable asymmetrical ground of scrolls diverts from the orchestrated symmetry of earlier carvings and imparts a greater sense of movement and dynamic rhythm.

The chi dragon depicted on the present plaque appears strikingly feline in its elegantly striding body and long swaying tail. Scholars argue that such 'S'-shaped cat-like dragons derive from feline motifs on Central and Western Asian objects, see J.Rawson, Chinese Jade from the Neolithic to the Qing, London, 1996, pp.67 and 310. It is evident however that jade carvers elaborated such 'Western motifs' in new ways and effectively strengthened these feline images to appear more dragon-like in nature. The current plaque is an excellent example of this with scrolling wings and curved bifurcated limbs.

Compare a jade sword fitting with dragon and phoenix design, Han dynasty, in the Palace Museum, Beijing, illustrated in Compendium of Collections in the Palace Museum: Jade 4, Beijing, 2011, p.77, no.63; see another jade plaque with chi dragon motif carved in relief, illustrated in ibid., p.170, no.218.
Bonhams. THE SZE YUAN TANG COLLECTION OF CHINESE JADES, Hong Kong, 5 April 2016