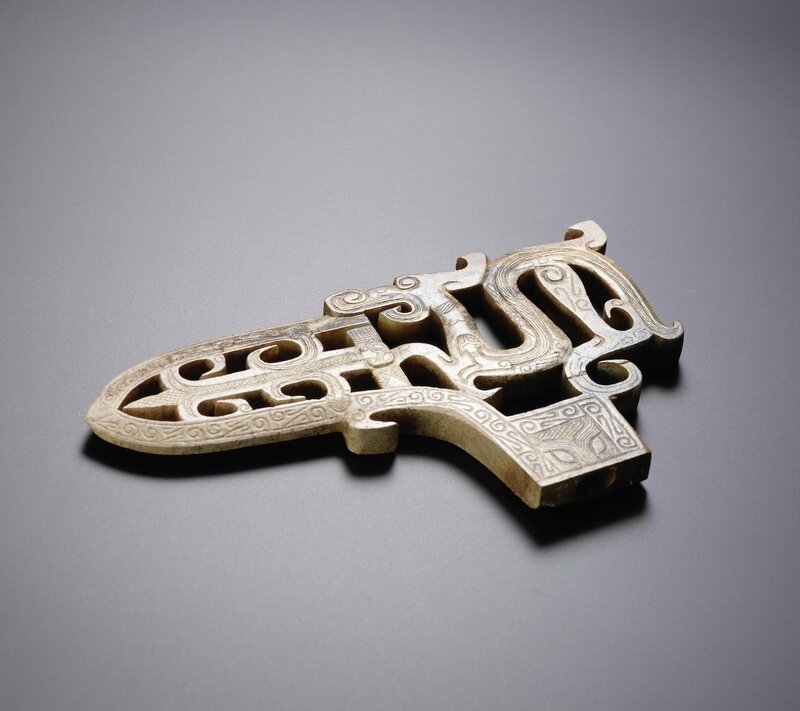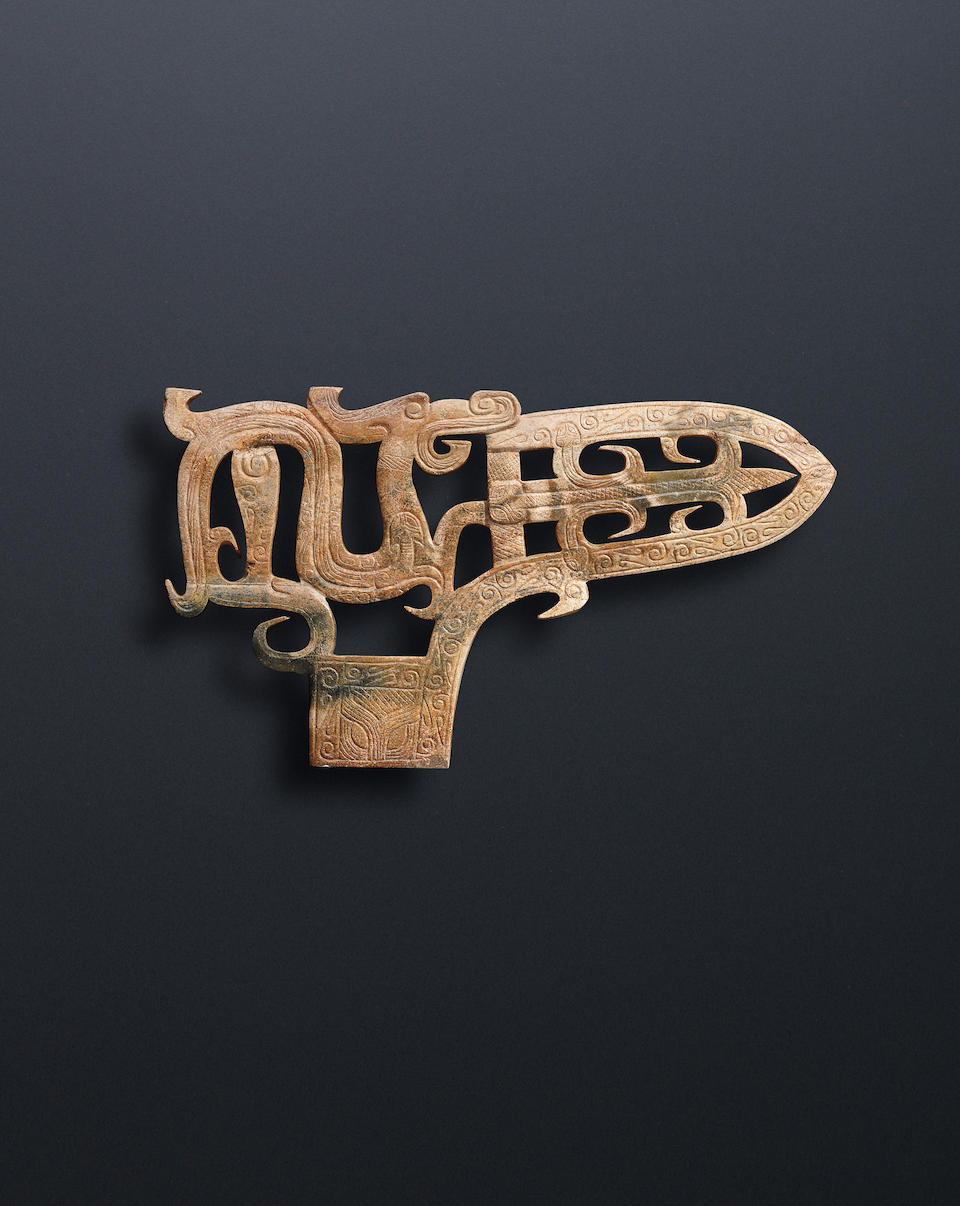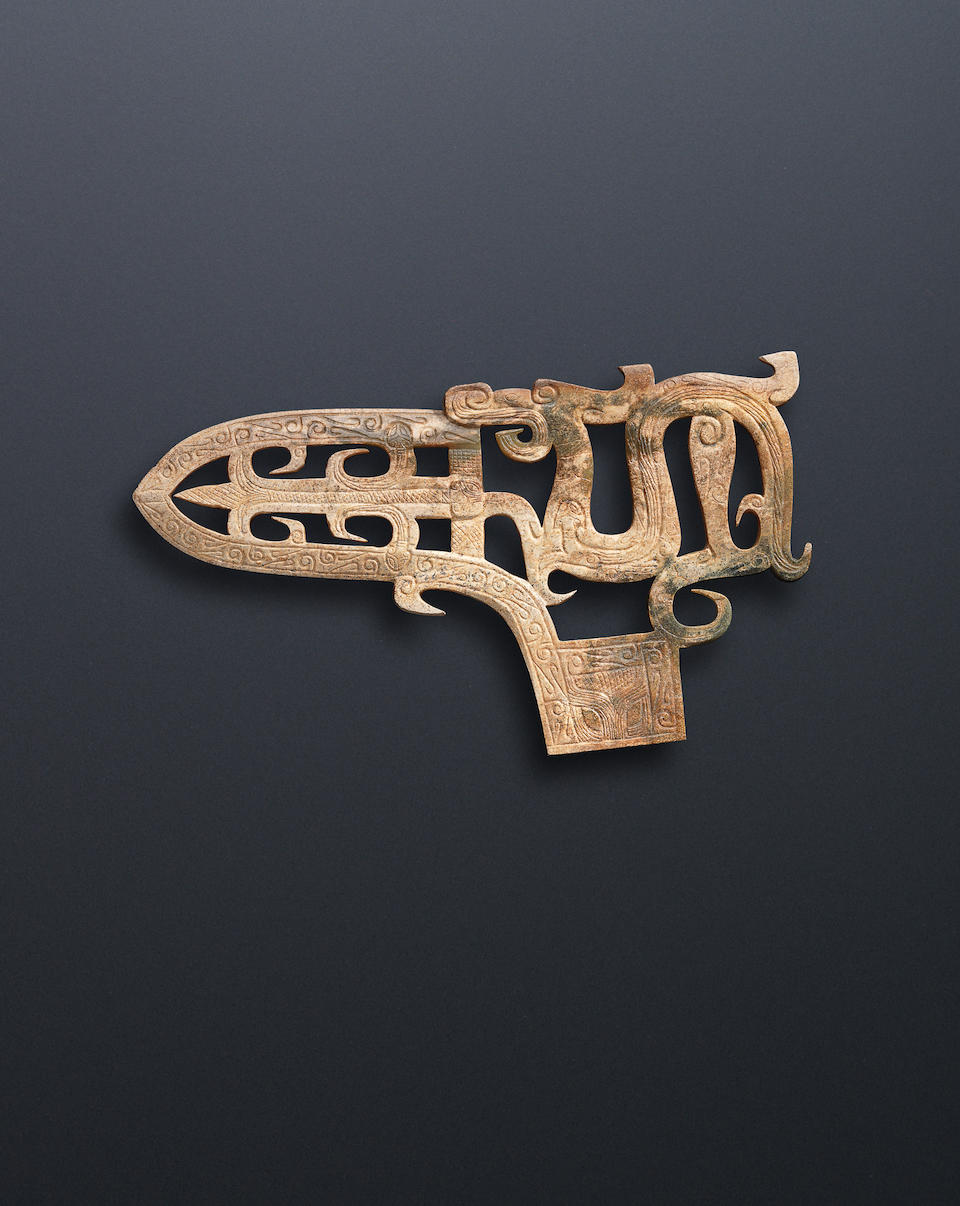 Lot 28. An exceptionally rare brown jade ceremonial dagger, ge, Warring States Period (475-221 BC); 14.8cm (5 3/4in) long. Estimate HK$ 800,000 - 1.2 million (€92,000 - 140,000). Sold for HK$ 1,960,000 (€ 232,502). Photo: Bonhams.
Skilfully carved on both sides in openwork, with scroll-incised borders following the shape of the blade, enclosing a stylised chi dragon in the centre flanked by two smaller chi dragon, the tang boldly decorated as a large dragon facing the back edge, its elegant thin sinuous body undulating in a compressed 'S'-shape, the stone of a pale brown tone with black inclusions.
Note: Weaponry was an important part of the period's material culture due to the general turmoil and warfare with various states contending for hegemony. The dagger-axe ge, a type of pole weapon which is mounted by its tang to a wooden shaft, was the primary weapon of the Chinese Bronze Age. In use starting from the Shang dynasty, it eventually evolved during the Zhou dynasty to a dagger blade with a spear head to the top of the shaft. This effective combination was more versatile in allowing the wielder to use it with both a thrusting and swinging motion.

Bronze ge blades would have provided the basis for the form and decoration of their jade counterparts, consider a late Zhou dynasty bronze ge of similar form, also decorated with a dragon, in the Metropolitan Museum of Art, New York, accession no.21.144. These jade versions of weapons would have been used for ceremonial purposes and were important objects interred in the tombs of the wealthy and elite, possibly as emblems of their power and authority.

It is extremely rare to find jade ge blades of such high quality and size, with impressively well-articulated pierced decoration. This tedious process would have required: cutting the stone to the shape of the weapon; marking out the patterns using small blades and boring holes with diamond drills; piercing out the marked patterns with a metal string bow saw and fine abrasives. Given the high amount of wastage in such openwork technique, this ge blade would have been extremely expensive to make.

The pierced decoration and the similar stylised chi dragons can be seen from a group of jade plaques excavated from the royal tombs of the Zhongshan State from the Warring States period. Compare with a jade plaque, mid-Warring States period, also with openwork decoration, in the Hebei Provincial Institute of Cultural Relics, illustrated by Gu Fang, The Pictorial Handbook of Ancient Chinese Jades, Beijing, 2007, p.212.

See a related example dated to the mid-Warring States period in the Aurora Art Museum collection, illustrated by Sun Qingwei, Jades of Warring States Period, Taipei, 2007, pl.251.
Bonhams. THE SZE YUAN TANG COLLECTION OF CHINESE JADES, 11:00 HKT - HONG KONG, ADMIRALTY