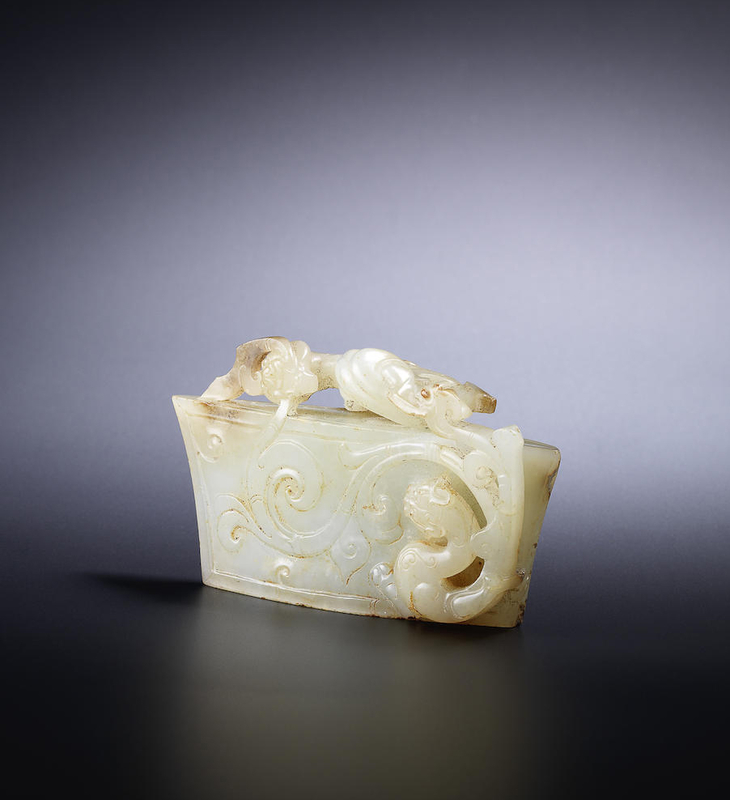 Lot 15, A pale green jade 'chi' dragon sword chape, bi, Western Han Dynasty (206 BC–9 AD); 8cm (3in) long. Estimate HK$ 300,000 - 400,000 (€35,000 - 46,000). Sold for HK$ 1,600,000 (€ 189,796). Photo Bonhams.
Of compressed trapezoidal form, with three pierced chidragon clambering on the sides and top, with sinuous bodies and long scrolling tails, the base drilled with three deep holes between two smaller ones, the stone of a pale green tone with brown inclusions.
Published and Illustrated: Art and Imitation in China, Hong Kong, 2006, p.122, no.17
Exhibited: University Museum and Art Gallery, The University of Hong Kong (14 October - 17 December 2006)
Note: With its connotations of magical protective powers, jade was a particularly appropriate material for weaponry fittings. It was believed to enhance the material strength and force of both the weapon and its wielder. It also would have added value and prestige to the weapon. During the Western Han dynasty, jade sword fittings with three-dimensionalchi dragon seemed to be particularly popular. The fact that there are several extant examples may suggest some sort of jade workshop existed with craftsmen excelling in such carving. See J.Rawson, Chinese Jade from the Neolithic to the Qing, London, 1996, p.294.

This sword chape, with three holes pierced at the top for attachment to the scabbard or blade, is a fine example of the intricate openwork jade carvers were adept at by the Western Han dynasty. The sculptural quality of the three clambering chi dragon likewise reflects the carver's ingenuity. Minute painstaking details were applied such as a rope-twist appearance to the tails of the chi dragon. Compare the chi dragon on two jade sword fittings, similarly carved with rope-twist-type tails, Han dynasty, illustrated in Compendium of Collections in the Palace Museum: Jade 4, Beijing, 2011, pp.80-83, nos.67-68.
Bonhams. THE SZE YUAN TANG COLLECTION OF CHINESE JADES, 11:00 HKT - HONG KONG, ADMIRALTY