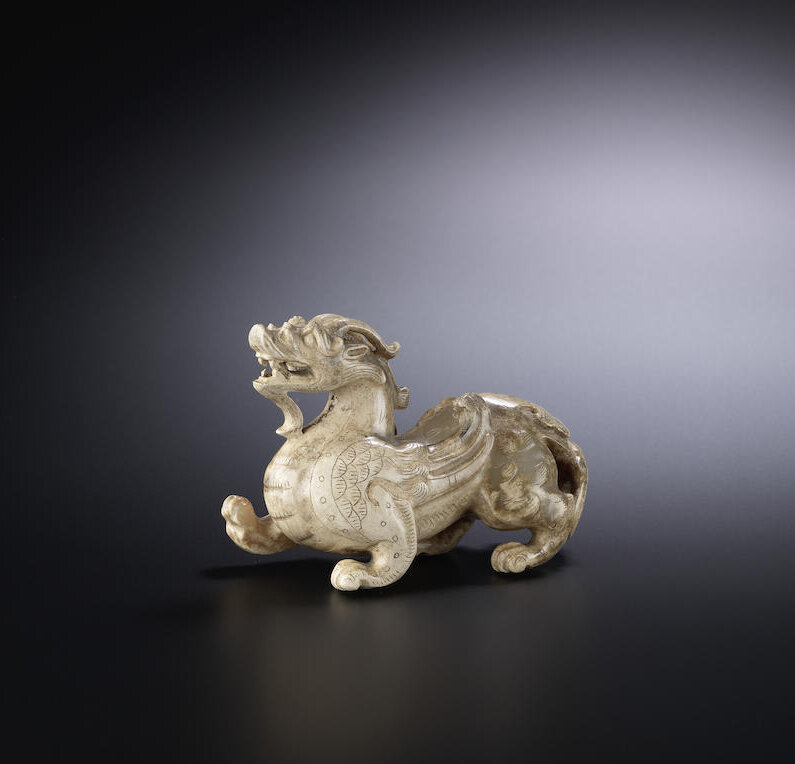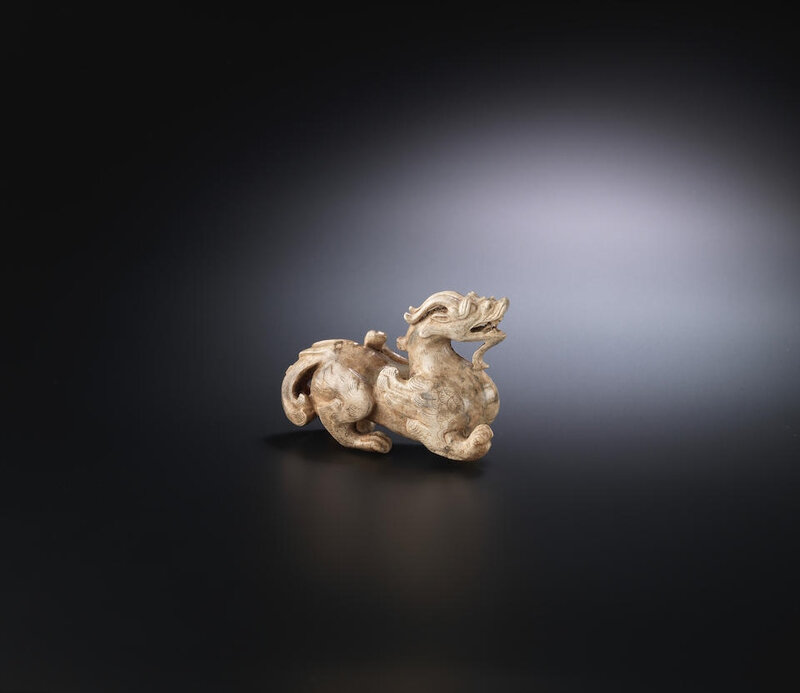 Lot 32, A rare jade carving of a chimera, bixie, Han Dynasty or later; 8.7cm (3 3/8in) long. Estimate HK$ 200,000 - 300,000 (€23,000 - 35,000). Sold for HK$ 21,960,000 (€ 2,604,982). Photo: Bonhams.
Carefully carved in mid-stride with wings issuing from the muscular front legs, its body with incised details and a bifurcated tail, the beast's head with opened jaws depicting a ferocious facial expression framed by a long beard and a pair of curved horns, the pale greenish-grey stone with calcified opaque buff areas.
Published and Illustrated: Art and Imitation in China, Hong Kong, 2006, pp.124-125, no.19
Exhibited: University Museum and Art Gallery, The University of Hong Kong (14 October - 17 December 2006)
Note: Jade animals carved in the round were comparatively more common in the Han dynasty than in previous periods and a great emphasis was placed on the depiction of wild animals in all their ferocity. Fighting tigers, intimidating bears, fierce eagles and mythical animals carved in menacing or aggressive postures were popular and were made in bronze and jade, depicted on textiles.

This animal, with the head of a dragon, but the body and claws of a lion with large feathery wings is inspired by prototypes from West Asia transmitted to China. Recent studies suggest that the motif of such winged mythical beasts derives from cross-cultural stimulation by way of continuous trade interaction and warfare with Western Asia and in particular, the Steppe areas near China's Northern borders. See J.Rawson, 'The Han Empire and its Northern Neighbours: The Fascination of the Exotic', The Search for Immortality, Tomb Treasures of Han China, Cambridge, 2012, p.28. Images of these beasts were often placed in tombs, either as tomb guardians to protect the deceased against evil spirits, or as auspicious carvings and decoration on smaller luxury ornaments.

Compare with a jade bixie, Western Han dynasty, excavated from Zhouling County, Xianyang City, Shaanxi Province, currently in the Xianyang Museum, illustrated by Gu Fang, The Pictorial Handbook of Ancient Chinese Jades, Beijing, 2007, p.272. See also related jade bixie carvings with similarly elongated heads including: a grey and black jadebixie, Han dynasty, illustrated in Compendium of Collections in the Palace Museum: Jade 4, Beijing, 2011, p.178, no.236; another illustrated by Tsai Ching-Liang, Jades of Han Dynasty, Taipei, 2005, pl.126. Compare also a brown jade bixie, Han dynasty, Masterworks of Chinese Jade in the National Palace Museum, Taipei, 1969, pl.20.
Bonhams. THE SZE YUAN TANG COLLECTION OF CHINESE JADES, 11:00 HKT - HONG KONG, ADMIRALTY