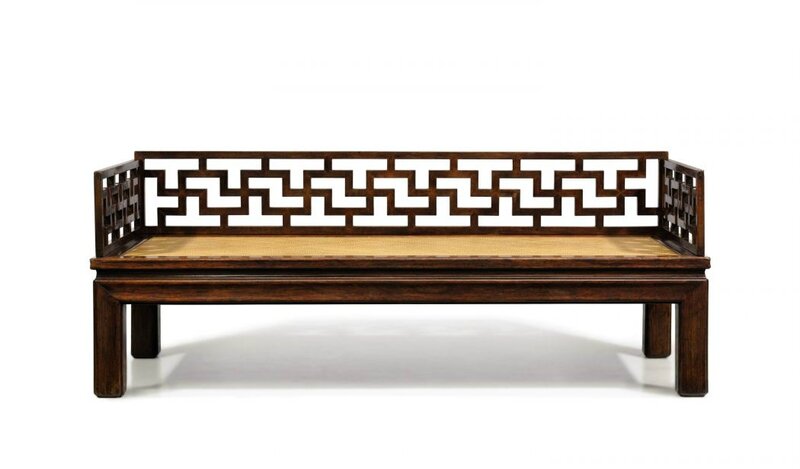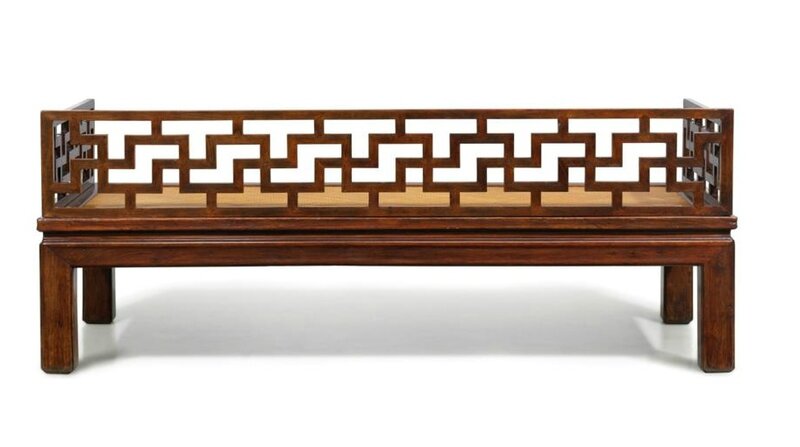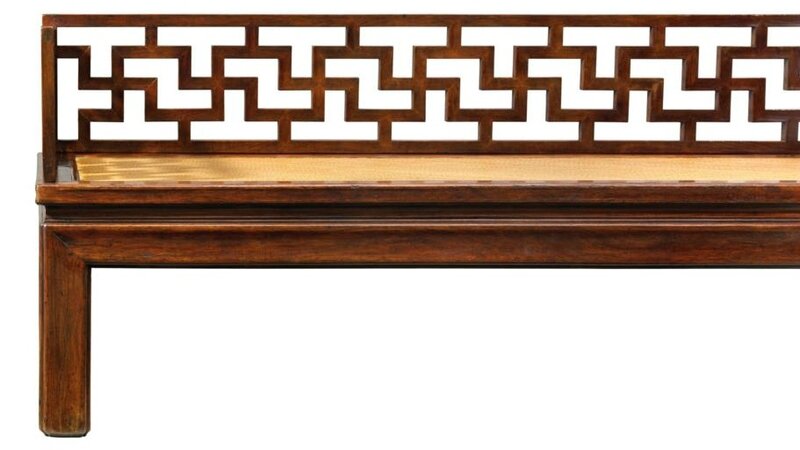 Lot 109, A huanghuali couch-bed, luohan chuang, Late Ming dynasty; 78.6 by 206.5 by 90 cm, 30 7/8 by 81 1/4 by 35 3/8 in. Estimate 9,800,000 — 15,000,000 HKD (1,153,406 - 1,765,417 EUR). Lot Sold 11,840,000 HKD (1,336,637 EUR). Photo Sotheby's.
the seat frame of standard mitre, mortise and tenon construction supported by four transverse braces mortised and tennoned into the long members of the frame, the edge of the frame wojiao moulded at the top, curving inward with thumb moulding to finish on the lower edge with a narrow flat band, the recessed thumb-moulded waist and the straight apron with wojiao beaded‑edged and thumb mouldings mortised and tennoned and half‑lapped to the straight square beaded-edged and wojiao and thumb moulded legs, the square legs carved inward at the base to finish on recessed square low feet pads, the removable back and arms constructed with double‑mitred and mortised small members forming the wan character pattern.
Provenance: Grace Wu Bruce, Hong Kong.
Literature: Grace Wu Bruce, Chinese Classic Furniture: Selections from Hong Kong and London Gallery, Hong Kong, 2001, pp. 71–73.
Grace Wu Bruce, 'Twenty years' examples of Ming furniture #1 Beds', Forbidden City, issue 160, Beijing, May 2008, pp. 134–135, 141.
Grace Wu Bruce, Ming Furniture Through My Eyes, Beijing, 2015, p. 241.
Note: This huanghuali couch bed is of supremely elegant form. The railings are made of short members joining together to form the wan character pattern, a popular decorative motif in the Ming period. The railings and the seat members are thumb moulded, and there is the special feature of recessed low feet pads, an ingenious finish for square legs at the ground level, subtly almost imperceptibly elevating the whole bed.

While luohan beds of solid plank railings made demands on the supply of precious timber, those with complex joins to create beautiful patterns are testaments of the refinement of Ming carpenters' art.

Luohan beds with back and arms made of small members mitred and mortised together dated to the late Ming and early Qing dynasties are exceedingly rare, not only because the arms and back are easily removable and prone to become dislocated from their base, but the construction with small mitred members also make the arms and back harder to preserve than the solid plank examples.

Compare an example with similar railings design but ending in hoof feet from the Tseng Riddell collection, exhibited in Splendor of Style: Classical Furniture from the Ming and Qing Dynasties, National Museum of History, Taipei, 1999, pp. 108–109.
Sotheby's. Ming Furniture – An Asian Private Collection, Hong Kong, 06 Apr 2016, 02:00 PM