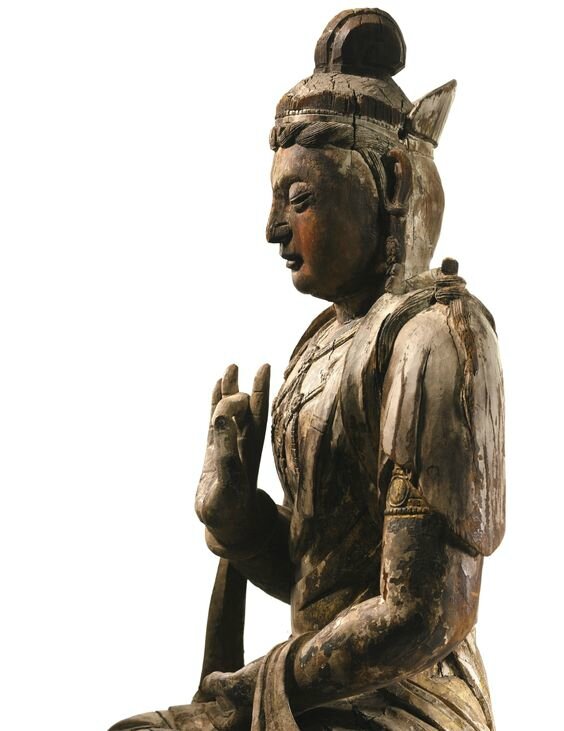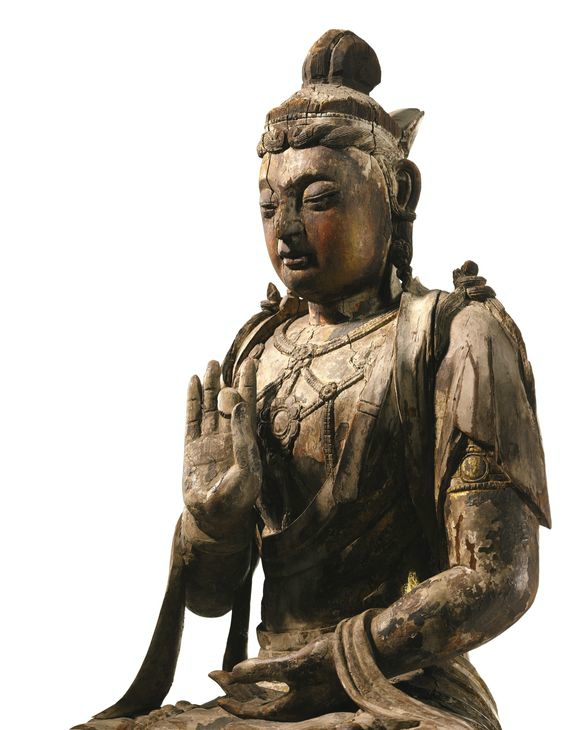 Lot 2865, A superbly carved wood figure of a seated bodhisattva, Song dynasty. Estimate 5,000,000 — 7,000,000 HKD (578,976 - 810,566 EUR). Photo Sotheby's.
well carved seated regally in vajrasana, the Bodhisattva rendered serene in meditation with the right hand held before the chest in shunimudra and the left avakashamudra, depicted dressed in layered robes and billowing sashes cascading in folds especially around the slender waist, the clothing falling loosely around the chest and exposing the elaborately carved necklaces echoing the partially exposed armbands, the serene facial expression detailed with half-open eyes and a gentle smile, framed by a pair of long, pendulous earlobes adorned with ornamental earrings and a neatly drawn-up topknot, traces of gilding, wood stand; 56.5 cm, 22 1/4 in.; overall 67 cm, 26 3/8 in.
Note: Intricately carved with neatly combed hair and elaborate jewellery, the traces of gilding and pigment hint at the original sumptuousness and striking visual effect it would have made on temple visitors. They would have encountered this image in an elaborate almost stage-like setting with painted murals covering the walls, along with many other sculptures and representations of deities and arhats. The finest sculptures of this period were carved of wood, covered with gesso, painted with bright pigments and sometimes inset with jewels and gilded to create elegantly animated, richly adorned figures. Many Buddhist temples from the 11th to 13th centuries survive intact, testimony to the glorious integration of architecture, painting and sculpture that characterises Buddhist temple art.
A bodhisattva is a being who has attained enlightenment but, motivated by great compassion, decides to delay personal salvation until all sentient beings are saved. In this figure, the continued engagement with the world is represented by the rich jewellery which symbolises the material world. The half-open eyes and gentle smile also represent this figure's approachability, with the right hand raised in shunimudra, or the 'seal of patience'. The middle finger represents aakash (infinite space) and courage to hold duty and responsibility, while the thumb represents fire and divine nature. When placed together it symbolises and encourages patience, discernment, focus and discipline.
The present sculpture belongs to a period when the bodhisattva image had not yet turned sweet and feminine, and reflects the ethereal, transcendent figure typical of early Buddhist images. A slightly larger figure of a bodhisattva, also cross legged but with hands in kartarimudra, was sold in our Paris rooms, 15th December 2011, lot 108; and another, but of much larger size and more elaborate robes, was sold in our London rooms, 15th April 1980, lot 63, and included in the exhibition The Art of Contemplation. Religious Art from Private Collections, National Palace Museum, Taipei, 1997, cat. no. 91, from the Liang-sheng T'ang collection, where it is attributed to the Jin dynasty.
Sotheby's. Literati / Curiosity II, Hong Kong, 05 Apr 2016, 10:15 AM