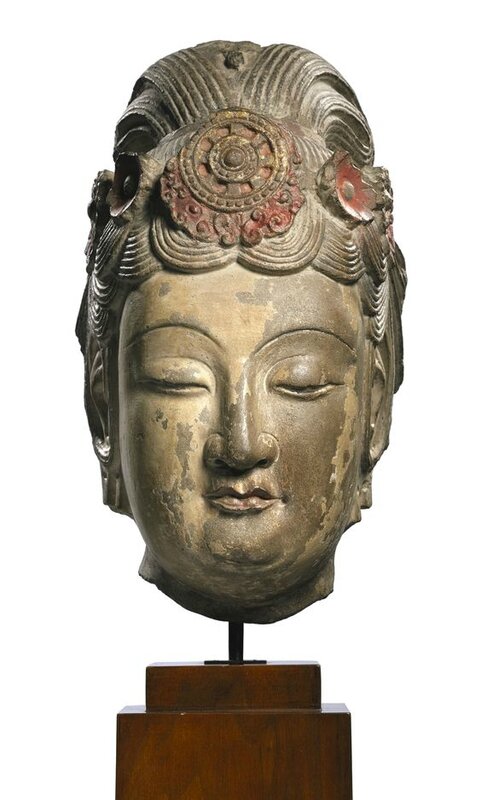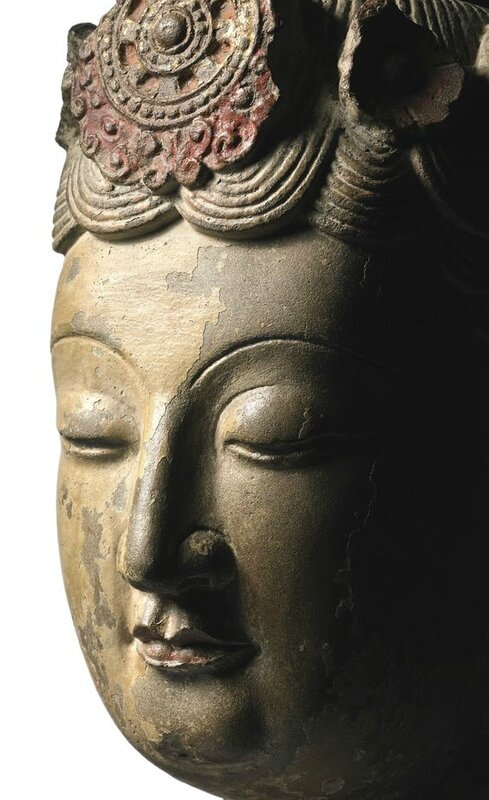 Lot 2871, An extremely rare large limestone head of a bodhisattva, Sui dynasty. Estimate 3,500,000 — 4,500,000 HKD (405,283 - 521,078 EUR). Photo Sotheby's.
the softly rounded face gracefully carved and framed by arched brows extending to a refined aquiline nose, eyes gently cast down above full cheeks and a delicately formed mouth, the gaze half closed in an expression of quiet contemplation, the elegantly coiffed hair in layers of looped sections with thick strands trailing around the well-formed ears over pierced elongated lobes and gathered high into a double chignon at the crown, the hairstyle decorated with a Dharma wheel painted with traces of gilt above a bed of crimson-painted curlicues, accompanied by futher carved florets to either side, the stone smooth with areas of darker patination, wood stand - 36 cm, 14 1/4 in.
Provenance: Yamanaka & Co., New York, 1943.
Exhibited: Yamanaka & Co., Collection of Chinese and Other Far Eastern Art Assembled by Yamanaka & Company, Inc. Now in Process of Liquidation Under the Supervision of the Alien Property Custodian of the United States of America, New York, 1943, cat. no. 372.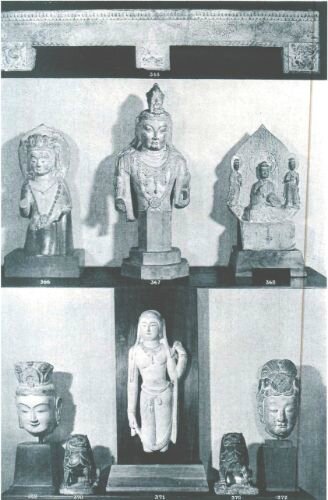 Yamanaka & Co. catalogue, New York, 1943.
Note: The pronounced aristocratic countenance and the serene meditative expression on this Bodhisattva head, rendered through the sensitive carving style and harmonious curves, epitomise the heights of quality achieved by stone carvers in the Sui dynasty. The slender but fleshy face, narrow slit eyes, sharply carved, arched brows which form a harmonious curve with the ridge of the nose, as well as the coiffure with hair drawn back into a high chignon, adorned with a Dharma wheel amidst cloud-head clusters, encapsulate the classic style of the Bodhisattva image in the Sui dynasty.
For comparable examples in museum collections, see two full-length Sui dynasty limestone sculptures of Bodhisattva in the Museum of Fine Arts, Boston, the first illustrated by Osvald Siren, Chinese Sculpture, vol. 2, New York, 1970, pl. 315 A, the second in Zhongguo Meishu Quanji. Diaosu 4.Sui Tang Diaosu, Beijing, 1988, pl. 12, where it is noted that it is said to have been found in an old temple in Xian in 1909. The style of carving on the heads of both sculptures, specifically the delicate naturalistic rendition of the features and headdress, matches that on the current head. Compare also the distinctive Dharma wheels integrated into the carving of the headdress on a full-length sculpture of a Sui dynasty Bodhisattva, illustrated by Saburo Matsubara, Chugoku Bukkyo Chokoku Shiron (History of Chinese Buddhist Sculpture), Tokyo, 1995, vol. II, p. 580.
Sotheby's. Literati / Curiosity II, Hong Kong, 05 Apr 2016, 10:15 AM