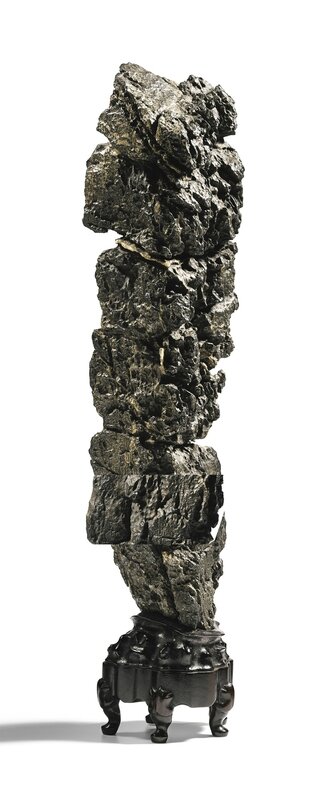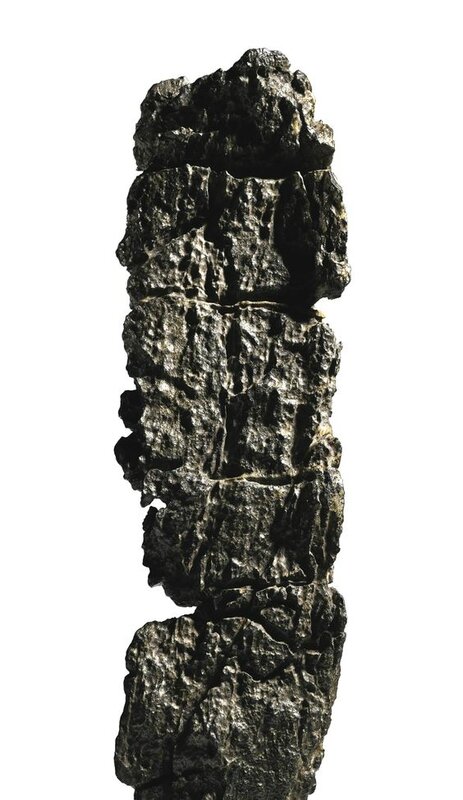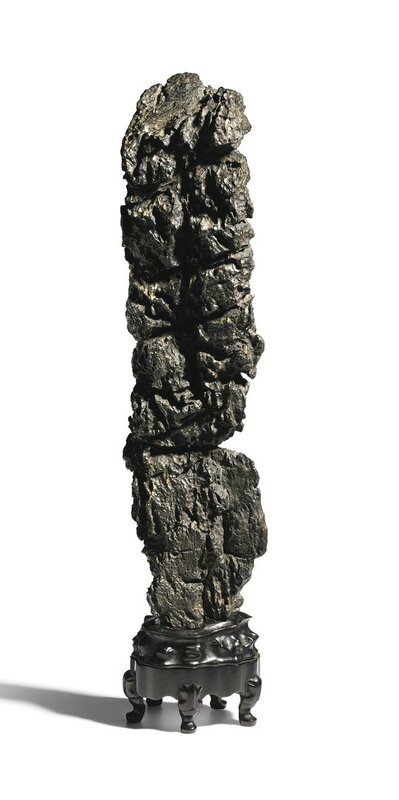 Lot 2834. A superb Ying scholar's rock, Song–Ming dynasty. Estimate 1,200,000 — 1,800,000 HKD (138,954 - 208,431 EUR). Lot sold 1,625,000 HKD. Photo Sotheby's.
monolithic in stature, the magnificently wrought-out column of almost triangular section with each face displaying a distinct character, one side punctuated by chasms, another with mild furrows and a further with slight protrusions creating a swaying profile, with a clear metallic resonance when struck, the asperous surface of the lustrous black rock with cream-coloured veins, wood stand - 42.5 cm, 16 3/4 in.
Note: 'Ying' rocks were appreciated for their special aesthetic and spiritual qualities through poetry and essays written in the Tang Dynasty. By the Song Dynasty, rocks were depicted in monumental landscape paintings offering a microcosm of the universe. Paintings of rocks such as the current example illustrate the intimate relationship between paintings and three-dimensional scuptures. Ten Views of a Fantastic Rock, by Wu Bin (act. 1583-1626) with calligraphy by Mi Wanzhong (1570 - after 1628), sold in our New York rooms, 6th December 1989, lot 39, shows a single scholar's rocks depicted from all angles with inscriptions discussing the measurements and appearance of the rock. For other 'ying' rocks of comparable quality sold at auction, see two Ming to Qing dynasty 'ying' rocks, the first from the Jiansongge collection, the second from the Water, Pine and Stone Retreat collection, sold in these rooms, 11th April 2008, lot 2723 and 8th April 2010, lot 1702 respectively; and a Qing dynasty 'ying' rock from the Richard Rosenblum collection, sold in these rooms, 7th April 2014, lot 3666.
Sotheby's. Literati / Curiosity II, Hong Kong, 05 Apr 2016, 10:15 AM