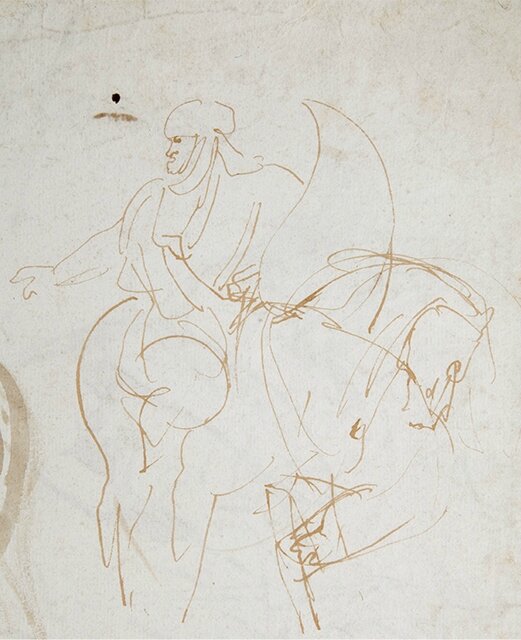 Rubens, Turbaned rider on a bucking horse trying to fend off enemies, double-sided pen and brush drawing. This image is found in paper from the mill in Fabriano, Italy, dated 1598 and was first identified by Uwe Westfehling in 2001.
ANTWERP.- This large double-sided pen and brush drawing with variations of a turbaned rider on a bucking horse trying to fend off enemies was recently discovered in an Antwerp private collection. Drawn freely with a medium size brush it shows no underdrawing in chalk or charcoal. The composition looks spontaneous, possibly to be used in another work of art or perhaps to capture a specific movement of a horse and rider to remember. An old annotation at the bottom of the recto attributes the study to Anthony van Dyck (15991641). Neither Van Dyck, A Complete Catalogue of the Paintings, by Susan J. Barnes et al. (2004) nor Horst Vey's Die Zeichnungen Anton van Dycks (1962) include images of men and horses in battle; the subject does not occur in his surviving oeuvre in which portraits and figural compositions predominate. Furthermore, the brown of the ink of the brushwork is closer to that found in drawings by Rubens. Another detail that points to Rubens is the distinct watermark of a man identified as a pilgrim wearing a hat, placed in a circle, walking to the right, and carrying a stick over his right shoulder.1

This image is found in paper from the mill in Fabriano, Italy, dated 1598 and was first identified by Uwe Westfehling in 2001.2

The same watermark appears in four early Rubens drawings in Antwerp and Cologne, namely his copies after the Torso Belvedere (Rubenshuis, Antwerp), the Laocoon and the Centaur Tormented by Cupid (Wallraf-Richartz-Museum & Fondation Corboud, Cologne) and the recently discovered copy after two figures in Michelangelo's Last Judgment (Private Collection).3

Moreover it is also found on two of Rubens's copies after Michelangelo's Prophets and Sibyls on the Sistine Ceiling drawn during Rubens's first visit to Rome 1601-1602, namely the prophets Daniel and Zachariah.4 The drawing therefore is here attributed to Rubens and dated to his first trip to Rome from July 1601 until April the following year, 1602, when he is again mentioned in Mantua.

Represented on the recto of the drawing is a bearded Oriental man wearing a heavy turban riding toward the viewer. He is carrying a large shield on his left while fending off an adversary with his right hand. The same horse and rider is drawn lightly in pen only and slightly lighter brown ink on a smaller scale in the middle distance at the right. The rendering of the rider is rather special because it looks like Rubens created him with one long continuous pen line. The function of this pen sketch was to visualize the separate position of the horse's lowered head as if pulled back by the rider. This cursory study in pen may have come first. It likely served as a first idea for the larger and livelier version next to it put on paper with the brush alone. Like the brush drawing, the smaller pen sketch has no underdrawing in chalk or charcoal.

The large horse and rider filling much of the page would be used most likely in a battle scene. This is further supported by another turbaned horse and rider on the verso fighting an enemy attacking from the left, once more created freely in quick succession with the brush, brown ink and wash. Now seen from the back in the center of the sheet the figure has his right arm raised ready to strike. This action is repeated in various positions moving to the right and filling that part of the page. Here Rubens experimented with different views of the rider seen from the front and side, always with a raised right arm, a shield on the left.

On much of the lower half of the drawing the figures have become rather abstract and the details are difficult to decipher except for a group of shields at the lower left and another horse and rider at the right in a fight with an attacking soldier. The sheet appears trimmed at the top and right where figures have been truncated.

The application of the wash is reminiscent of wash applied in several of Rubens's early pen and ink and wash drawings such as his Saint George and the Dragon of c. 1605-1607 in the Louvre, Paris for his painting in the Prado, Madrid.5

Another early Rubens drawing with a similar application of the wash is the Susanna in Montpellier of c. 1610-1612.6

Both drawings include a light pen and ink sketch to better define the figures surrounded by wash which is absent in the Antwerp drawing.

The turbaned rider seen from the back found in the center of the composition on the verso is very similar to a man on horseback in the center of Rubens's early Conversion of St. Paul drawing in the Courtauld Institute Gallery, London.7

While in Rome Rubens obviously was inspired by frescoes of battle scenes such as The Battle of Constantine of 1520-1524 by the Workshop of Raphael in the Stanza di Constantino in the Vatican which must have left a deep impression on him. He owned an anonymous copy possibly from the Raphael workshop after the section that includes the rearing white horse in the foreground that he retouched.8

Anonymous copy after section in Battle of Constantine Rubens's interest in these battle scenes influenced his own early Battle of the Amazons drawing in the British Museum, London, c. 1600-1602. It includes once more a horse at the right dipping and bending its head, a pose also found in the pen sketch on the present drawing.9

What makes the present drawing stand out is the fact that Rubens drew with brush and ink on paper. This combination is almost not found elsewhere in his work. Only two other examples are known, both from Rubens's first years in Italy, 1600-1601, both are copying a fresco by Pordenone in the Malchiostro Chapel in the Duomo of Treviso, north of Venice and thus not new creations. One copies God the Father surrounded by Angels, Courtauld Institute of Art, London, Princes Gate Collection;10 the second one shows Emperor Augustus with the Sibyl, Louvre, Paris.11

While, being copies, their execution differs greatly from the present drawing but they reflect Rubens's interest in copying with brush, watercolor and wash on paper. This double-sided brush drawing in a private Antwerp collection therefore is an early experiment that he abandoned. It is a precursor of Rubens's predilection for the brush, applied on panel, resulting in his highly praised oil sketches, which were catalogued by Julius Held in 1980. Only one drawing comes to mind where many years later Rubens returned to a drawing created predominantly with the brush on paper, his Sermon in a Village Church in the Metropolitan Museum of Art, New York, dated c. 1633-1635.12

With thanks to Stijn Alsteens for discussing the drawing and help in facilitating its study and to Peter Bernaerts for bringing the drawing to New York to see the original.
By: Anne-Marie Logan
1

Westfehling, op. cit., p. 209-10, notes 105-09, figs. 35-37
2

"Drei verschollene Zeichnungen von Peter Paul Rubens," Wallraf-Richartz-Jahrbuch, vol. LXII, 2001, pp. 171-222, especially p. 210, fig. 35
3

Jeremy Woods, Rubens. Copies…, Italian Artists, III, Artists Working in Central Italy and France (CRLB), London-Turnhout, 2011, pp. 190-93, no. 190, fig. 75, 1601-1602
4

Woods, op. cit. 2011, Daniel, pp. 133-35, no. 172, Fig. 28 and Zachariah, pp. 144-46, no. 177, Fig. 38
5

D. Jaffé, Rubens, A Master in the Making. exh. cat., London, National Gallery, 2005-06, fig. 41, 1605-07.
7

Pen and brown ink and brown wash, touches of white body color, 222 x 329 mm. Inv. no. D.1978.PG.57, dated somewhat later, c. 1610-12. Bequest of Count Antoine Seilern as part of the Princes Gate collection, 1978; see Peter Paul Rubens. A Touch of Brilliance. Exh. cat. London, Somerset House, 2003, fig. 11 in color.
8

Today in the Louvre, Paris. Inv. No. 8753. See Jeremy Wood, Rubens, Copies, Raphael (CRLB), London/ Turnhout, 2010, I, no. 6; II, figs. 18-20. Wood dates the retouches in the 1620s, hence 20 years after Rubens's Rome visit. According to Gregory Rubinstein [in his review of Wood's 2003 exhibition, Drawing on Italy in the HNA Newsletter] the drawing is by Rubens himself, and retouched by him.
9

See D. Jaffé, Rubens, A Master in the Making, p. 45, cat. 2
10

Wood, Copies, Titian (CRLB), 2010, I, pp. 324-27, no. 143, fig. 159
11

Wood, loc. cit, 2010, I, pp. 328-331, no. 144, Pl. 6 and fig. 163.
12

See exh. cat. Peter Paul Rubens. The Drawings. New York, The Metropolitan Museum of Art, 2005, pp. 291-92, no.107, ill. in color.