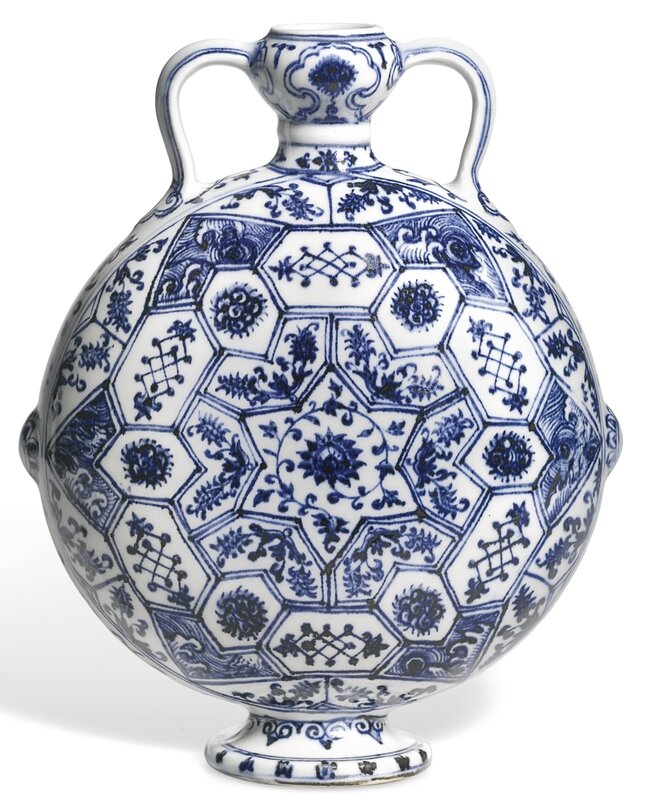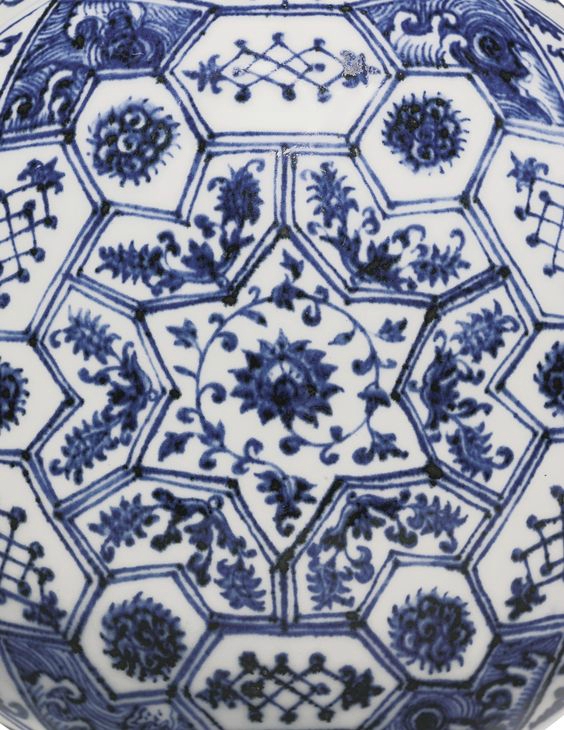 Lot 17. A fine, outstanding and rare blue and white moonflask, bianhu, Ming dynasty, Yongle period. Estimate 25,000,000 — 35,000,000 HKD (2,923,577 - 4,093,008 EUR). Sold 110,520,000 HKD (14,248,238 USD). Photo Sotheby's.
modelled after a Middle Eastern metal prototype, elegantly potted with a flattened spherical body set with two circular bosses at the sides, rising to a garlic neck flanked by a pair of loop handles with ruyi-shaped terminals on the shoulders, all supported on a spreading foot of circular form, the front and back domed faces intricately painted in deep cobalt-blue tones with geometric panels, the centre with a lotus bloom wreathed by foliate stems within a star-shaped panel, surrounded by six indented eight-sided panels enclosing floral sprays with serrated leaves, all encircled by six hexagonal panels of stylised flowerheads alternating with similar elongated panels of interlaced lozenges, the outer border with shaped panels enclosing crashing waves forming the corners of a large hexagon, interspersed with pairs of narrow panels of flower scrolls, all divided by double line borders, the narrow sides of the flask decorated with a composite floral scroll interrupted by flower heads on the raised bosses, the neck collared by a band of stylised floral sprigs, below a garlic-form mouth painted with ruyi-shaped lappets enclosing stylised floral sprays, the foot skirted with pendent trefoil spearheads above a band of small florets, the unglazed base with a deep glazed recess in the centre - 24.5 cm, 9 5/8 in.
Provenance: Collection of Stephen K. Garratt, until 1954.
Bluett & Sons Ltd, London, 1954.
Collection of Cuthbert S. Wilkinson, from 1954 to 1962 (£285).
Bluett & Sons Ltd, London, 1962 (£2000)
Collection of Roger Pilkington (1928-69), from 1962 (£2750).
Exhibited: Chinese Blue and White Porcelain: 14th to 19th Centuries, The Oriental Ceramic Society, Arts Council Gallery, London, 1953-4, cat. no. 46.
Literature: Adrian Joseph, Ming Porcelains: Their Origins and Development, London, 1971, front cover and pl. 22.
Geometric Drawing with a Chinese Brush
Regina Krahl
The Yongle Emperor (r. 1403-24) would have been well accustomed to exotic porcelains produced by the potters of the imperial kilns, but a flask of this form and design must have been among the most wondrous creations devised for him in the imperial workshops. While many porcelains of the day followed Middle Eastern prototypes in form, this flask is outstanding both in shape and decoration. A complex geometric design such as this, so openly recreating Middle Eastern models, is otherwise hard to find on Chinese imperial porcelains. Even in the Yuan dynasty (1279-1368), when China had close contacts with the Middle East and geometrically organised designs were popular for the decoration of blue-and-white porcelain dishes, they were nowhere nearly as 'Islamic' in aspect, generally just assembling purely Chinese design elements in a Middle Eastern layout.
The un-Chinese metal shape of this vase on its own represented a tremendous challenge for any potter to copy, especially Chinese potters, who were used to creating vessel forms by throwing them on the potter's wheel in horizontal sections, and then joining and adjusting them as required, rather than working with moulds. A shape with a narrow opening, of oval section, but with a circular neck and foot, would certainly have provided a challenge; but the complex decoration of this flask was probably even more ambitious. The multi-facetted, six-pointed star pattern with its concentric ranks of shaped enclosures can only succeed visually, if it is carefully calculated and laid out, if all angles are respected and all lines kept straight and aligned from the centre to the outer edges. Conceived to be drawn with pen and ruler on a flat, square surface, for example, for a Quran book illumination, it here had to be converted into freehand brushwork and adapted to fit a domed, round 'canvas' – a feat that reflects the unrivalled craftsmanship at the Jingdezhen imperial workshops. The outcome is a majestic work of art documenting the remarkably free and innovative spirit of these fifteenth-century Chinese artists.
The 14th and 15th centuries were a period of mutual cross-fertilisation when the influence did not only travel in one direction, but Chinese motifs were equally adapted in the Middle East. A related geometric pattern from an early 14th century Quran painted in Iran, shows a similar, typically Chinese lotus scroll in a six-pointed star-shaped panel surrounded by hexagons with florets, see Regina Krahl, 'Chinese Designs: The Fluidity of the Brush', in Chinese Art from the Reach Family Collection, Eskenazi, London, 1989, p. 11, fig. 7 (fig. 1).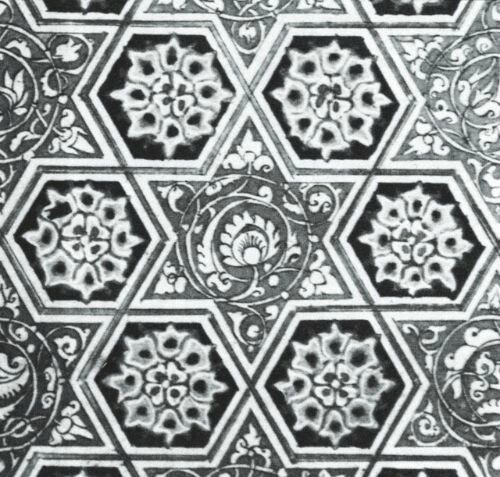 Quran illustration. Detail from a Quran, Iran, c. 1313. National Library, Cairo, MS 72. Courtesy of David James.
A closely related Middle Eastern geometric pattern was used on Yongle blue-and-white jars of cylindrical albarello shape, where of course it would have been much easier to lay out, the shape providing a flat square 'canvas' even if rolled up, without the distortions that have to be taken into account with a domed surface. This model was much more frequently copied in the Qing dynasty, in different versions, than the more complex moonflask design; for a Yongle original with cover from the Qing court collection see Geng Baochang, ed., Gugong Bowuyuan cang Ming chu qinghua ci [Early Ming blue-and-white porcelain in the Palace Museum], Beijing, 2002, vol. 1, pl. 22, and for two different Qing copies, ibid., vol. 2, pl. 193: a small jar of Yongzheng mark and period; and pl. 208: a closely copied unmarked jar and cover from the Qing court collection, attributed to the Qianlong reign.
The motifs used to fill the many polygonal facets that make up the complex star shape represent a combination of classic Chinese patterns, such as lotus scroll and waves, with exotic patterns obviously selected with the intention to refrain as much as possible from representational motifs and thus to underline the Middle Eastern connotation.
Yet, as is the case with many Yongle porcelains designed after Middle Eastern models, flasks of this type appear to have been made by the imperial kilns for the Chinese court rather than for export. No such flask is preserved in the Near and Middle Eastern royal collections, either that of the Safavids preserved at the Ardabil Shrine at Ardabil, Iran, or that of the Ottomans in Topkapi Saray, Istanbul, Turkey. The Palace Museum, Beijing, on the other hand owns probably two similar flasks from the Qing court collection, see The Complete Collection of Treasures of the Palace Museum. Blue and White Porcelain with Underglazed Red, Shanghai, 2000, vol. 1, pl. 39; and Geng Baochang, op. cit., vol. 1, pl. 36, published together with an unmarked Yongzheng copy, vol. 2, pl. 183; another Yongle example in the Yantai City Museum, Shandong province, is published in Peng Qingyun, ed., Zhongguo wenwu jinghua daquan: Taoci juan [Complete masterpieces of Chinese cultural relics: Ceramics volume], Taipei, 1993, pl. 673. Compare also another Qing copy in the National Palace Museum, Taiwan, illustrated in Porcelain of the National Palace Museum. Blue-and-white Ware of the Ming Dynasty, vol. 1, Hong Kong, 1963, pl. 6.
One flask of this pattern from the Sir Percival David collection, now in the British Museum, London, is illustrated in Regina Krahl and Jessica Harrison-Hall, Chinese Ceramics. Highlights from the Sir Percival David Collection, London, 2009, pl. 27; and again in John Pope, "An Early Porcelain in Muslim Style", in Richard Ettinghausen, ed., Aus der Welt der Islamischen Kunst. Festschrift für Ernst Kühnel, Berlin, 1959, pp. 357-75, pl. 4 B, where form and design are discussed; another in the Chang Foundation, Taipei, is illustrated in James Spencer, ed., Selected Chinese Ceramics from Han to Qing Dynasties, Taipei, 1990, pl. 82.
Only two flasks of this design appear to have been offered previously at auction, one sold in these rooms, 21st May 1979, lot 39, and illustrated in Sotheby's Hong Kong – Twenty Years, 1973-1993, Hong Kong, 1993, pl. 46; the other on loan to the Victoria and Albert Museum, London, from 1968 to 1979, later in the Reach Family collection and the collection of Marie Therese Rodrigues, sold in our London rooms, 10th July 1979, lot 139, included in the exhibition Chinese Art from the Reach Family Collection, Eskenazi Ltd, London, 1989, cat. no. 32, and sold again at Christie's Hong Kong, 28th April 1997, lot 657. Both flasks are illustrated together as a pair in Giuseppe Eskenazi in collaboration with Hajni Elias, A Dealer's Hand. The Chinese Art World Through the Eyes of Giuseppe Eskenazi, London, 2012, pl. 347.
A related geometric design was also used on a large Yongle canteen with flat back in the Shanghai Museum, illustrated in Lu Minghua, Shanghai Bowuguan zangpin yanjiu daxi/Studies of the Shanghai Museum Collections : A Series of Monographs. Mingdai guanyao ciqi [Ming imperial porcelain], Shanghai, 2007, pl. 3-11.
Sotheby's. The Pilkington Collection of Chinese Art, Hong Kong, 06 avr. 2016, 10:00 AM