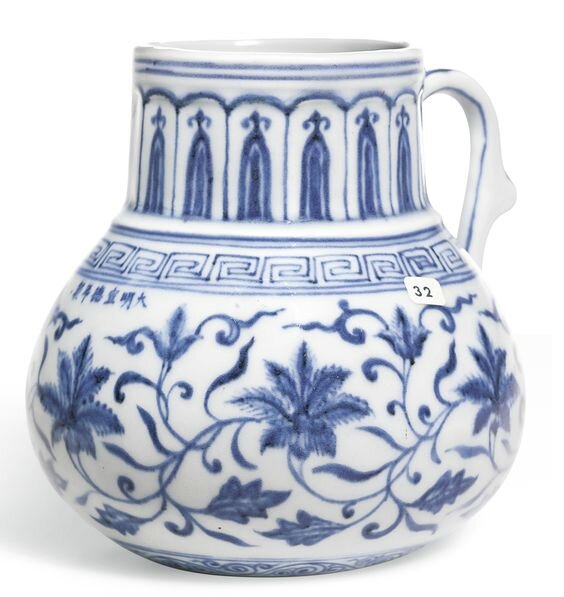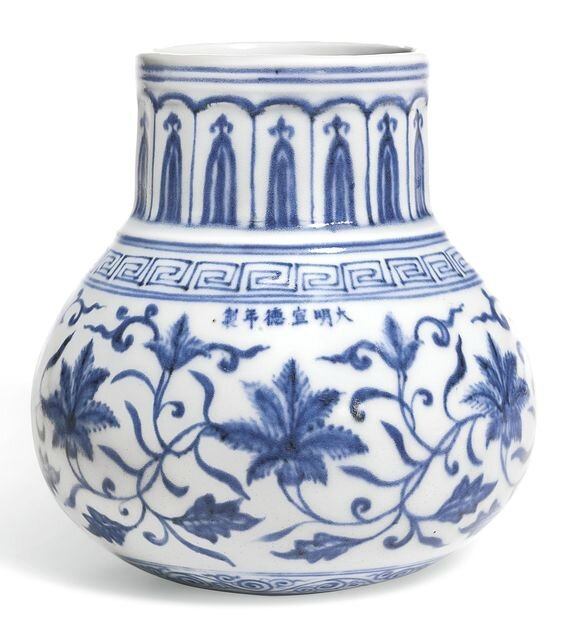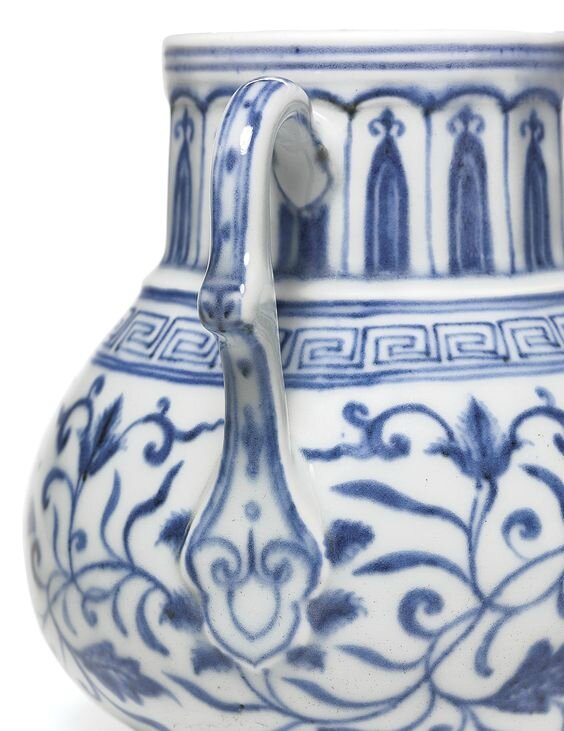 Lot 22. A rare blue and white tankard, Mark and period of Xuande. Estimate 7,000,000 — 9,000,000 HKD (818,602 - 1,052,488 EUR). Sold 24,080,000 HKD (3,104,394 USD). Photo: Sotheby's.
modelled on an Islamic metal or jade prototype, the globular body painted with stylised blooms, each carefully picked out with feathery petals, all borne on an undulating stem issuing leafy tendrils, between a key-fret band at the shoulder and a classic scroll around the foot, the wide, straight neck partly scalloped and painted with similar petals enclosing spearhead lappets, separated from the body by a raised rib, the handle with a protruding flange, painted with evenly spaced dots within double line borders and terminating to a trefoil pencilled with ruyi scrollwork, inscribed with a horizontal six-character reign mark on the globular body just below the key-fret opposite the handle, the recessed base unglazed, revealing the buff-coloured body - 14 cm, 5 1/2 in.
Provenance: Yves Mallié, Paris, 1967.
Bluett & Sons Ltd, London, 1967 (£550).
Collection of Roger Pilkington (1928-69), from 1967 (£3500).
Bibliography: Adrian Joseph, Ming Porcelains: Their Origins and Development, London, 1971, front cover and pl. 32.
Note: Tankards like the present piece are amongst the most interesting and rare forms of porcelain from the Xuande period (1426-35), a golden age for Chinese blue-and-white porcelain. The Xuande Emperor, himself a most accomplished artist, was a remarkable patron of the arts. This may explain the exceptionally high standard of the imperial porcelains manufactured under his patronage. Particularly outstanding are blue-and-white porcelains from his imperial kilns, which were so highly valued in the following Qing dynasty that even excellent examples from other reign periods of the early Ming were called "Xuande blue and white" in the court records.
Porcelain tankards were made, with minor variations, both in the Yongle (1403-24) and Xuande periods, the former existing also in monochrome white and being always unmarked. The shape had been inspired by Islamic metal prototypes, like a few other early Ming porcelain vessel forms manufactured in this era of intense interaction with the Islamic world, when the Muslim Admiral, General Zheng He, embarked on his global voyages (1405-1433). These tankards appear to have been particular favourites of the Yongzheng Emperor (r. 1723-35). Two extant handscrolls of the Yongzheng period, Guwantu('Pictures of Antiques'), from the Sir Percival David collection in the British Museum, and in the Victoria and Albert Museum, London, dated in accordance with 1728 and 1729, respectively, depicting works of art from the Imperial collection include three such vessels from the early Ming period, all safely displayed on encompassing wooden stands, see China. The Three Emperors 1662-1795, Royal Academy of Arts, London, 2005-6, cat. nos. 168 and 169.
Close Islamic metal and jade counterparts are known from the 15th and 16th centuries, but the basic shape might be based on earlier Persian prototypes. A 10th- or 11th-century jug from eastern Iran and four 15th-century examples in bronze, copper and brass are illustrated in Assadullah Souren Melikian-Chirvani, Islamic Metalwork from the Iranian World. 8th-18th Centuries, London, 1982, nos. 8, 109, 113-4, 116, all of which have (or had), however, a ring foot. Compare also an Islamic jade tankard attributed to 1450-1500, with no ring foot, included in David Roxburgh, ed. Turks: A Journey of a Thousand Years, 600-1600, catalogue of an exhibition at the Royal Academy of Arts, London, 2005, cat. no. 184; and a white jade tankard with ring foot, made in Samarkand between 1417 and 1449, published in Ma Wenkuan, 'A Study of Islamic Elements in Ming Dynasty Porcelain', in Li Baoping, Bruce Doar and Susan Dewar eds., Porcelain and Society, China Archaeology and Art Digest, vol. 3, no. 4, June 2000, pp. 7-38, fig. 20. See also the painting The Sultan and His Court, of c. 1450-1460, which depicts the Sultan and his Janissaries with several pieces of blue-and-white ware including a tankard, illustrated in John Carswell, Blue & White: Chinese Porcelain Around the World, London, 2000, fig. 67. Also noteworthy is a mid-15th century Islamic earthenware tankard painted with the motif of a Chinese dragon in blue, in Margaret Medley, 'Islamic and Chinese Porcelain in the 14th And Early 15th Centuries', Oriental Ceramic Society of Hong Kong Bulletin, no. 6, 1982-1984, fig. 15.
Although tankards of this form and design represent one of the best-known porcelain shapes of the Xuande period, this is due more to their distinctive character than a profusion of extant examples. Similar examples, although frequently illustrated, are very rare. One piece from the Qing court collection is illustrated in The Complete Collection of Treasures of the Palace Museum. Blue and White Porcelain with Underglazed Red. I, Shanghai, 2000, pl. 120, together with a similar piece painted with the more common lotus petals and scrolls, pl. 121, both of which are also included in Wang Guangyao & Jiang Jianxin eds., Imperial Porcelains from the Reign of Xuande in the Ming Dynasty: A Comparison of Porcelains from the Imperial Kiln Site at Jingdezhen and the Imperial Collection of the Palace Museum, catalogue of an exhibition at the Palace Museum, Beijing, 2015, cat. nos. 72-73. Another piece from the Qing court collection, now in the National Palace Museum, Taipei, is included in the Museum's exhibition Mingdai Xuande guanyao jinghua tezhan tulu/Catalogue of the Special Exhibition of Selected Hsüan-te Imperial Porcelains of the Ming Dynasty, Taipei, 1998, cat. no. 12. Compare also two examples in the Shanghai Museum, one included in Wang Qingzheng, Underglaze Blue and Red, Hong Kong, 1993, pl. 74, the other one, a reconstructed piece, illustrated in Lu Minghua, Shanghai Bowuguan zangpin yanjiu daxi/Studies of the Shanghai Museum Collections: A Series of Monographs. Mingdai guanyao ciqi [Ming imperial porcelain], Shanghai, 2007, pl. 3-28. See also one in Helen D. Ling & Edward T. Chow, Collection of Chinese Ceramics from the Hall of Leisurely Pastime, Hong Kong, 1950, vol. II, pl. 92.
Examples in other countries include one from the Sir Percival David collection, now in the British Museum, London, illustrated in Oriental Ceramics. The World's Great Collections, vol. 6, Tokyo, 1982, pl. 89; one in the Freer Gallery of Art, op. cit., vol. 9, Tokyo, 1981, pl. 100; one in the Museum of Far Eastern Antiquities, illustrated in Jan Wirgin, Chinese Ceramics from the Axel and Nora Lundgren Bequest, Stockholm, 1978, pl. 29, no. 29, and again in Ming Porcelain in the Collection of the Museum of Far Eastern Antiquities: Hongwu to Chenghua, Stockholm, 1991, pl. 23; and one in the Princessehof Museum, Leeuwarden, illustrated in Eva Ströber, Ming Porcelain for a Globalised Trade, Stuttgart, 2013, pl. 11.
Tankards of this type have rarely been offered at auction. A similar piece, once in the collections of Mr. and Mrs. Thomas Cole of New York and T.Y. Chao, was sold in our London rooms, 8th July 1974, lot 188, and twice in these rooms, 19th May 1987, lot 236, and 30th October 2002, lot 283, included in the exhibition Ming Porcelains: A Retrospective, China House Gallery, China Institute in America, New York, 1970-1971, cat. no. 11, and is illustrated in Duncan Macintosh, Chinese Blue and White Porcelain, London, 1986, pl. 23. Another tankard, from the Su Lin An collection, was sold in these rooms, 31st October 1995, lot 314. A similar example was also included in the exhibition Yuan and Early Ming Blue and White Porcelain, Eskenazi, London, 1994, cat. no. 25.
Compare also a Xuande-marked tankard with lotus motif, formerly in collections of Edward T. Chow (around 1950) and J.M. Hu, and later the Meiyintang collection, sold in our New York rooms, 4th June 1985, lot 2, again in these rooms, 7th April 2011, lot 53, illustrated in Helen D. Ling and E.T. Chow, Collection of Chinese Ceramics from the Pavilion of Ephemeral Attainment, Hong Kong, 1950, vol. 1, pl. 38, and in Regina Krahl, Chinese Ceramics from the Meiyintang Collection, London, 1994-2010, vol. 2, no. 674. A misfired and broken example with the lotus pattern has been recovered from the waste heaps of the Ming imperial kilns at Jingdezhen, see the exhibition catalogue Xuande Imperial Porcelain Excavated at Jingdezhen, Chang Foundation, Taipei, 1998, cat. no. 23.
Sotheby's. The Pilkington Collection of Chinese Art, Hong Kong, 06 avr. 2016, 10:00 AM