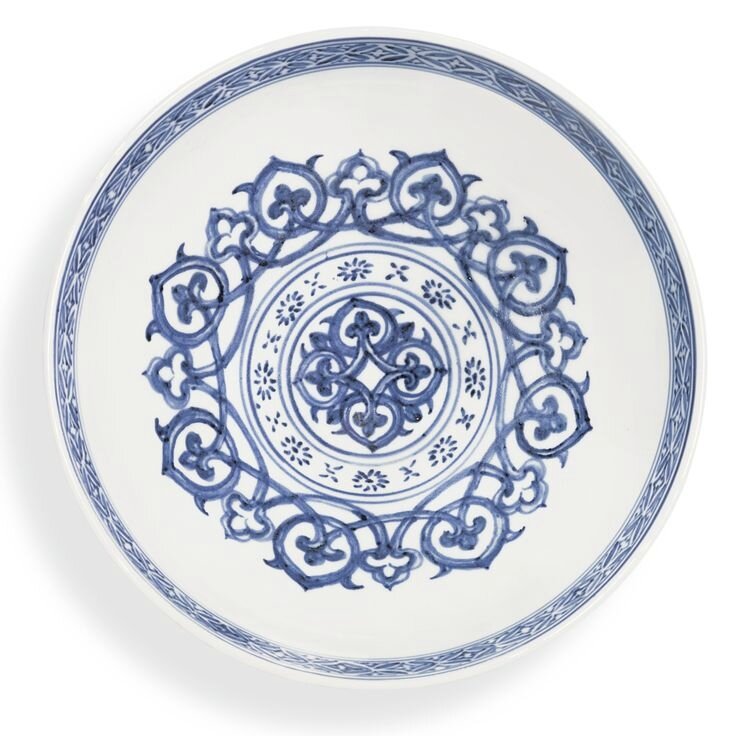 Lot 23. A fine blue and white 'lianzi' bowl, Mark and period of Xuande. Estimate 2,500,000 — 3,500,000 HKD (292,358 - 409,301 EUR). Lot Sold 5,120,000 HKD (578,005 EUR). Photo: Sotheby's.
finely potted in the shape of a lotus bud (lianzi), with deep rounded sides and a pointed base resting on a narrow foot, delicately painted in soft shaded tones of cobalt, the interior with a central medallion enclosing a formal quatrefoil leaf-like motif encircled by a border of florets and strokes, and further wreathed by elaborate strapwork repeating the central motif around the sides, all below a band of cash diaper at the rim, the exterior picked out with a row of elongated petal lappets surrounding the base, below a broad plain white band and set between two key-fret borders at the rim and foot, the convex base inscribed with a six-character reign mark within a double circle - 16 cm, 6 1/4 in.
Provenance: Collection of Wu Lai-hsi (d. c. 1949/50), until 1937.
Sotheby's London, 26th May 1937, lot 12 (£12).
Collection of H.R.N. Norton (d. 1961/62), from 1937 (£12).
Sotheby's London, 26th March 1963, lot 51 (£900).
Bluett & Sons Ltd, London, 1963 (£900).
Collection of Roger Pilkington (1928-69), from 1963 (£900).
Note: The formal non-representational patterns on this bowl would seem to be inspired by Middle Eastern designs, although no clear prototype has so far been identified. A bowl of similar form filled with figs has been given pride of place next to a Madonna and Child in an Italian painting in the National Gallery of Art, Washington, D.C., attributed to Francesco Benaglio (1432 - c.1492) and believed to date from the 1460s; see A.I. Spriggs, 'Oriental Porcelain in Western Paintings', Transactions of the Oriental Ceramic Society, vol. 36, 1964-6, pl. 57.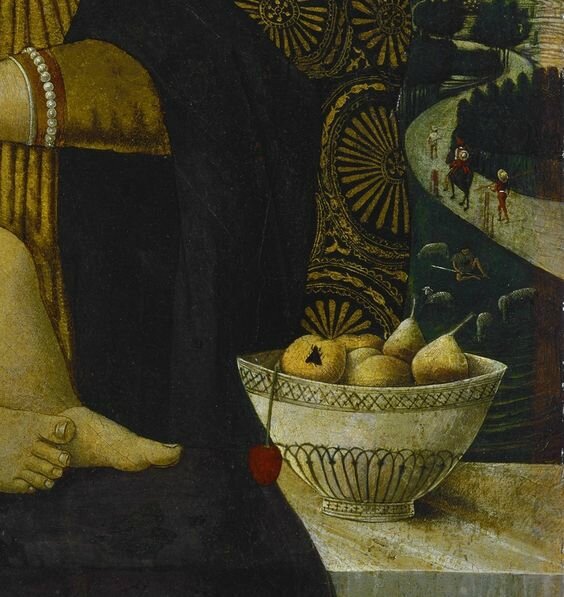 Attributed to Francesco Benaglio (1432 - c.1492), Madonna and Child, detail. National Gallery of Art, Washington, D.C.
The present piece has the shape of a lotus bud (lianzi) and such lianzi or 'lotus' bowls have been popular not only at the Ming court during both the Yongle (1403-24) and Xuande (1426-35) periods, but were also favoured in the Near East and elsewhere; see for example three bowls of related form preserved in the Ardabil Shrine, Iran, in John Alexander Pope, Chinese Porcelains from the Ardebil Shrine, Washington, D.C., 1956, pl. 47, nos 29.324-326.
Two 'lotus' bowls from the Yongle period, one with similar design to the current lot, but with a stylised wave border instead of the key-fret around the foot, are published in Jessica Harrison-Hall, Ming Ceramics in the British Museum, London, 2001, nos 3: 29-30, where the author mentions that "…the bowl depicted [in the European painting] is the Xuande version or an Islamic copy of the Chinese bowl. The appearance of this bowl in such a painting is an indication of the high regard in which Europeans held Chinese porcelain in the fifteenth century".
A very similar piece in the National Palace Museum, Taiwan, was included in the exhibition Mingdai Xuande guanyao jinghua tezhan tulu/Catalogue of the Special Exhibition of Selected Hsüan-te Imperial Porcelains of the Ming Dynasty, National Palace Museum, Taipei, 1998, cat. no. 157; a second example in the same museum in the exhibition Ming Xuande ciqi tezhan[Special exhibition of Ming Xuande porcelain], National Palace Museum, Taipei, 1980, cat. no. 43; a similar bowl in the Beijing Art Museum is published in Zhongguo taoci quanji [Complete series on Chinese ceramics], Shanghai, 1999-2000, vol. 12, pl. 66, also illustrated in Wanshousi Beijing Yishu Bowuguan/Beijing Art Museum, Tianjin, 2010, p. 72. A Xuande example of this design is also illustrated in A.D. Brankston, Early Ming Wares of Chingtechen, Beijing, 1938, pl. 13d, where the underside is compared to that of an unmarked Yongle example, pls. 7 c and d.
A Yongle version with a pointed base and a wave border at the foot in the Shanghai Museum is published in Lu Minghua,Shanghai Bowuguan zangpin yanjiu daxi/Studies of the Shanghai Museum Collections: A Series of Monographs. Mingdai guanyao ciqi [Ming imperial porcelain], Shanghai, 2007, pl. 5-18, together with a Kangxi copy of a Xuande-marked example, pl. 5-17; and a copy of Kangxi mark and period in the same museum is published in Zhongguo taoci quanji, op.cit., vol. 14, pl. 43.
A very similar bowl of Xuande mark and period, from the collections of R.H.R. Palmer (1898-1970), Toguri Tōru and the Toguri Museum of Art, Tokyo, once with John Sparks Ltd, and Eskenazi Ltd., London, illustrated in Regina Krahl, Chinese Ceramics from the Meiyintang Collection, London, 1994-2010, vol. 4, no. 1648, was sold at Christie's Hong Kong, 17th January 1989, lot 571, in our London rooms, 9th June 2004, lot 27, and recently in these rooms, 8th April 2013, lot 22.
Compare also a similar Xuande bowl from the collection of Major Lindsay F. Hay, sold in our London rooms, 16th June 1939, lot 103, and again from the Lionel Edwards collection, 8th February 1945, lot 85; and another from the George Eumorfopoulos collection sold in our London rooms, 29th May 1940, lot 222.
Sotheby's. The Pilkington Collection of Chinese Art, Hong Kong, 06 avr. 2016, 10:00 AM