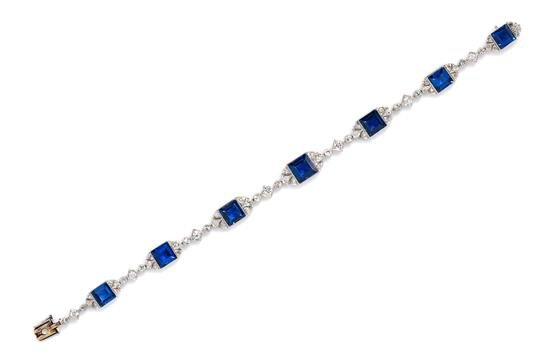 Lot59. An Important Belle Époque Platinum, Montana Sapphire and Diamond Bracelet, circa 1910. Estimate: $75,000-100,000. Sold for $81,250 © 2016 Leslie Hindman Auctioneers, Inc.
containing seven square step cut Yogo Gulch Montana sapphires, the largest weighing approximately 2.00 carats and the group weighing approximately 10.60 carats total, together with 63 old mine, old European, rose cut and round single cut diamonds weighing approximately 1.40 carats total. Scratch mark: 4476 (partially obscured). 10.20 dwts

Accompanied by a photocopy of an American Gemological Laboratories sapphire identification and origin certificate number CS 37397, dated October 15, 2004, stating Mineral Type: Natural Corundum, Origin: Yogo Gulch, Montana, Enhancement: No gemological evidence of heat, Clarity Enhancement: None.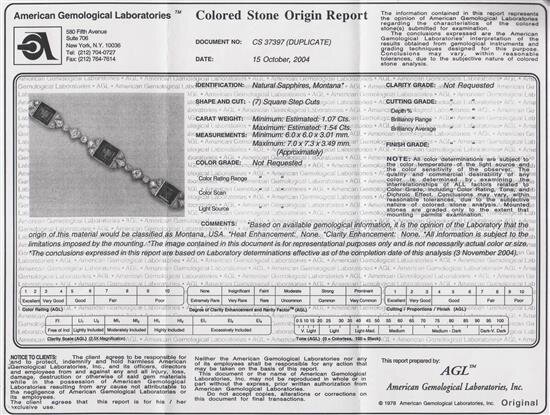 Sapphire Characteristics (graded in setting)
The sapphires exhibit even and minor wear under 10X magnification consisting of minor facet junction abrasions to the table/crown and scattered superficial scratches.

Stones described starting from clasp tongue side:
Stone 1 - Measurements: 6.12 x 5.97 x 3.04 mm (approx weight range: 1.07-1.15ct)
Stone 2 - Measurements: 6.42 x 6.34 x 3.28 mm (approx weight range: 1.20-1.40ct)
Stone 3 - Measurements: 6.64 x 6.45 x 3.11 mm (approx weight range: 1.20-1.40ct)
Stone 4 - Measurements: 7.31 x 7.23 x 3.52 mm (approx weight range: 1.92-2.05ct)
Stone 5 - Measurements: 6.56 x 6.45 x 3.32 mm (approx weight range: 1.28-1.45ct)
Stone 6 - Measurements: 6.38 x 6.17 x 3.80 mm (approx weight range: 1.35-1.55ct)
Stone 7 - Measurements: 6.28 x 6.07 x 3.23 mm (approx weight range: 1.12-1.27ct)
Leslie Hindman Auctioneers. IMPORTANT JEWELRY, April 3 2016 12:00 PM 1338 West Lake Street