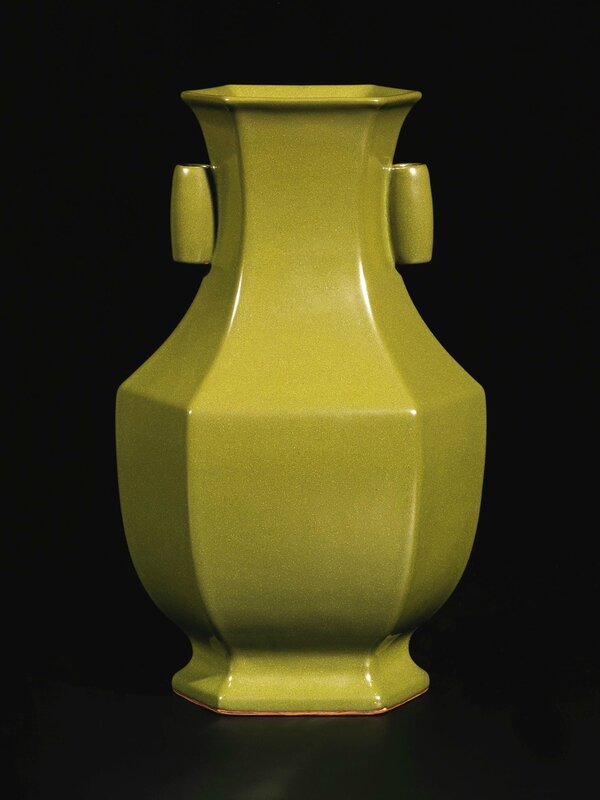 Lot 3022. A fine large teadust-glazed facetted vase, hu, Seal mark and period of Qianlong (1736-1795). Estimate 5,000,000 — 7,000,000 HKD (572,990 - 802,185 EUR). Photo Sotheby's.
of archaistic hu form, the well-proportioned hexagonal body supported on a splayed foot, gently tapering at the angular shoulders to a tall flared neck flanked by a pair of tubular loop handles, evenly covered all over save for the footring in a rich mottled dark olive-green glaze flecked with a fine golden-yellow mist, the base centred with a six-character seal mark, the footring and seal mark dressed in a brown wash, wood stand - 34.6 cm, 13 5/8 in.
Provenance: The Manno Art Museum, Osaka, no. 363.
Christie's Hong Kong, 28th October 2002, lot 560.
Christie's Hong Kong, 28th November 2005, lot 1317.
Bibliography: Christie's 20 Years in Hong Kong, 1986-2006. Chinese Ceramics and Works of Art Highlights, Hong Kong, 2006, p. 162.
Note: The present vase is notable for its lustrous and deep tea-dust glaze which perfectly complements the angular shape, and is a testament to the technical perfection achieved by craftsmen working at the imperial kilns in Jingdezhen under the Qianlong Emperor as well as his keen interest in antiquity. Its form is a reinterpretation of the archaic bronze hu form which was first developed by craftsmen working at the Guan kilns during the Song dynasty. Further reference to bronzes is made in the rich tea-dust glaze, inspired by their patina and an innovation of the Yongzheng period. This glaze was achieved through the precipitation of yellow crystal that stands out against the dark green background, producing what is known in Chinese aschayemo or 'tea-leaf' dust glaze effect. Successfully fired vases have many stipples that make the glaze appear especially rich and velvety at the touch.
A closely related vase, from the collection of W.W. Winkworth, was sold in our London rooms, 12th December 1972, lot 130, and again in these rooms, 16th May 1977, lot 158; another was sold at Christie's London, 11th July 2006, lot 141. See also a larger vase in the Idemitsu Museum of Art, Tokyo, illustrated in Chinese Ceramics in the Idemitsu Collection, Tokyo, 1987, pl. 965; and another sold in our London rooms, from the collection of the Toguri Museum of Art, Tokyo, 9th June 2004, lot 3, and again in these rooms, 8th April 2010, lot 1822.
Compare also a slightly smaller version, from the Hall family collection, sold in these rooms, 2nd May 2000, lot 556, and included in the Oriental Ceramic Society exhibition Iron in the Fire, Ashmolean Museum, Oxford, 1988, front cover and cat. no. 89, and A Selection of Ming and Qing Porcelains, Eskenazi Ltd, London, 2004, cat. no. 14; and more recently illustrated in Hajni Elias, A Dealer's Hand. The Chinese Art World through the Eyes of Giuseppe Eskenazi, London, 2012, pl. 433.
Perfectly symmetrical and covered in an even glaze, this deceptively simple vase required the utmost attention and skill in every stage of its production, from the purity of the clay and precision of potting to the evenness of the glaze and control of firing. The slightest irregularity would result in the rejection and destruction of the piece, thus pushing the craftsmen to the limits of their abilities, particularly in the production of large vessels such as the present. Furthermore, the hexagonal-section form indicates that this vase would have been created in a mould, which demanded acute precision, as the traditional method of using a potter's wheel could only result in vessels of circular section.
Qianlong mark and period vases of this form are also known in various monochrome glazes, such as a sky-blue glazed example illustrated in Sekai toji zenshu, Tokyo, 1956, vol. 12, pl. 46; and two ru-type vases, sold in these rooms, the first, 26th October 2003, lot 50, and the second, 9th October 2007, lot 1526. For the prototype of this form see a Yongzheng mark and period guan-type hu of slightly larger size, sold in these rooms, 9th October 2007, lot 1534.
Sotheby's. Emperors' Playthings – a Connoisseur's Collection, Hong Kong, 06 avr. 2016, 02:20 PM