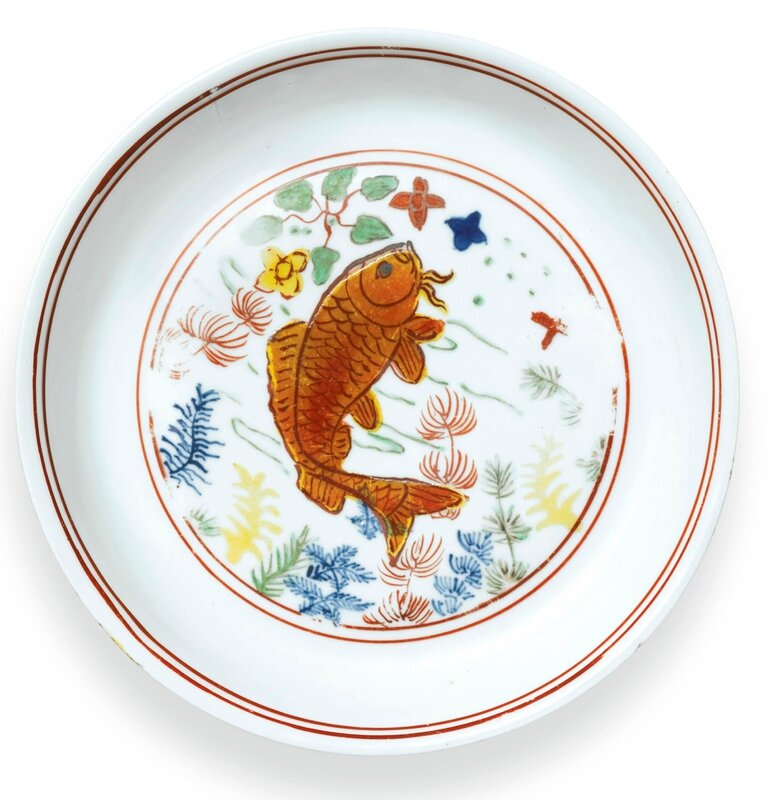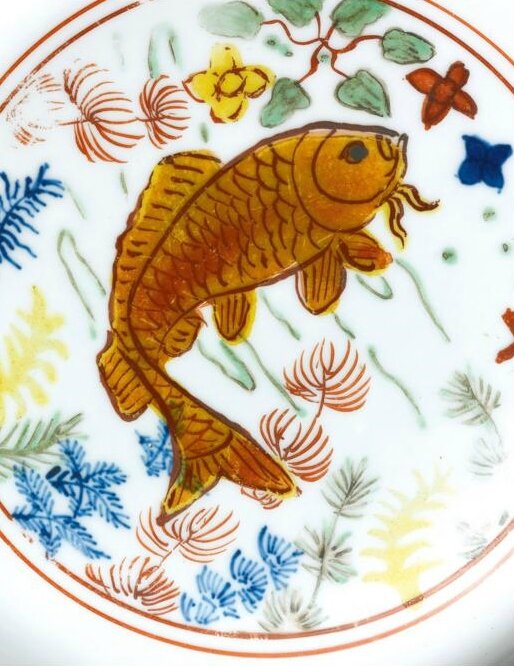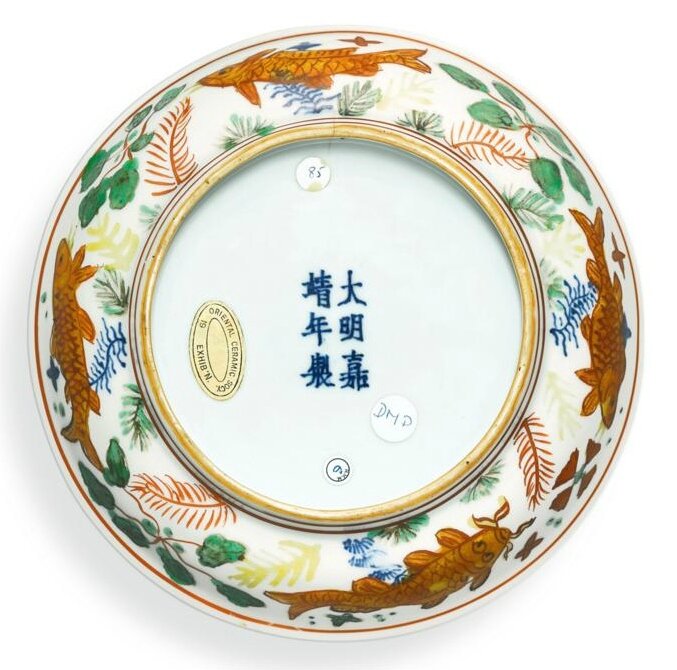 Lot 33. A very rare wucai 'golden carp' dish, Mark and period of Jiajing. Estimate 400,000 — 600,000 HKD (45,157 — 67,735 EUR). Lot Sold 3,200,000 HKD (361,253 EUR). Photo: Sotheby's.
the shallow rounded sides rising from a tapered foot to a flared rim, painted to the interior with a central medallion enclosing a golden carp swimming amidst waterweeds and scattered floating blossoms, its scale and fin carefully pencilled in iron-red, all encircled by a double-line border repeated at the rim, the exterior similarly decorated with four further carp amongst aquatic plants and weed, inscribed to the base in underglaze-blue with a six-character reign mark - 17.2 cm, 6 3/4 in.
Provenance: K. Shimizu, until 1928 (one of a pair).
Bluett & Sons Ltd, London, 1928 (£45, one of a pair).
Collection of Major Utterson (1888-1952), from 1928 to 1931 (£55, one of a pair).
K. Shimizu, 1931.
Bluett & Sons Ltd, London, 1931 (£35).
Collection of Mr. and Mrs. R.H.R. Palmer, from 1931 to 1962 (£45).
Sotheby's London, 27th November 1962, lot 37 (£520).
Bluett & Sons Ltd, London, 1962 (£520).
Collection of Roger Pilkington (1928-69), from 1962 (£520).
Exhibited: Chinese Art: An Exhibition presented by the British Council in collaboration with The Chinese Embassy, The National Gallery of Scotland, Edinburgh, 1944, cat. no. 38; and Glasgow, 1944, cat. no. 416.
Polychrome Porcelain of the Ming and Manchu Dynasties, The Oriental Ceramic Society, London, 1950 (manuscript catalogue), cat. no. 41.
Literature: Adrian Joseph, Ming Porcelains: Their Origins and Development, London, 1971, pl. 82.
Note: No design or colour scheme can perhaps better represent the spirit of the Jiajing period (1522-66) than this lively representation of fishes swimming among water plants in this vibrant version of the polychrome wucai ('five colour') palette. Only two pairs of these wucai 'fish' dishes of Jiajing mark and period appear to be recorded, one that was composed of the present piece and a companion now in the Museum of Oriental Ceramics, Osaka, and another in the Sir Percival David collection, now in the British Museum, London. In tune with the untroubled air of the design, all four dishes are freely painted, differing considerably in the composition of the water plants.
The Jiajing Emperor has gone down in history as a fervent patron of Daoist beliefs, admirer of magical practices performed by Daoist adepts and supporter of research into immortality drugs. Motifs with Daoist messages are therefore ubiquitous in the arts and crafts produced during his reign, sometimes even combined with the five-clawed dragon, the official emblem of imperial authority, an association not encountered in other reigns.
Fishes as images of serenity and freedom from restraints have played an important part in Daoist thought since earliest times. The association is already found in the most ancient Daoist classic, Zhuangzi, a text with origins going back to the late 5th century BC. The motif of fish among water weeds, first employed on porcelain during the Yuan dynasty (1279-1368), enjoyed increased popularity under the reign of the Jiajing emperor, who was a fervent patron of Daoist causes. Symbolic of freedom, success and advancement in official life, according to myth the carp could transform itself into a dragon by swimming against the flow in the Yellow river and leaping over the Dragon Gate. The popularity of this motif is well attested in the Tao shu (Book on ceramics) of the Jiangxi gazetteer (Jiangxi ta zhi) issued in 1546 and 1556, which recorded the commission of 200 blue-and-white vessels decorated with four fish on the 30th year of the Jiajing reign, corresponding to 1551 (see the catalogue to the exhibition Two Rare Chinese Porcelain Fish Jars of the 14th and 16th Centuries, Eskenazi, London, 2002, p. 42).
The colourful wucai palette also gained prominence in the Jiajing reign. It represents a development of the doucai ('dove-tailed colours') colour scheme, which employs a similar combination of underglaze blue and overglaze enamels, but with underglaze blue used mainly for outlines. This makes it far easier to plan the design before the glaze is applied, since an outline drawing of the full design is in that case painted onto the unfired body to be filled in with enamel washes after the first firing. In the wucai scheme, underglaze cobalt blue is not used for outline drawing but for colouring, which makes for freer compositions, but requires virtual planning of the final image and careful placement of blue areas before application of the glaze, so that later they fit neatly into the overall polychrome design, once the overglaze enamels are applied.
This richly coloured porcelain decoration clearly agreed with the Jiajing Emperor's love of opulence, which is documented through lavish commissions of buildings and ceremonies of Daoist worship where pearls, ambergris and gold are said to have been used in profusion. Although the potters in the Jiajing reign did not develop completely new colours or decorative techniques, they were very inventive in using traditional means in new ways, thus expanding the range of styles and colour schemes. On this fish design, which is also known from large and small jars, an additional orange tone has been created through superposition of yellow and red enamels, thus not only enlarging the colour range but at the same time creating the ideal tone to render the golden fishes so highly coveted in China. Golden carp and later also other golden fishes were already well domesticated in China by the Song dynasty (960-1279) and can be seen, for example, among the great variety of fishes in the painting Fish swimming among falling flowers by the first painter specialising in this genre, Liu Cai (active c. 1080-1120).
Until c. 1931 the present dish formed a pair with a similar piece, also purchased by Major Utterson from K. Shimizu in 1928, and later in the collection of Frederick M. Mayer, sold at Christie's London, 24th/25th June 1974, lot 104, thereafter in the Ataka collection, and today in the Museum of Oriental Ceramics, Osaka, illustrated in Imperial Overglaze-Enamelled Wares in the Late Ming Dynasty, Museum of Oriental Ceramics, Osaka, 1994, cat. no. 2 (fig. 1). The other pair of Jiajing 'fish' dishes from the Sir Percival David collection in the British Museum, is recorded and one dish illustrated in Margaret Medley,Illustrated Catalogue of Ming Polychrome Wares in the Percival David Foundation of Chinese Art, London, 1978, nos. A 730 and A 731.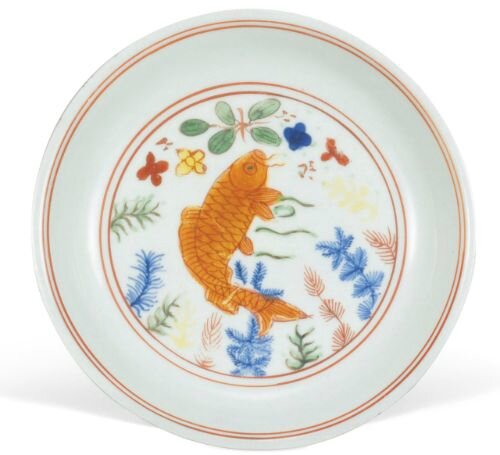 Underglaze blue and overglaze enamels dish with fish and water plant design, mark and period of Jiajing © The Museum of Oriental Ceramics, Osaka.
This fish pond design executed in this distinctive colouration is better known from jars. Two smaller jars of Jiajing mark and period in the British Museum, London, are illustrated in Jessica Harrison-Hall, Ming Ceramics in the British Museum, London, 2001, pl. 9: 117 and 118. The design appears also on the celebrated massive Jiajing wucai 'fish' jars and covers, an example of which is preserved in the Palace Museum, Beijing, illustrated in The Complete Collection of Treasures of the Palace Museum. Porcelains in Polychrome and Contrasting Colours, Hong Kong, 1999, pl. 15; a piece excavated in Chaoyang district, Beijing, now belongs to the National Museum of China, Beijing, see Zhongguo Guojia Bowuguan guancang wenwu yanjiu congshu/Studies on the Collections of the National Museum of China. Ciqi juan [Porcelain section]: Mingdai [Ming dynasty], Shanghai, 2007, pl. 84); one in the Tianjin Municipal Art Museum is published in Tianjin Shi Yishu Bowuguan cang ci/Porcelains from the Tianjin Municipal Museum, Hong Kong, 1993, pl. 116); and an example formerly in the collection of Henry Walters and later the Walters Art Museum, Baltimore, was recently sold in our New York rooms, 12th September 2012, lot 262.

Sotheby's. The Pilkington Collection of Chinese Art, Hong Kong, 06 Apr 2016