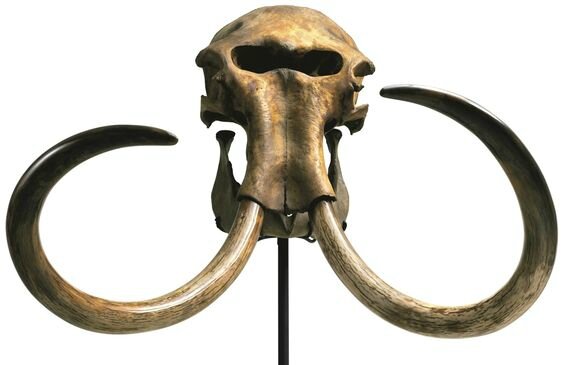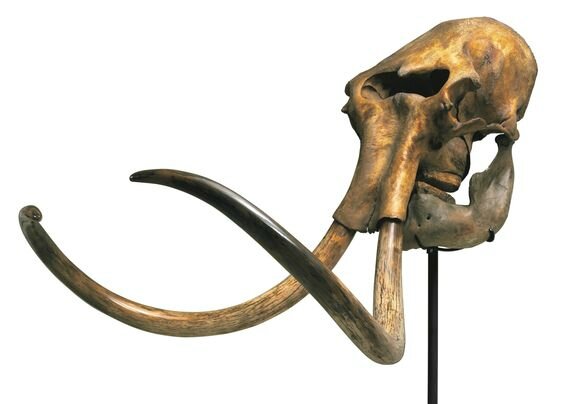 Lot 2851. A mammoth skull, mammuthus primigenius (woolly mammoth), late Pleistocene, Quaternary period (2.6 million years old), Siberia. Estimate HKD 650,000 — 750,000 (73,403 - 84,695 EUR). Lot Sold 2,480,000 HKD (280,059 EUR). Photo: Sotheby's.
the monumental skull of an individual Mammuthus primigenius exceptionally preserved, the skull with a piercing elongated cavity above a pair of long tusks powerfully extending out towards the sides with a dramatic curvature, the smoothly patinated light beige tusks covered with characteristic brown streaks and transmuting to a brown colour towards the tapering tips, metal stand and wood base - overall length 270 cm, 106 1/4 in., height 90 cm, 35 3/8 in.
Note: Historians suggest that it was the open cavity of mammoth skulls found on the shorelines of ancient Greece that inspired the myth of Cyclops, the round-eyed primordial giant described in Greek and later Roman mythology. Complete with skull and two tusks, this current lot is an extremely well-preserved example of the mammoth, the enormous land mammal that encapsulates our vision of the Ice Age. Hunted by prehistoric man, the mammoth developed special teeth and defenses to face the rigors of its ecosystem. Tusks were used not only in self-defense but also for digging and scraping beneath the snow for food. These naturally formed tusks emerged at birth and continued to grow in an organic curve until the end of the animal's life. The tusks of the present lot boast a beautiful patina and the exceptionally rare specimen is in excellent condition.
Sotheby's. Literati / Curiosity II, Hong Kong, 05 Apr 2016