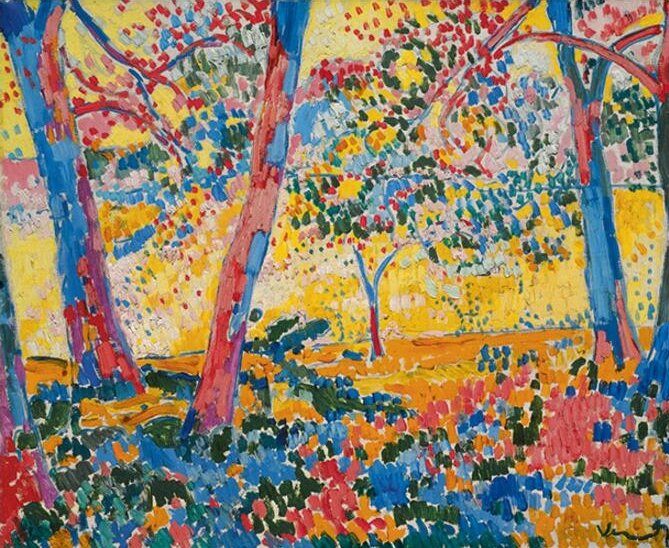 Maurice de Vlaminck, Sous-bois (Paysage), 1905. Estimate $12/18 Million. Photo: Sotheby's.
NEW YORK, NY.- Two masterpieces by art history's "Wild Beasts" will appear at auction for the first time in Sotheby's Evening Sale of Impressionist & Modern Art on 9 May 2016 in New York. Together, André Derain's Les Voiles rouges (estimate $15/20 million) and Maurice de Vlaminck's Sous-bois ($12/18 million) embody the explosive Fauvism movement of the early-20th century. The term was coined in 1905, when the critic Louis Vauxcelles derided the colorful canvases of Vlaminck, Matisse and Braque on display at the Salon d'Automne as the work of 'les fauves' (wild beasts). These radical artists continued to flood their compositions with bold, expressive color for another two years, creating an aesthetic that would influence artists for decades to come.

Both paintings were acquired in 1954 by art patron and philanthropist Sarah Campbell Blaffer of Houston, Texas, and have remained in her family's collection since**. Only four major Fauve paintings have sold at auction since 2010, when Sotheby's set a new benchmark price for the movement: Sotheby's London sale of Impressionist & Modern Art that June featured a 1905 work by Derain, Arbres à Collioure, which sold for £16.3 million ($24 million), marking auction records for both the artist and for any Fauve painting. The present is the finest Fauve work to come to auction since.

Simon Shaw, Co-Head, Worldwide, Sotheby's Impressionist & Modern Art Department, said: "Fauvism liberated color and the brushstroke – a seismic shift that changed painting forever. Truly seminal examples are available only rarely, so to offer two in one season is extraordinary. Both pictures are coming to auction for the first time, and enjoy an exquisite provenance from one of the great American collections."
Vlaminck executed Sous-bois (Paysage) in the summer of 1905, only months before the Salon d'Automne. The canvas resonates with a passion and exuberance that characterizes the early Fauve paintings. Of all of the Fauve painters, Vlaminck was one of the most vocal about the expressive impact of vibrant color. He would frequently use musical and visual qualifiers interchangeably in his descriptions of his art, enabling him to express the powerful, multi-sensual experience he attempted to convey in his paintings.

His fascination with brilliant, vibrant colors is beautifully reflected in Sous-bois, which depicts a scene near Chatou, along the Seine from Paris, where Vlaminck lived at the time. He drew inspiration for his early landscapes from this region, many of them characterized by the redtiled roofs typical of the surrounding villages. It was in Chatou, the birth place of André Derain, where the two artists met by chance in 1900, and subsequently formed a partnership that became the core of the Fauve movement. Vlaminck and Derain shared a studio, and over the following years regularly painted together, often depicting the same views of the local landscape.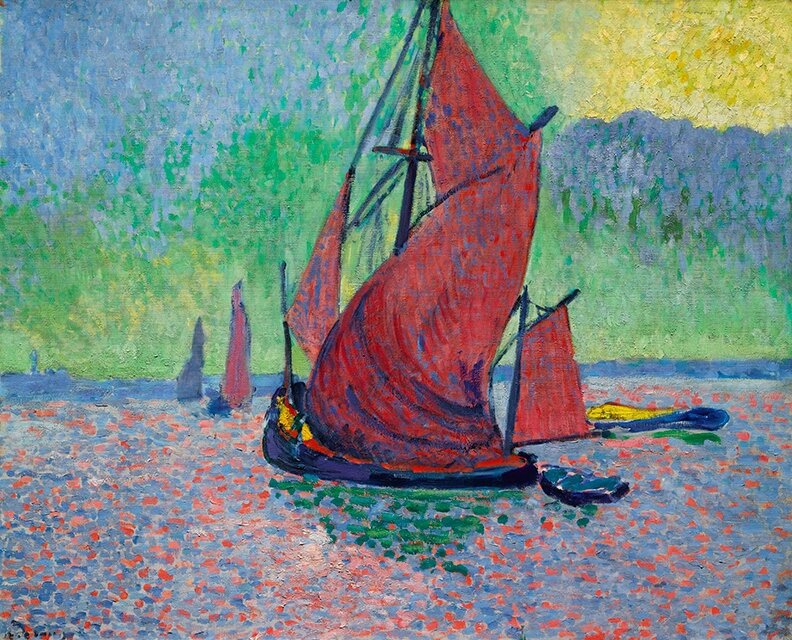 André Derain, Les Voiles rouges, 1906. Estimate $15/20 Million. Photo: Sotheby's.
André Derain painted Les Voiles rouges in 1906, during the height of the Fauve movement. Derain was a mere 25 at the time, and was encouraged to make the journey from Paris to London by his dealer, Ambroise Vollard. Roughly 30 canvases were painted during Derain's stay in London. Most of these compositions depicted recognizable sights such as the Palace of Westminster, St. Paul's Cathedral, Charing Cross and the Tower Bridges; the present work, however, shows a wide section of the River Thames at Greenwich, featuring a traditional Thames sailing barge painted in a highly-keyed color palette.
**Sarah (Sadie) Campbell Blaffer was the daughter of William Thomas Campbell, the founder of the Texas Company (later known as Texaco), and Sarah Campbell (née Turnbull). Sarah's lifelong love for supporting the arts began at the Louvre during her honeymoon with her husband Robert E. Lee Blaffer (the founder of the Humble Oil & Refining Co., now Exxon Mobil). Together, the Blaffers amassed a comprehensive collection of works ranging from Old Master paintings to Impressionist and Modern works. Mrs. Blaffer was an early benefactor of the Museum of Fine Arts, Houston where she later donated a large portion of her collection.