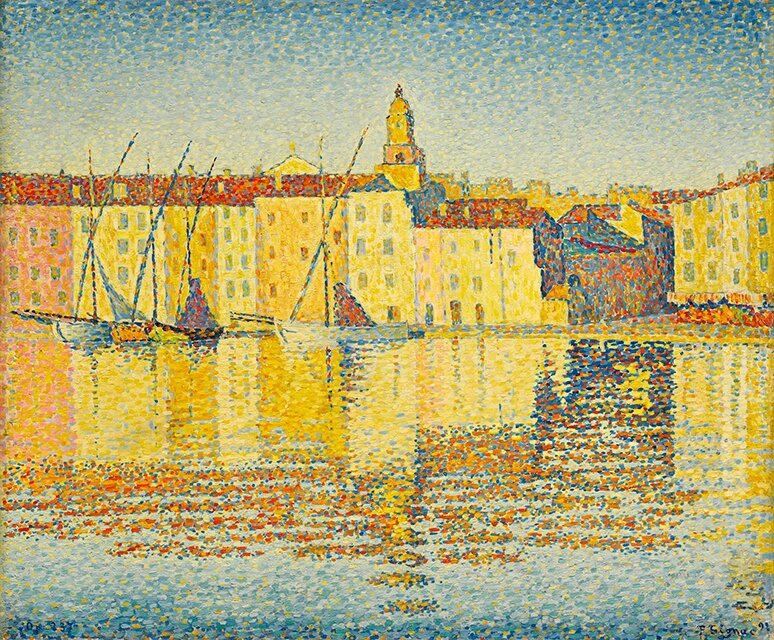 Paul Signac, Maisons du port, Saint-Tropez, 1882. Estimate $8/12 million. Photo: Sotheby's.
NEW YORK, NY.- On 9 May 2016, Sotheby's Evening Sale of Impressionist & Modern Art in New York will feature a striking Pointillist painting of Saint-Tropez by Paul Signac (estimate $8/12 million*). Inscribed Op.237, the painting heralds from an important period for the artist, during which he designated his works with 'opus numbers,' much as a composer would name a masterful musical composition. Painted in 1882 – his first year visiting the coastal town, to which he would return many times over the years – Maisons du port, Saint-Tropez was created at the peak of Signac's time as the leader of the NeoImpressionist painters. Having never appeared at auction, Maisons du port, Saint-Tropez has remained in the family collection of Ambassador John Langeloth Loeb, Jr. since his parents acquired it in July 1958. It comes to auction this May with an estimate of $8/12 million.*

"The separated elements will be reconstituted into brilliantly colored lights." — Paul Signac

Jeremiah Evarts, Head of Sotheby's Impressionist & Modern Art Evening Sales in New York, said: "With its effusive color and exquisite orchestration, Maisons du port, Saint-Tropez is a true manifesto of Pointillism. It was created at a time when Signac was inheriting the mantle of his friend and fellow Neo-Impressionist Georges Seurat, who passed away soon before this work was painted. Through this stunning view of Saint-Tropez, Signac is searching for the musicality and beauty in the world around him, and the resulting 'Opus' is the greatest we have seen come to auction in almost a decade."

In April of 1882, Signac set sail on his boat Olympia from Concarneau to the south of France, in search of restorative sunlight and happier times following the death of his friend Georges Seurat the prior year. When he arrived at the port of Saint-Tropez, which at the time could only be accessed by boat, the visual splendor of the terracotta roofed houses made a lasting impression. The area continued to be a source of fascination for the artist over the next several decades, during which he produced several variants on the scene of the port.

The term 'Neo-Impressionism' was coined at the 1886 Impressionist group exhibition by the critic Félix Fénéon when referring to the paintings of Signac, Georges Seurat, and Camille and Lucien Pissarro. As the inheritors of the Impressionist tradition, these artists continued to depict the visual splendor of the modern world. Their approach, however, was decidedly more scientific, relying upon harmonious use of color and a precise application of paint known as Pointillism.

Spearheading this innovative technique in the late 1880s and the early 1890s, Signac was well-regarded as the leading spokesperson for this innovative style of painting. The present work, created when Signac's technique was at its peak, epitomizes his bold stylistic innovation. It is rooted in a careful study of geometry, with particular focus on the horizontality of the port's architecture and its shimmering reflections on the water.

Maisons du port, Saint-Tropez is further distinguished by its exceptional provenance. Formerly in the collection of French writer and renowned collector Denys Cochin, it was acquired by the parents of Ambassador John Langeloth Loeb, Jr. in July 1958. John Langeloth Loeb, Jr. is a businessman, art collector, philanthropist and former United States Ambassador to Denmark (1981-1983). In addition to his innumerable contributions to society in the realm of politics and education, Ambassador Loeb is also a great patron of the arts. He served for nearly 30 years on the board of the Museum of the City of New York and has amassed what is arguably the greatest private collection of masterworks by Danish artists. Signac's Maisons du port, Saint-Tropez has provided a centerpiece of his family's collection for almost 60 years.