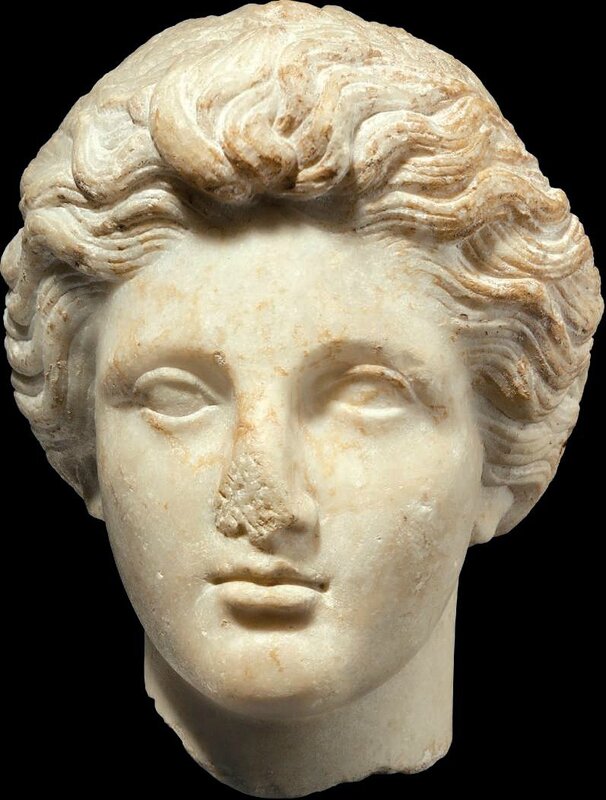 Lot 4. A Greek marble head of a youth, Classical period, circa 4th century B.C. Estimate $300,000 – $500,000. Photo Christie's Image Ltd 2016.
Perhaps depicting Apollo, his youthful oval face with a smooth forehead and gently-arching brows merging with the bridge of his nose, the convex eyes slightly asymmetrical, the proper right wider than the left, with heavy upper lids and contoured lower lids, the small mouth with the lips slightly parted, his undulating hair radiating from the crown of his head in a whorl, with flame-like locks brushed back from his forehead, flowing back over the tops of the ears, with long tendrils braided and wrapped forward around the crown of his head, the ends knotted at the front; 10 in. (25.4 cm.) high
Provenance: Baron Max von Heyl (1844-1925), Darmstadt.
Die Kunstsammlungen Baron Heyl, Darmstadt, Zweiter Teil, Sammlung Antiker Kunst, Marmorskulpturen, Bronzen, Terracotten, Vasen, Gläser, aus dem nachlass des verewigten freihernn Max von Heyl, General-Leutnant àl s und seiner Gemahlin Doris, Geb Stein, Darmstadt; Galerie Hugo Helbing, Munich, 30 October 1930, p. 2, no. 11, pl. III.
Auktion 5, Jean-David Cahn, Basel, 23 September 2005, lot 402.
Literature: R. Stupperich, "Der Apollonkopf v. Heyl," in Thetis: Mannheimer Beitrage zur Klassischen Archaologie und Geschichte Griechenlands und Zyperns, vols. 11-12, Mannheim, 2005, pp. 109-112.
Note: The earliest example of a statue with similar treatment of the braids tied around the head is seen on the so-called Blond Boy from the Athenian Akropolis, dated to the early 5th century B.C. (see fig. 72 in B.S. Ridgway, The Severe Style in Greek Sculpture). The style is seen also on the bearded bronze Poseidon from Cape Artemision. It was employed for a depiction of Apollo, the Omphalos type, known from numerous Roman copies but all thought to reflect a Greek original of the mid-5th century B.C. (see nos. 94-97 in Ridgway, op. cit.). See also the Greek bronze head, circa mid-5th century B.C., with a similar wrapped braid and upturned locks at the center of the forehead, sold at Christie's London, 26 April 2006, lot 29.

Baron Max von Heyl was born into a family of wealthy industrialists in Worms in 1844. He later moved to Darmstadt, where, together with his wife Doris, he built an impressive art collection ranging from Old Master paintings and sculpture to Greek, Roman and Egyptian antiquities. In 1924 the year before his death he donated a collection of works by his artist friend Arnold Böcklin to the city of Darmstadt. Following the death of Doris the collection was sold at auction in Munich in 1930 at Galerie Hugo Helbing. Many of the pieces are now in major museums, including a Byzantine marble portrait in the Metropolitan Museum of Art, a portrait of Antinoos in the National Museum in Warwaw, and a Hellenistic terracotta Aphrodite in the Antikensammlung, Berlin.

The Apollo head presented here, while included in the 1930 catalog, was ultimately not sold as the heirs were allowed to choose objects for themselves before the sale. It remained in the family until later appearing at auction in Basel in 2005. E. Langlotz, who wrote the catalog entry, considered it a depiction of a young girl from the Augustan period, but more recent scholarship has confirmed that this is in fact a 4th century B.C. Greek original, mostly likely depicting Apollo.
Christie's. ANTIQUITIES, 12 April 2016, New York, Rockefeller Plaza