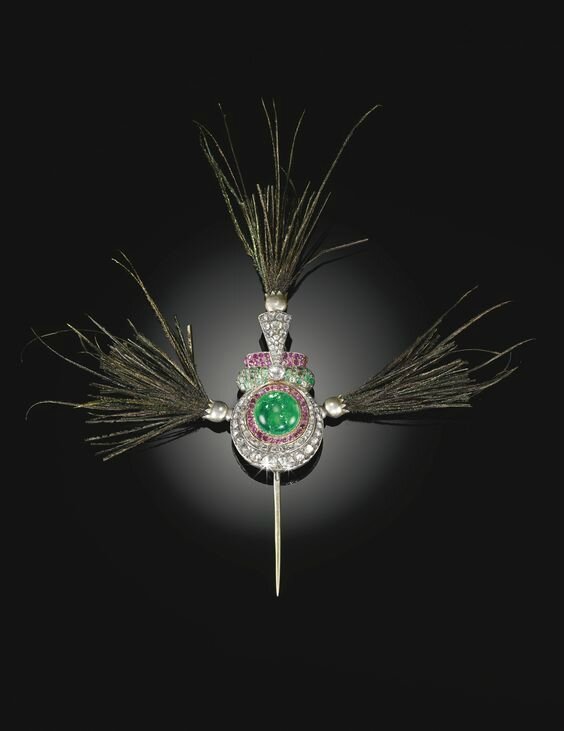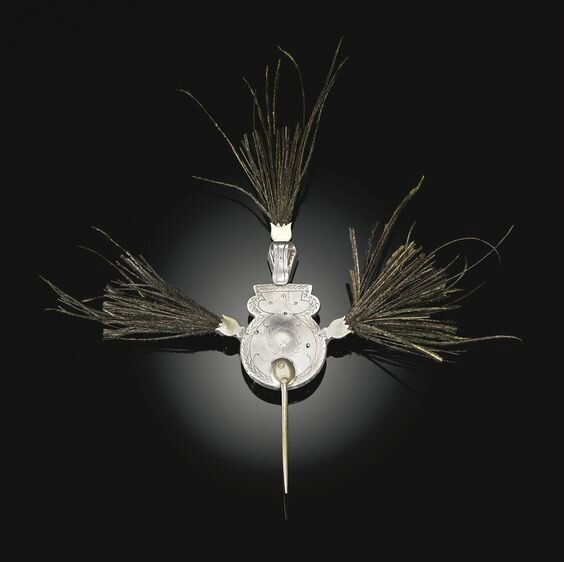 Lot 162. An imperial Ottoman aigrette (surguc), Turkey, 18th century. Estimate 40,000 — 60,000 GBP (50,684 - 76,026EUR). Photo: Sotheby's.
centred on a large foil-backed emerald encircled by rows of rubies and diamonds, surmounted by a turban-form mount also set with emeralds, rubies and diamonds, the stylised tulip-form terminals emanating peacock feathers, on a pin, with engraved foliate motifs and hook to reverse; 15cm; with feathers: 25.5cm.
Note: This imperial aigrette is an exceptional example of Ottoman fashion and jewellery in the eighteenth century. It is an impressive piece, composed of rose-cut diamonds, emeralds and rubies, which frame a remarkably large cabochon emerald, flanked by three sprays of iridescent peacock feathers. It must have been designed for a man of considerable wealth and rank.

Aigrettes adorned the turbans of many Muslim rulers, and were particularly favoured by the Ottoman Sultans. They first became popular in the sixteenth century, when their design was often simple, but grew increasingly elaborate over the later Ottoman period, with ever larger gemstones, intricate designs, and more magnificent plumes of feathers.

As well as being of great beauty, these feathered crests also carried a symbolic significance, an association which can be traced back to the early years of the Turkish Empire. The wearing of feathered jewellery gained its royal connotation when Mongol princes began to adorn their headdresses with eagle feathers, and the Mongol invasion of the Near East spread the association with sovereignty to neighbouring nations. The word 'aigrette' itself is derived from the French for 'egret', a bird which in legend was a messenger for the Gods.

Aigrettes also bear an association with the mythical Huma bird which, in Persian tradition, lived its entire life in flight and brought prosperity to those who glimpsed it. The shape of the aigrette mirrors that of the Huma bird, with the central gem cluster representing the body and the side sprays of feathers and precious stones arched around the turban as wings.

In the words of the court poet Hayali:

"The exceptional arena that is yours alone appeared to me,
The plume of the bird of paradise became your aigrette"

Whilst Sultans Mustafa II (r.1695-1703) and Ahmed III (r.1703-30) can be seen wearing aigrettes similar to the present piece (see fig.1, Istanbul 2000, p.409, no.112.8), aigrettes built around large central emeralds appear to have been fashionable among Ottoman Sultans as early as Sultan Mehmed IV (r.1648-56). According to chroniclers' accounts, Mehmed IV wore "a large emerald aigrette, the size of half an egg, attached to the centre of his turban" (İrepoğlu 2012, p.217).
Sultan Mustafa II, Levni, 1703-30, Topkapi Saray Museum, Istanbul (A.3109, fol.22r). (Istanbul 2000, p. 409, no. 112.8).
Furthermore, it is interesting to compare this aigrette with two Indian aigrettes in the Al-Thani Collection, published in Stronge 2015; the first, with similar feathers on p.117, the second with a similar central stone on p.151.