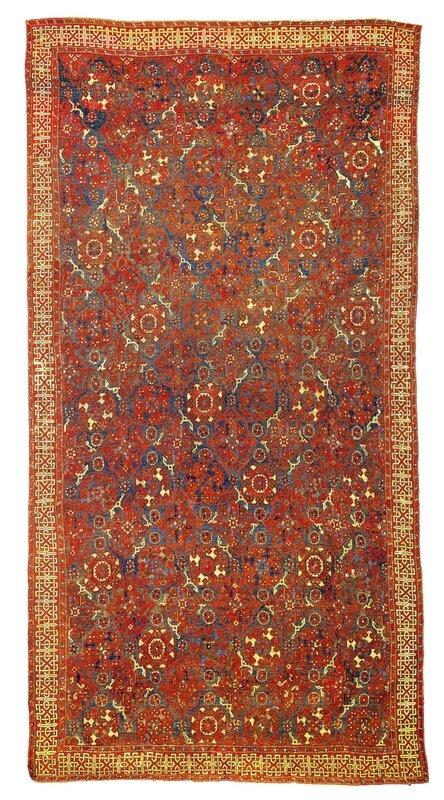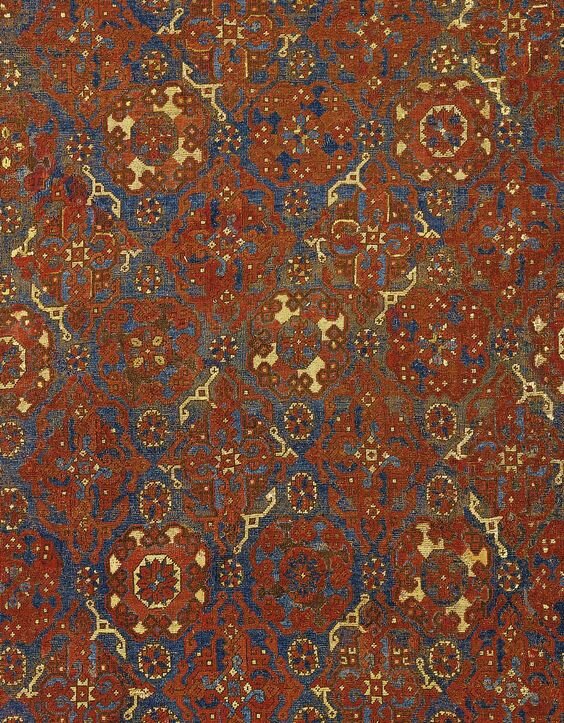 Lot 109. An Oushak 'Small Pattern Holbein' Carpet, West Anatolia, Late 15th-Early 16th Century. Estimate 600,000 — 800,000 USD. Photo: Sotheby's.

approximately 13 ft. 4 in. by 6 ft. 11 in.: 4.06 by 2.11 m.
Provenance: Adolpho Loewi, Venice (no. 6494)
Private Collection, Trieste
Bibliography: Ellis, Charles Grant, "Ellis in Holbeinland," Oriental Carpet and Textile Studies I, London 1985, no. R-49, p. 72 (listing, not illustrated)
Ellis, Charles Grant, Oriental Carpets in the Philadelphia Museum of Art, Philadelphia 1988, pl. 17, note 11 (cited, not illustrated)
Note: 'Holbein' rugs, like many other Anatolian rug types produced from the mid-fifteenth to the mid-sixteenth century, were becoming increasingly popular in Europe during the late 1400s and exported in large quantities to the western market. The specific patterns of imported pieces were associated with the names of the artists that used them most frequently, which included Ghirlandaio, Bellini, Crivelli and Lotto, with each design being named for its respective painter. 'Holbein' rug designs include the 'small pattern' and 'large pattern' of staggered repeat geometric octagonal patterns and a repertoire of Kufesque borders. Holbein employed rugs featuring these designs in several works including a 'large pattern' rug appears in The French Ambassadors and a 'small pattern' rug in the 1532 portrait of George Gisze.
Hans Holbein the Younger, Portrait of the Merchant Georg Giese, 1532. Oil and tempera on oak, © Gemäldegalerie, Staatliche Museen zu Berlin / Jörg P. Anders
The 'small pattern Holbein' carpet at Caramoor is one of some seventy known examples of these fifteenth and sixteenth century weavings to have survived into the twenty-first century. Many of these are incomplete fragments or fragmentary rugs and carpets pieced together from fragments, and the majority of them are in institutions such as the Philadelphia Museum of Art, the Berlin Museum, the Textile Museum in Washington, D. C., and various churches and museums in Europe and Istanbul. The Caramoor 'Holbein' carpet is one of the twenty or so carpets known to be in private collections. The large size of the Caramoor carpet also distinguishes it among these surviving examples.
A closely related carpet from the collection of Heinrich Wulff is in the Danish Museum of Art and Design, formerly the Museum of Decorative Arts, in Copenhagen, see Charles Grant Ellis, "Ellis in Holbeinland," Oriental Carpet and Textile Studies I, London 1985, no. R-4, p. 62. In the 1973 catalogue of rugs in the Metropolitan Museum of Art, New York, the authors mistakenly attributed the Caramoor carpet as being the carpet once with Heinrich Wulff, see M. S. Dimand and Jean Mailey, Oriental Rugs in the Metropolitan Museum of Art, New York, 1973, p. 180. The Wulff carpet is still at the museum in Copenhagen. Ellis identified the Caramoor carpet as having been sold to the Rosens (previous owners of Caramoor) by Adolfo Loewi, and it is quite possible that they purchased this at the same time as the Oushak medallion carpet (lot 182 in this catalogue) in the collection, which would have been on August 27, 1930 in Venice.
The Caramoor carpet retains good color and clarity of drawing and features a deep blue-green ground with the octagonal motifs rendered in a variety of colors. These repeating medallions are arranged according to color in diagonal rows across the field. In his description of these carpets, Ellis notes "The electricity crackles when we come to R-30, 42....49 (the present lot)--the rugs in which the color treatment seems most eccentric and whimsical," op.cit. p. 59. The Kufesque border of the current lot is of the 'C1' type as classified by Pinner, see Robert Pinner and Jackie Stanger, "Kufic Borders on 'Small Pattern Holbein' Carpets," Hali, vol. 1, no. 4, 1978, pp. 335-8, see D14. This border can be seen in a painting by Antonio Badile entitled Madonna and Child with SS. Andrew, Peter and John the Evangelist and dating from 1544 in the Museo del Castelvacchio, Verona, see John Mills, "'Small Pattern Holbein' Carpets in Western Paintings," Hali, vol. 1, no. 4, 1978, p. 332, m. 34. For related carpets see Jon Thompson, Milestones in the History of Carpets, Milan 2006, pls. 2 and 3; Alberto Boralevi, Oriental Geometries: Stefano Bardini and the Antique Carpet, Florence, 1999, pl. 12, p. 50-51; Ellis, op. cit., R.28, pp. 65 and 67; for a rug in the Bavarian National Museum, Munich, T.1598, and another in the Hungarian National Museum of Applied Arts, Budapest (inv. no. 14.785) see Ferenc Batari, "The First Turkish Carpet Exhibition in the West," Hali, Issue 136, p. 71. 'Holbein' carpets of dimensions such as this lot rarely appear on the market, with the most recent example being a 'large pattern' carpet that sold in Venice in 2002 for a record price. Fragments of 'small pattern Holbein' carpets that have appeared on the market include Christie's London, The Christopher Alexander Collection, October 15, 1998, lot 218 and Christie's London, October 12, 2000, lot 201; as well as the 'Holbein' fragment upholstered armchair from the Bernheimer collection, Sotheby's London, 24 November 2015, lot 13.
Sotheby's. European Decorative Arts from Caramoor Center for Music and the Arts, New York, 12 avr. 2016, 10:00 AM