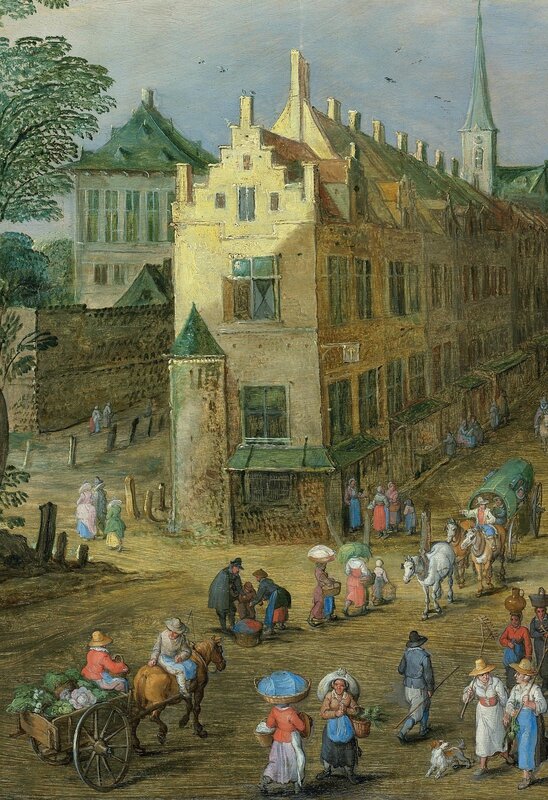 Lot 138. Jan Breughel I (Brussels 1568-1625 Antwerp) and Joos de Momper II (Antwerp 1564-1635), A townscape with figures and horse-drawn carts, carrying vegetables and other produce to market, oil on panel, 24 ½ x 35 in. (62 x 88.8 cm.). Estimate $700,000 – $1,000,000. Photo: Christie's Image Ltd 2016
Provenance: Private collection, Europe; Christie's, London, 7 December 2006, lot 7.
with Johnny van Haeften, London, where acquired by the present owner.
Literature: K. Ertz and C. Nitze-Ertz, Jan Brueghel der Ältere. Die Gemälde, IV, Lingen 2008, p. 1513, no. 715.
Note: This impressive panel is a wonderful example of the collaboration between two of the most accomplished and prolific Flemish artists of their time. Jan Brueghel I and Joos de Momper II each had a distinctive style and different specialty. By combining their skills, they were able to produce an entirely new kind of work for the buoyant Antwerp market and beyond. Such commercial enterprise was the raison d'être of collaboration and, as a practice, was central to both their careers.

Born shortly before the death of his famous father Pieter Bruegel I, Jan Brueghel I is often characterized as the most significant artist in Northern Europe between his father and Peter Paul Rubens (1577-1640), with whom he frequently worked. Though his father developed the formula of arranging figures traveling along country roads which receded into the distance, it was Jan who masterfully refined these images, focusing on conveying the vast depth of the withdrawing landscape and the corresponding, carefully diminishing scale of the figures. Here the street bustles with activity: horse-drawn wagons and carts, laden with goods, and figures carrying baskets and bundles go about their daily business. Some are driving towards the market, while others are already heading out of town. The wonderful variety of forms and motifs, together with the intense color and beautiful surface of the present picture, provide a visual delight and are clear indications of why the artist's popularity has endured for centuries.

Unlike Brueghel, who also produced history and flower paintings, De Momper specialized exclusively in landscape views that could be seen from some distance. He received his initial training from his father, who as early as 1581 registered his son as a master in the Antwerp Guild of St Luke, of which he himself was at the time the dean. The friendship between Jan Brueghel I, and De Momper is well documented: in a letter to Ercole Bianchi in 1622, penned on Brueghel's behalf by Rubens, Brueghel specifically referred to de Momper as 'Mio amico Momper', and, as Franz first pointed out (H.G. Franz, 'Landschaftsbilder als kollektive Werkstattschöpfungen in der flämischen Malerei des 16. und frühen 17. Jahrhunderts', Jahrbuch des Kunsthistorischen Institutes der Universität Graz, 18, 1982, pp. 174-177), collaborative works by the two artists were sufficiently common to appear with dual labels in David Teniers II's catalog of pictures belonging to the Archduke Leopold Wilhelm of Austria. The two artists worked together on more than eighty paintings over a period of almost thirty years, and after Jan's death in 1625 this fruitful relationship was carried on by his son, Jan II. De Momper's large, broadly painted villages and cityscapes provided atmospheric settings for Brueghel's figures, while they, in turn, animated De Momper's vast panoramas.

This composition is one of the most elegant of all the village and townscapes of Jan Brueghel I and Joos de Momper. It can be associated with a number of others in which the buildings have assumed a more dominant role in the landscape, which appear in De Momper's oeuvre from the first two decades of the 17th century. Most of these take place in winter, such as the Village landscape with travelers (see K. Ertz, Josse de Momper der Jüngere. Die Gemälde, Freren, 1986, pp. 246 and 580-1, no. 413, fig. 276) making the springtime setting of the present panel a rarity.

Although undated, the importance of the buildings within the composition of both the aforementioned Village landscape and the present lot suggest a date late in Jan's life c. 1620. The lower viewpoint, with the more subtle tonal palette, finely applied contours, use of white highlights, and the arrangement of the houses into a receding focal point in the middle distance have resulted in Ertz dating the present work to the 1620s. Another characteristic example from this period is the Winter landscape with the Cathedral of Antwerp (private collection, Germany; see Ertz, op. cit., 1986, no. 415), also a collaboration between the two painters. Furthermore, the slightly ornate architecture recalls such works as the Village landscape in winter with a mooring place and the Village landscape in winter with a tower, both of 1615-1620 (both private collection; see Ertz, op. cit., 1986, p. 576, nos. 391-392, figs. 221-222). Unrecorded until it appeared on the art market in 2006, the present lot appears to be the prime version of this composition, with two variants of inferior quality by De Momper and Jan Brueghel II (Ertz, op. cit., 2008, pp. 1380-1381, figs. 2 and 3, and p. 1513, under no. 715).

The present lot is sold with a certificate from Klaus Ertz confirming the attribution.
Christie's. OLD MASTERS: PART I, 14 April 2016, New York, Rockefeller Plaza