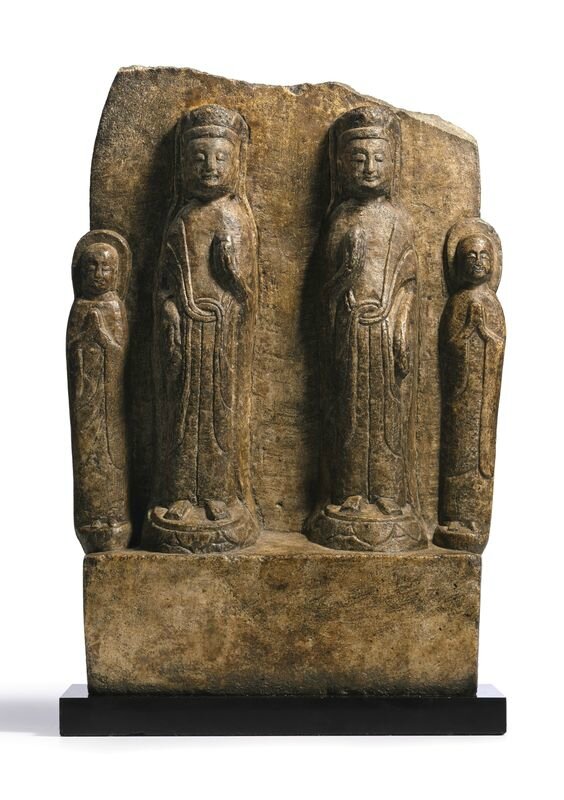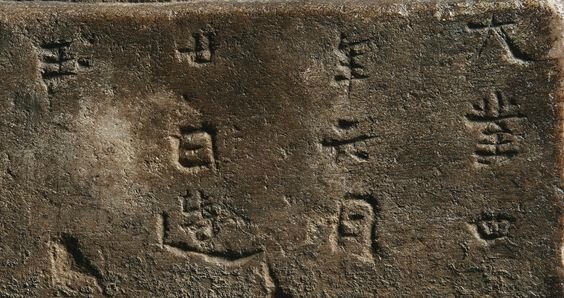 Lot 2911. A finely carved double-Bodhisattva marble stele, Sui dynasty (581-618) , dated 608. Estimate 350,000 — 450,000 HKD (39,524 - 50,817 EUR). Lot sold 437,500 HKD (49,406 EUR). Photo Sotheby's 2016.
depicting two Bodhisattvas portrayed mirror-image, each standing on a lotus base holding a ritual implement in a pendent hand and clutching a lotus bud or representation of a Buddhist jewel in the other, dressed in a tall foliate crown and robes draped in a loose knot at the waist, both set between tonsured monks adorned with aureoles and simple robes, their hands conjoined in prayer, all with eyes downcast, faint smiles and benevolent expressions, the four figures standing side by side and raised on a rectangular plinth in front of a truncated leaf-shaped mandorla, the reverse incised and dated to the fourth year, the sixth month and the 20th day in the Daye period (corresponding to AD 608 in the reign of Emperor Yang, Sui Dynasty), affixed to metal stand; 31 cm, 12 1/4 in.
Provenance: An old French collection (label).
Eskenazi Ltd., London.
Note: The inscription on the reverse of the stele is indistinct, but likely to be a dedicatory inscription from devoted Buddhists. The dating however is clear, detailing the fourth year, the sixth month and the 20th day in the Daye period, corresponding to the year 608 of the Sui dynasty.
Marble steles decorated with double bodhisattvas were popular, particularly from the Northern Qi period onwards. The stylistic influences on this stele reflect those of the preceding dynasty. The nature of the marble on the present example relates it closely to other examples from Hebei province, including a marble stele of similar size in the Palace Museum, Beijing, dated 591, carved with Maitreya Buddha flanked by two disciples, discovered at the site of Xiude Temple in Quyang, Hebei, 1953, illustrated in Zhongguo Meishu Quanji. Diaosu 4.Sui Tang Diaosu, Beijing, 1988, pl. 5. The texture of the marble and precise carving style, specifically the rendition of the figures and the rectangular plinth itself, closely match that of the current stele.
Compare also the famous Maitreya steles in 'pensive thought' pose, including one now in the Asian Art Museum of San Francisco, illustrated by Rene Lefebvre d'Argence, Chinese, Korean and Japanese Sculpture in the Avery Brundage Collection, 1974, no.56, pp. 130-133. Compare a famous double-bodhisattva stele, identified as two emanations of Maitreya, with an inscription dated AD 565, from Quyang county, Hebei province, in the Freer Gallery of Art, Washington DC, illustrated in Matsubara Saburo, Chinese Buddhist Sculpture, Tokyo, 1966, pl. 149(b), and also discussed by Jan Stuart & Chang Qing, 'Chinese Buddhist Sculpture in a New Light at the Freer Gallery of Art', Orientations, April 2002, p. 33, fig. 7.