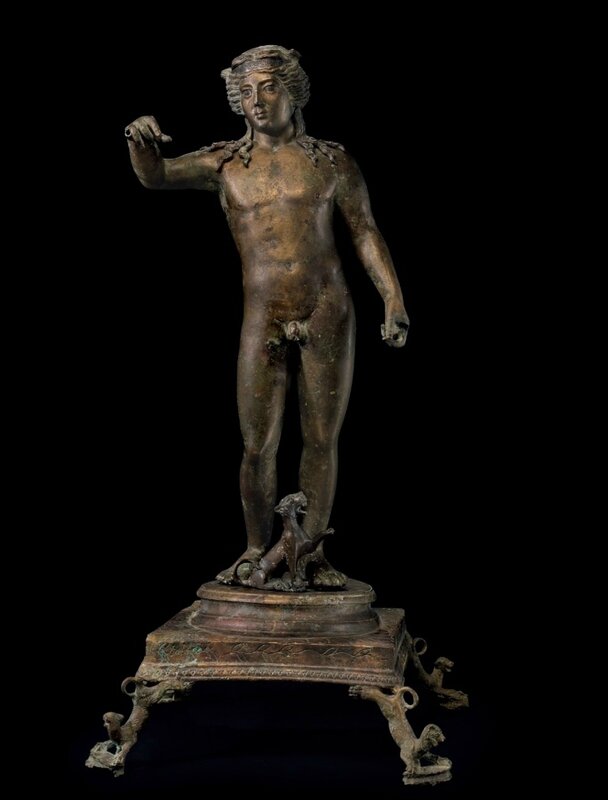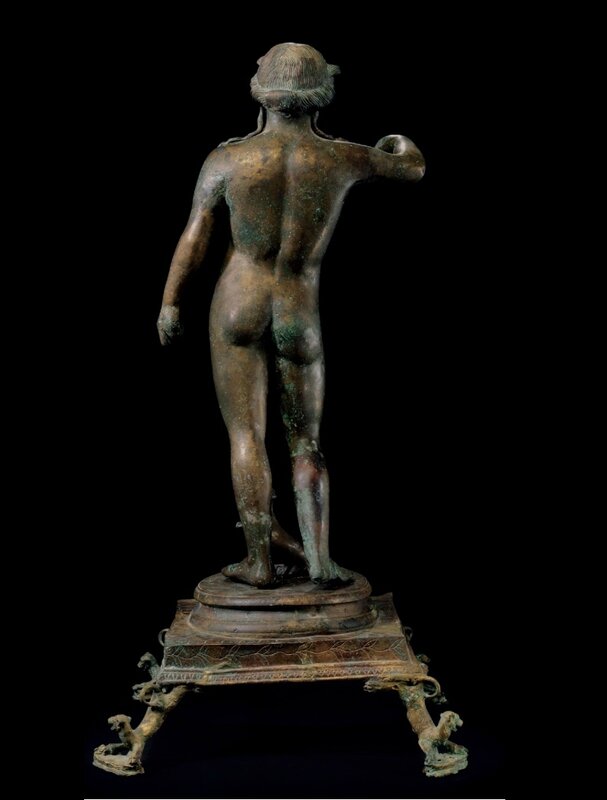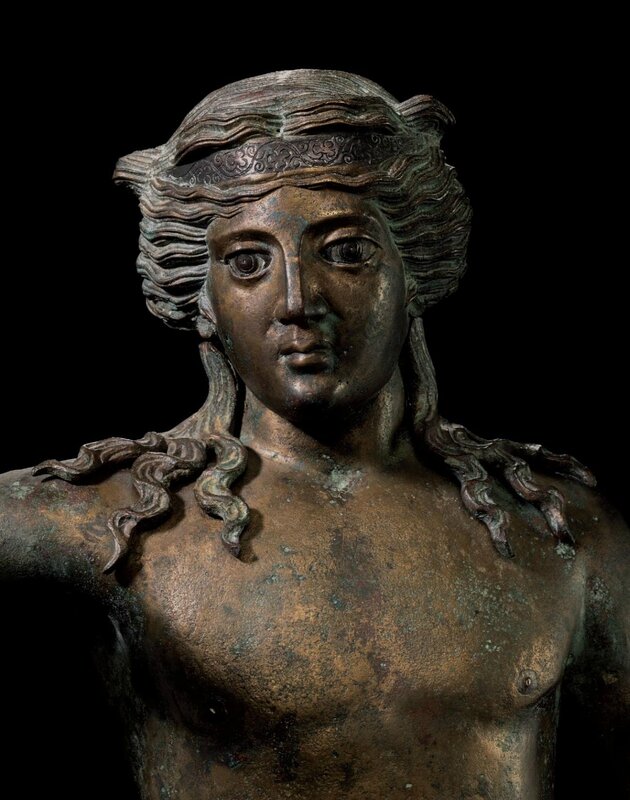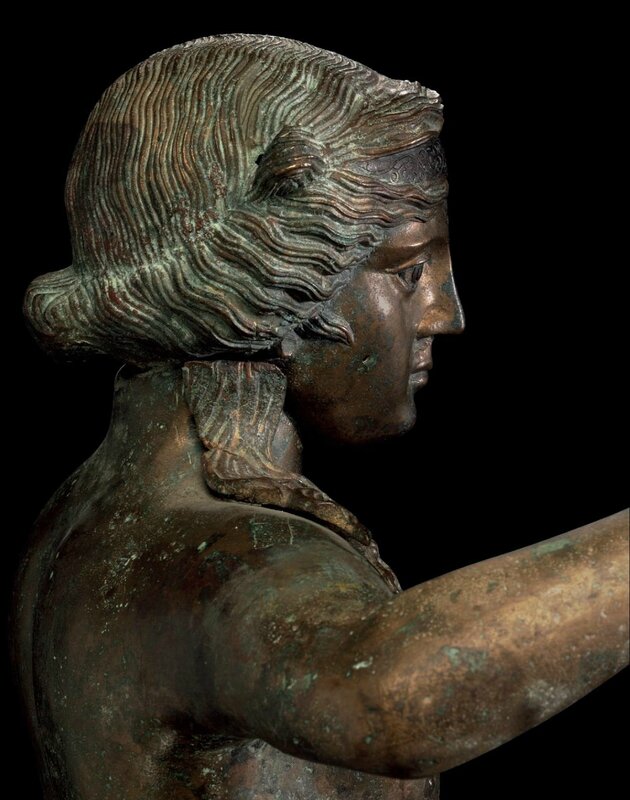 Lot 10. An important large Roman inlaid bronze Bacchus, circa 2nd century A.D. Estimate $500,000 - $700,000. Price Realized $509,000. Photo Christie's Image Ltd 2016.
The youthful god depicted nude, standing with his weight on his left leg, the right relaxed and bent at the knee, his left arm lowered, perhaps once holding a kantharos, and his right arm raised, perhaps once holding a cluster of grapes, his fleshy torso with copper inlays for the nipples, his head turned to his right, with a smooth forehead and modeled angular brows merging with the bridge of his nose, the lidded convex eyes inlaid in silver and articulated, his long hair center parted and bound in a copper fillet incised with a scrolling vine, with separately-made wavy tresses falling along his neck and spreading onto his shoulders, atop the original, elaborate, tiered plinth together with a seated panther at his feet, its left forepaw raised, the upper tier of the plinth circular in form with a cyma reversa molding, the lower square, with incised petals on the upper surface, a foliate band on the outer edge, a dog-tooth molding below, the corners supported by down-turned felines, their tails looped, their heads raised; 33 5/8 in. (63.3 cm.) high
Provenance: Said to be found in the Rhone valley.
Private Collection, France, 1980s.
Archeologie, Drouot Montaigne, Paris, 22-23 April 2001, lot 752 (and cover).
with Royal-Athena Galleries, New York, 2002 (Art of the Ancient World, vol. XIII, no. 42).
Acquired by the current owner from the above, 2002.
Note: This impressive and important depiction of the god Bacchus stands at almost 3 feet tall. Bacchus -- Dionysus to the Greeks-- was a popular subject throughout the Classical world. Due to his role as the god of wine and revelry, he was an especially fitting subject to adorn wealthy Roman villas, which were commonly used for entertainment. Bacchus is variously depicted during the Hellenistic and Roman periods. He is frequently standing alone, but also commonly seen with members of his entourage, including satyrs and maenads or his consort Ariadne. He is often depicted with a drinking vessel, be it his characteristic kantharos, rhyton or bowl, and his typical garb including an animal skin over his nude torso. Here, the position of Bacchus' fingers suggest that he likely once held the handle of a kantharos in his lowered left hand and a cluster of grapes in his raised right. This pose can also be seen on a statue of Dionysus at the Vatican Museum (see no. 1a in C. Gasparri, "Dionysos/Bacchus," in LIMC, vol. III.

The bronze presented here recalls the work of two major sculptors from the Classical Period, the heyday of Greek sculpture. The form of the body-- with its graceful S-curve with his weight on one leg and the other drawn back—shows clear connection to the canon of Polykleitos of the 5th century B.C. The subject is a loosely-based variation of the "resting Dionysus" type, derived from the Lycian Apollo by Praxiteles and relates to the Woburn Abbey-type of the 4th century B.C. that depicts Bacchus nude, holding a bunch of grapes and leaning on a tree-trunk (see E. Angelicoussis,The Woburn Abbey Collection of Classical Antiquities, pp. 50-51, pls. 76-79.)

The use of copper and silver inlay for some of the details, plus the elaborate plinth, are unusual flourishes. For another bronze Bacchus of similar scale but with different attributes, also displaying copper and silver details, see the example found in the Tiber now in Palazzo Massimo, in a different position but with similar copper inlays, see no. 2 in Gasparri, op. cit.
Christie's. ANTIQUITIES, 12 April 2016, New York, Rockefeller Plaza