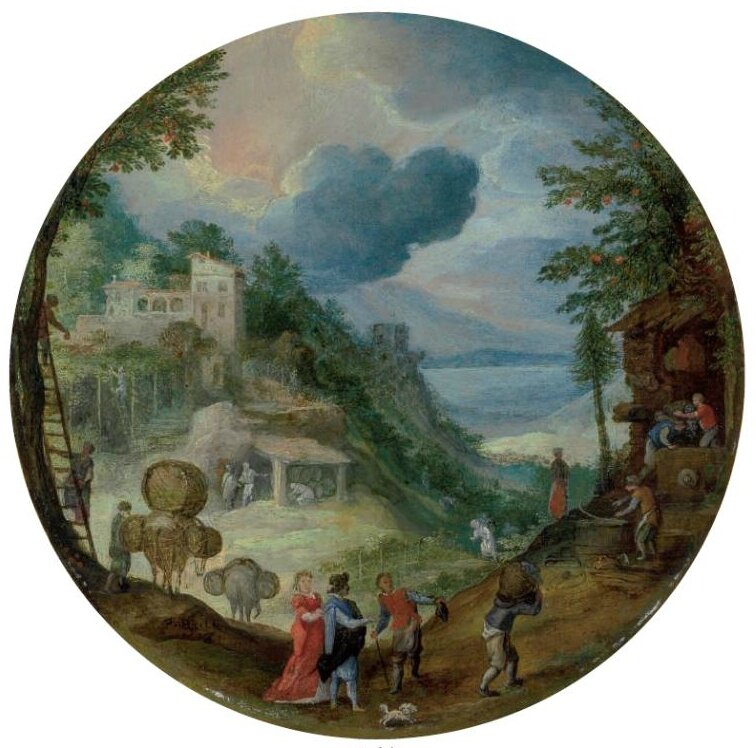 Lot 134. Paul Bril (Antwerp c. 1554-1626 Rome), Autumn: A wooded landscape with apples being harvested in the foreground, a villa and lake beyond; and Spring: Elegantly dressed figures playing music in a rowboat in the foreground, with shepherds watering a flock of sheep and other figures merrymaking, a villa and town beyond, the former signed and dated 'P · BRILL 1598' (lower left); the latter signed and dated 'P · BRIL 1598' (lower center), oil on copper, circular, 5 3/8 in. (13.6 cm.) diameter, a pair. Estimate $100,000 – $150,000. Photo Christie's Image Ltd 2016.
Provenance: with P. de Boer, Amsterdam, 1972, according to a label on the reverse.
Edmond Hertzberger, Aerdenhout, from at least 1963, and by descent until 2008.
Anonymous sale; Christie's, London, 2 July 2013, lot 26.
Literature: G.T. Faggin, 'Per Paolo Bril', Paragone, 185/5, XVI, July 1965, 2, p. 31, nos. 1, 2.
F. Cappelletti, Paul Bril e la pittura di paesaggio a Roma, 1580-1630, Rome, 2006, p. 236, nos. 46, 47.
Exhibited: Laren, Singer Museum, Modernen van toen 1570-1630: vlaamse schilderkunst en haar invloed, 15 June-1 September 1963, nos. 29 and 30.
Amsterdam, Kunsthandel P. de Boer, Nederland Waterland, Jubileum Exhibition, 1972, no. 9.
Notes: These jewel-like coppers, beautifully preserved and vividly colored, exemplify the attention to minute detail and diffusion of light typical of Bril's work in the late 1590s. Signed and dated 1598, the pendants are among the finest examples in the artist's oeuvre of agricultural scenes associated with the seasons, which had been popularized in the preceding years by Pieter Bruegel and his followers, and which would become a predominant theme for later Flemish painters also working in Italy. A group of similar circular coppers, executed between 1599 and 1601, is in the Institut Néerlandais, Paris (see Attraverso il Cinquecento neerlandese: Disegni della collezione Frits Lugt, Paris and Florence, 1980-1981, pp. 46-48, nos. 31-34).

Paul Bril was among the most influential landscape painters of his time. Trained in an obscure Antwerp studio, he supported himself as a teenager by painting landscapes on harpsichords, but traveled in his early twenties to Rome, where he painted frescoes in the Vatican and in other churches and palaces alongside his elder brother, Matthijs. It was not until the 1590s that Bril began to paint the cabinet and pictures on panel and copper, of which the present works are particularly precious examples, for which he became renowned. Indeed, aside from his work for the Barberini family in Rome, Bril's paintings appeared in prestigious Neetherlandish collections, such as that of the merchant Hendrick van Os, as mentioned by Karel van Mander in his Schilderboeck of 1604.
Christie's. OLD MASTERS: PART I, 14 April 2016, New York, Rockefeller Plaza