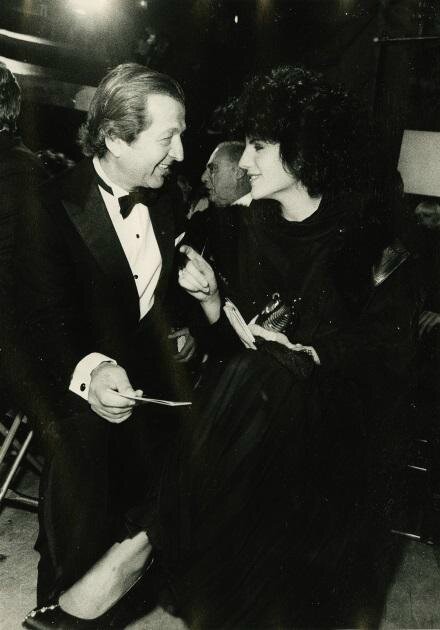 Bernard & Josephine Chaus. Photo Sotheby's
NEW YORK, NY.- Sotheby's will offer Property from the Collection of Bernard & Josephine Chaus—co-founders of American sportswear firm, Bernard Chaus Inc.—in a series of auctions beginning this spring in New York. Collected over the course of nearly four decades by the couple, works of art ranging from fine paintings to jewelry to European furniture will be auctioned across seven sales.

FROM BUYERS TO CHIEF EXECUTIVE OFFICERS: JOSEPHINE & BERNARD CHAUS
Chief executive officer, fashion tycoon and role model for female entrepreneurs around the world, Josephine Chaus entered the world of fashion at the age of 22. It was there, as a buyer for a New Jersey store, where she happened across a man by the name of Bernard Chaus. Bernard was of similar background beginning his career as a showroom salesman at the age of 16. Rising swiftly through the ranks, he became a principal at 29, before selling his blouse business and retiring from the showroom right before he met Josephine. Not long after this encounter, the two travelled cross-country for a year before deciding to become business partners, founding Bernard Chaus, Inc. in 1975

A true partnership, Josephine ran all creative initiatives while Bernard focused upon the finances and sales force. As the business achieved considerable success, lining the walls of department stores around the United States and appealing to woman around the world, Bernard Chaus Inc. remained a public company under the stewardship of the Chaus's. Even after the passing of her partner and husband of 13 years, Josephine returned to the office after a week, steering the firm through successes and disappointments: adding sportswear lines, consolidating production costs, and expanding retail. Later, as chairwoman of Bernard Chaus Inc., Josephine oversaw the momentous merger with the Camuto Group in 2012. Josephine Chaus passed away in November 2015 leaving behind a remarkable legacy as one of the first female chief executive officers of a public company, as well as the co-founder of a successful woman's sportswear fashion line.

MAGNIFICENT JEWELS
Auction, 19 April 2016
Sotheby's will offer a Platinum and Diamond Ring (estimate $1.2/1.8 million) from Josephine Chaus's personal collection in the Magnificent Jewels sale, held in New York on 19 April. The ring features an emerald-cut diamond weighing 15.37 carats, D color, VVS 1 clarity, Type lla and potentially Internally Flawless.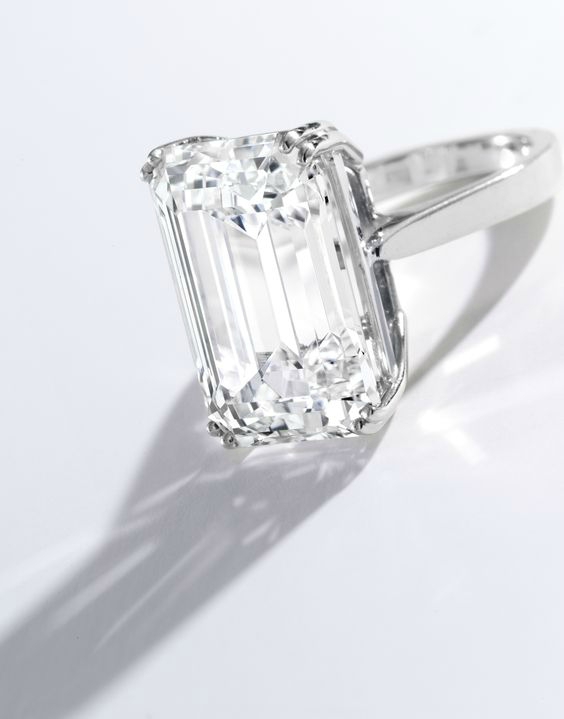 Lot 188. Magnificent Platinum and Diamond Ring. Estimate 1,200,000 — 1,800,000 USD. Photo Sotheby's
(Cf. my post: Magnificent Platinum and Diamond Ring)
MPRESSIONIST AND MODERN ART EVENING SALE
Auction, 9 May 2016
Paintings and sculptures collected by Josephine and Bernard Chaus will be offered during Sotheby's Evening Sale of Impressionist & Modern Art on 9 May 2016. Leading the group is Composition au cheval blanc (estimate $3.5/5 million), an oil on canvas by Fernand Léger. The dynamic figural composition, painted just months after the end of World War II, presents one of the artist's most beloved themes in a bold, decisive, color palette.
Lot 10. Fernand Léger (1881 - 1955), Composition au cheval blanc, 1945. Estimate 3,500,000 — 5,000,000. Photo: Sotheby's
Signed F. Léger and dated 45 (lower right); signed F. Léger, dated 45 and titled Composition au cheval blanc on the reverse. Oil on canvas, 26 by 36 in., 66 by 91.3 cm. Painted in 1945.
Provenance: Samuel Kootz Gallery, New York (acquired from the artist)
Blue Moon Gallery, New York
Ernest S. Heller, New York (acquired from the above in 1946 and sold: Sotheby's, New York, May 17, 1990, lot 63)
Acquired at the above sale
Exhibited: Princeton University Art Museum, European and American Art from Princeton Alumni Collections, 1972, no. 104, illustrated in the catalogue
Adelaide, The Art Gallery of South Australia; Sydney, The Art Gallery of New South Wales & Melbourne, National Gallery of Victoria, Fernand Léger, 1976, no. 34, illustrated in color in the catalogue
London, The Whitechapel Art Gallery, Fernand Léger, The Later Years, 1987-88, no. 32, illustrated in color in the catalogue
Stuttgart, Staatsgalerie, Fernand Léger, Zeichnungen, Bilder, Zyklen, 1930-1955, 1988, no. 58, illustrated in color in the catalogue
Literature: Georges Bauquier, Fernand Léger, Catalogue raisonné de l'oeuvre peint, 1944-1948, Paris, 2000, no. 1206, illustrated in color p. 93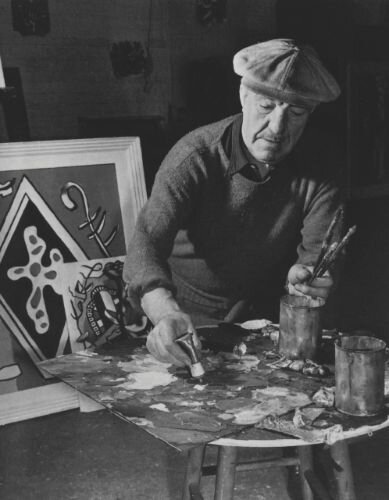 Fernand Léger in his New York studio, circa 1944-45. Photograph by Lilly Joss.
Note: Composition au cheval blanc is one of the artist's boldly-modeled, figurative compositions that captures the celebratory spirit in the months immediately following the end of World War II. In contrast to the rarefied aesthetic of postwar abstraction, these paintings were intended to appeal to the public with a more accessible, figurative style and subject matter.
While living in the United States during the war, Léger focused on expressive depictions of figures in action and delighted in depicting the curvature of their bodies and the solidity of their features. Much of the inspiration for these figures was derived from watching female entertainers, including dancers and circus performers. Katherine Kuh wrote about Léger's attraction to the theme of female entertainers, noting that they offered him a subject out of his ordinary realm of existence: "Léger has always been attracted by popular places of entertainment, finding excellent raw material for his paintings in burlesque shows, dance halls and circuses. In this connection he says, 'I did not frequent popular dance halls and the people's quarters out of snobbism. I used to go there because I had a real liking for the fellows and the girls of the district… The fifteen-cent burlesque shows of Chicago still offer material. It is only for the artist to select…'" (K. Kuh, Léger, Urbana, 1953, p. 64).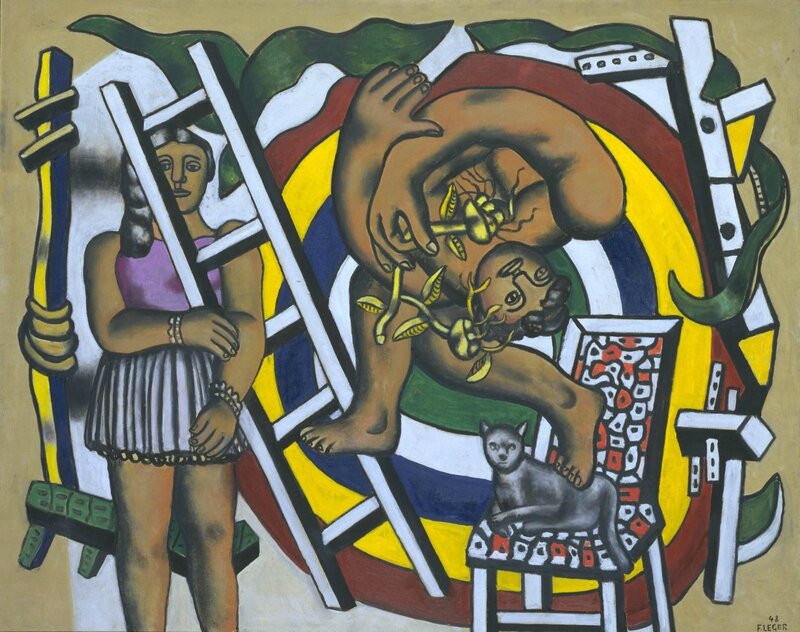 Fernand Léger, L'Acrobate et sa partenaire, 1948, oil on canvas, Tate Gallery, London.
Acrobats in particular were a beloved motif for Léger. Peter de Francia examines this more closely: "The subject of acrobats, circuses, of the grouping together of those themes of leisure which Léger had always envisaged as the tangible symbols of man's freedom, are to be found in the very beginning of his work and throughout his paintings: Les Acrobates dans le cirque of 1918, Les Deux acrobats of 1921, Les Danseuses acrobats of 1930, Les Acrobates aux perroquets of 1936 and Les Saltimbanques of 1939-40" (P. de Francia, Fernand Léger, New Haven & London, 1983, p. 248).

Composition au cheval blanc exemplifies Léger's firm commitment to a populist aesthetic and his fascination with the expressive potential of color – the two defining stylistic factors of his work during the last decade of his life. Here he has rendered the pictorial elements with a sharp clarity that is characteristic of his mature work, and he articulates the contours with bold, black lines. The colors, in keeping with his works of this period, are fully saturated and dynamic. Portrayed against a chromatically-limited background, the figures achieve a monumental presence.
Also highlighting the collection are three sculptures by Aristide Maillol, led by Le Monument à Claude Debussy (estimate $1.5/2.5 million). Commissioned in 1930 by Saint Germain-en-Laye, the hometown of Impressionist composer Claude Debussy, the present sculpture is the artist's only-known direct reference to music. Casts of Le Monument à Claude Debussy hold court in museum collections in both final form, as at the Toledo Museum of Art, and in studies, as assembled by the Philadelphia Museum of Art.
Lot 9. Aristide Maillol (1861 - 1944), Le Monument à Claude Debussy. Estimate 1,500,000 — 2,500,000 USD. Photo Sotheby's
Inscribed A. Maillol, labeled epreuve d'artiste and inscribed with the foundry mark Alexis Rudier Fondeur Paris. Bronze. Height: 35 1/2 in. 90.2 cm. Conceived in 1930 and cast before 1952.
Authentication: This work will be included in the forthcoming Catalogue raisonné de l'oeuvre d'Aristide Maillol currently being prepared under the supervision of Olivier Lorquin.
Provenance: Dina Vierny, Paris
Acquired from the above in 1988
Property from the Collection of Bernard & Josephine Chaus
Literature: Judith Cladel, Maillol, sa vie, son oeuvre, ses ideés, Paris, 1937, illustration of another cast pl. 32
John Rewald, Maillol, New York, 1939, no. 113 illustration of the stone version p. 113
Andrew C. Ritchie (ed.), Aristide Maillol, with an Introduction and Survey of the Artist's Work in American Collections (exhibition catalogue), Albright Art Gallery, Buffalo, 1945, no. 36, illustration of another cast p. 94
John Rewald, Maillol, Paris, 1950, illustration of the stone version pl. 49
Waldemar George, Aristide Maillol, Greenwich, Connecticut, 1965, no. 198, illustration of another cast p. 198
Bertrand Lorquin, Aristide Maillol, New York, 1995, illustration of another example p. 95
Urrsel Berger & Jörg Zutter, Aristide Maillol, Munich & New York, 1996, no.83, illustration of the plaster p.52 and the marble version p. 140
Note: Maillol achieved great fame as a sculptor of the female form, employing this subject both naturalistically and allegorically. The present sculpture, which was created in tribute to the great French composer Claude Debussy (1862-1918), is a beautifully modelled nude, her head gently bowed in quiet contemplation. The voluptuous contours of the figure and the classically-inspired monumentality display a wonderful harmony of composition and serenity of mood. Originally conceived for a site-specific installation at St. Germain-en-Laye, the birthplace of the composer, the sculpture evokes the calmness of Debussy's most famous compositions. Another cast of this work is now featured on the grand staircase of the Metropolitan Opera House at New York City's Lincoln Center.
In his monograph on the artist, John Rewald wrote: "To celebrate the human body, particularly the feminine body, seems to have been Maillol's only aim. He did this in a style from which all grandiloquence is absent, a style almost earthbound and grave. The absence of movement, however, is compensated by a tenderness and charm distinctively his own; and while all agitation is foreign to his art, there is in his work, especially in his small statuettes, such quiet grace and such warm feeling that they never appear inanimate. He has achieved a peculiar balance between a firmness of forms which appear eternal and a sensitivity of expression – even sensuousness – which seems forever quivering and alive" (J. Rewald, Maillol, New York, 1958, pp. 6-7).
COLLECTIONS
Auction, October 2016
Envisioned by Peter Marino, furniture and decorative art from the Chaus' Upper East Side townhouse will be auctioned during the Collections sale in October 2016. Ranging from chandeliers to mirrors, side tables to candlesticks, clients will have an opportunity to purchase a selection of decorative art collected by the celebrated tastemakers. One of the highlights of the sale is a Set of Four George IV Gilt-Brass Four-Light Chandeliers (estimate $150/250,000). Of significant quality, this set of four chandeliers is attributed to William Collins of London, a leading supplier of ormolu and brass light fittings.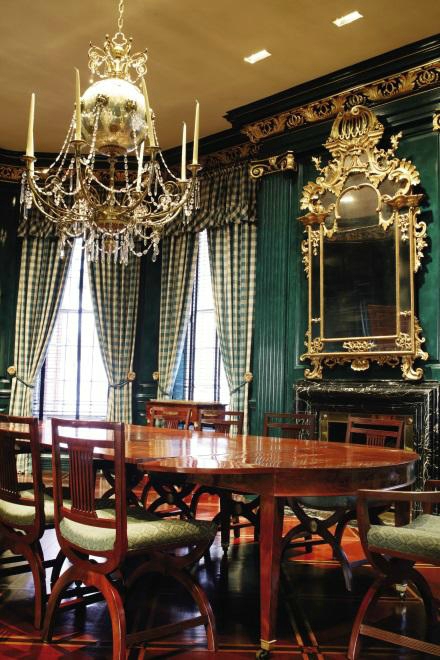 Bernard & Josephine Chaus's interior by Peter Marino. Photo Sotheby's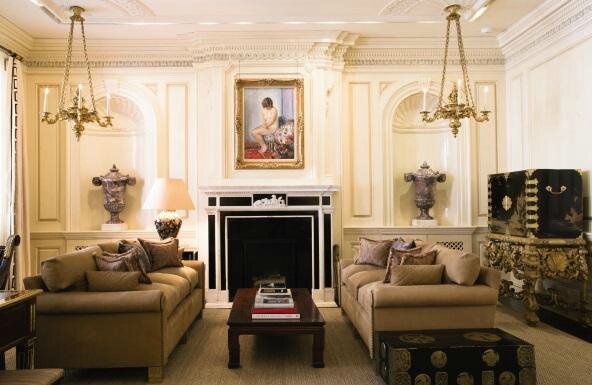 Bernard & Josephine Chaus's interior by Peter Marino. Photo Sotheby's