Lot 100. A blue and white porcelain faceted bottle vase, Joseon Dynasty, mid-18th century. Estimate $180,000 – $200,000. Unsold. Photo Christie's Image Ltd 2016
The octagonal form with slightly flared long neck, with circular hollow foot, painted in underglaze-blue with an autumn flower on each side, the body applied with a lustrous transparent overglaze; 9 ½ in. (24.1 cm.) high
Provenance: Private collection, Japan
Note: Possibly employed as a flower vase, possibly for serving wine, this long-necked bottle has a faceted body and a lightly flaring lip. Its front and back faces sport blossoming-plant décor.

Long-necked bottles were produced in a variety of Chinese wares during the Northern Song period (960–1127) and had appeared in Korea by the twelfth century as witnessed by a graceful Goryeo celadon example now in the collection of the Harvard Art Museums (1991.542). Such early examples, both Chinese and Korean, were circular in cross section, as were the related Korean bottles produced during the Joseon dynasty (1392–1910). Faceted bottles appeared in the seventeenth century, gained prominence in the eighteenth century, and continued through the end of the dynasty. Although this bottle was not made for religious use, the faceting of its body into eight sides is perhaps a distant, secularized reference to the Buddha's Eight-Fold Path, or Paljeong-do.

Korean potters began to produce blue-and-white ware—i.e., porcelain with designs painted in underglaze cobalt blue—as early as the fifteenth century, in imitation of Chinese porcelains of the early Ming period (1368–1644). Most extant Korean porcelains from the sixteenth and seventeenth centuries feature designs painted in underglaze iron brown, but blue-and-white ware appeared in quantity again in the late seventeenth century and would dominate the later Korean ceramic tradition.

Seventeenth- and early to mid-eighteenth-century blue-and-white wares typically sport quiet floral designs of the type portrayed on this bottle (See: In Blue and White: Porcelain of the Joseon Dynasty, Seoul: National Museum of Korea, 2015, p. 122-123, nos. 79-80). Often termed orchids, blossoming plants of the type seen here more likely are dianthus,commonly known in English as pinks. The mistaken identification as orchids likely results from the long, grass-like leaves, which are common to both dianthus and certain types of orchids. In fact, the small blossoms with petals whose outer edges are ruffled identify these flowers as dianthus. Pinks often appear in ink paintings of the seventeenth and eighteenth centuries, as revealed by several paintings in the collection of the Harvard Art Museums (1980.95 and 1994.101).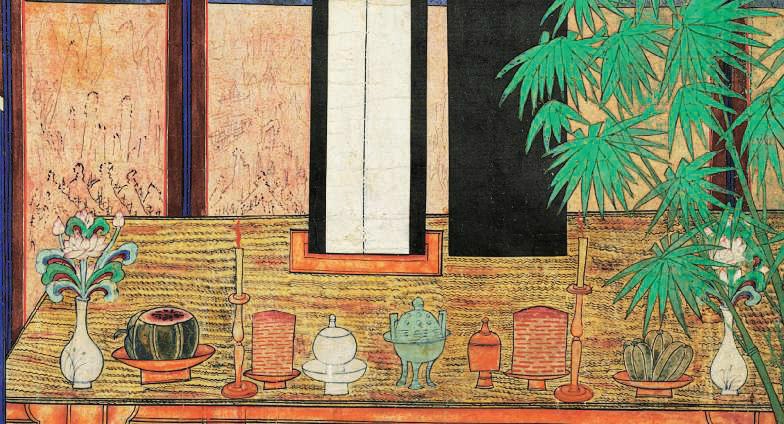 Detail from a "Spirit House" painting, lot 114, depicting an altar table set, with two blue-and-white vases holding fowers, other ceremonial utensils and oferings for the ancestral spirits.
The cobalt-blue of the best Chinese porcelains ranges from dark royal to navy blue, but that of the finest Korean porcelains wares typically is a pale, almost silvery, blue, as evinced by designs on this bottle. The decorative schemes on Chinese wares generally are continuous, stretching all the way 'round the vessel; by contrast, the decoration on Korean porcelains often is discontinuous, with discrete designs on the front and back but without decorative elements on the sides. The Korean wares' lack of borders—or, if used, very simple borders—stands in marked contrast to the elaborate top and bottom borders characteristic of Chinese wares. In addition, from the fifteenth century onward, the painting on the best Korean porcelains closely approximates that on paper and silk.

Robert D. Mowry
Alan J. Dworsky Curator of Chinese Art Emeritus,
Harvard Art Museums, and
Senior Consultant, Christie's
Christie's. AN INQUIRING MIND: AMERICAN COLLECTING OF JAPANESE AND KOREAN ART, 15 April 2016, New York, Rockefeller Plaza