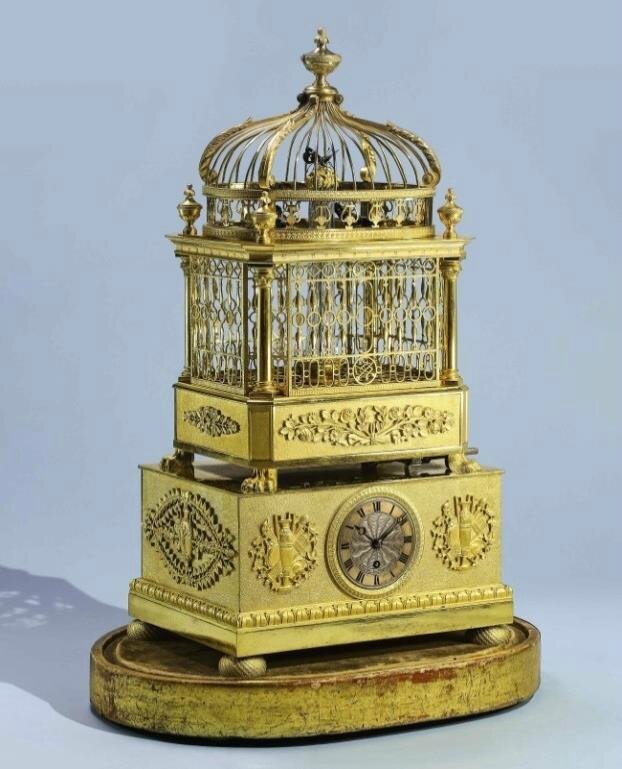 Une exceptionnelle pendule à automates et musiques en forme de cage à oiseaux, Genève, 1825-1830. Estimation: CHF 400,000 – 800,000 / $411,000 – 825,000. Photo: Sotheby's.
Genève – La prochaine vente aux enchères "Important Watches" de Sotheby's Genève se tiendra le samedi 14 mai prochain et aura pour lot phare une exceptionnelle pendule à automates et musiques en forme de cage à oiseaux. Cet objet véritablement magnifique démontre le savoir-faire des manufactures horlogères suisses et met en lumière un design et des détails raffinés, alors que son mécanisme interne est d'une précision des plus avancées pour l'époque. Cette cage à oiseaux contient deux charmants oiseaux ainsi qu'un délicat papillon. Grâce à un mécanisme minutieux et complexe, tous ces éléments nous offrent une expérience unique, tout en mouvements et musiques. Cet objet fabuleux sera mis en vente avec une estimation entre CHF 400,000-800,000 (US$ 411,000-825,000).
S'exprimant au sujet de la vente, Pedro Reiser, General Manager, Département de Haute Horlogerie chez Sotheby's à Genève : « C'est un réel honneur de se voir confier une pièce aussi extraordinaire pour notre future vente « Important Watches ». Ce magnifique pendule à automates est une trouvaille rare – d'autant plus exceptionnelle qu'elle comprend un papillon mécanique. Les archives nous laissent penser qu'il n'existe, à ce jour, qu'une seule autre pendule en forme de cage avec deux oiseaux et un papillon. Nous sommes ravis de pouvoir présenter un tel objet, qui pourrait tout aussi bien trouver sa place chez un collectionneur que dans un musée. »
LA CAGE ET LE PAPILLON
Photo: Sotheby's.
La cage, de forme rectangulaire à pans coupés, est construite en laiton et bronze ciselé, doré au feu à l'or fin, dit piqué-mat. Elle est posée sur un piédestal en forme de quatre griffes de lion. Au sein de la cage, deux oiseaux reposent sur des perchoirs soutenus par une fontaine centrale à double étage, sur laquelle est posé un papillon. Lorsqu'ils sont en action, les oiseaux volent d'un perchoir à l'autre tout en remuant sur eux-mêmes, en ouvrant et fermant le bec tandis que le papillon tourne sur lui-même tout en agitant ses ailes.
Photo: Sotheby's.
Le mécanisme à fusée et chaine, fait de laiton et d'acier, est ingénieusement dissimulé dans la partie basse de la cage. Il permet de surcroit d'imiter le chant des oiseaux, notamment celui du canari ou du rossignol, au moyen d'un soufflet et d'un piston coulissant. Cette prouesse technique peut être attribuée à Jean-David Maillardet (1748 – 1834), maître horloger originaire de La Chaux-de-Fonds. Ce type de pendule-cage a surtout été fabriqué entre les années 1780 et 1840. Dès la fin du XVIIIe siècle, ces oiseaux chantants étaient vraiment rares et considérés comme le luxe absolu. A ce jour, il ne reste que très peu de ces pendules en mains privées, c'est pourquoi leur apparition dans une vente aux enchères génère un grand intérêt.
LA BOÎTE À MUSIQUE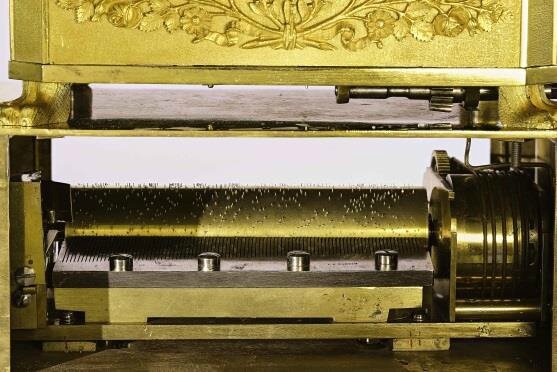 Photo: Sotheby's.
La boîte à musique qui se trouve à l'intérieur de cette magnifique pièce joue trois mélodies différentes, qui se déclenchent lors du passage de chaque heure ou à la demande. Le mécanisme fait tourner les cylindres de cuivre, qui à leur tour font vibrer les 98 lames du clavier, soit le peigne du mécanisme musical. Le clavier est signé C. F. Nardin pour Charles-Frédéric Nardin de La Chaux-de-Fonds. Parmi les trois mélodies, on retrouve l'aria No 2 « Der Jägerchor » (Le choeur des chasseurs) de Carl Maria von Weber (1786-1826), écrit en 1820.
LE MEILLEUR DE LA MANUFACTURE HORLOGÈRE SUISSE
Ce chef-d'oeuvre rassemble le meilleur des maîtres-horlogers suisses dont Jaquet-Droz, Frédéric Leschot, Jacob Frisard, Jean-David Maillardet, la famille Rochat et les Bruguiers, venant de Neuchâtel, la Vallée de Joux et Genève. Ces derniers se sont spécialisés dans la création d'oiseaux chantants, dont la popularité a augmenté en parallèle à l'expansion des relations commerciales avec la Chine, l'Empire Ottoman et la Russie, à la fin du XVIIIe siècle.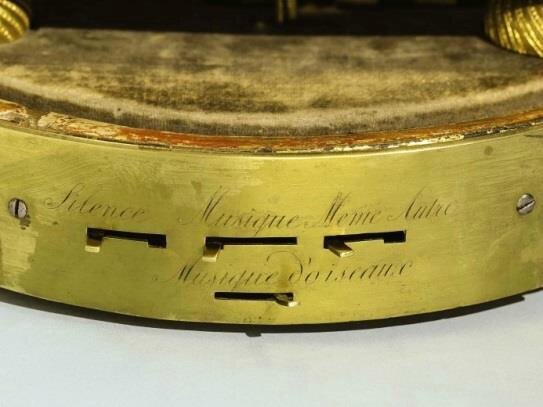 Photo: Sotheby's.
GENEVA.- Sotheby's upcoming sale of Important Watches, to be held on Saturday, 14 May, will be led by an exceptional and rare musical automaton clock, shaped as a bird cage. This stunning object proudly showcases the very finest of Swiss craftsmanship: its external appearance combines exquisite design and detail, while its inner mechanics represent the most advanced horological complications of the age. The bird cage features two charming singing birds as well as a captivating butterfly. Thanks to three automaton mechanisms, the elements combine to form a delightful scene filled with movement and music. This exceptional piece will be offered with an estimate of CHF 400,000 – 800,000 ($411,000 – 825,000).

Speaking ahead of the sale, Pedro Reiser, Department Manager of Sotheby's Watch Division in Geneva, commented: "It is truly an honour to have been entrusted with such an extraordinary timepiece for our upcoming auction of Important Watches. This wonderful automaton is a rare find - all the more exceptional because it features an automated butterfly. Records suggest that only one other double-bird cage clock with an automaton butterfly is currently known. We are delighted to be able to present this exquisite creation, which would be equally at home in the collection of a connoisseur or in a museum."

THE BIRD CAGE & BUTTERFLY
The ornate cage, of chiselled golden bronze, sits on four lion paw-shaped feet atop a pedestal. The whole structure is finished in shiny piqué-mat. Inside the rectangular cage are two singing birds, which jump from one perch to another, opening and closing their beaks alongside an animated fountain.

The fountain is topped by a beautiful butterfly, whose hand-painted wings move as it turns within the cage. The mechanism articulating these delicate movements, built in brass and steel, are ingeniously concealed inside the lower section of the cage. The birdsong, mimicking canaries and nightingales, is reproduced by a combination of bellows, whistles and cams, enabled by an intricate fusee-and-chain mechanism. This feat of horological complexity can be attributed to a highly accomplished craftsman, Jean-David Maillardet (1748 – 1834) from La Chaux-de-Fonds.

Birdcage clocks were primarily made between 1780 and 1840. In the late 18th century, singing birds were produced in extremely small quantities, and they were considered the ultimate in luxury. The number of privately held pieces has diminished greatly, and their appearance at auction generates tremendous interest.

THE MUSIC BOX
The music box, which is concealed inside the base of this striking piece, plays three melodies which are triggered on the passing of each hour or on demand. The mechanism triggers brass cylinders, which in turn vibrate the 93 blades of the clavier, or the 'comb'. The clavier is signed C. F. Nardin for Charles-Frédéric Nardin from La Chaux-deFonds. The three charming melodies which can be selected include "Der Jägerchor" (The Huntsmen's Chorus) by Carl Maria von Weber (1786-1826), written in 1820.

SWISS CRAFTSMANSHIP AT ITS FINEST
This masterpiece combines the exceptional skills of Swiss craftsmen, including horologists from Neuchatel, la Vallée de Joux and Geneva, who specialised in singing birds. Among the best known makers were Jaquet-Droz, Frédéric Leschot, Jacob Frisard, Jean-David Maillardet, the Rochat family and the Bruguiers. Their popularity can be seen to rise in parallel with the expanding commercial relationship with the Chinese, Ottoman and Russian markets, which blossomed towards the end of the eighteenth century.