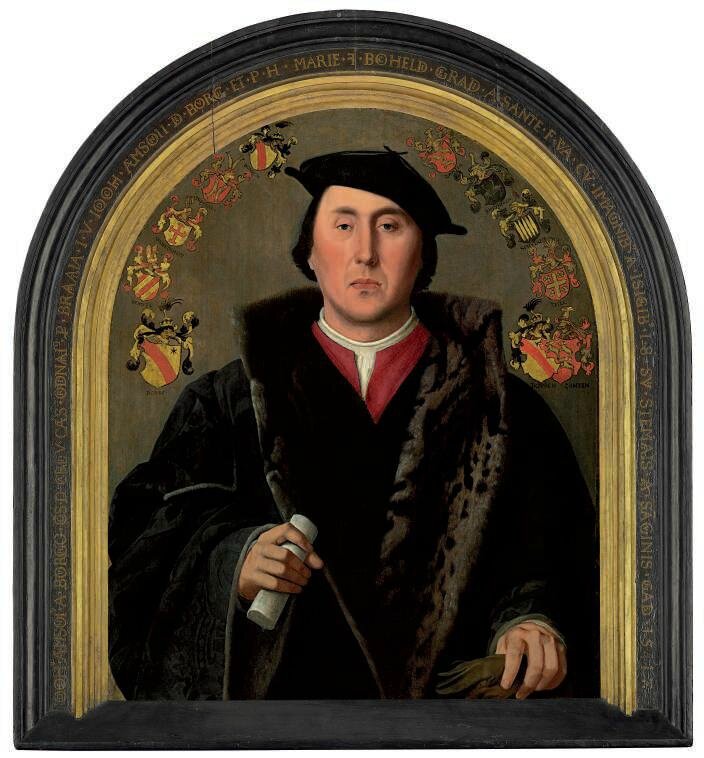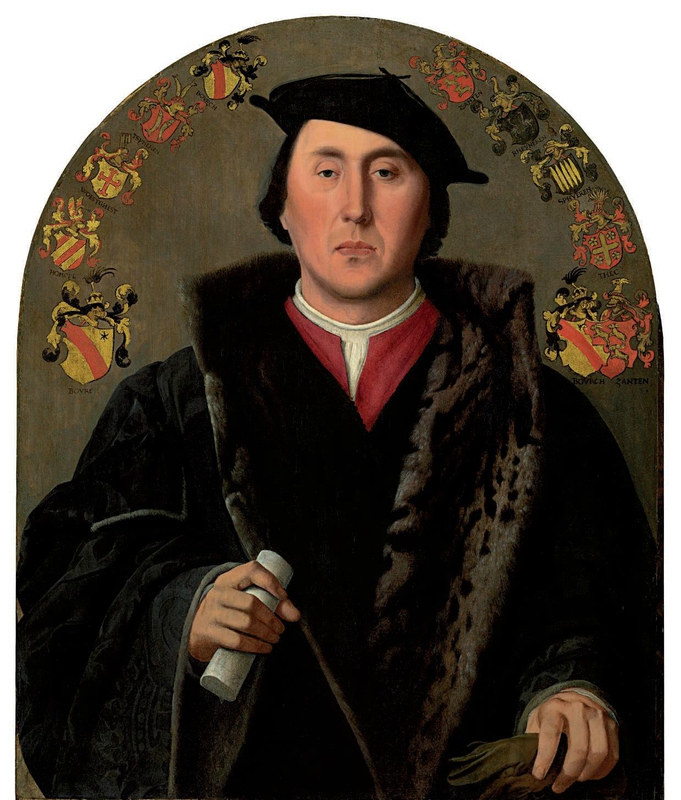 Lot 113. Jan Cornelisz. Vermeyen (Beverwijk c. 1500-c. 1559 Brussels), Portrait of Joost Aemszoon van der Burch. Estimate $1,000,000 - $2,000,000. Price Realized $2,741,000. Photo Christie's Image Ltd 2016
with the sitter's paternal and maternal coats-of-arms, oil on panel, arched top, in the original frame, 36 7/8 x 30 3/8 in. (93.7 x 77.2 cm.). inscribed on the frame 'IODOCH·'AMSONI'·A·BOVRCHO·COS·D·CAROLI·V·CÆS·ORDINARI'·P·BRABATIA·I·V·IODOCHI·ÆMSONII·DE·BOVRCH·ET·P·H·MARIE·F·BOCHELDI·GERARDI·A·SANTE·F·VNA·CV·IMAGINIB'·AC·ISIGNIB'·1·8·SVI·STEMATIS·AC·SAGVINIS·GRADV·1541::'
Provenance: Private collection, Belgium, since the 19th century
Mattias Ubl and Molly Faries believe that this portrait of Joost Aemszoon van der Burch was painted by Jan van Scorel (Schoorl 1495-1562 Utrecht) and are planning to publish an article about the painting.
Literature: J.P. Filedt Kok, "Review: Renaissance-portretten uit de Lage Landen", The Burlington Magazine, CLVIII, February 2016, pp. 136.
Exhibited: Brussels, Palais des Beaux-Arts, Portraits de la Renaissance aux Pays-Bas, 6 February-17 May 2015, no. 23 (catalogue by T-H Borchert).
Note: This dignified and imposing portrait constitutes an important addition to small corpus of portraits by the Renaissance painter and tapestry designer, Jan Cornelisz. Vermeyen. Recently discovered in a private collection, the painting was attributed to the Dutch master following extensive research by Till-Holger Borchert, Peter van den Brink and Maximiliaan P.J. Martens, who will be publishing their findings in a forthcoming article. Dressed in a voluminous black velvet overgown with a lynx-fur collar, a jurist's cap and a striking red shirt, the sitter stands before the viewer frontally, against a neutral grey background. He holds a scroll and gloves in his hands, indicating his wealth and educated status. As Till-Holger Borchert has observed (op. cit.), this sort of pictorial formulation reflects Vermeyen's knowledge of contemporary portraiture produced outside of the Netherlands, and is particularly indebted to the works of German and Italian masters such as Pontormo, whose work he would have encountered during his travels in the court of Charles V.

The extensive inscription on the frame identifies this confident gentleman as Jodocus Aemsz. van der Burch, legal counselor to the Holy Roman Emperor, Charles V at the Council of Brabant. The date 1541 likely refers to the portrait's commission, or possibly its completion. An elegant arch of armorials decorates the background above the sitter's head. These were added at a later date, and declare the eight genealogical quarters of the sitter: on the left, the families of his paternal side – Hondyl, Woestghest, Tsymenen and Bourch. On the right, families of his maternal side – Zanten, Rheyneren Sphyeren and Thec.

Jodocus, also known as Joost Aemsz. (or Adamszoon) van der Burch, was born in Delft around 1490/1495 to a rich and influential family. His father was a brewer, who assumed the position of échevin before becoming part of the Council of 40, the most important political organization of Delft. His mother was Maria van Santen, and his uncle, Dirk Aemsz. van der Burch was chaplain to the future emperor, Charles V. In 1514, possibly following a sojourn in Italy, Joost Aemsz. left home to study civil and canonical law at the University of Orléans. During his time there, he served as a member of the German Nation, for which he was elected Procurator on 5 January 1515. He earned his degree as a Jurist in 1518, and soon thereafter moved to Paris, where he worked as a lawyer at the Parlement de Paris (the city's highest court of justice). Notably, in this position, he defended the interests of Jean, vicomte de Montfort and his wife, Charlotte de Brederode against Yolande de Luxembourg, sénéchal de Hainaut and François de Melun, comte d'Espinoy.

On 30 September 1522, the Emperor Charles V appointed Joost Aemsz. to the Council of Brabant, thus establishing him as one of seven members of the highest legal authority of the duchy, a position he would hold until his death in 1570. Considering the fact that Joost Aemsz. was only around 30 years old at the time, this exceptional honor should be seen as a reflection not only of his extraordinary intellectual prowess and political savvy, but also surely of his family's strong political ties. At this time, the duchy extended across nearly half of modern-day Belgium, including major cities such as Brussels, Malines, Nivelles, Antwerp, Louvain, Breda, Bergen-op-Zoom and Bois-le Duc. Joost Aemsz. enjoyed a successful career in this capacity during the regency of Mary of Hungary, participating in several key delegations alongside other councilors - such as Jean Carondelet, whose portrait by Vermeyen is now in the Brooklyn Museum, New York - representing the interests of the Habsburgs and their allies in the Netherlands and the rest of Europe. He was instrumental, among other things, in negotiating the resolution of a key trade dispute between the Hanseatic League and Christian II of Denmark and Sweden – a tense political standoff centered on the city of Lübeck.

Joost Aemsz. married Maria Duyst van Voorhout, a member of another distinguished and politically active Delft family. The couple lived primarily in Brussels, preferring to stay close to the court, and they were buried in the church of Notre-Dame de la Chapelle, where their tomb remains. Joost Aemsz. died on 20 July 1570, and his wife 9 years later. As they did not have any children, the majority of their fortune was left to the orphanage of Delft, where a funerary monument was erected in their honor.

Borchert has noted that the prominent presence of the armorials on this painting seems to indicate that it was intended for a somewhat public setting (op. cit.). Examination of the reverse indicates no presence of original hanging hardware, and as such, the painting likely would not have been suspended on a wall, but would probably have been positioned on some sort of ledge or pedestal.

Joost Aemsz. had his portrait painted on at least one other occasion, as one would expect for someone of his political stature. A painting in a private collection in the Netherlands by an anonymous Netherlandish artist preserves the councilor's likeness several years later, as an older man with a beard (fig. 1). Catalogued as a later copy by the RKD, The Hague (no. 124772), the painting represents Joost Aemsz. half-length, holding a glove in his left hand. Fascinatingly, the same family armorials have been added to the background above the sitter's head. This later painting is paired with a portrait of Maria Duyst van Voorhout, who holds a ring in her left hand and faces her husband (RKD no. 124773). Both of these later portraits were reproduced in two watercolors now preserved in Van Slingelandt Family Archive in The Hague, High Council of Nobility (RKD no. 202608 and 202609).
Fig. 1 North Netherlandish School, Portrait of Joost Aemszoon van der Burch, Private collection.