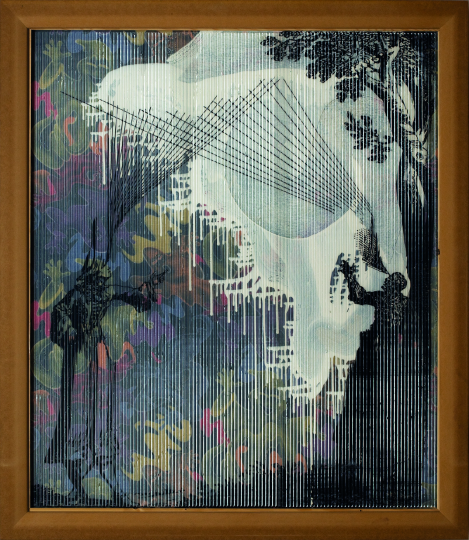 Sigmar Polke, Strahlen Sehen, 2006/2007

VENISE - Du 17 avril au 6 novembre 2016, Palazzo Grassi accueille la première grande rétrospective italienne consacrée à l'artiste allemand Sigmar Polke (1941-2010).

L'exposition est conçue par Elena Geuna e Guy Tosatto, directeur du Musée de Grenoble, en étroite collaboration avec The Estate of Sigmar Polke.Elle couvre toute la carrière de l'artiste, des années 1960 aux années 2000, et toute la diversité des mediums qu'il emprunta. Près de quatre-vingt-dix œuvres provenant de la collection Pinault, ainsi que de grandes collections publiques et privées, sont rassemblées.
Sigmar Polke, Ohne Titel (Sicherheitsverwahrung), 1979 Collection Musée d'Art de Toulon Ph: Philippe Besacier © The Estate of Sigmar Polke / SIAE, Roma 2016
L'année 2016 marque les soixante-quinze ans de la naissance de l'artiste et le trentième anniversaire de sa participation à la Biennale de Venise 1986, à l'occasion de laquelle il reçut le Lion d'or. Sigmar Polke occupe une place particulière dans la collection Pinault. Déjà présent dans quatre des expositions de Palazzo Grassi-Punta della Dogana, cet artiste est aujourd'hui mis à l'honneur à l'occasion du dixième anniversaire de la réouverture de Palazzo Grassi.
Sigmar Polke, Indigo, 1986 Private Collection Ph: Lothar Schnepf © The Estate of Sigmar Polke / SIAE, Roma 2016
La première œuvre que les visiteurs pourront admirer dans le grand atrium de Palazzo Grassi sera Axial Age (2005-2007), ensemble monumental entré dans la collection Pinault suite à sa présentation à la Biennale de Venise de 2007 et dont l'artiste supervise l'installation en 2009 à l'occasion de l'exposition inaugurale de Punta della Dogana, «Mapping the Studio».

La rétrospective occupera l'ensemble da Palazzo Grassi et présentera des œuvres de formats et techniques multiples – peinture, dessin, installation, films.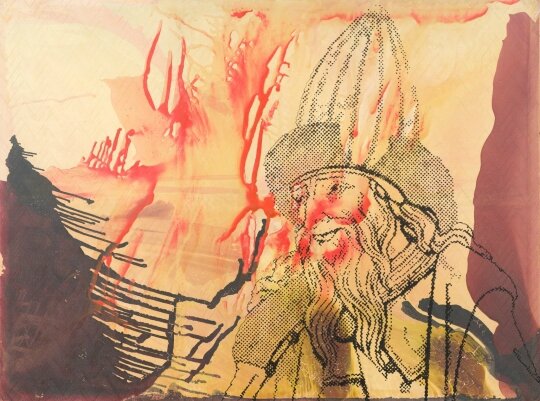 Sigmar Polke, Hermes Trismegistos I-IV, 1995, Collection De Pont museum, Tilburg (NL) Ph: Peter Cox © The Estate of Sigmar Polke / SIAE, Roma 2016
VENICE.- From April 17 to November 6, 2016 Palazzo Grassi will host the first major personal exhibition in Italy dedicated to German artist Sigmar Polke (1941-2010).

The exhibition was conceived by Elena Geuna and Guy Tosatto, Director of the Musée de Grenoble, in collaboration with The Estate of Sigmar Polke. The show spans the artist's entire career, from the 1960s to 2000s, and underlines the variety of his techniques. Nearly ninety works from the Pinault Collection, as well as loans from major public and private collections, will be on display.

This year marks the 75th anniversary of the artist's birth and the 30th anniversary of his participation to the 1986 Venice Biennale, where he was awarded the Golden Lion. Sigmar Polke holds a special place in the Pinault Collection: already presented in four of the exhibitions at Palazzo Grassi-Punta della Dogana, the artist is now given the place of honour with a retrospective on the occasion of the 10th anniversary of the reopening of Palazzo Grassi.

The visitors will be welcomed in the atrium of Palazzo Grassi by the monumental work Axial Age (2005-2007), which became part of the Pinault Collection after its presentation at the Venice Biennale in 2007. Sigmar Polke himself supervised the installation of the work in 2009 at Punta della Dogana on the occasion of the museum's inaugural exhibition, "Mapping the Studio". The entire space of Palazzo Grassi will be dedicated to the retrospective of Sigmar Polke and will present works of different formats and techniques – painting, drawing, installation, films.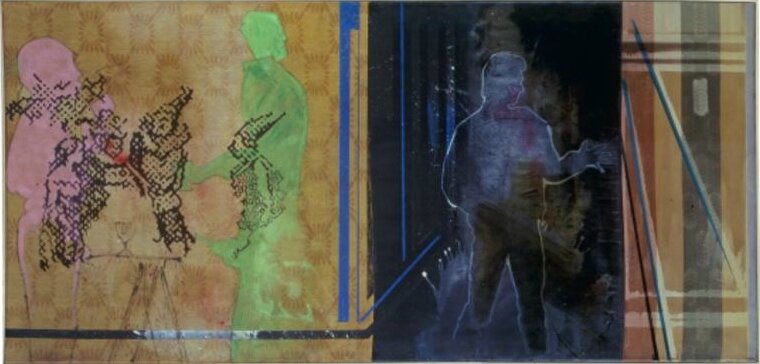 Sigmar Polke, Gugu ung Georg, 1983, Pinault Collection. Courtesy Zwirner & Wirth Gallery, New York © The Estate of Sigmar Polke / SIAE, Roma 2016.
Excerpts from the catalogue
Elena Geuna, Polke. Passages in Italy
"The freedom with which Polke simultaneously uses subjects taken from political history (like in the important series dedicated to the French Revolution, Message de Marie-Antoinette à la Conciergerie, 1989) and from art history (the reinterpretation of the painting by Franz Marc Reh im Walde, 1914, in Reh, 1968), mystic-mathematical principles (Magische Quadrate I-VII, 1992) as well as elements from the everyday world and from popular entertainment, such as the iconography of comic books (as Ohne Titel (Sicherheitsverwahrung), 1979, and Cameleonardo da Willich, 1979 remind us of Eva Kant's face from the famous Italian comic book Diabolik) and Hollywood (Liebespaar I, 1965; Indianer mit Adler, 1975), reflects the heterogeneity and the "multilingualism" of his images, in which nothing is too low or too high to be inserted within the frame. An "omnivorous" artist, famous for his collections of books, magazines, and newspaper clippings with typography mistakes, Polke translates in his works his own encyclopaedic interest and the iconographic eclecticism of his sources, without indicating any predilection toward a specific type. His art leads us towards a parallel universe in which a multitude of images and references to wellknown events of our world intertwine to generate new meanings."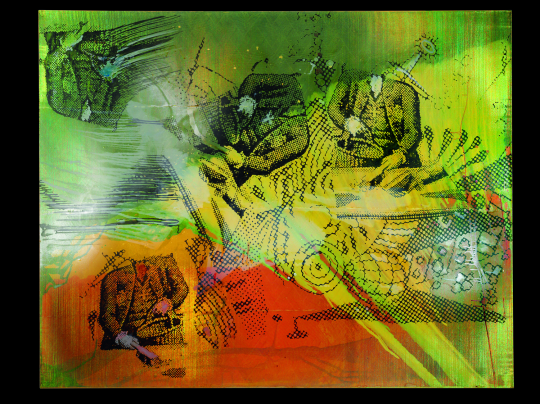 Sigmar Polke, Für den Dritten Stand bleiben nur noch die Krümel, 1997, Pinault Collection © The Estate of Sigmar Polke / SIAE, Roma 2016.
Guy Tosatto, Three lies and some questions without answer
"Sigmar Polke always retains a certain casualness, a mixture of humour and off-handedness, that guard him against being too serious. He is conscious that art is not the place of definitive truths but of ceaseless metamorphosis and that it often reveals itself to be like life, "a tale told by an idiot, full of sounds and fury, signifying nothing". More generally, Jugendstil reveals clearly how Polke, through harmless or bizarre images, tackles the most serious issues and comments with causticity the world of his contemporaries. Refusing almost systematically to be interviewed, having left no written work, it is in his oeuvre that he gives away his personal vision, cryptically and hiding behind masks. Far from singling out a direction or indicating a choice, his contradictory vision does not provide answers, as if to imply that a single answer would always remain insufficient, partial, reductive. Thence, the complexity of his work attempts to reconcile itself with the complexity of life. Thence, his mistrust of any system of thoughts, any theory, any movement… Thence, finally, his attitude of "jest", the final mask, that allows him to appear to laugh at anything, first of all at himself and his art, to better conceal his deep and genuine commitment to creation."
Sigmar Polke, Conjunctio, 1983, Private Collection. Ph: Lothar Schnepf © The Estate of Sigmar Polke / SIAE, Roma 2016
Sigmar Polke, Die Trennung des Mondes von den einzelnen Planeten, 2005. Pinault Collection Ph: Wolfgang Morell © The Estate of Sigmar Polke / SIAE, Roma 2016.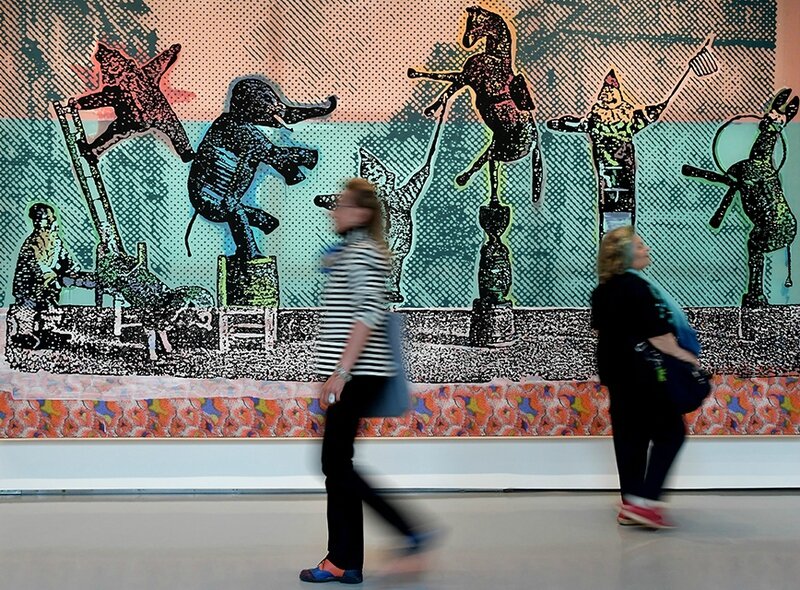 People attend a press preview of an exhibition dedicated to German artist Sigmar Polke at the Palazzo Grassi, the François Pinault Foundation in Venice on April 15, 2016. TIZIANA FABI / AFP.