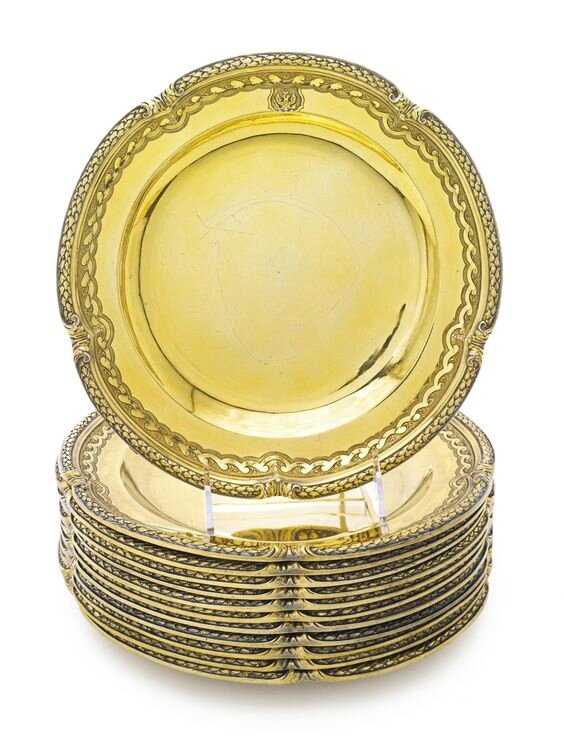 Lot 167. The Orloff Service of Catherine the Great: A set of twelve Louis XV silver-gilt plates, Jacques-Nicolas Roettiers, Paris, 1770. Estimate 80,000 — 120,000 USD. Lot sold 90,000 USD. Photo: Sotheby's
the rims applied with running laurel with acanthus at intervals, the borders chased with the Russian Imperial Arms below a band of Vitruvian scrolls on matted ground, marked on backs and pricked and stamped with numbers: 8, 25, 33, 46, 68, 70, 73, 83, 84, 98, 103, and 123; diameter 9 3/4 in., 24.8 cm, 242 oz, 7526 g
Literature: Plates from this service are listed in Baron Folkersham, Inventaire de'l'Argenterie des Palais Imperiaux Russes II, 1907, Vol. II, p. 60-63.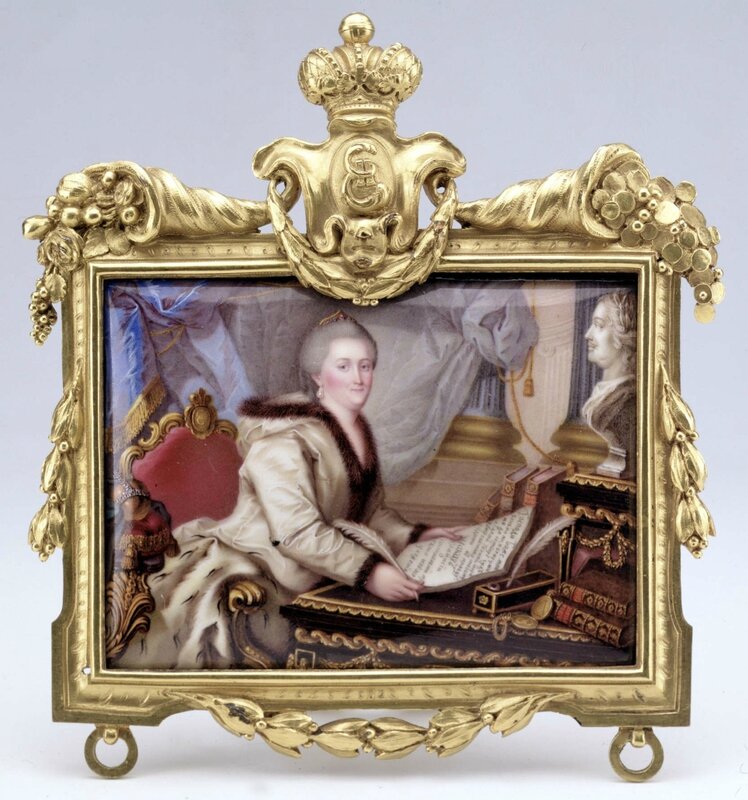 Empress Catherine II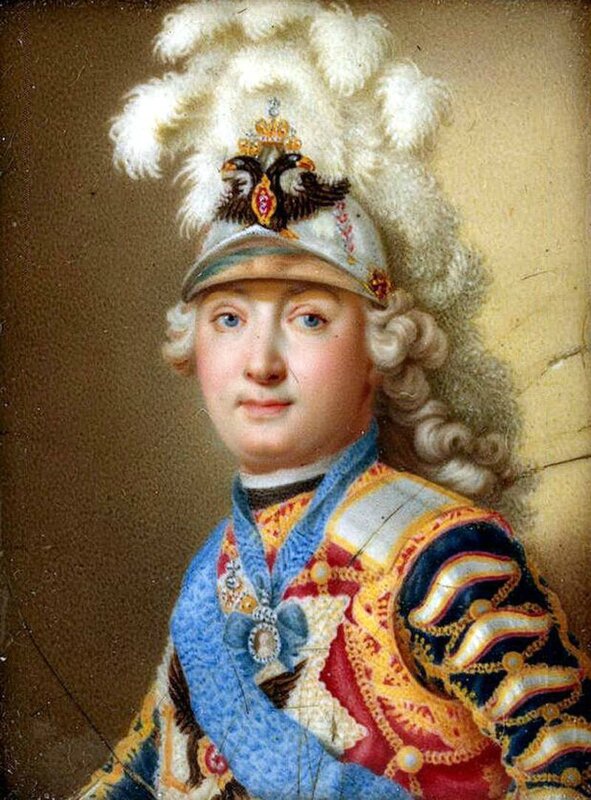 Count Gregory Orloff
Note
: Empress Catherine II commissioned this service from Jacques Roettiers (1707-1789) and his son Jacques-Nicolas Roettiers (1736-1788), for sixty persons, of over 3000 pieces. She presented it to Count Gregory Orloff, her lover, who had helped depose her husband Emperor Peter III. It was an important political and cultural statement marking closer ties with Europe and Paris and executed in the newly fashionable neoclassical style. On Orloff's death, she repurchased the service from his family at which time most pieces were re-assayed and received St. Petersburg marks for 1784. Part of the service was sold by the Soviet Government in Berlin in the 1930's.
Eighteen matching plates were sold Sotheby's, New York, May 21, 1992, lot 124. Twelve sold Sotheby's, Monaco, November 17, 1979, lot 753, and another twelve also sold Sotheby's, Monaco, June 24, 1976, lot 52.
Sotheby's. Collections: Silver, Vertu, Ceramics, and Russian Works of Art, New York, 15 Apr 2016