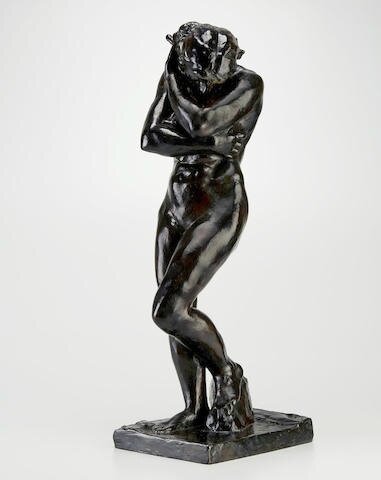 Auguste Rodin (1840-1917), Eve, petit modèle, version à la base carrée, dite aussi 'aux pieds plats', 29 5/8 in (75.2 cm) (height). Estimate: U.S. $1,000,000-1,500,000 (€880,000 - 1.3 million). Photo: Bonhams.
NEW YORK, NY.- One of Rodin's most beautiful and expressive works, Eve, leads Impressionist and Modern Art at BonhamsNew York on May 11. The statue, with a remarkably rich brown patina and standing 30 inches high, is estimated at U.S. $1,000,000-1,500,000.

During the early 1880's, Auguste Rodin (1840-1917) was commissioned by the French state to design a grand portal for the proposed Musée des Arts Decoratifs in Paris. The conception of La Porte d'Enfer (The Gates of Hell) dominated the sculptor's creative output for the rest of his life. From it, sprang a small group of independent works – The Kiss, The Thinker and Eve – on which Rodin's worldwide reputation is built.

Rodin initially conceived Eve as a pair to a figure of Adam which together he hoped would flank The Gates of Hell. The government rejected his proposal but he had already begun work on a life-size Eve in plaster and continued to work on it over the succeeding years. Rodin was so pleased with the form that he had it cast in bronze at the end of the 1880's. The success of the figure encouraged him to produce two half-size versions, a cast of one of which is in the sale.

"Rodin is the father of 20th Century sculpture, and this beautiful cast of the Eve shows us why," said Director of Impressionist and Modern Art William O'Reilly. "Although the subject is classical, the hyperrealism of the form and the pure expression of the isolation of the individual in the face of an implacable universe foreshadow Modernist concerns. It's through works like Eve that Constantin Brancusi, Alberto Giacometti and even Francis Bacon saw Rodin as their pathfinder in their exploration of the human condition".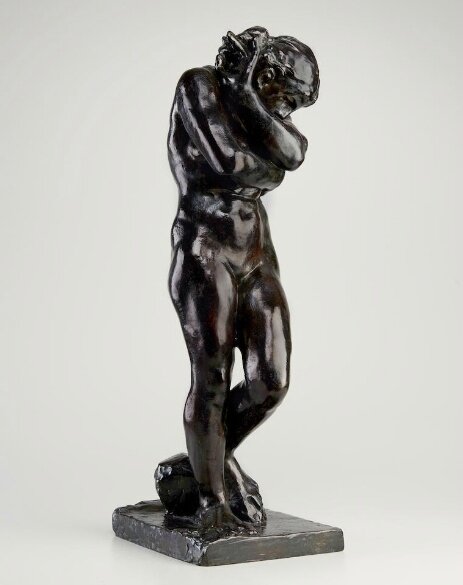 Lot 30. Auguste Rodin (1840-1917), Eve, petit modèle, version à la base carrée, dite aussi 'aux pieds plats', 29 5/8 in (75.2 cm) (height). Estimate: U.S. $1,000,000-1,500,000 (€880,000 - 1.3 million). Photo: Bonhams.
signed 'A. Rodin' (on the top of the base, back right) and inscribed with the foundry mark 'Alexis. Rudier./ Fondeur. Paris.' (on the back right of the left); and with the raised signature 'A. Rodin' on the interior, bronze with rich dark brown patina, 29 5/8 in (75.2 cm) (height). Conceived in 1883 and cast between 1925 and 1935
This work will be included in the forthcoming Catalogue Critique de l'oeuvre sculpté d'Auguste Rodin currently being prepared by Galerie Brame et Lorenceau under the direction of Jérôme Le Blay, under the archive number 2015-4598B.
Provenance: Galerie Lorenceau, Paris.
Samuel Josefowitz (acquired from the above in May 1964); Parke-Bernet Galleries, New York, 4 April 1968, lot 125.
Barnett Shine (acquired at the above sale).
Francis Coles, New York (by descent from the above)
Exhibited: Nancy, Musée des Beaux-Arts, Hommage à Roger Marx, 1963, no. 103.
Literature: C. Mauclair, Auguste Rodin, The Man - His Ideas - His Works, London, 1905 (another version illustrated p. 12).
J. Cladel, Auguste Rodin, L'œuvre et l'homme, Brussels, 1908, p. 161 (a marble version illustrated p. 31).
'Le Musée Rodin', in L'Illustration, no. 3706, 7 March 1914 (a bronze version illustrated).
L. Bénédite, Rodin, London, 1924, p. 26-27 (another version illustrated pl. XVI).
L. Bénédite, Rodin, London, 1926 (a marble version illustrated pl. 9).
G. Grappe, Catalogue du Musée Rodin, Paris, 1927, p. 35-36, no. 39 (a marble version illustrated p. 35).
J. Cladel, Auguste Rodin, Sa vie glorieuse, sa vie inconnue, Paris, 1936, p. 142-143.
G. Grappe, Catalogue du Musée Rodin, Paris, 1944, p. 28, no. 59 (another version illustrated).
G. Grappe, Le Musée Rodin, Paris, 1947, p. 141, no. 44 (another version illustrated).
P.L. Grigau, 'Rodin's Eve', in Bulletin of the Detroit Institute, 1953-1954, p. 14-16 (another version illustrated).
L. Goldscheider, Rodin Sculptures, London, 1964, no. 22 (another version illustrated).
B. Champigneulle, Rodin, London, 1967, p. 279, no. 23 (another version illustrated pl. 71).
R. Descharnes and J.-F. Chabrun, Auguste Rodin, Paris, 1967, p. 160.
I. Jianou and C. Goldscheider, Rodin, Paris, 1967, p. 90 (a plaster version illustrated pl. 17).
A.E. Elsen, Rodin, London, 1974, pp. 49, 151, 192 and 208 (another version illustrated p. 51).
J.L. Tancock, The Sculpture of Auguste Rodin, Philadelphia, 1976, p. 148-157, no. 8 (other versions illustrated pp. 151 and 154, fig. 8-5).
J. de Caso and P.B. Sanders, Rodin's Sculpture, A Critical Study of the Spreckels Collection, San Francisco, 1977, p. 143-147, no. 21 (a plaster version illustrated pp. 142 and 145).
H.H. Arnason, A History of Modern Art, London, 1977, p. 68, no. 87 (another version illustrated).
Stuttgarter Nachrichten, 29 December 1979 (a marble version illustrated).
M. Hanotelle, Paris/Bruxelles, Rodin et Meunier, Paris, 1982, pp. 59 and 202 (another version illustrated p. 57).
N. Barbier, Marbres de Rodin: Collection du Musée, Paris, 1987, p. 198, no. 85 (a marble version illustrated p. 199).
A. Beausire, Quand Rodin exposait, Dijon, 1988, pp. 82, 95 and 315 (a terracotta version illustrated p. 84).
D. Finn and M. Busco, Rodin and His Contemporaries: The Iris & B. Gerald Cantor Collection, New York, 1991, p. 42 (other versions illustrated p. 43-47 and on the cover).
R. Butler, Rodin, The Shape of Genius, New Haven and London, 1993, p. 188.
I. Ross and A. Snow, eds., Rodin, A Magnificent Obsession, London, 2001, pp. 121 and 176 (another version illustrated pl. 111).
R. Masson and V. Mattiussi, Rodin, Paris, 2004, p. 38 (another version illustrated in color p. 39).
R.M. Rilke (trans. J. Lemont and H. Trausil), Auguste Rodin, London, 2006, pp. 44-46 (a marble version illustrated p. 45).
A. Le Normand-Romain, Rodin et le bronze: Catalogue des oeuvres conservées au Musée Rodin, Paris, 2007, vol. I, pp. 338-347 (other versions illustrated p. 346, fig. 7 and pp. 338-343 and 345-347).
Note: "One might think that Rodin had attempted once again the act of Divine Creation, and had made a model in the image of his wild and impassioned spirit. His art comes from nature and in everything seems prodigious since his exaltation of the form and the idea ennoble and transform reality." (the critic Claude Roger-Marx, quoted in the catalogue to the 1963 exhibition in which the present work was shown).
Eve is one of a small group of independent masterpieces, including Le Baiser (The Kiss) and Le Penseur (The Thinker) that emerged from the astonishing period of creativity connected to the project for La Porte d'Enfer (The Gates of Hell), begun in 1880 and elaborated for the remainder of Rodin's career.
The commission which led to The Gates of Hell was intended by the French state as a grand portal for a proposed Musée des Arts Décoratifs in Paris. In his astonishing complex and constantly evolving conception Rodin turned to Dante as a guide to his exploration of the Human Condition. In the figure of Eve the sculptor found the perfect image to represent, simultaneously, divine grace and human frailty, the persistence of hope and remorselessness of destiny, implacable fate and the triumph of the spirit. It is this recognition of universal truths in individual experience that marks Rodin as a pioneer of Modern sculpture.
Rodin's Eve appears at the moment of the expulsion from Paradise. She is at once the first woman, sinless and divinely-created and the mother of an imperfect humanity. Temptress and outcast, she has been banished from Eden but steps into her destiny as first mother of the human race. The slack muscled realism of the figure brings a humanity and a narrative power to the very traditional iconography. Eve wraps her arms around herself in a protective embrace, one hand raised to ward off God's wrath. The twist of her legs sets up a spiral through her torso which tightens into the knot of arms above her tensed shoulders to protect her bowed head. The shift in axis at a point between her navel and sternum sets her hips and shoulders on different planes, coiling her posture into a tight arabesque, giving it a dynamic but introspective tension. In this the pose it is a counterpoint to that of Pierre de Wiessant from the Burghers of Calais (1887-1895), which reverses the spiral to give a balletic and expansive outward gesture, centrifugal where Eve is centripetal. It is notable that when Rodin came to arrange the entrance for the 1900 exhibition at the Pavillon de l'Alma he first thought to use Eve as representative of his previous twenty years of exploration, but eventually settled on Pierre de Wiessant.
The poet Rainer Maria Rilke, who was briefly Rodin's secretary, elaborated on Eve's pose: 'The gesture of the standing figure develops further. It withdraws into itself, it shrivels like burning paper, it becomes stronger, more concentrated, more animated. That Eve, that was originally to be placed over the Gates of Hell, stands with head sunk deeply into the shadow of the arms that draw together over the breast like those of a freezing woman. The back is rounded, the nape of the neck almost horizontal. She bends forward as though listening over her own body in which a new future begins to stir. And it is as though the gravity of this future weighed upon the senses of the woman and drew her down from the freedom of life into the deep, humble service of motherhood.' (R.M. Rilke (trans. J. Lemont and H. Trausil), Auguste Rodin, London, 2006, pp. 44-46).
In considering the figure Eve, Rodin looked back to a tradition that stretches at least to the classical Venus Pudica type. The pose owes a debt to Masaccio's Expulsion in the Brancacci Chapel, but most closely to Michelangelo's Sistine ceiling. Perhaps significantly Rodin takes both the cowering pose of Michelangelo's Eve and the raised arms of his Adam, emphasizing the universality of the figure. The handling of the musculature of the back recalls Michelangelo's own sculpture, although Kenneth Clark, who owned a cast of the present work, saw earlier parallels: 'Every inch of the skin is alive, and certain areas, such as the shoulders, have the energy which only Donatello could be said to have equaled' (K. Clark, The Romantic Rebellion: Romantic versus Classic art, London, 1974, p. 349). Rodin's exploration of the Modern sensibility in his Eve, both in its simultaneity and its expressive distortion had far reaching effects. Henri Matisse's first steps in sculpture, shown in his bronze figures of Madeleine, exhibit a similar focus on individual truths at the expense of general form. Constantin Brancusi, who expended much energy in denying that he had ever been Rodin's assistant at Meudon, made no secret that it was Rodin's foregrounding of the human figure that opened the door to twentieth century sculpture. Echoes of the Eve can certainly be seen in Brancusi's Mademoiselle Pogany I. He declared 'Thanks to Rodin [Man] once again became the measure, the module on which the sculpture again became human in scale and the significance of its content. The influence of Rodin was and is immense.' (quoted in S. Geist, 'Rodin/Brancusi', A.E. Elsen (ed.), Rodin Rediscovered, Washington DC, 1981, p. 272). The influence of Rodin's very human Eve continues, and it is perhaps not entirely frivolous to see a parallel in Yves Klein's Anthropométries, in which an obviously flesh-and-blood woman stands in for a universal image.
Rodin initially conceived of Eve as a pair to a figure of Adam, submitted to the Salon of 1881 under the title of The Creation, which together would flank the Gates. He began work on the female in plaster, returning to it throughout the following decade. When he was unsuccessful in petitioning the government to add these monumental figures to the project he converted Adam to the thrice repeated figure of Three Shades which preside over the portal. The plaster Eve remained unfinished, but was cast in bronze at the end of the 1880s in this state. The unfocussed modelling of the left foot of the present example demonstrates that heritage. The success of the figure encouraged Rodin to have it cast in two half-size versions varying in the arrangement of the base.
The identity of the model for Eve has been the subject of extended discussion. It may indeed have been a combination of two models, both Italian: Carmen Visconti in the 1880s and then Adèle Abruzzesi when Rodin returned to the composition in the mid 1890s. The sculptor described the sitter and the serendipitous modelling process in conversation with Henri Dujardin-Beaumetz:
'The dark one had sunburned skin, warm, with the bronze reflections of women of sunny lands; her movements were quick and feline, with the lissomness and grace of a panther; all the strength and splendor of muscular beauty, and that perfect equilibrium, that simplicity of bearing which makes great gesture. At that time I was working on my statue "Eve."
Without knowing why, I saw my model changing. I modified my contours, naïvely following the successive transformations of ever amplifying forms. One day, I learnt that she was pregnant; then I understood. The contours of the belly had hardly changed; but you can see with what sincerity I copied nature in looking at the muscles of the loins and sides.
It certainly hadn't occurred to me to take a pregnant woman as my model for Eve; an accident – happy for me – gave her to me, and it aided the character of the figure singularly. But soon, becoming more sensitive, my model found the studio too cold; she came less frequently, then not at all. That is why my "Eve" is unfinished.' (Rodin quoted in H.-C.-E. Dujardin-Beaumetz, Entretiens avec Rodin, Paris, 1913, translated in A.E. Elsen, Auguste Rodin: Readings on his life and work, Englewood Cliffs, 1965, p. 164).
Other auction highlights include: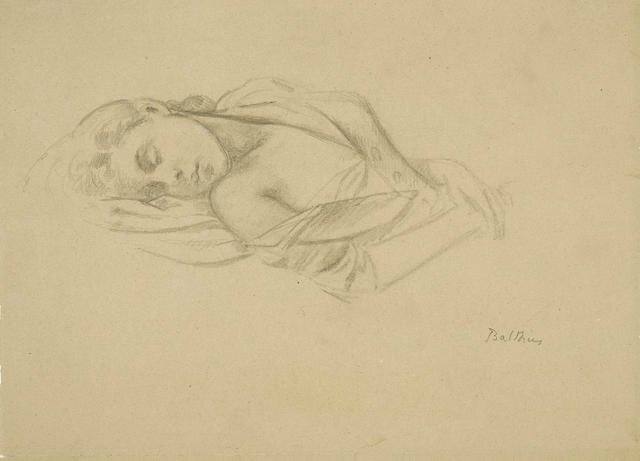 Lot 33. Balthus (Balthasar Klossowski de Rola) (1908-2001), Étude pour Jeune fille endormie (Portrait de Jeannette), signed 'Balthus' (lower right), pencil on paper, 12 x 16 3/8 in (30.7 x 41.7 cm). Drawn in 1943. Estimate: U.S. $150,000 - 250,000 (€130,000 - 220,000). Photo: Bonhams.
Provenance: Henriette Gomès (acquired from the artist).
The André and Henriette Gomès Collection; Briest Scp, Paris, 17 June 1997, lot 22.
The Dover Street Gallery, London.
Acquired from the above by the present owner.
Literature: V. Monnier and J. Clair, Balthus, Catalogue Raisonné of the Complete Works, Paris, 1999, p. 229, no. D.501.
Note: "I seized upon time's fleeting atmosphere as it went by and life's fragility. This search has also been constant in all my drawings," Balthus wrote. "There is no more exacting discipline than capturing these variations in faces and poses of my daydreaming young girls. The drawing's caress seeks to rediscover a childlike grace that vanishes so quickly, leaving us with an inconsolable memory. The challenge is to track down the sweetness so that graphite on paper can re-create the fresh oval of a face, a shape close to angels' faces." (Balthus, Vanished Splendors, A Memoir, New York, 2002, p. 65).
Etude pour Jeune fille endormie (Portrait de Jeannette) was drawn in 1943 while Balthus and his wife Antoinette were living in Switzerland, having fled occupied Paris in the summer of 1940. They moved between a country house at Champrovent and apartments in Bern and Fribourg. Balthus continued to draw and paint throughout, using the varied and beautiful houses where he stayed as a dramatic backdrop for his haunting and evocative work of the period. This was in stark contrast to the oils he painted in his bare grey studio at 3 Cour de Rohan, such as for example The Blanchard Children (1937) in which the only 'decoration' to be found in the background is a bag of coal. The model for the present drawing and subsequent large painting, now in the Tate Gallery in London, is Jeannette Aldry. She was also the model for the larger and more elaborate The Game of Patience (1943, The Art Institute of Chicago). Jeannette appears slightly older than some of the artist's previous models, but she still has the melancholy and enigmatic air to which he was drawn. The drawing was most likely executed in the elegant large apartment in a sixteenth-century building at 164 Place de Nôtre Dame in Fribourg where Balthus lived with his wife and infant son between May 1942 and late 1945.
The present study eschews background details or indeed any of the carefully arranged clothing of the finished oil and instead focuses on light and shade playing across Jeannette's slumbering form. While the drawing shows Jeannette's hands held ambiguously in her lap, in the painting the voyeuristic charge is delivered by a glimpse of her nipple. She appears to be asleep, perhaps unlike the more provocative and introspective earlier painting Thérèse Dreaming(1938). In the latter Thérèse Blanchard, one of Balthus' favorite models, leans back with eyes closed seemingly lost in an erotic reverie. As a young man in Paris, Balthus spent hours painting in the Louvre. His study of Italian Renaissance draughtsmanship is evident here, particularly in the sensuous fabric draped over Jeannette's body. She seems unaware of the viewer's gaze, yet is palpably posed precisely for the beholder's purpose and pleasure. The push and pull of the gaze, the constant alternation of his subjects between passive and active participants in the composition is what makes Balthus' works at once so electrifying and unsettling.
The self-taught Balthus was born into an intellectual family of German emigrés living in Paris. At the outbreak of World War I they were forced to leave France, spending the next ten years moving between Berlin and various locations in Switzerland and depending on the support of friends and acquaintances. His parents separated and his mother, Baladine (Elizabeth Klossowska), also an artist, entered into a relationship with the poet Rainer Maria Rilke, a family friend. Rilke was a strong influence on the young man. He encouraged his art by helping him publish Mitsou: Quarante Images - a series of drawings the created, aged eleven, about his love and loss of a stray cat called Mitsou. It was at the poet's suggestion that Balthasar Klossowski began signing his art with his childhood nickname Balthus. While he moved in the intellectual circles of the Paris art world in the 1930s and was very aware of the developments of Modernism and subsequently Surrealism, he remained faithful to the figurative tradition until the end of his career, betraying his life-long obsession with Old Master painting and in particular Piero della Francesca, whose work he studied in person on trips to Italy.
This drawing was in the collection of Balthus' friend the Parisian art dealer Henriette Gomès. Together with the artist's New York dealer Pierre Matisse, commissaire-priseur Maurice Rheims and others, Gomès formed a syndicate to support the artist who after 1953 was living and working at the Château de Chassy. Gomès had begun her career as assistant to Parisian gallerist Pierre Loeb, and through him had become a close friend of Joan Miró, Marcel Duchamp and the Surrealists. She opened her first gallery on Avenue Matignon in Paris before the war, returning after the occupation as Galerie "Beaux-Arts", before reopening Galerie Henriette in 1949. She and her husband the photographer André Gomès were close to Pablo Picasso, who was himself an avid fan of Balthus', at one time owning the painting The Blanchard Children, among other works.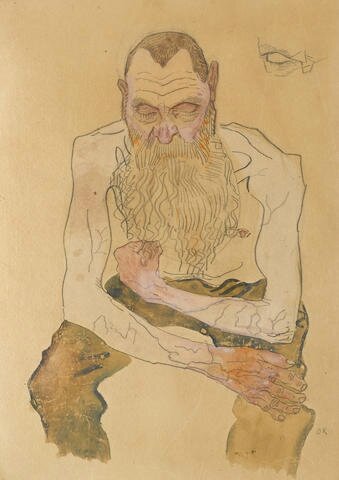 Lot 21. Oscar Kokoschka (1886-1980), Sitzender bärtiger Mann, signed with initials 'OK' (lower right), graphite and watercolor on light brown paper, 16 7/8 x 12 1/8 in ( 42.7 x 30.8 cm). Drawn in 1907. Estimate: U.S. $70,000 - 100,000 (€62,000 - 88,000). Photo: Bonhams.
Provenance: Private Collection, New York State.
By descent from the above to the present owner.
This work will be included in the forthcoming catalogue raisonné of the artist's drawings currently being prepared by Dr. Alfred Weidinger.
Note: Oskar Kokoschka spent the winter semester of 1907-08 at the Wiener Kunstgewerbeschule (the Vienna School of Applied Arts) largely working on a series of figure drawings of children and youths which found use in his work for the Wiener Werkstätte, for decorative projects, postcards and for his children's storybook Die träumenden Knaben. In counterpoint to these supple, fairy-like figures he simultaneously made a series of drawings of an old woman and an old man, of which the present work is among the most spectacular examples (A. Weidinger and A. Strobl, Oskar Kokoschka: die Zeichnungen und Aquarelle 1897-1916, Salzburg, 2008, nos 126-193). In the latter series Kokoschka moves away from the silhouetted, frieze-like figures of the decorative works and addresses a profound realism. The sitter may be a studio model, but more likely he was a vagrant or a retired acrobat (as a looser study of the same character is traditionally titled: Der Gaukler [The travelling showman, or circus barker], 1907, Stadtmuseum Linz-Nordico, Prints and Drawings SII/11). In the present drawing Kokoschka breaks new ground, soon to be followed by Egon Schiele, his junior by four years, in using an expressive distortion to weight his drawing with feeling. The resulting work has a simplicity and an arresting honesty. Delicate touches of watercolor highlight the seated man's malnourished torso, the arms with their clotted veins, and the hands, nose and ears scrubbed raw by the elements. Kokoschka's feeling for design is simultaneously apparent in the delicate Greek key pattern formed by the shoulders and folded arms, the delicately twining strands of the beard and the confidently drawn contours. As Richard Calvocoressi has noted, 'factual likeness, though not to be ignored, was subservient to capturing the emotional mood or feel of his subject ... Certainly Kokoschka can lay claim to have painted the first existential images of alienated modern man, in which the individual is stripped of mask and pretense, or to use his own word, "opened up"' (R. Calvocoressi, 'Vienna and Berlin 1908-1916' in Oskar Kokoschka 1886-1980, exhib. cat., New York, Solomon R. Guggenheim Museum, 1986, pp. 9-11).
The excitement of the artistic and intellectual environment in Vienna at the turn of the Twentieth Century has become axiomatic. The avant-garde of Europe flocked to the city, and it was from this confluence of innovation and experiment that Kokoschka drew inspiration. The antecedents for Sitzender bärtiger Mann can be traced clearly to masters such as Auguste Rodin and Pablo Picasso, in addition to Kokoschka's mentor Gustav Klimt (who described him as 'the greatest talent of the younger generation'). Rodin's contribution had been among the most influential elements of the Ninth Secessionist Exhibition in 1901, which had included his extraordinary sculpture Celle qui fut la belle Heaulmière [She who was the helmet maker's once-beautiful wife]. Rodin was to be an influence on Kokoschka throughout his early career, and although he was only fifteen at the time of the exhibition, the influence of this revolutionary model reverberated in Vienna. The loose flesh, slumped boney shoulders and the exaggerated jag of the arms all prepare the ground for the present drawing. Equally, although Picasso was still only starting to make an impact in Paris, Kokoschka's focus on despair and introspection, and the very modern interiority of Sitzender bärtiger Mann, is searching for the same effect as the (slightly) older artist's drawings, paintings and prints of beggars, blind men and saltimbanques exemplified by Picasso's great etching later titled Le repas frugal.
Kokoschka's Vienna was the battleground over which were fought some of the most brutal skirmishes between the forces of Reaction and Avant Garde. The eventual triumph of Modernism shaped the cultural landscape of Europe for the rest of the century. The spiritual heirs to the Holy Roman Empire and the weight of 600 years of Habsburg rule struggled to contain the empire's twelve nationalities, six official languages and five religions. In the capital, court protocol derived from Phillip II's Madrid was enforced within a gunshot of the Kaffeehaus Central where most evenings Leon Trotsky, lately escaped from the exile after the failed revolution of 1905, played chess. Heirs to ancient dynasties and to the freshly minted Jewish banking houses alternately seduced and ostracized one another. In concert halls the music of Gustav Mahler and Arnold Schönberg broke free from the monumentality of Establishment favorite Richard Wagner. Meanwhile in the Fine Arts the official Academy, represented by the historicism of artists such as Hans Mackart, was losing ground to the raw individuality of the rising generation. In 1897 Gustav Klimt and a group of likeminded artists broke away from this established order to form the Viennese Secession, although such were the quicksilver shifts among these pioneers that Klimt himself ceded from the group in 1905. Sigmund Freud, meanwhile, observed the effects of these roiling currents, and the effervescent society that was drawn along by them, in his consulting rooms at Berggasse 19. Into this combustible atmosphere Oskar Kokoschka burst like a grenade. His anarchic artistic freedom was threatening to rigid Viennese society. In response to the horror with which the public received his play Mörder, Hoffnung der Frauen (Murder, Hope of Women) in 1909 he shaved his head, leading to his reputation as an Oberwildling [wild child] or Spieserschreck [terror of the bourgeoisie]. On being shown his work at the Hagenbund exhibition in 1911, the Archduke Franz Ferdinand exclaimed "Someone should take this fellow out and break his legs".
Like Klimt, Kokoschka came from a family of artisan-craftsmen of moderate means, and studied first at the Vienna School of Arts and Crafts rather than receiving a more traditional artistic training at the Academy of Fine Arts. This background enabled him, as it had to Klimt, to move freely between decorative and painterly work in a manner that was anathema to the Academy. Among the clamoring voices in Vienna he was able to draw as fruitfully on the influence of Charles Rennie Mackintosh's designs at the Secession exhibitions as on gallery shows of van Gogh (1906) and Gauguin ( March 1907). His earliest mature works, such as Sitzender bärtiger Mann, show how naturally he subsumed these influences. Kokoschka found outlets for his talents designing for the Wiener Werkstätte, the commercial enterprise set up largely by artists, designers and architects from the Secession, and by illustrating children's books, but the force of his illustrations and the strength of his new-found Expressionism was often at odds with the apparent subject matter. His plays, greeted with such horror by the Viennese, came to be seen as the foundation of German Expressionist theater.
THE SWARZENKI FAMILY COLLECTION
The first section of the Impressionist and Modern Art sale features a selection of works from the Swarzenski Family Collection, a fine example of collecting tastes in the German-speaking world between and after the two World Wars.

Georg Swarzenski (1876-1957) was perhaps one of the most innovative and influential museum curators and administrators of his generation, as well as a key collector and tastemaker in Frankfurt. Swarzenski saw the pressing need to acquire works by painters from the Impressionists to the avant-garde of his own time, and set about building a collection. He was forced to leave Germany for the U.S. in 1938, moving first to Princeton, before accepting a curatorship at the Museum of Fine Arts, Boston.

Georg Swarzenski's son Hanns was also a museum curator. In 1938, Hanns moved to Princeton, later going to the National Gallery of Art in Washington, DC and then to the Museum of Fine Arts, Boston, in his father's old position.

Hanns' brother, Wolfgang (1917-2008), married Regula Gubler, daughter of the Swiss writer and collector Friedrich Traugott Gubler. Gubler was a friend and correspondent of Oskar Kokoschka, and it is from him that two superb early drawings by the artist entered the Swarzenski Family Collections.

The Swarzenki Family Collection includes the exceptional Arbres près d'une rivière painted by French artist Jean Metzinger (1883-1956) around 1905 (estimate $80,000-120,000). Born and raised in Nantes, Metzinger moved to Paris in 1903 and was immediately drawn to the avant-garde prophets of the city. Barely 20 years-old, in Arbres près d'une rivière he rapidly absorbed the prevailing artistic influences; the pointilliste technique pioneered by Seurat and developed by Signac is overlaid by the vibrant colour palette of Matisse and the Fauves.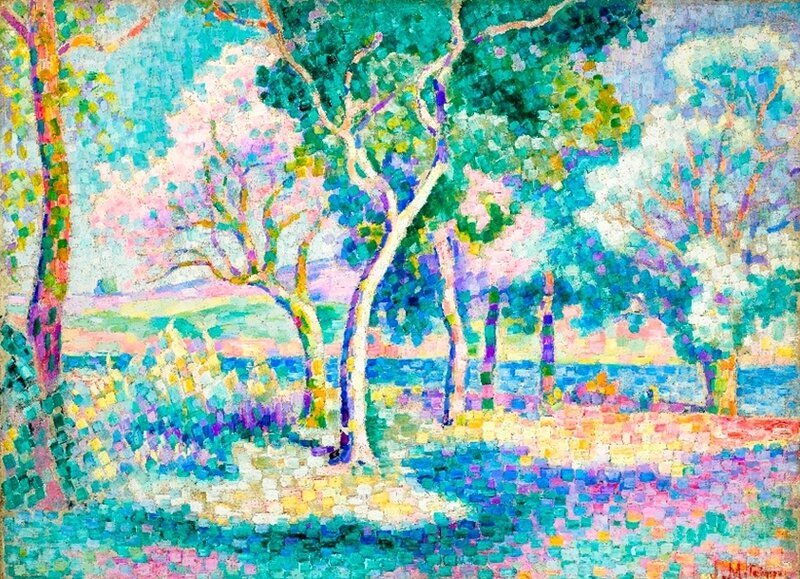 Lot 6. Jean Metzinger (1883-1956), Arbres près d'une rivière, signed 'J. Metzinger' (lower right), oil on canvas, 21 1/4 x 28 3/4 in (54 x 73 cm). Painted circa 1905. Estimate: U.S. $120,000 - 180,000 (€110,000 - 160,000). Photo: Bonhams.
Provenance: Possibly Viktor Mössinger (1817-1915), Frankfurt, Germany, patron of and donor to the Städelschen Kunstinstitut, Frankfurt.
Dr. Georg Swarzenski (1876-1957), director of the Städelschen Kunstinstitut, Frankfurt, and his wife Marie Swarzenski, née Mössinger (1889-1967), Frankfurt. Germany, and Brookline, Massachusetts (possibly by descent from the above).
By descent from the above to the present owner.
This painting will be included in the forthcoming Catalogue critique des oeuvres de Jean Metzinger (1883-1956)currently being prepared by Madame Bozena Nikiel.
Note: "I ask of divided brushwork not the objective rendering of light, but iridescences and certain aspects of color still foreign to painting." Jean Metzinger
Metzinger arrived in Paris in 1903 and exhibited at the Salon des Indépendents of that year, to encouraging reviews from the critical community. His earliest submissions to the Salon demonstrate his keen understanding of Paul Cézanne's artistic discoveries, quickly supplemented by a close study of the work of Neo-Impressionists such as Paul Signac and Henri-Edmond Cross, both of whom had extensive retrospectives at the Salon des Independents and at the Galerie Drouet in 1904 and 1905. In Metzinger's hands, clearly seen in the present work, the minute dots of Seurat's Pointillist technique of the previous decade evolve into mosaics of larger, carefully delineated marks of pre-mixed color reminiscent of Byzantine tesserae which shimmer delicately across the painted surface. He clarified his intentions thus:
"I ask of divided brushwork not the objective rendering of light, but iridescences and certain aspects of color still foreign to painting. I make a kind of chromatic versification, and for syllables, I use strokes which, variable in quality, cannot differ in dimension without modifying the rhythm of a picture phraseology destined to translate the diverse emotions aroused by nature" (quoted in R. Herbert, Neo-Impressionism, exhib. cat., The Solomon R. Guggenheim Museum, New York, 1968, p. 221).
Indeed while exploring the chromatic possibilities of paint, Metzinger took full advantage of the groundbreaking use of color demonstrated in the early Fauve landscapes, most notably by Henri Matisse in his pivotal Luxe Calme et Volupté painted in 1904 and exhibited amid great excitement at the Salon des Indépendents of 1905 (Musée d'Orsay, Paris). He also continued to experiment with the mathematical properties of his 'tesserae', focusing on geometry and design. In the present work he pays meticulous attention to the boundaries between each carefully applied square of pigment, achieving a crisp and synthesized effect across the paint surface. High tones of jewel-like color punctuate the composition running along the vertical bands of the tree trunks, reaching a crescendo in the vibrant purples and greens near the left edge. This interest in the demarcation of boundaries between separate areas of color continued to preoccupy him through his subsequent involvement with Cubism and indeed in his mature post-Cubist work. The present work however testifies to his close involvement with the development of Divisionism in Paris in the early years of the twentieth century and is a masterful example from this important part of his oeuvre.
Metzinger is perhaps best known for his role in the establishment of a unified Cubist movement, a direction that can be seen as a natural progression from the increasingly geometric concerns of his Divisionist style. In 1912 he co-wrote Du Cubisme with Albert Gleizes, having published a series of articles on the subject the previous year. He was also one of the organizers of the infamous exhibition in Salle 41 of the 1911 Salon des Indépendents which launched Cubism in the public sphere. In his Cubism he associated with the Puteaux group, which met regularly at the home of Jacques Villon and Raymond Duchamp-Villlon in the Paris suburb of Puteaux between 1911 and 1913. The group included Metzinger, Albert Gleizes, Robert Delaunay, Fernand Leger and Henri le Fauconnier among others.
Arbres près d'une rivière was in the collection of art historian and museum director Georg Swarzenski (1876-1957) and his wife Marie, née Mössinger (1889-1967). It may indeed have been acquired in Paris in the first decade of the Twentieth Century by Marie's father, the art patron and collector Viktor Mössinger (1817-1915). Family records certainly indicate that the latter acquired several works in Paris in 1907, although the Metzinger is not specifically listed. Mössinger was a successful businessman and city councilor in Frankfurt, and served on the board of the Städel Museum. He was also a significant collector, first of nineteenth century German works by artists such as Hans Thoma and Fritz von Uhde but later of French Impressionist paintings: in 1899 he gave the museum Sisley's Bords de la Seine à l'automne (1879). Most significantly, in 1912 on the advice of future his son-in-law Georg Swarzenski, he donated 20,000 francs so that the Städel could purchase Vincent van Gogh's Portrait of Dr. Gachet. The painting remained in the collection until 1937 when it was removed by the Nazis as 'degenerate', and returned to the market.
MEXICAN MODERNISM: PAINTING AND POLITICAL ENGAGEMENT
The auction also includes a special section dedicated to Mexican Modernism, led by Evelia sentada by Francisco Zúñiga (1912-1998) (estimate U.S. $ 200,000 - 300,000) and La Cantina by Diego Rivera (estimate U.S. $30,000-40,000).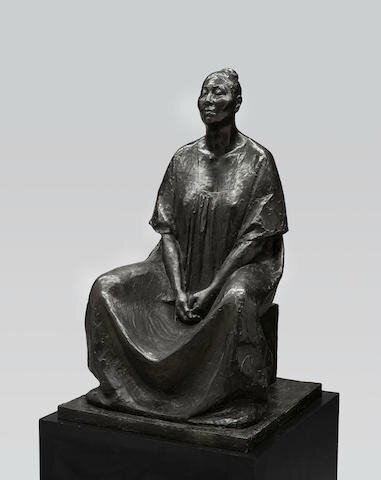 Lot 45. Francisco Zúñiga (1912-1998), Evelia sentada, signed and dated 'ZUNIGA/ 1977', with the foundry mark 'FUNDICION MOISES DEL AGUILA' and numbered 'IV/VI' (on the back of the bronze base), bronze with dark brown patina, 52 3/4 in (134 cm) (height). Conceived in 1977 and cast in an edition of 6. Estimate: U.S. $120,000 - 180,000 (€110,000 - 160,000). Photo: Bonhams.
Provenance: Private collection, probably acquired directly from the artist.
Literature: A. Zúñiga, Francisco Zúñiga, Catalogo Razonado, Mexico, 1999, vol. I, p. 470, no. 808.
Note: 'I continue to take the human figure as my starting point because it still seems to me to be the most important aspect of the world that surrounds me... [it] re-establishes a reasoning to conciliate the cultural experience of the image in proportions, structures and movements together with the psychological elements.' (C. F. Echeverria, Francisco Zúňiga, Mexico, 1980, pp. 36 and 40.)
Zúňiga's father was a sculptor of religious figures and this approach to imbuing figures with overt expressiveness is clearly palpable throughout his oeuvre. He first started working in three-dimensions in his father's workshop in Costa Rica before moving to Mexico in 1926 to study at the Escuela de Bellas Artes. He remained in Mexico for the rest of his life, eventually becoming a citizen fifty years after his arrival. In the course of his career Zúňiga worked on more than thirty public sculptural monuments, an important source of income for the artist. Unlike other sculptors however he did not use his public commissions as an opportunity to showcase his work. Acutely aware of the social function of monuments, especially in a country such as Mexico with a very strong tradition of public art, he preferred to follow the brief closely, adapting his technique and style to the demands of the subject matter. He continued to create his so-called 'private' work on a more domestic scale. This body of work has eclipsed the public sculpture for which he was initially so well known.
The country and its people were a constant source of inspiration to the artist. Unlike fellow artists working in Mexico in the middle of the twentieth century, Zúňiga's aesthetic was not defined by political foment or the advances of modernity. Instead he found inspiration in Pre-Columbian art, the timeless nobility of the country's people and the rough and rolling topography of the Valley of Mexico. While he was very aware of contemporaries Rivera, Siqueiros and Orozco, his interests lay elsewhere. One can identify a dual concern in his work - the portrayal of the ancestral and essential spirit of the Mexican people and the exploration of the plastic and aesthetic possibilities of his working materials.
Whilst he had always taken the female figure as a regular subject, it was in the mid-1950s that Zúňiga truly approached the subject with real purpose, focusing most closely on the Mexican Indian woman. He also began to cast his work regularly in a scale slightly larger than life-size, instantly emphasising the power of his subjects and imbuing them with nobility and gravitas while retaining elements of realism and truth to nature. Lot 45, Evelia sentadais typical of this later body of work, well demonstrating Zúňiga's meaningful use of scale. He chose seated poses for their pyramidal qualities and evocation of 'absent prayers' (A. Zúňiga, Francisco Zúňiga, Catalogo Razonado, I: Escultura, Mexico, 1999, p. 24) The addition of fabrics and shawls on the other hand serves to 'emphasise a form or a whole, the spaces like negative volumes, which in cinematography is called out of frame, the hollows or firm salient, all this construction is thought, calculated.' (ibid.) The fabric draped over Evelia's knees and feet carefully echoes her clasped hands in a downward motion, emphasising their strength whilst also serving to ground the figure in place.Dos mujeres de pie (lot 49) on the other hand demonstrates the artist's experiments with multi-figure groups, once again using fabric to great effect, the cloth almost melting into the right arm of the figure standing at the back.
We are grateful to Ariel Zúñiga for his assistance in the preparation of this catalogue.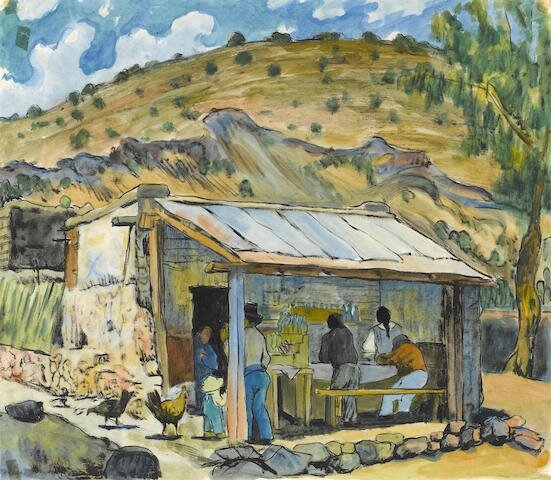 Lot 51. Diego Rivera (1886-1957), La Cantina, signed 'Diego Rivera' (lower left), watercolor, gouache, and black ink on Japan paper, 18 3/4 x 22 in (47.7 x 56 cm). Painted circa 1937. Estimate: U.S. $30,000 - 40,000 (€26,000 - 35,000). Photo: Bonhams.
Provenance: Belle van Tuyl Birney, Fort Worth, Texas, before circa 1955.
By descent from the above to the present owner.
The dating for the present work is suggested by the closely comparable size, technique and subject matter of two dated works by the artist Campesinos conversando (en el mercado) and Estación de ferrocarril (L. Cortés Gutiérrez (ed.), Diego Rivera: catálogo general de obra de caballete, Mexico City, 1989, nos. 1413 and 1415).
Mexican art in the 20th century is sharply underscored by the revolution of 1910 and the tumultuous decade of civil war that followed. In the early 1920's, art in Mexico was viewed as a rehabilitating, unifying force and was used as such in a series of ambitious public mural commissions that have become the defining works of Mexican Modernism. The three principal proponents of the muralist movement were David Alfaro Siqueiros (1896-1974), José Clemente Orozco (1881-1949) and its self-appointed leader, Diego Rivera (1886-1957). Together they forged a unique and impressive aesthetic which heavily influenced subsequent painters in the country as well as having far-reaching effect on public art throughout the Americas.
Bonhams' Impressionist and Modern Art sale includes pivotal artists from this movement, including Siqueiros and Rivera as well as pivotal artists less well-known outside Mexico such as Pablo O'Higgins and Xavier Guerrero.

The auction consists of 63 works in total and takes place at Bonhams, 580 Madison Avenue, New York, on May 11 at 4 p.m. EST.