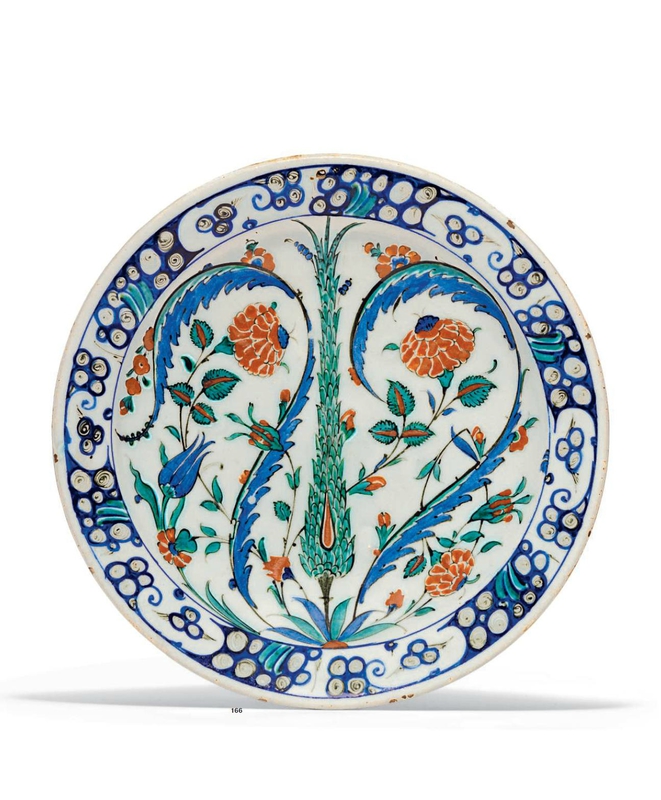 Lot 166. An Iznik pottery dish, Ottoman Turkey, circa 1585. Estimate £25,000 - £35,000 ($35,550 - $49,770). Price Realized £47,500 ($67,545). Photo Christie's Image Ltd 2016
With sloping rim on short foot, the white ground painted in cobalt-blue, bole-red, green and black with a central cypress tree flanked by two large swaying saz leaves, floral sprays issuing carnations, tulips, flower buds and leaves weave around them, with wave-and-rock border, the exterior with alternating roundel and trefoil motifs, rim and foot drilled for hanging, minor chipping to rim, intact, very good glaze surface; 12 3/8in. (31.5cm.) diam.
Note: Cypress trees appear in Ottoman wall-painting of the 15th century. The first use of the motif in Iznik is in the Baba Nakkas phase of the 1520s, but it only gained in popularity with the adoption of relief red in the 1560s (Nurhan Atasoy and Julian Raby, Iznik. The Pottery of Ottoman Turkey, London, 1989, see nos.427-434 for examples of the design). It was then frequently used through the second half of the 16th century. Most of the Iznik dishes that use a cypress tree as part of their decoration do so with it as the centrepiece for a symmetrical design. Our dish is unusual for the whimsical way that the two saz leaves swirl in the same direction, breaking any normal sense of symmetry.
Christie's. ART OF THE ISLAMIC & INDIAN WORLDS, 21 April 2016, London, King Street