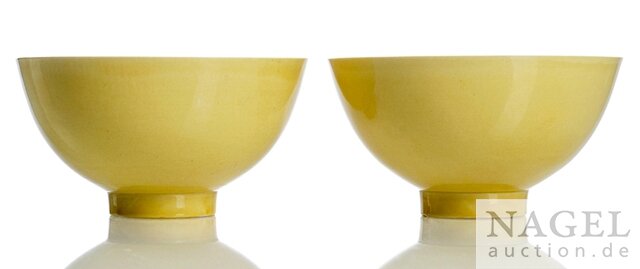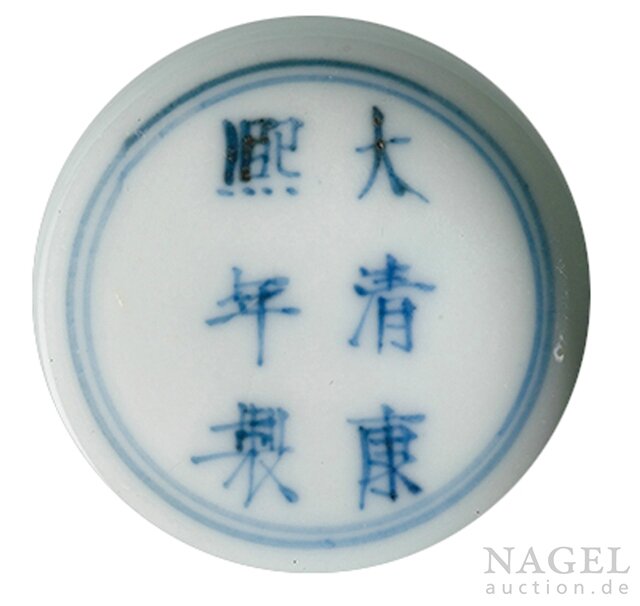 Lot 550. A fine pair of Imperial yellow-glazed porcelain bowls, underglaze blue Kangxi six-character marks and period. Estimate 8000/12000 €. Photo Nagel.
Of deep rounded sides rising from a slightly tapering foot, covered inside and out in a rich and lustrous egg-yolk yellow glaze, the base with an underglaze-blue Imperial kaishu mark within double circles - D. 12 cm - One bowl with a fine hairline, the other with a tiny chip to mout rim
Property from an old Bavarian private collection, bought in Munich in the 1970's
Yellow glaze of such rich and lustrous quality is often regarded as 'Imperial yellow'. 'Imperial yellow' glaze was used as a colour on porcelain vessel from the Ming Dynasty, as early as during the Xuande reign. Yellow glazes during the Ming and Qing Dynasties, were either applied directly to the pre-fired body, which achieved richer and warmer tones, or on top of a high-fired glaze which results in an even and smooth appearance. 'Imperial yellow' wares were particularly prized given that Qing regulations accorded this colour only for the Emperor, Empress or Dowager Empress. So important was the colour yellow, such wares were also designated for rituals conducted by the Emperor at the Altar of Earth.
Nagel Auctions. "Asiatische Kunst", Sale 736, 06.05.2016