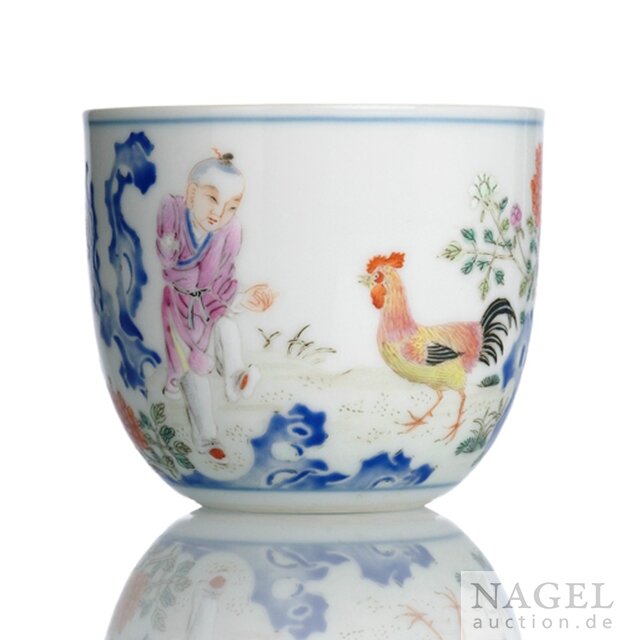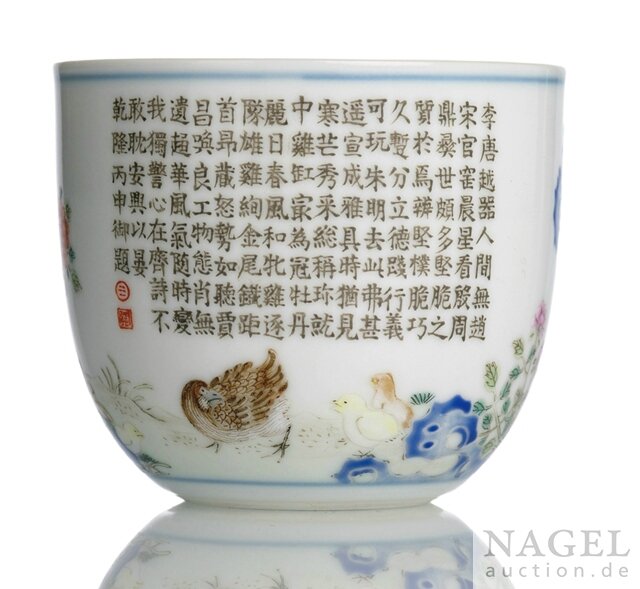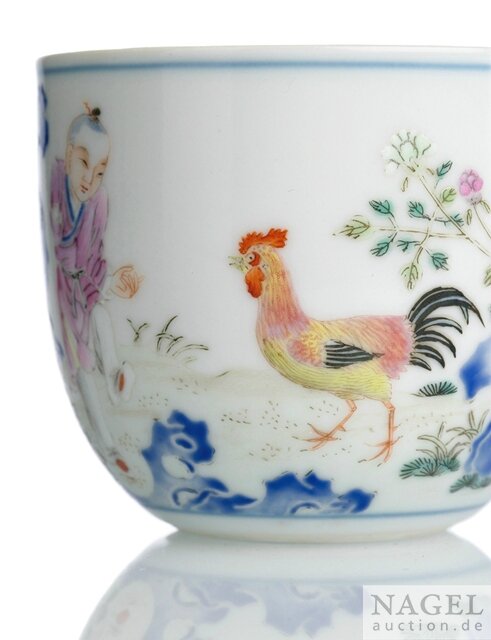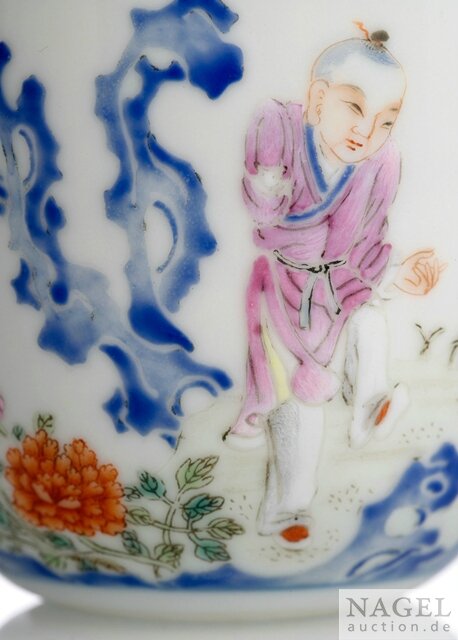 Lot 557. A fine famille-rose 'boy and chicken' cup with imperial poem, underglaze blue Qianlong fangu seal mark and period. Estimate 80000/120000 €. Photo Nagel.
Finely potted with steep rounded sides resting on a countersunk base, the exterior painted with a continuous scene depicting a young boy approaching a rooster against a setting with jagged rockwork and blooming peonies and roses issuing from leafy stems, a hen surrounded by four small chicks depicted on the reverse, below an inscription of an imperial poem by the Qianlong Emperor acknowledging the emulation of earlier chicken cups, the poem dated to the bingshen year (1776) and followed by two iron-red seal marks reading qian and long, the base inscribed with an underglaze blue fanggu seal mark. D. 6,6 cm. Good condition
From its first appearance on porcelains of the Chenghua period of the Ming dynasty, this charming motif of a cockerel, hen and chicks enjoyed continued popularity at court, especially during the Yongzheng and Qianlong reigns. While the form and illustration altered markedly from the prototype, the Qianlong fanggu mark ('Exemplifying antiquity during the Qianlong Reign of the Great Qing Dynasty') and the poetic inscription clearly reflect the Qianlong Emperor's admiration for the Ming dynasty prototype.
Cups of this type are commonly known with an underglaze-blue Qianlong fanggu seal mark on the base, such as a pair of cups in the National Palace Museum, Taipei, included in the Museum's Special Exhibition of K'ang-hsi, Yung-cheng and Ch'ien-lung Porcelain Ware from the Ch'ing Dynasty in the National Palace Museum, Taipei, 1986, cat. no. 144; one included in the exhibition Selected Ceramics from the Collection of Mr and Mrs J.M. Hu, Shanghai Museum, Shanghai, 1989, cat. no. 64; another included in the exhibition Joined Colours, Arthur M. Sackler Gallery, Smithsonian Institution, Washington D.C., 1993, ct. no. 64; and two cups from the Sir Percival David collection and now in the British Museum, London, published in the Illustrated Catalogue of Qing Enamelled Wares, London, 1991, pl. A823 and A827.
The poem written on the this cup, which was composed by the Qianlong Emperor in 1776, identifies the boy as Jia Chang (b. AD 713), a child prodigy who began training at the age of thirteen to fight cocks for the Xuanzong emperor (AD 713-56). The boy is painted on tiptoe, possibly to form the rebus qiao zu er dai, meaning 'to expect something to be soon forthcoming'
Nagel Auctions. "Asiatische Kunst", Sale 736, 06.05.2016