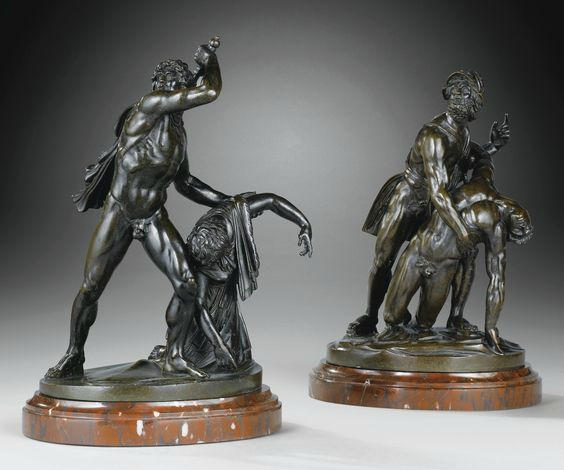 Lot 142. Francesco Righetti I (1738 - 1819) Rome, vers 1790, d'après l'Antique, Ajax et Patrocle; Paetus et Arria. Estimate 40,000 — 60,000 EUR. Photo Sotheby's.
en bronze à patine brun vert; sur des bases en marbre rouge, signé F.RIGHETTI.F. ROMAE.1790, porte un monogramme PK sur la terrasse. Haut. 33,5 et 36 cm ; height 13 and 14 in.
A PAIR OF ROMAN, CIRCA 1790, BRONZE GROUPS OF AJAX AND PATROCLUS ; PAETUS AND ARRIA, BY FRANCESCO RIGHETTI, SIGNED AND DATED, AFTER THE ANTIQUE
Provenance: Vente Sotheby's à New York, le 10 octobre 1981, lots 116 et 117; Colnaghi & Co Ltd, Londres; collection privée; vente Sotheby's à Londres, le 15 décembre 1999, lot 200 (vendu 38 900£); Fabrizio Apolloni, Rome, 2003.
Exposition: P & D Colnaghi & Co Ltd, Londres, 1983.
Littérature: A. Gonzalez-Palacios, Il Tempio del gusto. Le arti decorative in Italia fra classicismi e barocco. Roma e il Regno delle Due Sicilie, Milan, 1984, p. 136, n°300-301.
REFERENCES BIBLIOGRAPHIQUES: F. Haskell, N. Penny, Pour l'amour de l'Antique. La statuaire gréco-romaine et le goût européen (1500-1900), Londres, 1981, pp. 313-318 et 304-306.
Notes: Cette paire de bronzes fut réalisée d'après deux modèles antiques conservés à Rome, au Museo Nazionale Romano et à la Piazza des Pasquino.
Le groupe de Paetus et Arria apparaît pour la première fois dans l'inventaire de la Collection Ludovisi à Rome, réalisé en 1623 et découvert avant la construction de la villa Ludovisi.
L'autre groupe du Pasquino fût rapporté pour la première fois par Prospetivo Milanese vers 1500.
Les deux marbres étaient connus pour avoir été copiés et reproduits en réductions pour répondre aux demandes des européens effectuant le Grand Tour aux XVIIIe et XIXe siècles.
Sotheby's

. Voyage à Rome, Collection particulière italienne, IIème partie - Paris, 04 May 2016, 10:30 AM