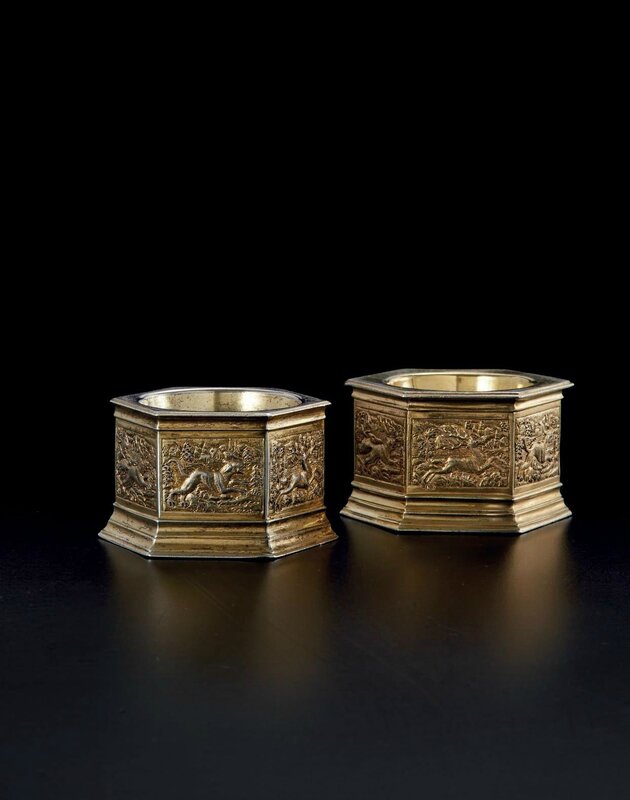 Lot 570. Paire de salières en vermeil, par Hans I Arnold, Augsbourg, 1590-1594. Estimation €25,000 – €35,000 ($28,193 - $39,470). Photo Christie's Image Ltd 2016.
Hexagonale, la base filetée, estampée et ciselée de scènes cynégétiques, poinçons sous le fond : ville, maître-orfèvre et striche. Longueur : 7 cm. (2 ¼ in.). Poids : 268gr. (8.60oz.)
Provenance: Baron Meyer de Rothschild (1818-1874)
Répertoriée dans l'inventaire de 1876, n°1376 et 1377.
Répertoriée dans l'inventaire de 1884, vol. II, p. 90, n° 72 et 73, 'Salt, silver-gilt, hexagonal, decorated in repoussé with animals. Mark: Augsburg, period about 1580. Companion salt' (Amber Room, cabinet XI, Shelf III)
Vente Sotheby's Londres, 11 février 1999, lot 79.
Littérature: La paire de salières est répertoriée dans H. Seling, Die Augsburger Gold- und Silberschmiede 1529-1868, Münich, 2007, p.103
A PAIR OF GERMAN SILVER-GILT SALT CELLARS, 1590-1594
Note: Une chope du même maître-orfèvre, à décor similaire, a été vendue chez Christie's New York, 22 octobre 2006, lot 52.
Le décor de ces salières rappellent les modèles du graveur Jost Amman (1539-1591). Originaire de Zurich, Amman excellait à toutes formes de gravures, sur bois, taille-douce, pointe-sèche et eau-forte ce qui lui valut d'obtenir la citoyenneté de la ville de Nuremberg désireuse d'accueillir des graveurs de talent. Amman allait ainsi non seulement reproduire les modèles de ses prédécesseurs dont Wenzel Jamnitzer mais également créer bon nombres de gravures qui seront utilisées par les orfèvres de Nuremberg et d'Augsbourg mais aussi par les bronziers et les armuriers. Beaucoup de ses planches seront ainsi posthumément publiées en 1592 et 1599 et continueront d'inspirer les orfèvres (pour un exemple de gravure, voir Vier Ornamenttafeln: Kindertanz, Hirsch- und Bärenjagd, collections du château de Veste Cobourg).
Christie's. LE GOÛT FRANÇAIS, 3 - 4 May 2016, Paris