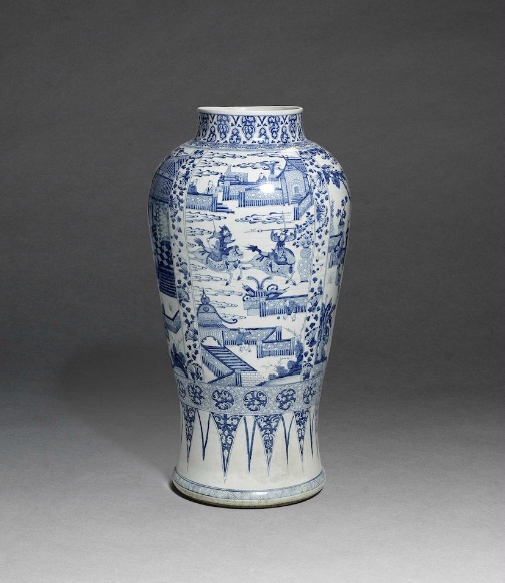 Lot 255. A rare and massive blue and white 'soldier' vase, Kangxi period (1662-1722). Estimate £20,000 - 30,000 (€26,000 - 38,000). Photo: Bonhams.
Of tall baluster form rising to a high shoulder, waisted neck and everted rim, well painted in shades of lighter and darker blue with four panels divided by narrow borders enclosing white morning glory scrolls, the panels painted with two scenes of ladies and boys at play in a fenced garden by a pavilion with well detailed interior, alternating with two scenes of boys behind fences watching two jousting mounted warriors, all between the shoulders with a zigzag cross-hatched band and demi-flower heads, and a border below enclosing roundels reserved on a cracked-ice ground above pendent stiff leaves and a narrow band of zigzag cross-hatched design, the neck with upright and pendant lobed petals. 94cm (37in) high
Note: This 'Soldier' vase, also known as 'Dragoon vase', which stands over one metre high, owes its exceptionally unusual and centuries-old reputation to an idea of Augustus the Strong, Elector of Saxony and King of Poland (1670-1733). In the summer of 1715 he was pondering on how he could solve two problems at the same time: on the one hand, to reduce the size of his army following the Great Northern War and, as was customary, offering it to another prince for purchase, and on the other hand, instead of being paid with money, to accept Asian porcelain in payment. After all, instead of merely filling a porcelain cabinet with these costly works of art, he had plans to fill a whole palace with them in order to elevate his position in royal circles.
He casually happened to mention this 'notion' to his governor in Dresden, which actually meant that, despite some misgivings, the 'idea' had to be turned into reality as quickly as possible. Augustus the Strong had probably remembered that, on a visit to King Frederick I of Brandenburg and Prussia in 1709, he had seen the vast treasures in the porcelain cabinet at the palaces of Oranienburg and Charlottenburg, and that the latter's successor, Frederick William I, deemed all inherited magnificence and art superficial, preferring instead to increase the size of his army.
Thus it came about that negotiations for the exchange of porcelain and soldiers took place. Finally, on 29 April 1717, a delivery list for 90 pieces of porcelain from the Palace of Oranienburg was issued and on the next day, 1 May 1717, another list of 61 items of porcelain from the Palace of Charlottenburg, bringing the overall total to 151 items. On the same day, 600 Dragoon soldiers without horses and officers crossed the border at Baruth between Saxony and Brandenburg-Prussia. On the advice of Frederick William I, the exchange – which had a monetary value of 26,000 thalers – took the form of a quite ordinary ritual and was declared a 'gift' between the two royals.
The Charlottenburg porcelains included "12 tall vases, 7 of which had lids and 5 of which were without". As the twelve vases were described in the Charlottenburg delivery list as 'tall', rather than the more customary 'large', they may well have been the original monumental Dragoon vases of over a meter in height. The term was also used in travel reports of the 18th century. In 1723 Augustus the Strong acquired further monumental blue-and-white decorated lidded vases of the same type, also commonly referred to as 'Dragoon vases', which were placed in the 'Dutch Palace' (the Holländisches Palais, subsequently known as the Japanese Palace) until 1726 and then in the Tower room of the Royal Residence, the Japanese Palace and finally in the Johanneum, before finally ending up in the porcelain collection in the Zwinger in Dresden, their numbers by now depleted by the war.
Six 'Dragoon vases' were auctioned off as part of the nationalisation of the Dresden art collections in 1918-1920, through Rudolph Lepke's auction house in Berlin. With the expropriation of the nobility and royal houses in Germany in 1924, and the so-called Unification Treaty, 'Law of the Dispute between the Free State of Saxony and the former Royal house' of 21 July 1924, the House of Wettin Albertinian Line acquired two further vases, one of which is most likely to be the present Bonhams vase. The vase was either sold or gifted by House of Wettin at a later date, as other gifts of porcelain are known.
It is possible that the present vase was one of the seven monumental lidded vases in the Charlottenburg delivery of 1 May 1717, three of which, more baluster-shaped and painted all-round, have survived and are on display in the Dresden Zwinger.
Related pairs of jars include a pair with covers in The Royal Collection, Windsor Castle, possibly brought to England from Germany with George I's Hanoverian dynasty, and another pair now in the collection of The National Trust at Petworth House, West Sussex.
See a comparable 'soldier' vase, Kangxi, sold in our New Bond Street salerooms, 12 May 2011, lot 317, and another similar pair of vases, Kangxi, sold at Christie's New York, 23 January 2007, lot 12.
Bonhams. AUCTION 23541: ASIAN ART, 10:30 BST - LONDON, KNIGHTSBRIDGE