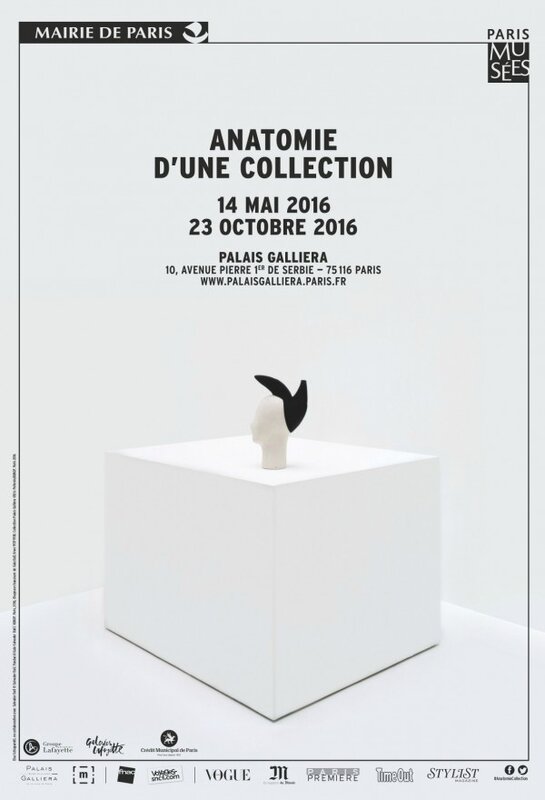 Anatomie d'une collection : Affiche
PARIS - Qui porte quoi ? Telle est la question posée par le Palais Galliera à travers l'exposition Anatomie d'une collection. De l'habit de cour au bleu de chauffe, entre anonymes et célébrités, l'exposition réunit une centaine de pièces de vêtements et accessoires issus du fonds Galliera pour revisiter la mode du XVIIIe siècle à nos jours.
Ainsi, parmi tous les corsets des réserves du musée de la Mode de la ville de Paris, Anatomie d'une collection présente celui de Marie-Antoinette et, parmi toutes les blouses, choisit celle d'une infirmière de la Première Guerre Mondiale dont l'histoire n'a pas retenu le nom...
Habit du Dauphin, gilet de Napoléon, robe de l'impératrice Joséphine, veste d'amazone de Cléo de Mérode, pantalon d'ouvrier, robe de George Sand, collet de Sarah Bernhardt, uniforme de zouave, salomés de Mistinguett, habit de forçat, chapeau-chaussure de Gala, tablier de travail, tailleur d'Audrey Hepburn, manteau d'Elsa Schiaparelli, robe de la duchesse de Windsor, pyjama du soir de Tilda Swinton... une centaine de pièces avec ou sans pedigree identifient ceux qui les ont portées.
Anatomie d'une collection, c'est un choix de vêtements incarnés qui reflètent la constitution même des collections en même temps que la complexité d'attribution exigée par chacune des pièces de ce patrimoine. Pour le visiteur, une invitation à découvrir la richesse du fonds Galliera.
PARIS - From 14 May to 23 October 2016 Who wears what? This is the question put by the Palais Galliera's Anatomy of a Collection exhibition. Ranging from court wear to work overalls and from celebrities to unknowns, the exhibition draws on the Galliera collection for around a hundred garments and accessories illustrating fashion from the 18th century to the present day.Examples: from among all the corsets in the Museum's storerooms, Anatomy of a Collection is presenting Marie-Antoinette's; and from among all the blouses, one that belonged to a First World War nurse whose name has not come down to us.
The Dauphin's suit, Napoleon's waistcoat, Empress Josephine's dress, Cléo de Mérode's riding jacket, a worker's trousers, a dress belonging to George Sand, Sarah Bernhardt's cape, a Zouave's uniform, Mistinguett's T-bar shoes, Gala Dali's shoe-hat, a workman's apron, Audrey Hepburn's outfit, Elsa Schiaparelli's overcoat, a dress worn by the Duchess of Windsor, Tilda Swinton's pyjama suit, and more.
A hundred items with or without pedigree, but identified with the people who wore them. Anatomy of a Collection is a selection of garments with historical associations that reflects the essence of the collection and the complex task of attribution demanded by each of these heritage pieces. An invitation to discover all the rich variety of the Museum's holdings.
Gilet à manches ayant appartenu à Claude-Lamoral II, prince de Ligne et du Saint Empire, vers 1750. Devant : Gros de Tours liseré broché, soie bleue, fils de soie polychromes, fils d'argent doré ; boutons de bois recouverts de filé et de paillons d'argent doré ; décor tissé à disposition. Dos et doublure : taffetas de soie bleu et taffetas de soie blanc. Collection Palais Galliera © Eric Poitevin/ADAGP, Paris 2016
Men's waistcoat belonging to Claude-Lamoral II, Prince of Ligne and the Holy Empire (1685-1766), circa 1750. It has a brocaded liseré gros de Tours, blue silk, polychrome silk thread, gilded silver thread and woven design for a waistcoat. Collection Palais Galliera © Eric Poitevin/ADAGP, Paris 2016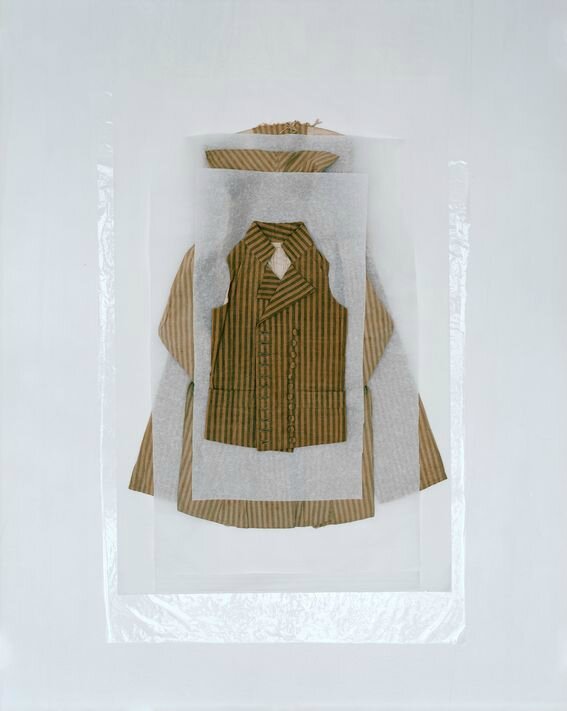 Habit, gilet et pantalon ayant appartenu à Louis XVII, Louis Charles de France, duc de Normandie, vers 1792. Toile de coton rayée, beige, marron. Boutons de bois recouverts de tissu. Collection Palais Galliera © Eric Poitevin/ADAGP, Paris 2016
Coat, waistcoat and trousers worn by Louis XVII, Louis Charles de France, Duke of Normandy (1785–1795), circa 1792. It is beige and brown striped cotton with wooden buttons covered with fabric. 
Collection Palais Galliera © Eric Poitevin
Robe parée de l'impératrice Joséphine, vers 1805. Mousseline de coton, broderies blanches à motifs végétaux. Collection Palais Galliera © Eric Poitevin/ADAGP, Paris 2016
Cotton muslin dress worn by Empress Joséphine (1863-1814), circa 1805. 
Collection Palais Galliera © Eric Poitevin/ADAGP, Paris 2016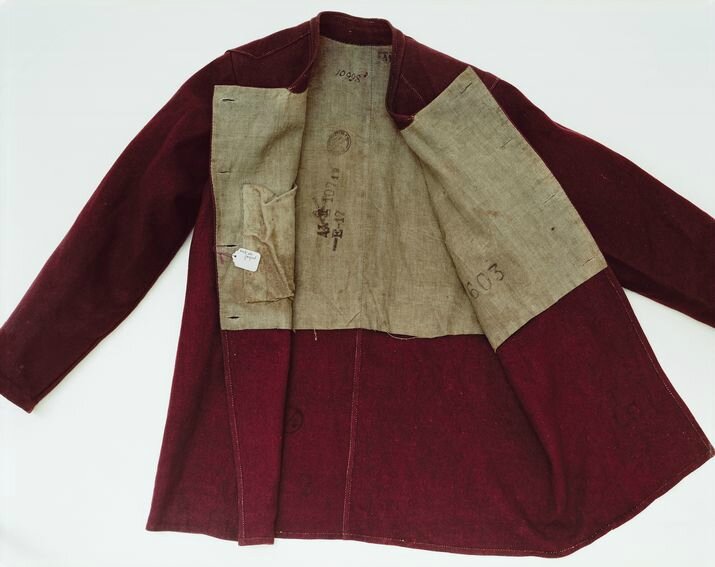 Veste d'uniforme de forçat, vers 1820-1850. Sergé de laine rouge. Collection Palais Galliera © Eric Poitevin/ADAGP, Paris 2016
Red wool twill convict's uniform jacket, circa 1820-1850. Collection Palais Galliera © Eric Poitevin/ADAGP, Paris 2016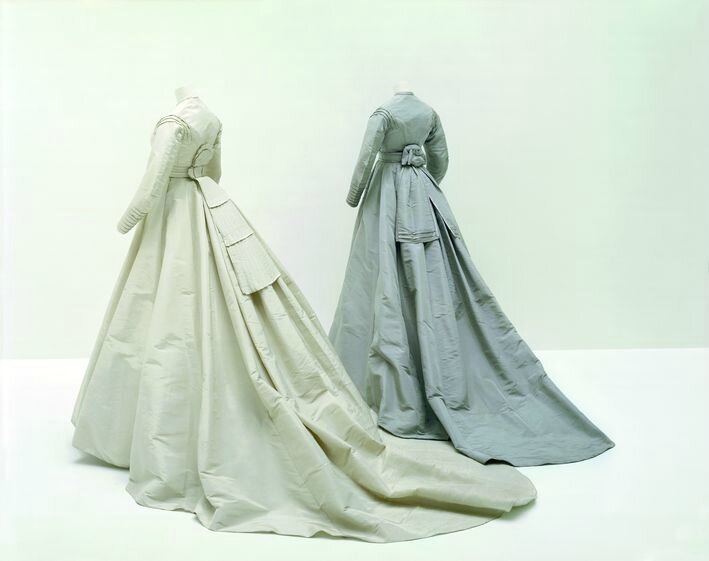 Robes portées par Madame Gachet lors de ses noces avec le Docteur Gachet, 1868. Robe de mariée (portée le 26 septembre 1868) : faille de soie ivoire. Robe de lendemain de noces : faille de soie gris-parme. Collection Palais Galliera - © Eric Poitevin/ADAGP, Paris 2016
Dresses worn by Madame Gachet for her marriage to Doctor Gachet, 1868. Collection Palais Galliera - © Eric Poitevin/ADAGP, Paris 2016
H. J. Nicoll (Londres et Paris), jaquette d'amazone de Cléo de Mérode (Cléopâtre-Diane de Mérode, dite, 1875-1966), vers 1896-1898. Sergé de laine noir. Collection Palais Galliera - © Eric Poitevin/ADAGP, Paris 2016
Black wool twill riding jacket worn by Cléo de Merode (1875-1966), circa 1896-1898, made by H.J. Nicoll. Collection Palais Galliera - © Eric Poitevin/ADAGP, Paris 2016
Redfern, cape du soir, vers 1900-1905, et Vaginay, paire de salomés, vers 1925, portées par Anna Gould (comtesse Boni de Castellane, 1875-1961). Cape : sergé de laine champagne et tulle de soie champagne, broderies au fil de soie champagne. Salomés : damas de soie crème, broderies de fils de soie bleus et or, strass. Collection Palais Galliera - © Eric Poitevin/ADAGP, Paris 2016
Evening cape (1900-1905) and a pair of T-strap shoes (1925), worn by Anna Gould, Countess Boni de Castellane (1875-1961). Cape: champagne wool twill and champagne silk tulle with champagne silk embroidery. Shoes: cream damask silk with gold and blue silk embroidery, diamante. Collection Palais Galliera - © Eric Poitevin/ADAGP, Paris 2016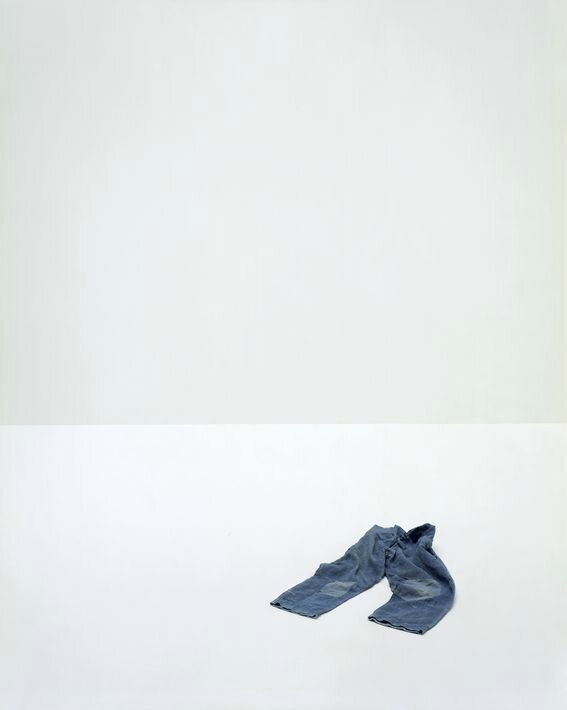 Pantalon de travail, XIXe siècle. Grosse toile de coton bleue, rapiécée de plusieurs morceaux de toile de coton bleue et de sergé de coton bleu et blanc. Collection Palais Galliera - © Eric Poitevin/ADAGP, Paris 2016
A nineteenth century workers' trousers. These are thick blue cotton canvas, with several patches made from blue cotton canvas, and blue and white cotton twill. Collection Palais Galliera - © Eric Poitevin/ADAGP, Paris 2016
Paul Poiret, manteau de jour porté par Denise Poiret (1886-1982), 1922. Drap de laine beige (kasha), broderies de fils de laine vermillon. Collection Palais Galliera - © Eric Poitevin/ADAGP, Paris 2016
Paul Poiret, day coat worn by Denise Poiret (1886-1982), 1922. It's a beige wool cloth (kasha) with red wool embroidery. Collection Palais Galliera - © Eric Poitevin/ADAGP, Paris 2016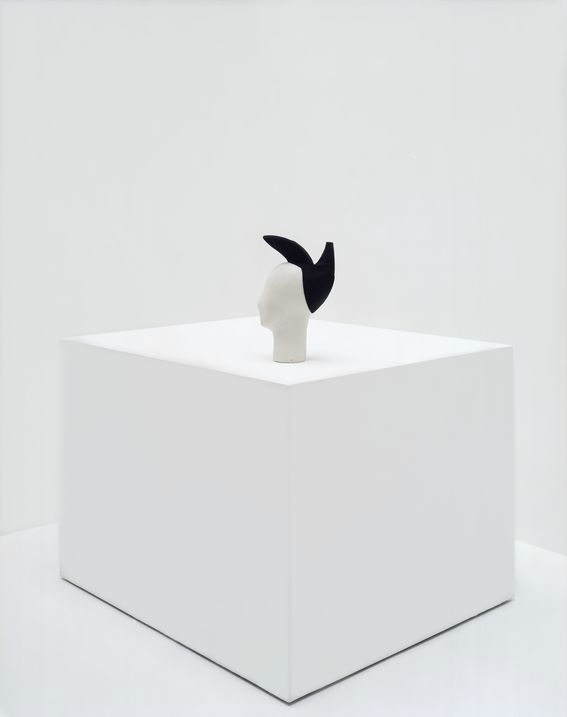 Elsa Schiaparelli (en collaboration avec Salvador Dalí), chapeau-chaussure porté par Gala (1894-1982), Hiver 1937-1938. Feutre noir. Collection Palais Galliera - © Salvador Dalí, Fundació Gala-Salvador Dalí ©Eric Poitevin/ADAGP, Paris 2016
Elsa Schiaparelli (in collaboration with Salvador Dalí), shoe hat worn by Gala (1894-1982), winter 1937-1938. Collection Palais Galliera - © Salvador Dalí, Fundació Gala-Salvador Dalí ©Eric Poitevin/ADAGP, Paris 2016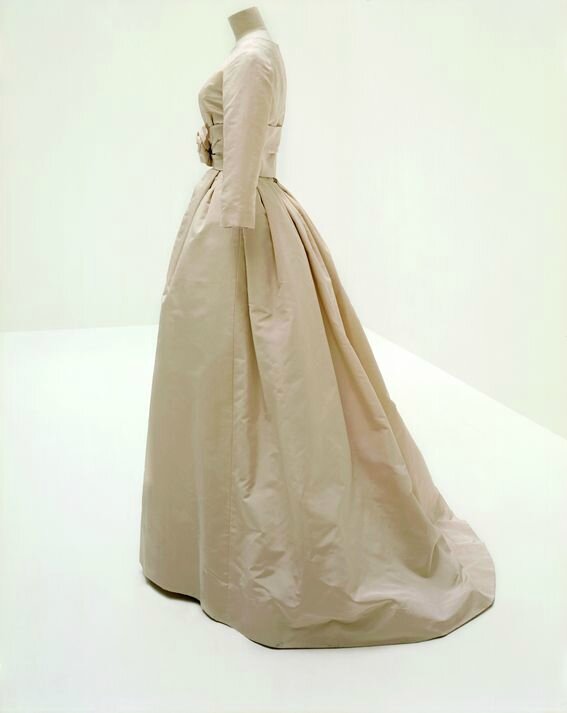 Christian Dior par Yves Saint Laurent, robe de mariée de Geneviève Page, 1959. Faille de soie ivoire. Collection Palais Galliera - © Eric Poitevin/ADAGP, Paris 2016
Christian Dior by Yves Saint Laurent, wedding dress for Geneviève Page, 1959. Collection Palais Galliera - © Eric Poitevin/ADAGP, Paris 2016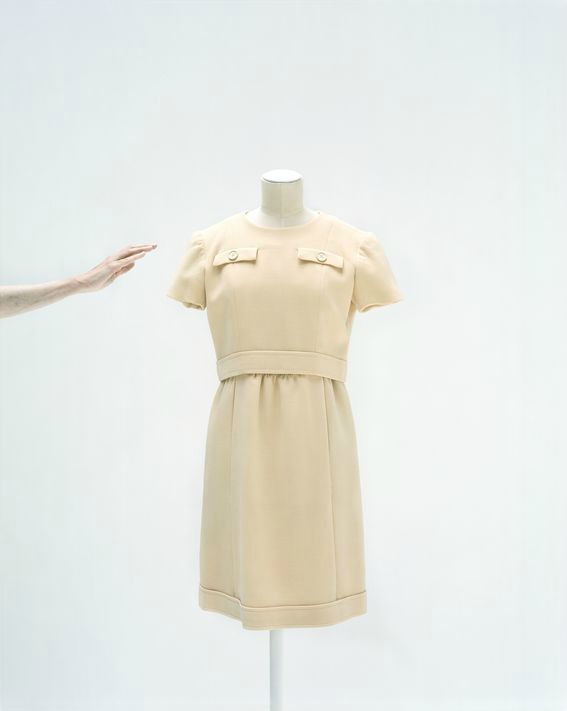 Givenchy, robe en deux parties portée par Audrey Hepburn (1929-1993), 1966, Lainage ivoire. Collection Palais Galliera - © Eric Poitevin/ADAGP, Paris 2016
Givenchy, two-piece dress worn by Audrey Hepburn (1929-1993), 1966. Collection Palais Galliera - © Eric Poitevin/ADAGP, Paris 2016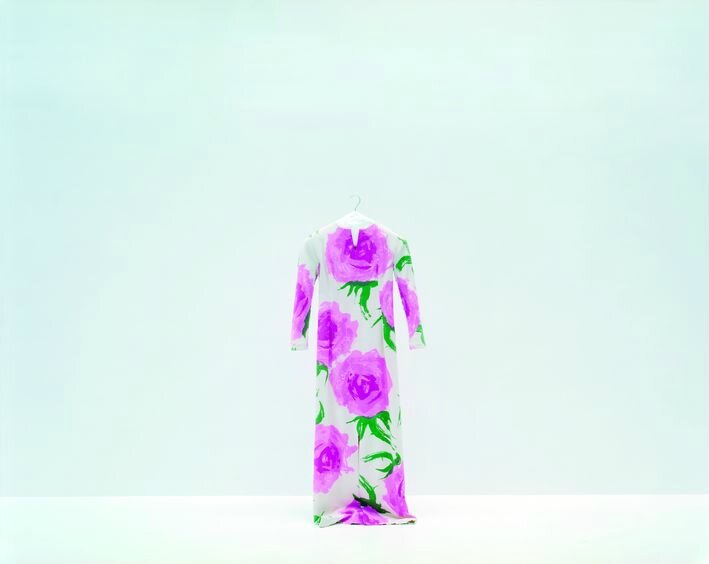 Balenciaga, robe portée par Mme de Réty, Été 1968, Crêpe de soie imprimé. Collection Palais Galliera - © Eric Poitevin/ADAGP, Paris 2016
Balenciaga, a dress worn by the Princess of Réthy, summer 1968. Collection Palais Galliera - © Eric Poitevin/ADAGP, Paris 2016
Christian Dior par Marc Bohan, robe de jour portée par la duchesse de Windsor (1896-1986), 1972. Gazar. Collection Palais Galliera - © Eric Poitevin/ADAGP, Paris 2016
Christian Dior by Marc Bohan, day dress worn by the Duchess of Windsor (1896-1986), 1972. Collection Palais Galliera - © Eric Poitevin/ADAGP, Paris 2016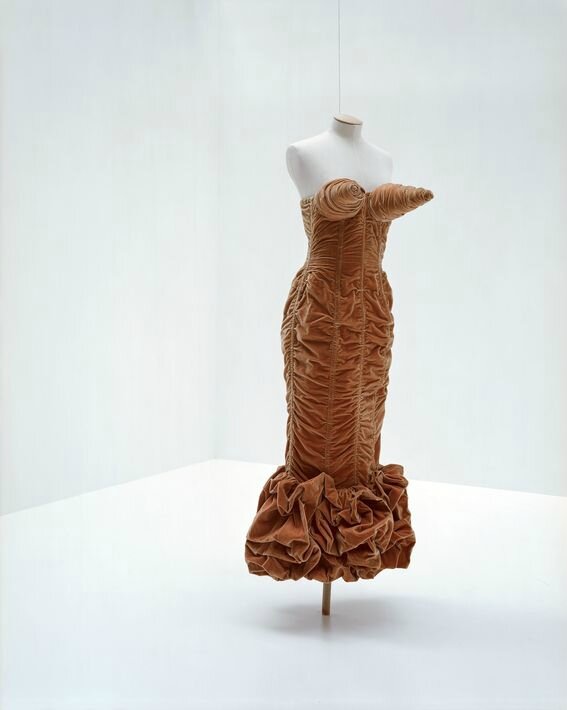 Jean Paul Gaultier, robe dite « seins obus », Automne/Hiver 1984-1985, collection Barbès. Velours de soie abricot. Collection Palais Galliera - © Eric Poitevin/ADAGP, Paris 2016
Jean Paul Gaultier, Bombshell Breasts dress from the autumn/winter 1984-1985, Barbès collection. Collection Palais Galliera - © Eric Poitevin/ADAGP, Paris 2016