A Rare Peachbloom-Glazed 'Chrysanthemum' Vase, Juban Ping, Kangxi Six-Character Mark In Underglaze Blue And Of The Period (1662-1722), 8 1/4 In. High. Estimate: $700,000-900,000. Photo: Christie's Images Ltd 2016.
NEW YORK, NY.- Christie's announces Collected in America: Chinese Ceramics from The Metropolitan Museum of Art, a dedicated auction on September 15, 2016. The collection is comprised of more than 600 works dating from the Song to the Qing dynasty that provide a fascinating window into traditions of collecting Chinese ceramics in America from the end of the 19th century through the 20th century. Christie's will offer an additional selection of ceramics from the museum in an online auction, which will be exhibited concurrently with the live sale during Asian Art Week in September 2016. A global tour of highlights from the collection kicks off May 6 in London, and will continue with stops throughout Asia prior to the New York sales.The proceeds of the sale will benefit The Met's Acquisitions Fund.

The selection represents a broad range of categories, including Song-dynasty Jun wares, blue-and-white porcelains from the Ming and Qing dynasties, and domestic and export wares from the Kangxi, Yongzheng and Qianlong periods. Of particular note is a large group of porcelains from the Museum's first important acquisition of Asian art in 1879 from the collection of an early trustee of The Met, Samuel Putnam Avery, and a group of refined Kangxi mark-and-period peachbloom-glazed scholar's vessels from the mid-20th century collection of Mary Stillman Harkness, wife of Standard Oil heir Edward Stephen Harkness. Other distinguished provenances include philanthropists Mary Clark Thompson, wife of banker Frederick Ferris Thompson, and John D. Rockefeller, Jr., financier and son of legendary Standard Oil co-founder John D. Rockefeller Sr.

Cataloguing and complete details of the sale will be available in August 2016.

Global Tour Dates and Locations:
• London: May 6-9
• Beijing: May 13-14
• Taipei: May 14-15
• Hong Kong: May 26-30
• New York: September 9-14, Christie's Rockefeller Center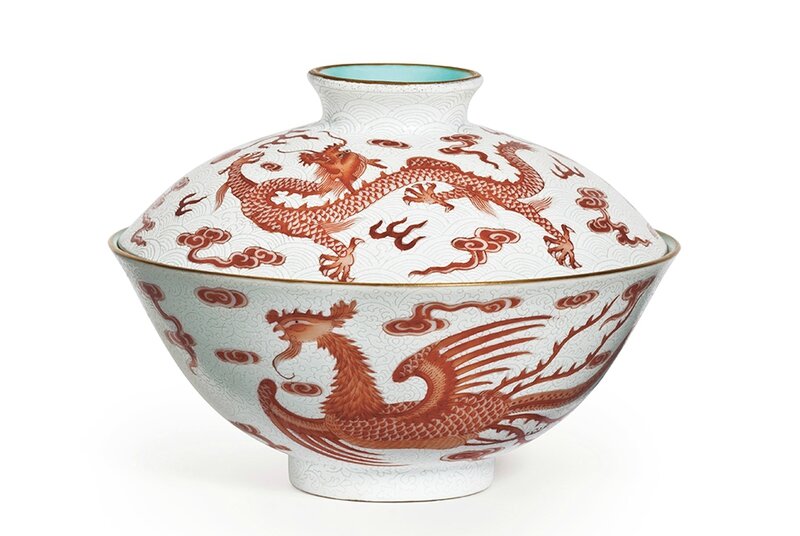 A Finely Enameled Iron-Red-Decorated Sgraffiato-Ground `Dragon And Phoenix' Bowl And A Cover, Qianlong Six-Character Seal Mark In Iron Red And Of The Period (1736-1795), 4 in. diameter. Estimate: $70,000-90,000. Photo: Christie's Images Ltd 2016.