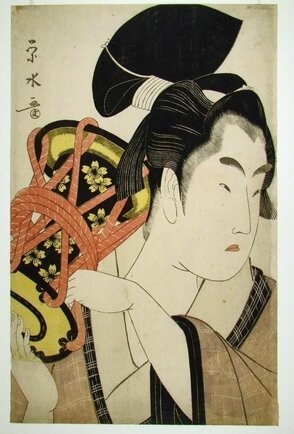 Hosoda Eisui (fl. 1790–1823), Wakashu with a Shoulder Drum. Sir Edmund Walker Collection.
TORONTO.- The ground-breaking A Third Gender: Beautiful Youths in Japanese Prints opened at the Royal Ontario Museumon Saturday, May 7, 2016. Featuring stunning woodblock prints, samurai armour, a kimono, screen paintings, lacquerwork, and illustrated books, the exhibition explores issues of gender and tells a pivotal story of sexuality in Japan's Edo period (1603-1868).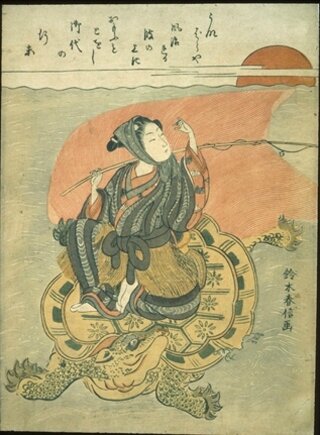 Suzuki Harunobu (1725–1770), Youth on a Long-Tailed Turtle as Urashima Tarō, 1767. Sir Edmund Walker Collection.
A Third Gender is the first North American display on wakashu. Four hundred years ago in Japan, a complex social structure existed in which gender involved more than a person's biological sex. Age, position in the sexual hierarchy, and appearance were also considered. Fundamental to this structure were youths termed wakashu. Neither "adult man" nor "woman"—each a separate gender—wakashu were objects of desire for both, playing distinct social and sexual roles. Constituting a third gender, they are visually represented in these Edo period woodblock prints.
Suzuki Harunobu (1725–1770), Mitate-e of a Poem by Saigyō Hōshi, 1767-8. Sir Edmund Walker Collection.
The exhibition features approximately 60 woodblock prints (ukiyo-e), visually representing wakashu. Many never before displayed, they are from the ROM's Japanese art collection—the largest in Canada. Produced since the 8th century in Japan, woodblock prints, created collaboratively by a designer, engraver, printer, and publisher, became popular in the 17th century. The exhibition's prints were created in early 18th to mid19th centuries by major ukiyo-e masters including Okumura Masanobu, Suzuki Harunobu, and Kitagawa Utamaro. *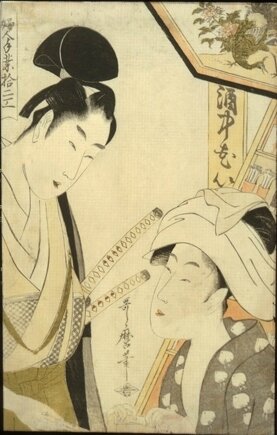 Kitagawa Utamaro (1753–1806), From the Series Fujin tewaza jūnikō (Twelve Forms of Women's Handiwork), Late 1790s. Sir Edmund Walker Collection.
A Third Gender is curated by Dr. Asato Ikeda, Assistant Professor of Art History at Fordham University, New York and the ROM's 2014-2016 Bishop White Postdoctoral Fellow of Japanese Art and Culture. Said Dr. Ikeda, "A Third Gender invites ROM visitors to think differently about gender and sexuality and we anticipate the exhibition will be of interest to a diverse audience."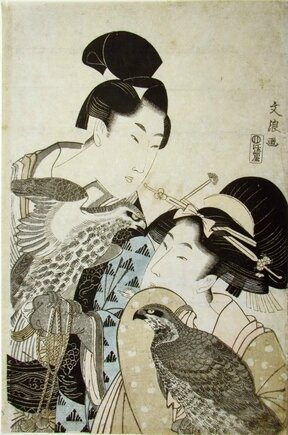 Bunrō (fl. 1801–1804), Wakashu and Young Woman with Hawks, ca. 1803. Gift of Ramsay and Eleanor Cook.
A ROM Press publication accompanies the exhibition. Beautifully illustrated, A Third Gender is co-authored by curator Asato Ikeda and Joshua Mostow (University of British Columbia) and available in the ROM Boutique and online at shop.rom.on.ca for $50 (Member price: $45)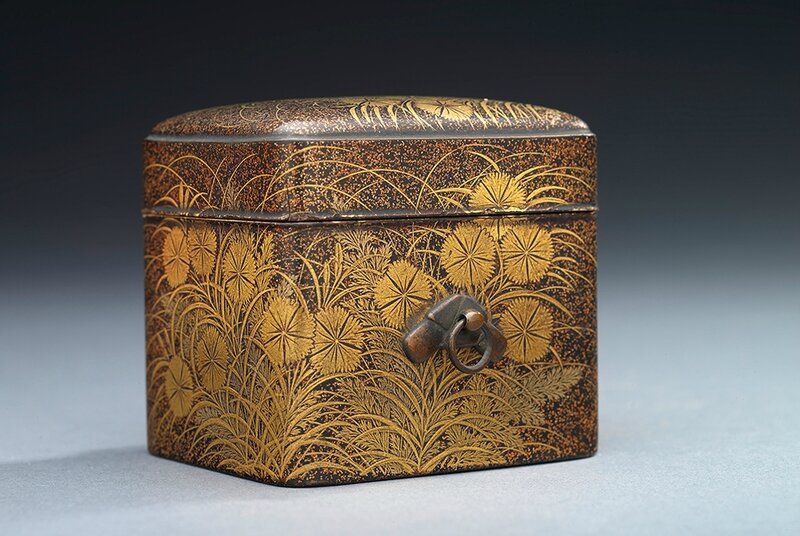 Box with cover (Incense box), Lacquered wood, Early Edo period, Japan, 17th century; 927.32.6.A-B.