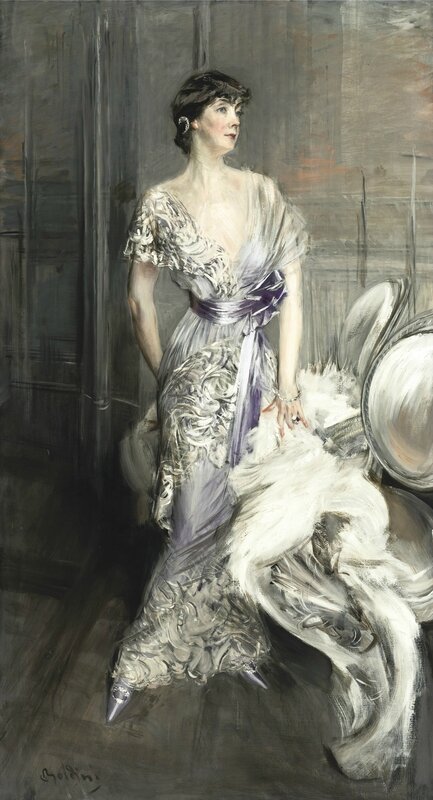 Lot 27. Giovanni Boldini (1842 - 1931, Italian), Portrait of Celia Tobin Clark, signed Boldini (lower left), oil on canvas, 86 5/8 by 47 1/2 in., 220 by 120 cm. Estimate 1,000,000 — 1,500,000 USD (899,523 - 1,349,285 EUR). Photo Sotheby's.
NEW YORK, NY.- Sotheby's annual spring auction of 19th Century European Paintings in New York will be held on 18 May 2016, featuring 96 exceptional works of art that showcase in the artistic diversity of the era: from the Belle Époque to Academic realism to Sporting Art. The auction will be on public exhibition in Sotheby's York Avenue galleries beginning this Saturday, 14 May.
Leading the sale is a selection of 19 works formerly from the collection of Margaret Thompson Biddle. Described by her contemporaries as American by birth and French in spirit, Mrs. Biddle embodied the idea of an American in Paris. After marrying, Ambassador Anthony J. Drexel Biddle, Jr., in 1931, the couple began a diplomatic tour of Europe including stays in Norway, Poland and England. After World War II, Mrs. Biddle moved into a fashionable townhouse off the Boulevard Saint-German hosting a diverse group of guests from General & Mrs. Dwight Eisenhower to Pope John XXIII to the Duke and Duchess of Windsor as well as notable French politicians, artists and writers.
Her esteemed collection included paintings by masters of the 19th and early-20th centuries, including works by Corot, Gauguin, Renoir, Monet – and the present group of works by Jean Béraud, Eugène Galien-Laloue and Stanislas Lépine on offer this May. These works have long been held in storage, unseen for more than half a century. Many of the collection's paintings depict the urban bustle of Parisian boulevards, shops and cultural institutions Mrs. Biddle enjoyed in her daily life. Bois de Boulogne (estimate $600/800,000) and Scène sur Les Champs-Élysées (estimate $500/700,000) each reflect Béraud's strength as an artist and the vibrant culture of Belle Époque Paris.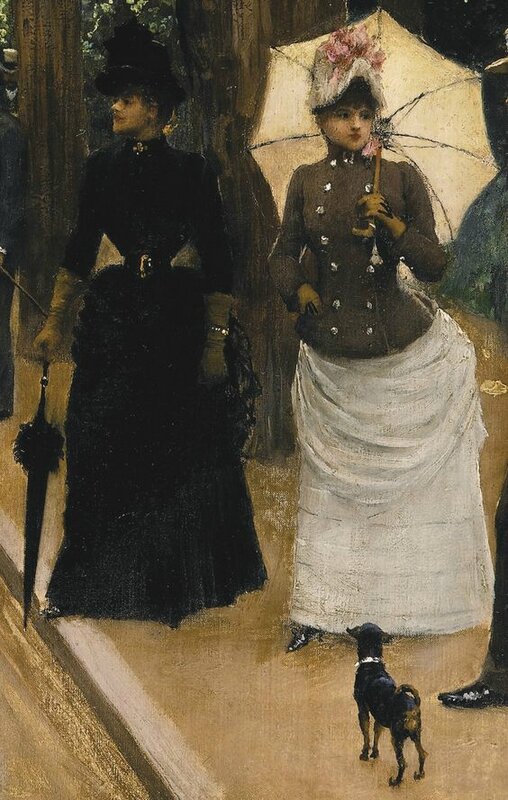 Lot 39. Jean Béraud (1849 - 1935, French), Bois de Boulogne, signed Jean Béraud. (lower left), oil on canvas, 18 by 23 in., 45.7 by 58.4 cm. Estimate 600,000 — 800,000 USD (539,714 — 719,619 EUR). Photo Sotheby's
Property formely in the collection of Margaret Thompson Biddle
This work will be included in the supplement to the critical catalogue of the work of Jean Béraud being prepared by the Wildenstein Institute.
Note: Émile Zola's La Curée (The Kill) (1872) opens with a vivid description of a "crush of carriages returning via the lakeshore" of Paris' Bois du Boulogne. While their carriage's passage was "ground to a halt," Renne, a fantastically wealthy woman, and her stepson Maxime dissect the fashions of the people around them: "occasionally one caught a glimpse of female finery in an open landau, a flash of silk here or velvet there…. Inside the carriages one heard the conversations of people passing by on foot". (Emile Zola, La Curée (The Kill), translated by Arthur Goldhammer, New York, 2004, p. 4) Though surrounded by nature, Zola's characters, just as the throngs of park-goers painted by Béraud in the present work, spend little time observing the natural beauty of the tree-lined lanes and are instead preoccupied with spying on one another. Located on the western edge of the 16th arrondissement of Paris, the Bois de Boulogne drew many visitors from the fashionable set, but the immense grounds were open to all, and throughout the Belle Époque, its alleys were filled with carriages and coaches, horseback riders and bicyclists (whom Béraud frequently depicted in other paintings). As suggested by the quality of light filtered through the verdant trees of the present work, late afternoon was the traditional time for a promenade. Indeed, as American writer Theodore Child noted in his guide The Praise of Paris, "the afternoon drive to the Bois brings together, to see and be seen, all the notabilities of fashionable Paris, the celebrities of society and of the stage, of leisure and of talent, of glory and of scandal" (Theodore Child, The Praise of Paris, New York, 1893, p. 77). In the present work, with keen detail and subtle wit, Béraud perfectly illustrates the top item on a park-goers' itinerary: nearly every smartly dressed man and woman glances, gestures, calls, or peers at another as they stand shoulder to shoulder or ride in carriages that overlap, then blur, then disappear into the distant horizon. The outstretched hand of a man in black suit and bowler hat embodies Childs' observations of the flirty fun the park offered recalling that "on foot, too, may be seen the young bloods... Fixed, correct and stiff, lounging with weary air, cackling and uttering flute-like squeaks of admiration as they watch the horses and the women, and waft salutations that are never returned" (Child, p. 77).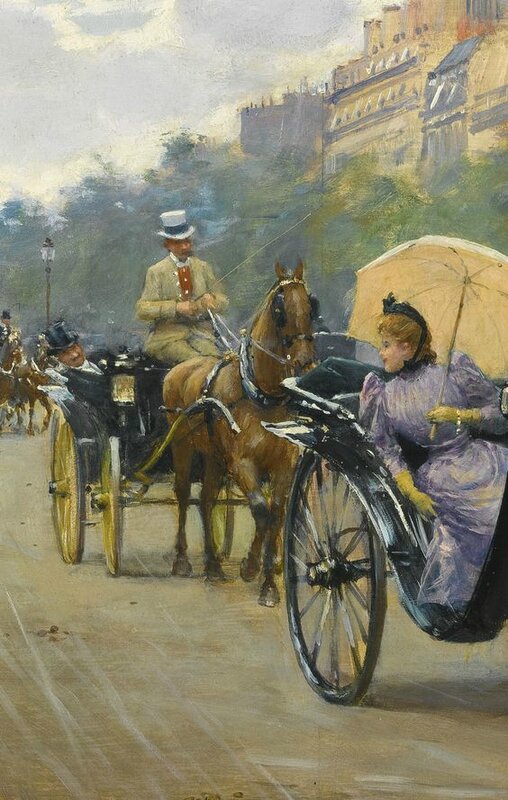 Lot 39. Jean Béraud (1849 - 1935, French), Scène sur Les Champs-Élysées, signed Jean Béraud. (lower right), oil on panel, 14 1/2 by 21 in., 36.8 by 53.3 cm. Estimate 500,000 — 700,000 USD (449,762 - 629,666 EUR). Photo Sotheby's.
Property formely in the collection of Margaret Thompson Biddle
Exhibited: Paris, Galerie Charpentier, Peintres de 1900, 1953, no. 17
Literature: Patrick Offenstadt, Jean Béraud 1849-1935, The Belle Époque: A Dream of Times Gone By, catalogue raisonné, Cologne, 1999, p. 144, no. 135, illustrated p. 145
Note: In 1889, a Danish visitor to Paris remarked that its boulevards were "the great rendezvous where the whole population flocks together to satisfy its great craving for sociability, where people meet with the wish of being together, and associate with the amiable courtesy and easy approach that is a consequence of the consciousness of being mutually entertaining" (Richard Kaufmann, Paris of Today, translated from the Danish by Olga Flinch, New York, 1891, p. 73). It is this impression of busy "modern" life that Béraud captures in his Scène sur les Champs-Élysées, the panoramic depiction of that iconic avenue, full of an uncountable number of carriages out for a day's ride, the unmistakable Arc de Triomphe in the background. By the late nineteenth century, the wealthy and fashionable bourgeoisie had largely abandoned the narrow passages and apartments of Paris' central city for the grand boulevards of the post-Haussmann era. The expansive and orderly streets were flanked by the neat, plastered façades of grand hôtels with interiors that held all the comforts of modern living. Despite the luxuries of home, the social opportunities waiting out-of-doors were too tempting, and the beau mondespent much of their day, especially Sunday afternoons, riding and promenading on the boulevards and avenues— transforming them into plein air receiving rooms. Of all the streets, the Champs-Élysées afforded perhaps the best opportunities to see and be seen; on horseback, in an expensive carriage, or strolling in the newest cut of dress, a circuit was made from one end of the avenue to the other, often finishing with a picnic at the Bois du Boulogne (see lot 39). Overall, the new shops, cafés, and entertainments of Belle Époque Paris inspired an entirely new culture: life was now lived in public (Debra N. Mancoff, Fashion in Impressionist Paris, London, p. 8). Just as Béraud depicts in the present work, the flirtatious exchange between a man and woman on a sunny afternoon could be as commonplace a sighting along the streets or in passing carriages as it was in in the privacy of a well-appointed salon. As such, with Scène sur les Champs-Élysées, Béraud allows both viewer and observed to become, as one contemporary social critic remarked, a class of people who "thoroughly understood the street and realized a conception of it which has become a model of excellence (Philip Gilbert Hamerton, Paris in Old and Present Times, London, 1892, p. 308).
Beyond Mrs. Biddle's collection, the auction is highlighted by a full-length portrait of Celia Tobin Clark by Giovanni Boldini (estimate $1/1.5 million). Mrs. Tobin Clark was the wife of Charles W. Clark, son of copper magnate and United States Senator, William H. Clark. Upon its completion in 1904, Boldini invited Mrs. Clark to his Paris studio to unveil the portrait describing it as "magnificent and with nothing to change." The portrait has remained in her family since its completion and is being sold by her descendants. In November 2010, Sotheby's set two of the top three auction prices for works by Giovanni Boldini with two examples of his life-sized portraiture.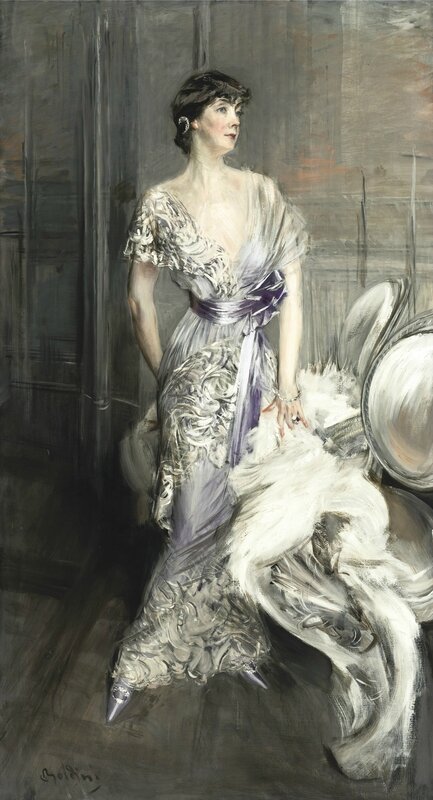 Lot 27. Giovanni Boldini (1842 - 1931, Italian), Portrait of Celia Tobin Clark, signed Boldini (lower left), oil on canvas, 86 5/8 by 47 1/2 in., 220 by 120 cm. Estimate 1,000,000 — 1,500,000 USD (899,523 - 1,349,285 EUR). Photo Sotheby's.
Provenance: Celia Tobin Clark, Hillsborough, California (acquired directly from the artist in 1904)
Thence by descent
Exhibited: San Francisco, California Palace of the Legion of Honor, Sargent and Boldini, October 24- November 29, 1959, no. 36 (lent by Celia Tobin Clark)
Literature: Ettore Camesasca, ed., L'opera completa di Boldini, Milan, 1970, p. 118-9
Piero Dini and Francesca Dini, Giovanni Boldini 1842-1931, Catalogo Ragionato, Turin, 2002, vol. III, p. 442, no. 834, illustrated p. 443
Tiziano Panconi, Giovanni Boldini, l'opera completa, Florence, 2002, p. 446
Note: In 1892, upon Boldini's invitation to paint his self-portrait to hang among other artists' likenesses in the Uffizi's Vasari Corridor, he wrote to a friend "I will go to Florence to paint the portrait. I'll do it on the spot in three or four sittings, and celebrity will be achieved" (Giovanni Boldini to Cristiano Banti, February 29, 1892, as translated and quoted in Sarah Lees, "Giovanni Boldini in Impressionist Paris," Giovanni Boldini in Impressionist Paris, exh. cat., 2010, p. 58). Indeed, through the Belle Époque, the prosperous, charmed years that opened the twentieth century, Boldini was a premiere portraitist of thebeau monde. Since the late 1880s, his ability to match a flattering likeness with a dynamic, colorful bravura style made his Paris studio a destination of social necessity for cosmopolitan beauties and aspiring ladies of the world. As Boldini's reputation grew, his subjects were increasingly drawn from the social elite, and many of his nearly life-sized full-length portraits were exhibited in virtually every important international exhibition, attracting patrons throughout Europe and the United States.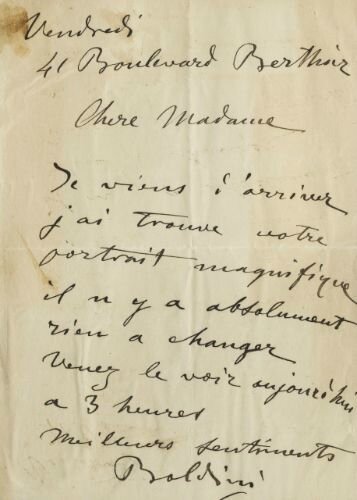 Letter from Giovanni Boldini to Celia Tobin Clark.
Celia Tobin Clark (1874-1965) came from one of San Francisco's founding families, who opened and grew its Hibernia Bank and were patrons of numerous civic causes. In 1901, Celia Tobin married the multi-millionaire Charles W. Clark (1871-1933), son of William A. Clark, the Montana copper magnate and United States Senator, and her portrait was painted thereafter, likely in honor of the occasion. Despite the couples' wealth, their wedding was, as reported by The San Francisco Call, "wholly without ostentation and every feature was marked with the upmost simplicity. This was in perfect keeping with Miss Celia Tobin's quiet tastes ("Miss Celia Tobin Weds C. W. Clark, the Son of Montana Millionaire," The San Francisco Call, August 5, 1901, p. 6). While known as charming and popular, Celia Tobin Clark was also somewhat shy, and chose her closest friends with care. She was known as a skilled equestrienne who rode "as well as her brothers," but was also an accomplished pianist remembered for her sensitive interpretations of "famous composers" ("Miss Celia Tobin Weds," p. 6). Her graceful and refined style are immediately evident in Boldini's portrait. Her athleticism is suggested in Boldini's elongation of her form (a hallmark of his portrait style), a lavender bow cinching swirls of shimmering fabric in subtly shifting shades of mauve, while a matching, voluminous cape spills across two fauteuils, the white fur lining the perfect backdrop to display a sparkling diamond bracelet and an opal and ruby ring. Contrasted with more rapidly applied areas of paint elsewhere in the composition, Boldini reserves a higher degree of finish to capture Celia Tobin Clark's serene expression, its smooth surfaces suggesting her sensitivity as she looks away from the viewer.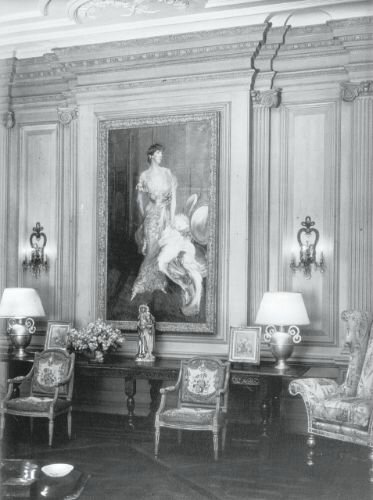 The music room of House-on-Hill, with the present work hanging.
Upon its completion in 1904, Boldini invited Celia Tobin Clark to his Paris studio at 41 Boulevard Berthier to view her "magnificent portrait, with nothing to change" (fig. 1). Once again, the artist had created a portrait that, in its mix of abstract, vigorously applied elements and smoothly applied paint, not only captured the personality and style of the sitter but his own singular vision. Like many of his large portraits, Celia Tobin Clark was perfectly suited to serve as part of the patron's interior design. By 1931 the portrait hung in Celia Tobin Clark's "House-on-Hill" built in Hillsborough, California. Aptly named, as it overlooks San Francisco's Lower Bay, House-on-Hill was designed by David Adler (1882-1949) the preeminent architect of American "country houses" in the early twentieth century. After considering another architect who proposed a French chateau, Clark found Adler the perfect partner to create an English-style house that would disappear into the surrounding 400 acres — just like the homes she admired in her travels to the Cotswolds — both affording her privacy and surrounding her with nature. The vast interior was designed with Jacobean oak paneling, carved wood reliefs, pegged parquetry from a castle in France, and antique pine paneling, among a host of other well-considered details, many of which were personally sourced and approved herself. In the music room, Boldini's portrait was hung between evenly spaced Corinthian columns and below a high plaster ceiling patterned with rosettes, garlands, and musical instruments; it overlooked numerous recitals by world famous ensembles, including the Budapest Quartet, attended by as many as 100 guests (fig 2.) Celia Tobin Clark was the consummate hostess known for the most delicious dinner parties and memorable entertainments; she was so generous that she even provided guests a tank of gasoline and a car-wash while they enjoyed an evening's festivities (Stephen M. Salny, The Country Houses of David Adler, New York, 2001, p. 111-20). Throughout her life she celebrated nature, the arts, and gracious living, her elegant portrait by Boldini a fitting, lasting legacy.
A selection of five paintings by William Bouguereau will be offered in the sale and led by Le Sommeil (estimate $800,000/1.2 million). Bouguereau submitted Le Sommeil to the Salon of 1864, a pivotal moment when he moved from the "Grand Genre" of history painting towards more familial scenes, including the idealized peasants and children for which he is best known. By rendering these subjects on a large scale, he granted them a heroic dimension that was previously reserved for historical or mythological subjects, and the formula brought him extraordinary success for which he remains celebrated to this day.
Lot 13. William Bouguereau (1825-1905, French), Le Sommeil, signed W-BOUGUEREAU and dated 1864 (upper left), oil on canvas, 60 1/2 by 47 in., 153.7 by 119.4 cm. Estimate 800,000 — 1,200,000 USD (719,619 - 1,079,428 EUR). Photo Sotheby's.
Provenance: Durand-Ruel, Paris (acquired from the artist)
Collection of M. Paturle
John Levy Galleries, New York (and sold, American Art Association, April 27, 1933, lot 17, illustrated)
Nicholas Acquavella, New York
Private Collection, United States
John Mulcahy, Ashford Castle, Cong, Ireland
Hammer Galleries, New York
Borghi Gallery, New York
Acquired from the above, 1984
Exhibited: Paris, Salon, 1864, no. 218
Paris, Exposition Universelle, 1867, no. 74
New York, John Levy Gallery, Back to Bouguereau, December 1932
New York, Borghi Gallery, Exposition Bouguereau, 1984
Literature: Ludovic Baschet, ed., Artistes Modernes: Catalogue Illustrée des oeuvres de W. Bouguereau, Paris, 1885, p. 27
Charles Vendryès, Dictionnaire illustré des Beaux-Arts, Paris, 1885, p. 27
Marius Vachon, W. Bouguereau, Paris, 1900, p. 147
Mark Steven Walker, "William-Adolphe Bouguereau, A Summary Catalogue of the Paintings," William-Adolphe Bouguereau, L'Art Pompier, exh. cat., Borghi & Co., New York, 1991, p. 66
Damien Bartoli with Fred Ross, William Bouguereau, Catalogue Raisonné of His Painted work, New York, 2010, p. 78, no. 1864/03, illustrated p. 78; and in the revised 2014 edition, p. 78, no. 1864/03, illustrated p. 78
Damien Bartoli and Frederick Ross, William Bouguereau, his life and works, New York, 2010, p. 152 illustrated p. 160, pl. 62; and in the revised 2014 edition, p. 152 illustrated p. 160, pl. 62
Note: After receiving the esteemed Prix de Rome in 1850, Bouguereau spent four years in Italy studying the works of Giotto and Raphaël. The plasticity in the modeling that Bouguereau achieves in Le sommeil certainly recalls, and rivals, the surfaces and articulations of the saints of the great masters of the high Renaissance. That the artist's mother and child paintings were greatly instructed by the fifteenth-century Italian paintings of the Madonna and Child did not escape critics or historians, as Marius Vachon notes that "from the outset, the paintings of the Italian masters revealed to the artist the beauty inherent in youth, the seduction in a smile, the grace in simplicity. Above all, he paints young mothers with their children. This theme, which had been interpreted in an inexhaustible variety of ways, and always with new eloquence, inspired him to paint works of an infinite charm, in the figure types were generally borrowed from the Italians" (as translated from Vachon, p. 90).
Although these three figures seem to radiate light, at Bouguereau's hand the sacred subject is secularized. He creates a dream-like universe of peace and serenity that is exquisite and transcendent in its beauty. While there are no overt religious references in either painting, the image of the mother and children can be interpreted as a secular portrayal of the Holy Family, in this instance dressed as Italian peasants. Critics of the time recognized the influence of earlier religious works on this secularized subject. Gauthier declared, "There is a great deal of charm in this maternal grouping, which could easily become a Sainte Famille," and in his annual article on the 1864 Salon, Paul de Saint-Victor described the painting as, "a Roman peasant holds a naked child between her knees. She places a finger on her lips and signals to the little boy, who carries cherries in the fold of his raised shirt, without waking his sleeping little brother. These three white figures, composed and grouped like a working-class Holy Family, are modeled on a very clear format, with a remarkable sureness of handling" (as translated from the French, Baschet, p. 28). Indeed, Bouguereau's Sainte Famille of 1863 (see lot 10 for a related sketch) which brought him success and was acquired for the Emperor's Imperial Collection and hung in the Palais des Tuileries, clearly gave inspiration to La Sommeil (it is worth noting that his other Salon submission of 1863, Les remords d'Oreste, was perceived as unsaleable at the time).
Bouguereau submitted Le sommeil to the Salon of 1864 alongside his Baigneuse (Museum of Fine Arts, Ghent) and their exhibition represented his departure from the "Grand Genre" of history painting and a pivot towards more anecdotal and pastoral scenes. By rendering these paintings on a grand scale, he granted familiar subjects a heroic dimension that was previously reserved for historical or mythological subjects, and the formula brought him extraordinary success for which he remains celebrated to this day. Interestingly, the réduction of this painting (sold in these rooms, May 9, 2013, lot 15) presents the figure group in a dimly lit interior, while in the primary version, the present work, the family is situated in a sunny courtyard, under a grapevine, with a figure descending a staircase in the distance.
Bouguereau was a consummate painter and draftsman and he honed a reputation for unparalleled excellence in his workmanship. In discussing the artist's process, an American columnist noted that "nothing does he but paint from dawn until eve, winter and summer. Painting is his society, theatre, vacation. His canvases are his domestic pets. In becoming a master — in preparing to create a whole world of Bouguereau unreality — this gentle woodman starved in Paris in the approved art-student style" (Stuart Oliver Henry, Hours with Famous Parisians, Chicago, 1897, p. 213). The idiosyncratic "world of Bouguereau unreality" had a spectacular allure, particularly for American collectors, and the artist's dealer at the time, the legendary Durand-Ruel, had been cultivating that interest and guiding his output. Robert Isaacson writes that "Durand-Ruel introduced Bouguereau to one of his painters, Hugues Merle (see lot 11), who was having an enormous success with compositions of the mother and baby, brother and sister sort... Bouguereau was urged to try his hand at this genre, and his success with it is part of history" (Robert Isaacson, "Collecting Bouguereau in England an America," William Bouguereau: 1825 – 1905, exh. cat., Paris, 1984, p. 104).
Sporting art in the sale will be led by Sir Alfred James Munnings' North Cornish Hunt (estimate $800,000/1.2 million). Known for his ability to combine established hunting iconography with a fresh new vision, this monumental work is an elegant demonstration of Munnings understanding of composition and color.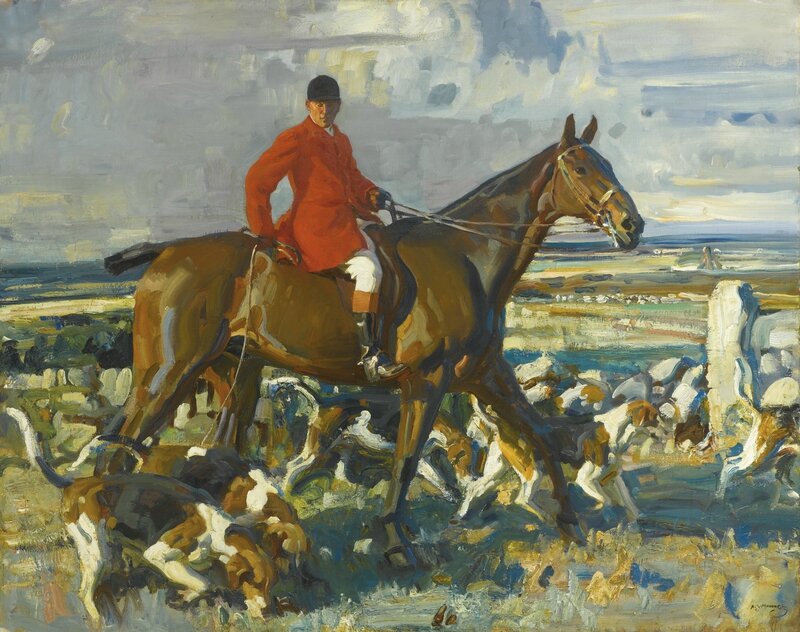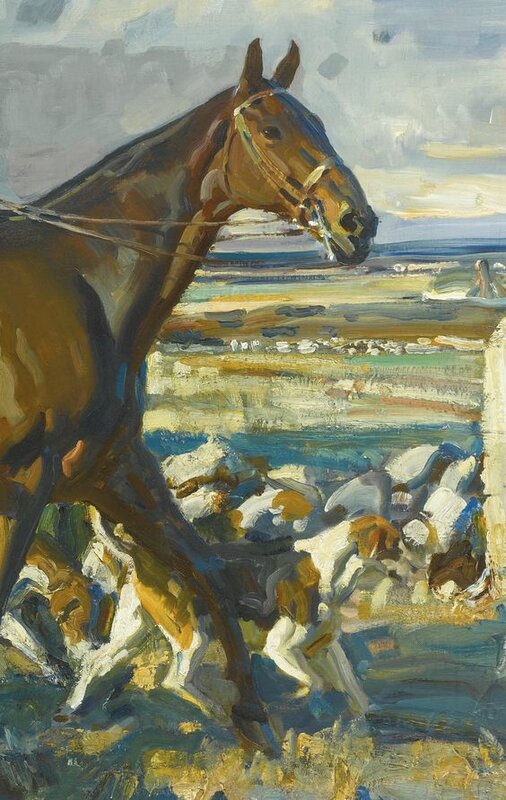 Lot 85.
Sir Alfred James Munnings, P.R.A., R.W.S. (British, 1878 - 1959), North
Cornish Hunt, signed A.J. Munnings (lower right), oil on canvas, 53 by 63 3/8 in.,
134.6 by 160.7 cm.
Estimate

800,000

—

1,200,000
USD (719,619 - 1,079,428 EUR). Photo Sotheby's.
We would like to thank Lorian Peralta-Ramos for kindly assisting in cataloguing this work, which will be included in her forthcoming catalogue raisonné of the artist.
Provenance: Frost & Reed Ltd., London by 1955
Mrs. Eric Phillips, Canada (and sold: Sotheby's, London, April 22, 1970, no. 270, illustrated)
J. Thrall (acquired at above sale)
The Sporting Gallery, Middleburg, Virginia
Acquired from the above by the present owner in the early 1970s
Literature: Connoisseur, September, 1955 (as Tom Mollard and the Madron Kennels)
Note: Munnings moved from Norfolk to Cornwall by 1911, and spent much of the following years around the farming village of Zennor on the north coast. In describing the move, the artist used the language of the land, explaining that "from all this rich, Norfolk farming country — these vistas of hedgerow-oaks and elms, woodlands, cornfields and low meadows — I found myself in a land of stone walls and tall, stone-faced banks covered with wild flowers… It was a wild, almost treeless, stone-walled country" (Sir Alfred Munnings, An Artist's Life, London, 1950, p. 271). The new discovery of the beautiful strangeness of Cornwall's landscape coincided with the artist's growing reputation as a painter of hunting scenes, which typically used one of his favored grooms and horses as a model. Depicting the expected suite of images of The Chase, or The Return of the Huntsmen, Munnings typically employed a format that recalled the hunting prints of previous centuries. Indeed, as defined by G.H. Mair in 1924's The Studio, The North Cornish Hunt's composition follows expected models of "the carefully drawn side view, with the horses and the men in pink and the conventional landscape...something which is as much part of English tradition as roast beef or the Pickwick Papers" (as quoted in Kenneth McConkey, "English the Scene, English the Atmosphere" in An English Idyll, exh. cat., London, Sotheby's, January 2-25, 2001, p. 17). Yet, with its powerfully formed striding horse and grand rider, intermingled with the blur of hounds' brown and white coats, set against the green and gray swipes and dabs of sky and landscape, The North Cornish Hunt extends beyond traditional motifs. Combining established hunting iconography with a fresh new vision, this work is a monument to Munnings' artistic achievement.
An important aspect of Munnings' development was his progression toward a greater naturalism, coupled with impressionistic vigor. The movement of the hounds as they scurry in search of the day's quarry echoes the quick spontaneity of his brush, which recorded passing light effects and the animal's movement. Oblong blocks of blues, grays and whites make up the moving sky and native stone croppings, while sketchier passages are overlaid on larger layers of ochre paint to make up the scraggly grasses and mosses growing from Cornwall's hard earth. This painterly technique demonstrates the influence of Munning's Cornish friends—the community of painters known as the Newlyn School, which included Dame Laura Knight, Lamorna Birch and Augustus John. While not an acknowledged member of the School, Munnings worked in a similar manner to these English plein-air painters, whose compositions were close studies of their environment and a careful balance of colors and form. As Lionel Lindsay explained in his appreciation of the artist, Munnings uses "live colours—yellow and orange, scarlet, purple and green" which "must be placed with a fine, harmonious precision, or the whole atmospheric balance of the picture will be upset" (A. J. Munnings, R.A: Pictures of Horses and English Life, New York, 1939, p. 17-18). He continually strikes this balance with the reflective blues and grays of the damp, atmospheric sky, which repeat in the shimmering highlights on the horse's coat. Indeed, the composition guides the eye from one patch of color to another, creating a flowing illusion of movement further heightened by a daring crop of hound's rear feet and tail as he strides away from the picture space at lower right.
As the hounds move along the ground, the huntsman and horse have turned toward the viewer, as if we have interrupted the moment when the huntsman is addressing the pack to keep them in line. The identity of this imposing sitter remains a matter of debate. There is some speculation that the sitter is Ned Osborne, Munnings' groom at the time and frequent model while the horse is the artist's bay, St. Patrick, who was of impressive size and strength. Others believe it to be Tom Mollard, a member of the Western Hounds based at Madron. Despite this ambiguity, both models possessed hardy and heroic features that were distinct to the men Munnings admired. Unlike the larger fields and woods of East Anglia, in Cornwall and its surrounding areas huntsmen and their horses and hounds chased foxes across rugged, raw landscapes along the cliffs to the sea; the sound of horns echoed across open spaces and the flash of pink coats broke through the foggy air. Indeed, The North Cornish Hunt possesses a strength and force of composition which seems inherent to the land that inspired it: "granite country, where the soil was shallow… the most picturesque and primitive place," (Munnings, Artist's Life, p. 275). It afforded Munnings the opportunity to paint an icon of the hunt and to showcase his own unique talent.
Jean-Baptiste-Camille Corot's Marcoussis – les Vaches au Paturage is an excellent example of the artist's celebrated landscapes (estimate $400/600,000). This particular work was in the esteemed collection of Samuel P. Avery, and sold in 1897 to James J. Hill, founder of the American Transcontinental Railroad Network, whose collection of paintings by Corots was rivalled only by Harry Osborne and Louisine Havemeyer and the artist's biographer, Étienne Moreau-Nélaton.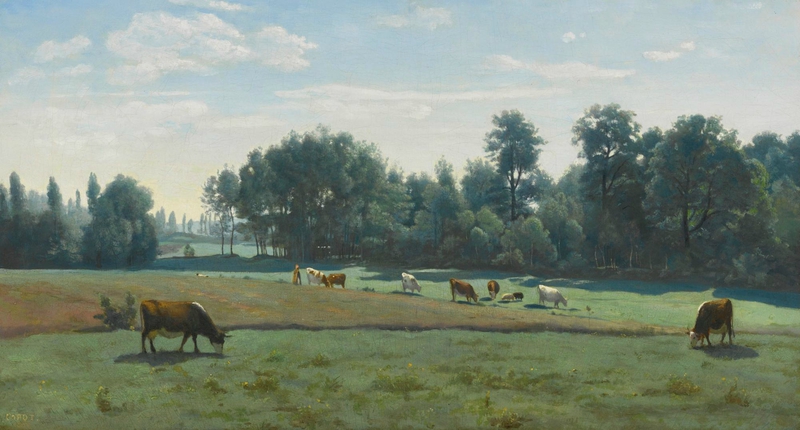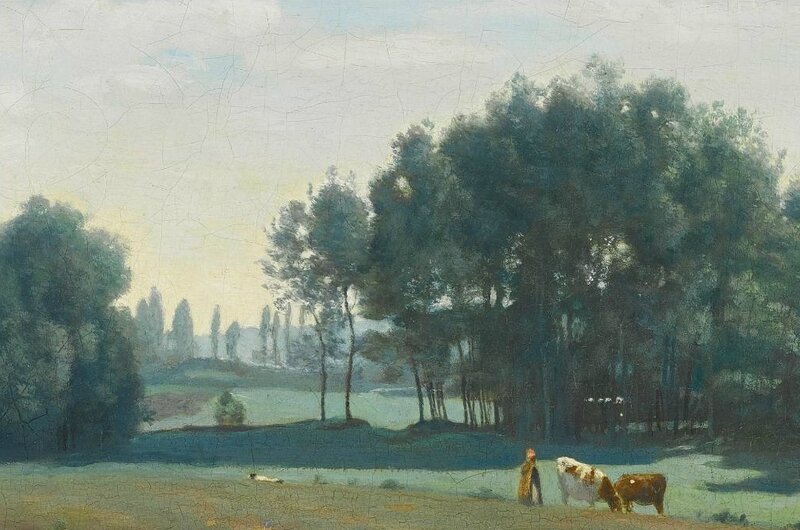 Lot 60. Jean-Baptiste-Camille Corot (1796 - 1875, French), Marcoussis–les Vaches au Pâturage, signed COROT (lower left), oil on canvas, 16 1/4 by 29 5/8 in., 41.3 by 75.2 cm. Estimate 400,000 — 600,000 USD (359,809 - 539,714 EUR). Photo Sotheby's.
We would like to thank Martin Dieterle and Claire Lebeau for kindly confirming the authenticity of this lot.
Provenance: Berthelier Collection, Paris
Sale: Galerie Georges Petit, Paris, May 9, 1889, lot 18
Galerie Bernheim-Jeune, Paris (acquired at the above sale)
Samuel P. Avery, New York
James J. Hill, St. Paul, Minnesota (acquired from the above, November 12, 1897, thence by descent and sold, Christie's New York, May 5, 1998, lot 7)
Acquired at the above sale
Exhibited: Minneapolis Institute of Arts, James J. Hill Collection, 1918, no. 40
San Francisco, California Palace Legion of Honor; Toledo Museum of Art; Cleveland Museum of Art; Boston, Museum of Fine Arts, Barbizon Revisited, September 1962-April 1963, p. 87, no. 8, illustrated p. 95
Literature: A. Robaut, L'Oeuvre de Corot, Catalogue raisonné et illustré, Paris, 1965, vol. II, p. 186, no. 510, illustrated p. 187
Note: Examining Corot's long career reveals a deep well of artistic invention. As the most successful landscape painter of his generation, his style changed dramatically over the course of decades. He is remembered for his plein air studies of Italy from the 1820s, his traditional Salon submissions from the 1850s and the silvery souvenirs of the 1860s and 1870s. The period from the early 1830s until the late 1840s is not as well documented, and yet this twenty year span included many of Corot's most beautiful and innovative compositions.
Corot visited Marcoussis, a village thirty kilometers south of Paris, on a number of occasions to visit his friend and fellow artist, Ernest Dumax, and to paint the surrounding landscape. Alfred Robaut suggests that the date for the present work is between 1845 and 1850, and his 1855 Salon submission, Souvenir de Marcoussis, près Montlhéry (circa 1855, Musée d'Orsay, Paris, acquired by Napoleon III) supports that Corot would have been there at this time. It is impossible to determine if Corot's composition was painted en plein air or if his memory of the landscape was so vivid that he was able to reconstruct this spectacular sylvan landscape back in his Paris studio.
This particular canvas reveals Corot's strength as a colorist, with chromatic greens zig-zagging across the foreground and carrying the viewer's gaze from one side of the expanse to the other, and back through the opening of trees to reveal the hazy, faraway vista. The blue light of early summer is reflected on the grass and pierces through the indigo-shadowed thicket of trees to illuminate patches of the forest floor. The bright sunlight casts shadows under the cows and sheep who pasture in the meadow, while a single shepherd stands near the center of the scene and serves to anchor the entire composition.
Many great nineteenth century European paintings came to America through the influential New York art agent, Samuel P. Avery (see lots 4 and 8), and in 1897 he sold the present work to James J. Hill, founder of the American Transcontinental Railroad Network and whose collection of Corots was rivalled only by Harry Osborne and Louisine Havemeyer and the artist's biographer, Étienne Moreau-Nélaton.