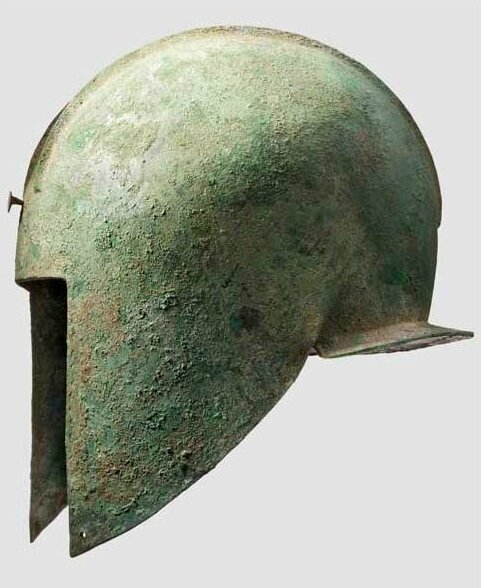 Lot Nr. 4553. An Illyrian helmet, type 3A, variant 3, 2nd half of the 6th – 5th century B.C. Sold for: 21000 Euros. © 2011 - 2016 Hermann Historica oHG
MUNICH.- Approximately 6,300 lots from all specialist areas represented by the auction house – antiquities, arms and armour, works of art, hunting antiques, orders and collectibles from all fields of history and military history – came under the hammer in the 72nd Auction of Hermann Historica oHG in Munich. Included among the lots were three complete collections, which found buyers for almost every item and achieved excellent results; scarcely a single object was left for the post-auction sale and the overall estimates were exceeded by far, with some lots showing a three-fold increase of their starting price.
Antiquities
For many years, the objects created by the skilful hands of the period armourers and blacksmiths have delighted the international specialist buyers. Thus, again this spring, the interest in the exquisite highlights of the archaic metal artefacts, their matchless beauty superbly crafted and, in some cases, their provenance in prestigious collections fully documented over many years, showed no signs of waning. The early bronze helmets included a veritable rarity, namely an intact Illyrian helmet, dating from the late sixth to the fifth century B.C. Forged in one single piece, the skull was of distinct design with two parallel hammered ridges, the rigid cheek pieces extending downwards and the typically clean lines of the face opening, which was framed by a border of circular punch marks. This impressive object, the original material in impeccable condition, finally sold for 21,000 euros, almost tripling its limit of 8,000 euros. Equally worthy of note was a rare conical bronze helmet, forged in central Europe approximately 500 years earlier during the Late Bronze Age. Valued at 10,000 euros and boasting a characteristic spool-shaped knob, this magnificent example of its type changed hands for 13,500 euros by virtue of its excellent condition.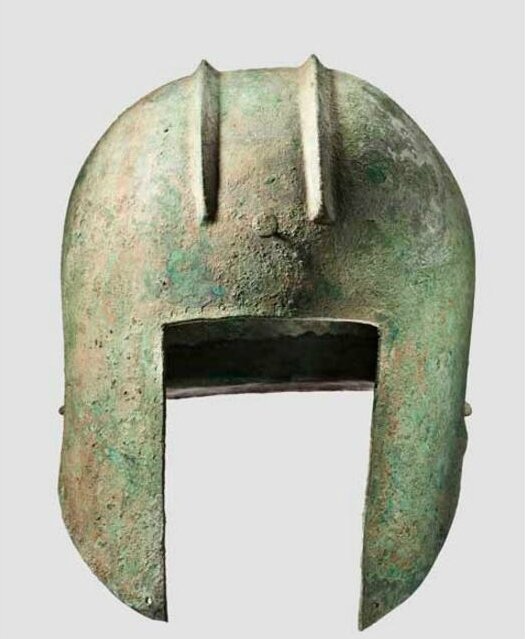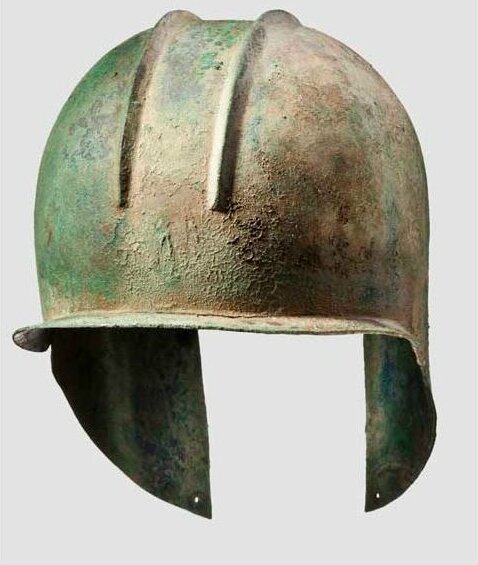 Lot Nr. 4553. An Illyrian helmet, type 3A, variant 3, 2nd half of the 6th – 5th century B.C. Sold for: 21000 Euros. © 2011 - 2016 Hermann Historica oHG
Late form of Illyrian helmet, type 3A, variant 3 with smooth rim. Bronze helmet chased in one piece. The integral cheek pieces extend vertically downwards alongside the face cutout, rising from the anterior corners to the back in an elegant curve and terminating into pointed side cutouts, which slope to a slightly flaring neck guard with a maximum width of 2.6 cm. The smooth rim of the face cutout and the rear edges of the cheek pieces are punched with circular marks reminiscent of the rows of rivets found in earlier specimens. The corners of the cheek pieces pierced with holes to attach helmet straps. Across the crown two ridges hammered out from the inside, forming a crest rail to attach the plume. A rivet with disc-shaped head on the forehead and a hook at the nape, of which only the outlines of the soldered base in the corrosion layer are visible, served the same purpose. Surface covered with green patina and minimal incrustations. Apart from a crack at the bend between neck guard and skull, which was stabilised from the inside with artificial silk and synthetic resin, the helmet is completely intact and without replacements. Height approx. 26 cm, width 20.5 cm, length 23.7 cm.
Provenance: South German private collection, acquired in the 1980s from an art dealer.
Only imperceptibly younger, yet no less awe-inspiring, was an early Etruscan bronze shield from the ninth to the eighth century B.C., which was attributed to the Villanova Culture. Originally from an old English private collection, the shield was forged in bronze with continuous lavish ornamentation arranged around a central boss; the hammer fell at 15,000 euros, more than doubling its estimated price of 7,000 euros.
Lot Nr. 4577. An early Etruscan bronze shield, Villanova Culture, 9th - 8th century B.C. Sold for 15000 euros. © 2011 - 2016 Hermann Historica oHG
Sheet metal covering of a bronze shield with a décor of dots and bosses with diagonal grooves. Five decorative zones: the outermost with groups of three ornaments arranged in a V shape, a groove between two double lines with bosses in the centre. After a smooth zone, groups of grooves are radially arranged, once again between two double lines with a boss. Then another smooth zone. The centre adorned with rows of small and large bosses in a star pattern, edged with a double line, filled with radially arranged grooves. Fragments of the end fastenings of a strap to attach an embellishment in the middle. Several antique repairs, these fastened with rivets.
Most of the metal strongly mineralised with small defects and replacements. Numerous cracks, which have been stuck together. Mounted on a sturdy, modern wooden plaque, lined on the back to reinforce the fragile object. Suspension device on the back of the wooden plaque. Diameter 69.5 cm
Provenance: From an old, English private collection.
Moreover, the selection of antique edged weapons also attracted a great deal of attention. With the audience paying homage to the fabulous workmanship of a Caucasian, Sarmatian dagger with a ring pommel, forged during the first century A.D., it was no surprise that this symbol of status and power, embellished with gold fittings and semi-precious stones, was snapped up for its reserve of 20,000 euros. A prehistoric antenna sword from the golden age of the Urnfield culture in the tenth century proved to be an exceptionally beautifully preserved example of this very early sword form; the sale was completed at 11,000 euros, its estimate of 8,500 euros notwithstanding.
Lot Nr. 4673. A Sarmatian ring pommel dagger, Eastern Europe, Caucasus, 1st - 3rd century A.D. Sold for 20000 Euros. © 2011 - 2016 Hermann Historica oHG
The iron, double-edged blade is completely covered with the oxidized remnants of the wooden scabbard. Bronze cross hilt with short quadrangular quillons and a ring pommel. The iron tang extends up into the pommel. Grip pieces and scabbard are decorated with gold mountings and set with hemispherical semi-precious stones. Remnants of the bronze carrying chain have been preserved. Length 27 cm. Weight 223 g. Substantially well preserved. The decorations restored. Blade and tang broken.

The chronological and chorological position of this dagger is ensured by numerous comparable discoveries. Simple, undecorated ring pommel daggers are frequently found as simple implements in Eurasian graves, whereas the pieces which were richly decorated as symbols of status and power were made on a very individual basis.

Cf. A.M. Chazanov, Otscherki voennogo dela sarmatov. (Moscow, 1971), pp. 4 - 14, 81 - 90.
Next, in all its glory and in remarkable condition, was a Greek bronze kalpis from the fourth century B.C., bearing a votive inscription. According to the engraved, chiselled inscription, the object was a votive offering to the Pythian Apollo following the battle of Kynos in 364 B.C. and boasted stamp marks; a particularly uncommon feature in antique bronze vessels. Bids had been invited from 25,000 euros for this rare kalpis, which now takes pride of place in a new collection for precisely this amount.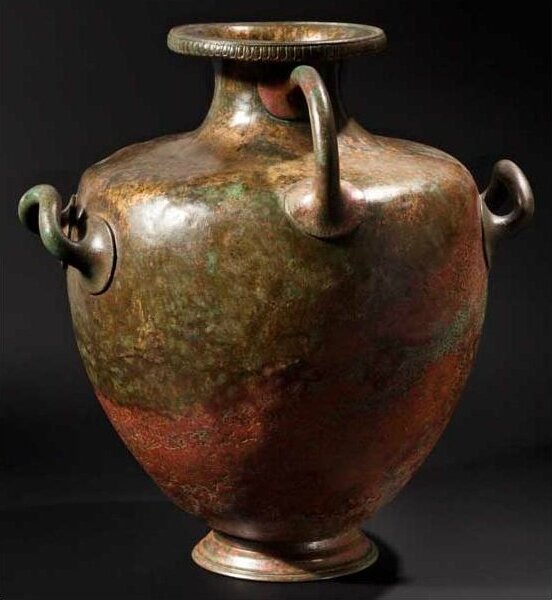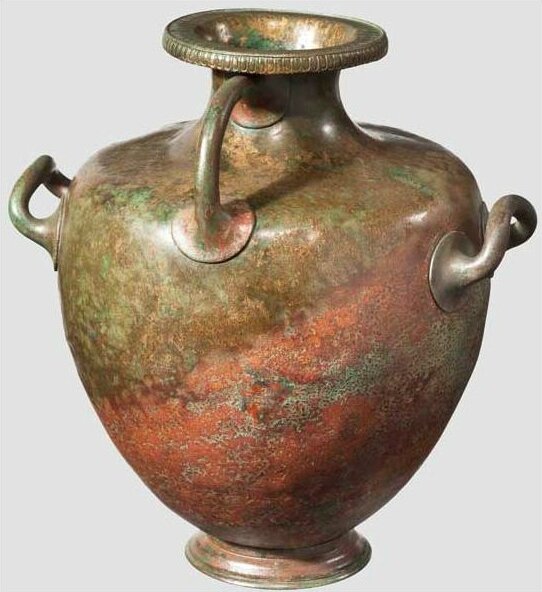 Lot Nr. 4554. A Greek bronze kalpis with votive inscription, 4th century B.C. Sold for 25,000 euros. © 2011 - 2016 Hermann Historica oHG
Metallic bronze with dark red to green patina. Bulbous body, on a small, protruding base. Two lateral handles, a further handle below the neck. The rim decorated with beads and egg-and-dart ornaments. Restored, minor replacements on the body and handles, glued on the inside. Beautifully preserved metal with fine red-green patina. The rim engraved and chiselled with continuous inscription. According to the translation by K. Palasca/Frankfurt, the object is a votive offering to the Pythian Apollo after the battle of Kynos in 364 B.C. A more recent translation by E. Thomas/Cologne is included. Furthermore, below the mouth inside the neck two identical oval stamp marks (workshop mark, craftsman?) of approximately 1.5 cm length with depiction of a doe.
Rare kalpis, a special type of the hydria, with votive inscription and stamp marks hitherto unknown on Greek bronzes according to available publications.
Height 36 cm, diameter of body 27.5 cm (without handles).
Provenance: Acquired in 1982 from a Frankfurt art dealer (verification available), recently in private ownership in Berlin.
From a different era and a different culture, the Colombian sculptures made of gold alloy during the ninth to the fifteenth centuries caused a flurry of excitement and lively participation, going on to achieve particularly gratifying final prices. While the ritual vessel from the Zenú culture, carved with a reclining female figure, opened at 3,000 euros and sold for 10,500 euros, the hammer only fell at 13,000 euros, almost seven times the estimate of 2,000 euros, for the singularly beautiful, large sculpture of an alligator.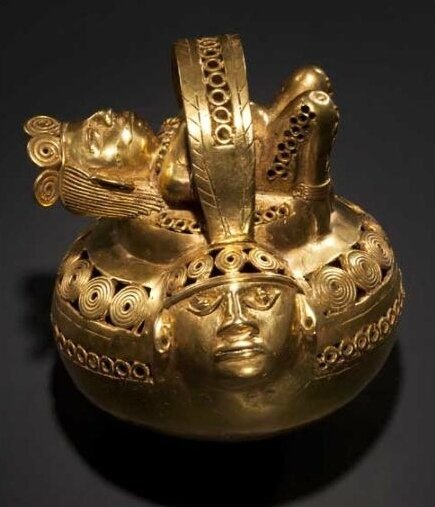 Lot Nr. 4682. Ritual vessel made of gold alloy with reclining female figure, Zenú Culture, Colombia , 9th-15th century. Sold for 10,500 euros. © 2011 - 2016 Hermann Historica oHG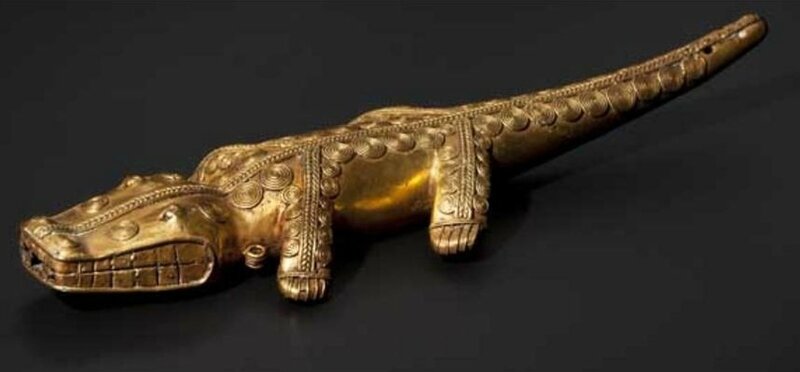 Lot Nr. 4685. Alligator sculpture made of gold alloy, Tairona Culture, Colombia, 9th-15th century. Sold for 13,000 euros. © 2011 - 2016 Hermann Historica oHG
Bows and crossbows
Even during the run-up to the auction of the unrivalled collection of bows, crossbows and superbly crafted archer's rings, which was amassed by Karl Zeilinger (1944 - 2014) of Nuremberg, there was no mistaking the enormous international interest it generated among museums and collectors. Without a doubt, the fact that the collection went on to achieve a sales quota of almost one hundred percent, tripling the overall valuation price with increases of up to fifteen times their starting prices for individual lots, may truly be considered a sensational success. Spirited bidding contests broke out for archer's rings crafted in precious materials, whether as a single object or as a set, like the eight archer's rings made of light-coloured jade, some with chiselled borders of animal motifs, which changed hands for 26,000 euros, dwarfing their starting price of 1,800 euros, or an engraved archer's ring in pink-coloured spinel, carved with an inscription of the Qianlong emperor and a meander pattern, with the same limit, which fetched the remarkable sum of 24,000 euros.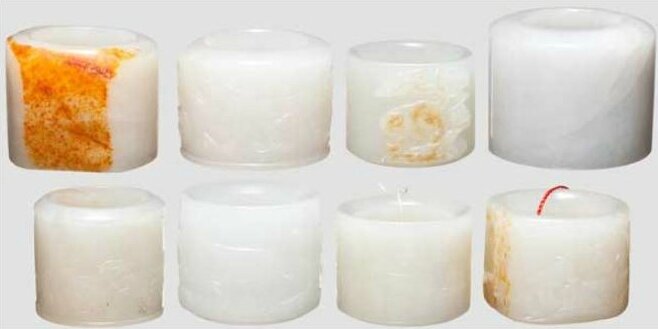 Lot Nr. 3050. Top results archer's rings. Eight archer's rings in jade. Sold for: 26000 Euros. © 2011 - 2016 Hermann Historica oHG
Comprising one smooth, large ring of white jade, three with flattened fronts, one of them with incised figure and horse on the shank, and cat on the flat front, respectively, four rings incised with continuous animals and one dragon, respectively. Diameter 28 to 37 mm.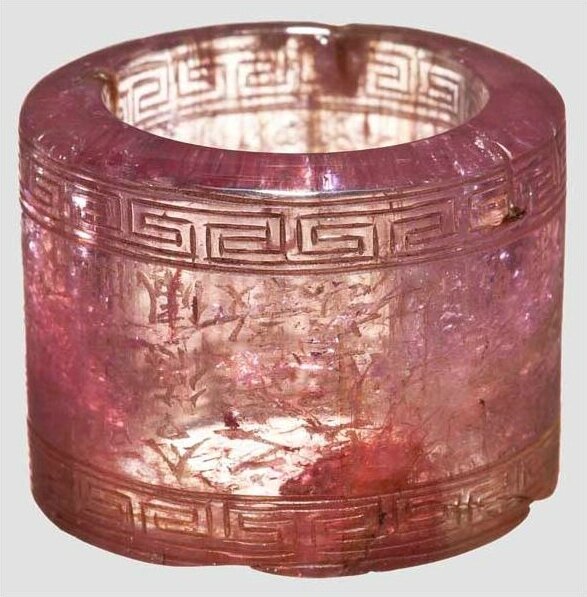 Lot Nr. 3045. An engraved archer's ring in pink-coloured spinel with an inscription of the Qianlong emperor. Sold for: 24000 Euros. © 2011 - 2016 Hermann Historica oHG
Cylindrical ring with a meander pattern engraved on each edge and a continuous, three-line inscription. Diameter 27 mm.
Acquired over several decades with enormous zeal and equal expertise, the legacy of bows collected by the specialist and enthusiast – an archer par excellence – also included an example of the legendary Scythian bow. Complete with a fragment of a quiver from the equestrian nomadic settlement areas of Eurasia of the third to fifth centuries B.C. and here offered for auction from 9,000 euros, the bow found a new owner for 14,000 euros.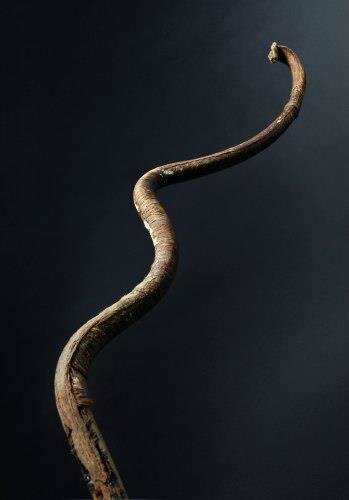 Lot Nr. 3001. A Scythian bow and a fragment of a quiver , 5th - 3rd century B.C. Sold for: 14,000 euros. © 2011 - 2016 Hermann Historica oHG
Asymmetrical composite bow with recurved limbs and recessed grip, of asymmetrical oval cross-section (middle of the grip ca. 27 x 28 mm). The bow's thickness tapering towards the tips. It is possible to identify horn in an aperture on the belly of the bow, the back is covered in sinew layers laid in glue and running lengthwise, the intermediate material most likely wood. The nocks formed of horn. The horn section of the limbs is covered with sinew layers set crosswise. The sinew layers of the back are then laid lengthwise across the top. Diagonal sinew windings are wrapped around these layers to cover the grip, both tips and the nocks. A rawhide winding before each bow tip to reinforce the limbs. The bow was originally covered with a birch bark casing for protection against humidity. Occasional remnants of the light-coloured fur cover of the enclosed quiver fragment still adhering to the surface of the bow. The twisted rawhide string has been trimmed, two fragments of which are still preserved. One end of the string twisted into a loop and placed around the nock, a piece of leather stitched on to the other end to serve as the loop. Incomplete, slightly damaged, signs of age. The span measures 111 cm.
Includes a fragment of a wooden quiver, 66 cm long, one side carved in nomadic animal style, light-coloured remnants of fur still attached, the seam holes with rawhide remnants.
This example resembles the "Subexi" bow, which was discovered in north-west China (Xinjiang province), cf. Volker Alles (editor), Reflexbogen. Geschichte & Herstellung, Ludwigshafen 2009, p. 60 - 69.
Arms and Armour
The usual arms and armour section also rolled out a captivating array of elaborately crafted rarities, some of which are known to have been commissioned for aristocratic armouries. For example, an extremely rare set of Spanish armour, replete with religious symbols and dating from the early period of the conquistadors, did not escape buyers' notice. Forged circa 1500, the light suit of armour comprised a helmet, bevor, gorget, arm defences, backplate and breastplate, the latter bearing the Santiago cross between two multi-branched candelabras and stylised scallop shells. Opening at 8,000 euros, the suit finally sold for 12,000 euros.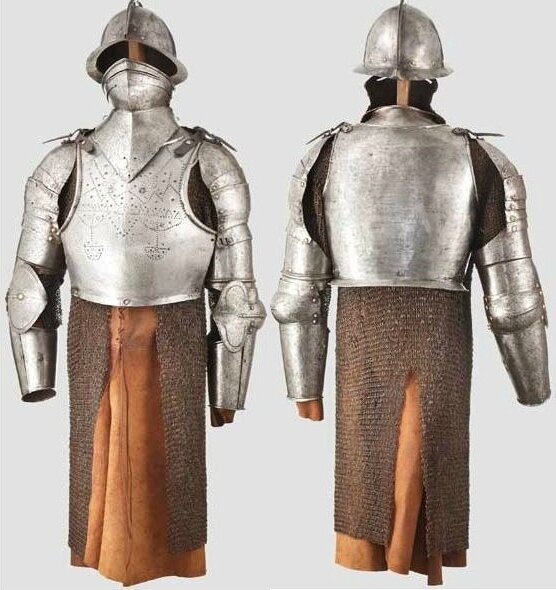 Lot Nr. 4279. A Spanish late Gothic armour, circa 1500. Sold for 12,000 euros. © 2011 - 2016 Hermann Historica oHG
Two piece Cappaset, ca. 1500 - 1520, with short turned comb. Continuous iron lining rivets, short slanted brim. Skulls shows small holes from corrosion in places, repairs to the upper skull and at the brim.
Pivoted bevor, assembled from original parts. The upper visor with narrow, one-piece vision slit and flange that is angularly struck outwards. The spring lock is missing. Long, pointed collar, the lower end with three reinforced holes.

Distinct curved breastplate circa 1490 - 1500, the flanges on the openings for the neck and the arms with distinct, angular flanges, struck outwards. Completely covered with struck decorations of small, punched circles and stars. Central depiction of the Santiago cross between two multi-branched candle holders and stylised scallops.

Complete arm defences circa 1500 - 1510, the two arms slightly differing. Pauldrons sliding on six lames with complete rerebraces. Couters sliding on two lames with distinct central ridge and large, open shells. Vambraces opening on a hinge, with distinctly turned-under edges. Mounted on a wooden stand and completed with a backplate and collar from the 16th century, as well as a long, riveted shirt of mail (Ottoman or Persian) from the 17th/18th century. Total height 162 cm.

According to tradition deriving from a Spanish clerical estate.

Rare armour, corresponding to the typical accoutrement during the time of the early conquistadores. At the beginning of the 16th century such relatively light-weight armours were popular with men at arms as well as with aristocrats, as they offered sufficient mobility and ventilation, both for the employment on ships and for the extreme temperatures prevailing in the new colonies.

The adding of the religious symbols on the breastplate was meant to ensure further magical protection for the fight, according to the popular belief of that time. The selection of symbols indicates that the bearer had absolved a pilgrimage on the Way of St. James, and/or was close to the Knight's Order of Santiago.
Next up, with a minimum bid of 10,000 euros, was a German close helmet, produced circa 1600 and particularly striking in the characteristic style of its design. Mounted on a two-lame collar with a turned and roped edge, the skull forged in one piece, topped with a tall comb and fitted with a two-piece, pivoted visor, the helmet changed hands for exactly this amount.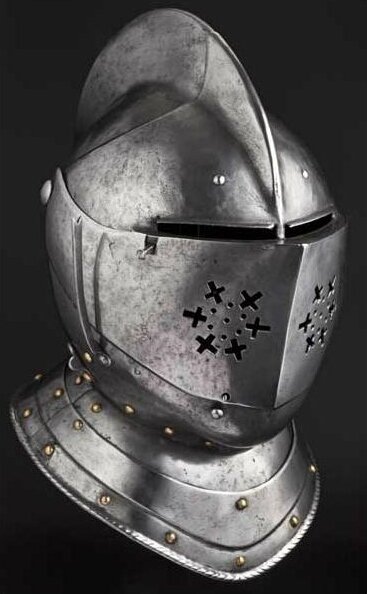 Lot Nr. 4283. A German close helmet, circa 1600. Sold for 10,000 euros. © 2011 - 2016 Hermann Historica oHG
Skull forged in one piece, with tall comb. In the nape two pairs of brass-lined openings for the attachment of the helmet lining. Two-piece pivoted visor with separate eye slits. On both sides rosette-shaped ventilation holes. The pivoted bevor with spring-loaded visor lock and lateral hook-and-eye closure. On the right side a movable, riveted visor support. Two-lame collar with turned and roped edge. The lower neck lame with good replacements, small repair on the lower edge of the skull and on the medial ridge of the bevor. Brass-coated lining rivets, the inside with traces of original leather. Height 32.5 cm.
It is extremely rare for shields made of perishable materials like wood, leather and linen to survive the passage of time unscathed; thus, the gratifying state of preservation of lot number 4295 was all the more highly appreciated. Moderately estimated at 12,500 euros, the hand pavise from the Free Imperial City of Schongau in Bavaria was made in the late 15th century; keen bidding raised the starting price to 14,500 euros. The perfectly rectangular body with rounded corners was entirely covered in leather, while the obverse of the pavise was painted with the large imperial eagle of the Holy Roman Empire in dominant black, carrying the red-ground coat of arms of Schongau on its breast.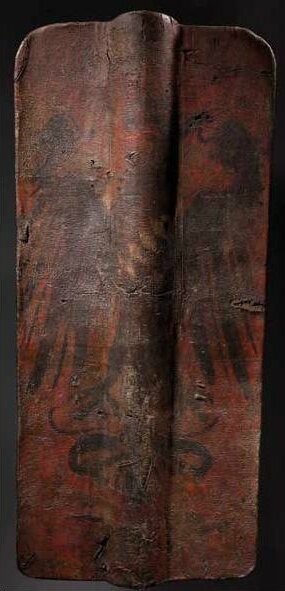 Lot Nr. 4295. A hand pavise from the Free Imperial City of Schongau in Bavaria, late 15th century. Sold for 14,500 euros. © 2011 - 2016 Hermann Historica oHG
Wood, covered with leather and painted. Rectangular wooden body with rounded corners and broad medial rib, the outside covered with leather, the obverse painted with the large black imperial eagle of the Holy Roman Empire carrying the coat of arms of Schongau on its breast, on reddish ground, the inside covered with animal hide, three iron staples to attach the replaced grip. Dimensions 94 x 42 cm. Old restorations.
There are different types of Schongau pavises, some are more oval and partly covered with canvas, the rectangular specimens probably are slightly older. A further rectangular, older Schongau pavise was offered by Peter Finer, catalogue 2005, lot 8.
Cf. Hermann Historica, auction 60, lot 2728.
A further Schongau pavise belonged to the collection Louis Rothschild and today is exhibited in the Museum of Art History, Vienna, Collection of Arms and Armour, inv. no. HJRK_A_2453. Similar pavises can also be found in the Bavarian National Museum in Munich and in the Bavarian Army Museum in Ingolstadt.
Significant Gothic Schongau protective shield.
Provenance: Collection F.A. Kerbl, Munich, special auction Kube, 15 September 2012, lot 1.
Also appealing was the no less superbly wrought stonebow, produced circa 1600, lavishly adorned with fine floral ornaments etched on all surfaces and inlaid in gold and bone, which now adorns a new collection for its reserve of 13,000 euros. Dating from the same period and likewise with profuse etchings and of noble provenance, the halberd of the Life Guard of Johann Georg, Duke of Saxony, inscribed with his motto and decorated with cartouches featuring a coat of arms, was acquired for its opening bid of 5,000 euros.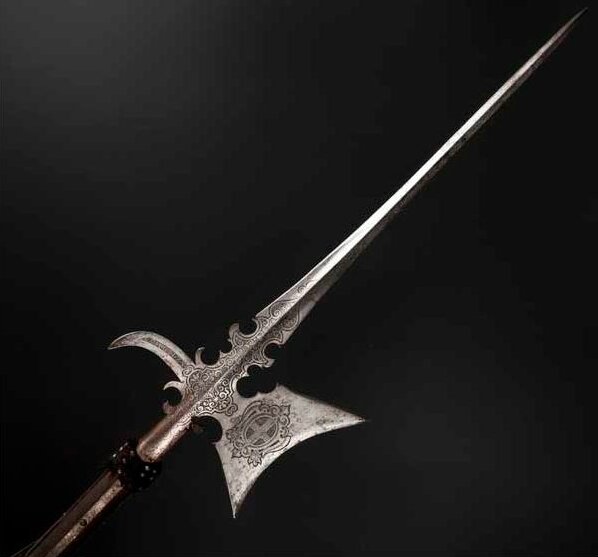 Lot Nr. 4340. An etched halberd of the Life Guard of Johann Georg, Duke of Saxony, dated 1609. Sold for 5,000 euros. © 2011 - 2016 Hermann Historica oHG
Slender, ridged thrusting spike with profuse etchings, the upper part quadrangular. Concave axe blade, etched on both sides a cartouche featuring a coat of arms, surmounted by the motto of the Prince-Elector Johann Georg I ".S.V.M.C." (Scopus Vitae Mihi Christus = My life's goal is Christ) above the year 1609. On the curved fluke the etched letters ".H.G.H.Z.S." (Hans Georg Herzog Zu Sachsen). Round socket with four side straps. Original shaft, the upper third with remnants of tassels fastened with nails plus scraps of velvet, the lower third with crossed, studded leather bands. Length 231.5 cm.
A similar weapon is illustrated in: Müller/Kölling, Europäische Hieb- und Stichwaffen, fig. 255 and p. 392.
Works of art
According to tradition, the arms and armour catalogue also includes works of art, a field of collecting interest that once again held a number of precious wunderkammer objects in store in this Spring Auction. These included a 1677 medal of honour, wrought in iron plated in gold, on behalf of Frederick William, the Great Elector of Brandenburg (1620 - 1688) – an exceedingly beautiful, rare cabinet piece of Prussian history, commemorating the Great Elector and his victories. Under his aegis and personal command, the Swedish army were finally driven out of Swedish Pomerania by the famous 'Great Sleigh Drive' in the winter of 1678/79 following successful campaigns lasting several years. Bids had been invited from 8,000 euros for this contemporary and impressive piece, wrought with great workmanship; the hammer subsequently fell at 9,500 euros.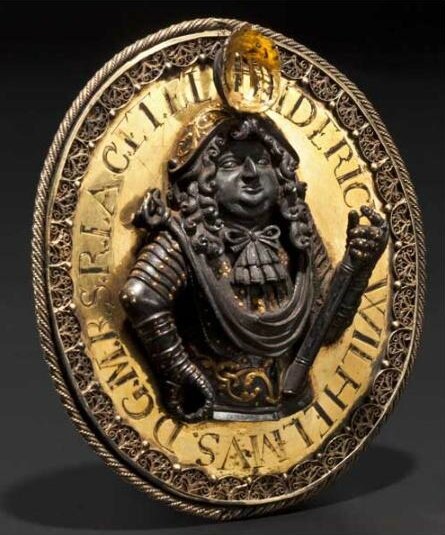 Lot Nr. 3586. A 1677 medal of honour on behalf of Frederick William, the Great Elector of Brandenburg. Sold for 9,500 euros. © 2011 - 2016 Hermann Historica oHG
Oval medallion in iron, the front plated in gold, a torso portrait chiselled in iron depicting the Elector in armour, holding a sceptre in his left hand, his right on his hip. Gilding in places to highlight the ornaments. A full-bottomed wig is visible under his helmet. The helmet's pivoted visor can be raised to reveal the portrait of the monarch. The nielloed inscription reads clockwise: FRIDERICVS . WILHELMVS . D . G . M . B . S . R . I . A C . ET . EL (Frederick William, by the Grace of God, Margrave of Brandenburg, Arch Chamberlain and Elector of the Holy Roman Empire). The back engraved with a pedestal with armature and trophy, gilding in the grooves of the engraving. The inscription running clockwise around the edge from the bottom left: HOSTES . VICISTI . LAVRVS . TVA . TEMPORA . CINGIT - HAEC . IN . PERPETVVM . VIVET . POST . FVNERA .
The edge encircled in an elaborate, gilt silver filigree setting, inside which on both sides is a circle of delicate arcs, these interlinked and separated by globules. A circlet of twisted wires of varying diameters around the outside edge. The manufacturer's signature in the underside of the bust: 1677 / Just9 - B - Fecit - Jena. Dimensions 11.5 x 10 cm.
Exceptionally beautiful, rare cabinet piece, wrought with great workmanship, commemorating the Great Elector and his victories. After the Battle of Fehrbellin in 1675, he drove the Swedes out of Swedish Pomerania until 1679 under his personal command. This piece was manufactured during the period of his successful campaigns.
Verified by the Art Loss Register.
An exquisite, late Romanesque metalwork object from France or Italy, the openwork, enamelled fitting in fire-gilt bronze featuring a partially sculptured depiction of Samson wrestling with the lion, unleashed a flurry of bids that saw the price soar from 1,200 euros to 6,400 euros in no time at all.
Lot Nr. 3582. Late Roman enamelled fitting, France or Italy, 13th century. Sold for 6,400 euros. © 2011 - 2016 Hermann Historica oHG
Further, created by Matthäus Merian in 1654, a wonderfully preserved edition of the "Topographia of Brunswick and Lüneburg", still in the original, parchment binding, found a new owner for its limit of 4,500 euros.
Lot Nr. 3502. Merian, Matthäus, "Topographia Braunschweig und Lüneburg", Frankfurt, 1654. Sold for 4,500 euros. © 2011 - 2016 Hermann Historica oHG
Asia, Orient and Africa
The selection of lots from Africa, the Ottoman Empire, India, Japan and China remained as diverse as ever. Moreover, matching an early Nepalese/Tibetan khora from the 15th/16th century, the 18th/19th century presentation scabbard was wrought with magnificent workmanship in fire-gilt bronze and embellished with finely etched tendrils, the Eight Auspicious Symbols of Buddhism mounted in high relief on the front and lavishly set with gemstones. While the single-edged blade was characteristically curved and adorned with brass inlaid geometric ornaments, the iron grip still bore remnants of the (originally extensive) gold-inlaid floral decoration. The interesting sword, of both cultural and historical significance, was acquired for its minimum bid of 18,000 euros.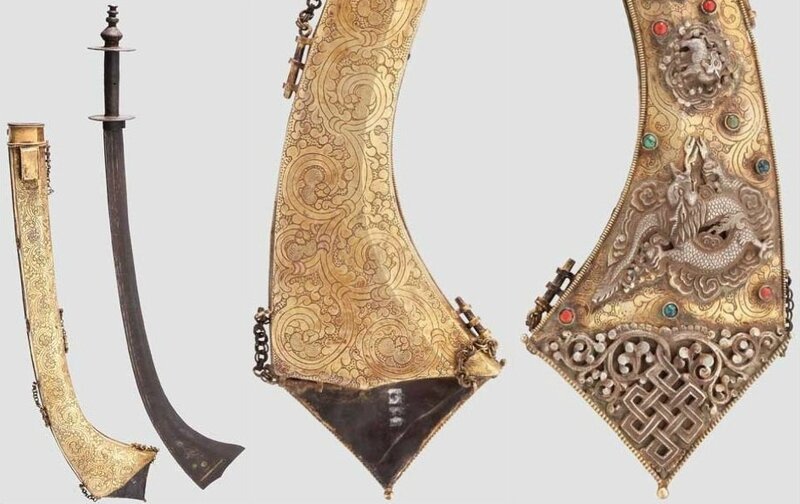 Lot Nr. 4021. A Sino-Tibetan ritual khora in a gilt presentation scabbard, 15th-16th and 18th-19th century. Sold for 18,000 euros. © 2011 - 2016 Hermann Historica oHG
An early Nepalese/Tibetan Khora from the 15th/16th century, the curved, single-edged blade with brass inlaid geometric ornaments. The iron grip with remnants of the (originally extensive) gold-inlaid floral decoration. The surfaces with a dark age patina and traces of corrosion in places. Length 73 cm.
In an elaborately crafted presentation scabbard, made of fire-gilt bronze, with a lateral hinge and five locking pins on safety chains. Both sides embellished with finely etched tendrils. In silver alloy, the Eight Auspicious Symbols of Buddhism mounted in high relief on the front, lavishly set with turquoises, garnets and corals. The decorative border on the locket set with tiny faceted fire opals(?). Total length including Khora 78.5 cm.
Also worthy of attention among the elaborately crafted edged weapons was an Ottoman silver-mounted yataghan with turquoise cabochons set around the edge of the grip strap; it was well received, not merely for its fine quality, but also for the eloquent history of its provenance. Originally a gift to the Duke of Württemberg from the Russian tsar, the sumptuous weapon was passed down through subsequent generations of the House of Württemberg until it was presented to Major Friedrich Waldbott von Bassenheim (1779 - 1830) in recognition of his services. The sale of this inimitable sword was completed at 7,500 euro, its estimated value of 4,000 euros notwithstanding.
Lot Nr. 3857. Originally a gift to the Duke of Württemberg from the Russian tsar. Silver-mounted Yatagan with turquoise cabochons, Ottoman, late 18th century. sold for 7.500 euros. © 2011 - 2016 Hermann Historica oHG
Military history and historical objects
The military history and historical objects section revealed a dazzling range of significant and splendid edged weapons, like the sabre that was presented to Generalmajor Georg Freiherr von Krauchenberg (1776 - 1843) by the officer corps of his division to commemorate his 50 years of service. The blued and gilt blade was profusely etched and engraved with fine scrollwork and trophies, the obverse bearing the appliquéd star of the Royal Guelphic Order with Swords in silver, with the crowned coat of arms of the Krauchenberg family on the reverse. No less opulent, the grip was fashioned in elaborately carved ivory, adorned with trophies and floral ornaments, while the officers' dedication was inscribed on the grip frame. Although this incomparable piece, the unmistakable expression of the greatest respect for an impressive military career spanning five decades, including postings in half of Europe and four serious wounds, had been valued at 25,000 euros, the sabre inspired such enthusiasm among collectors that the sale was only completed for 52,000 euros.
Lot Nr. 5648. Generalmajor Georg Baron von Krauchenberg (1776 - 1843) - a presentation sabre in commemoration of 50 years of service, Hanover, 1843. Sold for 52,000 euros. © 2011 - 2016 Hermann Historica oHG
Slightly curved pipe-backed blade of Damascus steel, completely etched and engraved with fine tendrils and martial trophies, blued for two thirds of its length and lavishly gilded. Gilt brass cross-piece with acanthus decoration bearing an applied the Star of the Order of the Guelphs with swords (enamel slightly damaged) in silver on the obverse side, and the crowned coat of arms for the Krauchenberg family on the reverse side. Ivory grip scales richly carved with trophies-of-war and ornamental floral designs, with a dedication on the grip strap: "Dem General Major Freiherrn Krauchenberg das Offizier Corps der 1sten Cavallerie Division IIIten Maerz MDCCCXLIII." (tr. "To Brigadier Baron Krauchenberg from the Officers of the 1st Cavalry Division 3 March 1843"). Silver scabbard with gilded brass mountings bearing vine and scroll work decoration. The locket inscribed, "C. Berstorff und Eichwede in Hannover." Length 102 cm.

Krauchenberg began his military career in 1793, which in the following years was to take him into the Netherlands, and as an officer of the King's German Legion (KGL), into virtually every theatre of the Napoleonic Wars. On the specific recommendation of King George III, Krauchenberg was promoted Rittmeister (Captain) in the 1st Hussar Regiment (Light Dragoons) and fought under Cathcart in Zeeland and Denmark. From 1809 he found himself in Spain where he was wounded at Buçaco, Fuentes de Oñoro, and Canizal, and so distinguished himself at the battle of Gallegos on 4 July 1810, that Wellington promoted him to major. In 1813, back from Spain, Krauchenberg was transferred to the Duke of York's staff, fought at the Göhrde and followed Bernadotte to Holstein and Antwerp. In 1815, Krauchenberg was with the 2nd Hussar Regiment of the KGL at Waterloo where he was wounded for the fourth time. In 1816, after the KGL was dissolved, he returned to Hanoverian service, became regimental commander, inspector of cavalry, and finally commander of the 1st Hanoverian Cavalry Division.
Another edged weapon had originally been a gift for Prince Henry of Prussia (1862 - 1929) to mark the occasion of his two-month long visit to the United States in 1902. With two-thirds of its Damascus blade gilt and delicately etched and its fire-gilt brass knuckle-bow hilt in lavish relief, the magnificent sabre was presented to the brother of the German Kaiser by the German Patriotic Relief Association of Philadelphia. Forged in Solingen, coming under the hammer for 22,500 euros, yet ultimately fetching a gratifying 42,000 euros, this sword was embellished with numerous patriotic symbols, like the portrait of George Washington as well as Libertas, the goddess of liberty, on the scabbard, a puma fighting a rattlesnake on the hilt and the American eagle in an aureola engraved on the blade. Furthermore, with the blued, gilt blade etched in the lower third and the lion's head pommel, the rare French sabre for officers of the Mounted Riflemen was also much sought after; listed at 5,000 euros, it went on to triple its starting price at 15,000 euros.
Buyers were also delighted with the truly exceptional pieces among the rare helmets of German provenance. Featuring a gilt lion in high relief and bearskin crest, it would be difficult to conceive a more worthy testimony to the dignity and status of the military than the imposing M 1832 helmet for officers of the Bavarian Cuirassiers. As this style was only worn for ten years during the reign of Ludwig I, this piece was an absolute rarity, thereby justifying the final price of 19,000 euros, despite its minimum bid of 12,500 euros. Furthermore, a prestigious Prussian M 1843 helmet, with a silver-plated, intricately engraved, crowned parade eagle, did not disappoint; with an asking price of 5,000 euros, one enthusiast was prepared to pay 6,300 euros.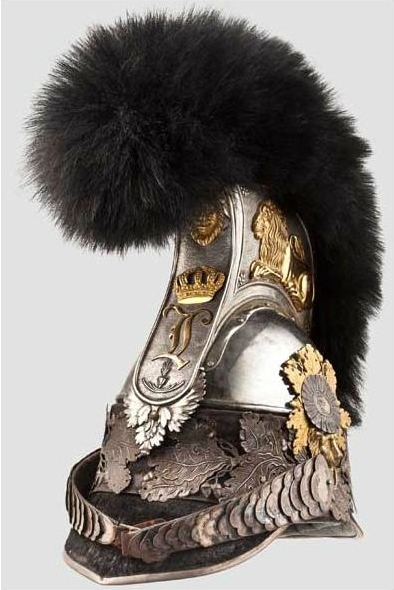 Lot Nr. 5605. A M 1832 helmet for Officers of the Cuirassiers. Sold for 19,000 euros. © 2011 - 2016 Hermann Historica oHG
Polished, two-piece steel skull, finely embossed, silvered comb with applied, gilt lions in high relief (three attachment screws replaced), on the front panel the crowned cipher "L" (imperial orb broken off of the crown). Lower part and visors covered with sealskin, adorned with stamped oak leaves of sheet silver, silver cockade set on gilt oak leaves. Chinscales of silver plate, black morocco leather liner, the interior with a (applied later) reinforcing leather ring. The bearskin crest professionally restored to its original state.
An outstandingly rare, magnificent helmet from the reign of Ludwig I, only worn as such for ten years. Cf. Seibold/Schulz, "Die Helme der k.b. Armee 1806 - 1918", p. 139 with a depiction of this piece.
Hermann Historica, auction 59, 2010, lot 5724, hammer price € 17,800.
Precious materials and exquisite workmanship distinguish the objects from the personal possessions of King Ludwig II of Bavaria (1845 - 1886), which continued to enjoy great popularity. Thus, the King's personal seal on offer here was suitably refined: a figurative representation of the saint he so revered, Joan of Arc, in armour with sword and shield, her hands folded in prayer, the figure crafted in gilt bronze with a carved ivory head. Standing 11.5 centimetres tall, the seal surface featuring a reversed "L" beneath the Bavarian royal crown, the bijou will now delight a new owner after selling for 8,500 euros, 2,000 euros above its listed price. The princely sum of 17,500 euros was paid for a magnificent conductor's baton, a Christmas present from Kaiser Wilhelm II to the long-standing General Music Director of the Berlin Court Opera, Richard Strauss, one of the significant composers of the late 19th and 20th centuries. With an openwork laurel garland twining around the ebony baton, the silver tip crowned with a golden-stringed lyre, embellished with eight inset rubies, the symbolic gift of imperial honour, dating from 1912, had originally been valued at 4,000 euros.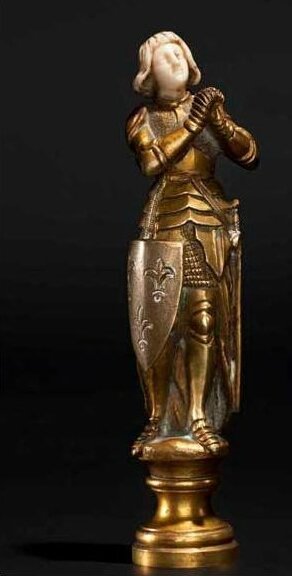 Lot Nr. 5597. King Ludwig II of Bavaria - Joan of Arc as personal seal. Sold for 8,500 euros. © 2011 - 2016 Hermann Historica oHG
Gilt bronze, the head crafted in ivory. Joan of Arc in armour with sword and shield, her hands folded in prayer. The base with illegible signature. On the seal surface a mirrored "L" underneath the Bavarian royal crown, resembling the monogram of the French King Louis XIV. Overall height 11.8 cm.
Delicate craftsmanship.
King Ludwig II adored Joan of Arc and regarded her as a soulmate. He admired her heroic campaign as well as her indomitable will and was attracted by her visionary thoughts. Thus she made her way into his secret diaries on 27 February 1866, the time of his religious oaths after ascending the throne "Jungfrau von Orleans! Furchtbarer Heiliger, Deine Hand ist schwer!" (tr. "Joan of Arc! Fearful saint, thy hand is heavy!").
Cf. a further, silver-gilt "Jeanne d'Arc" seal, Hermann Historica, auction 63, lot 2470, sold for € 21,000.
Certain famous names and unparalleled historical artefacts from their workshops succeeded in delighting buyers interested in Russian military objects. Among them was one of the highlights of the auction, a nonpareil pair of silver-mounted flintlock pistols, made by the supremely skilful Ivan Permiak, one of the most renowned gunsmiths of his time. For 70,000 euros, prospective buyers were offered the opportunity to purchase the singularly detailed pair of deluxe flintlock pistols, made in St. Petersburg in 1770, which finally changed hands for 80,000 euros. Gunmaking masterpieces from Ivan Permiak's workshop are known for their superb execution, bearing multiple signatures, as in this case, with partially gilt, chased silver furniture and intricately engraved floral and trophy decoration. Established in St. Petersburg since 1740, his customers included the Russian court and Tsarina Catherine the Great. Also on offer was an exceptionally rare edged weapon made by another purveyor to the tsarist court, Schaaf and Sons of St. Petersburg. Etched on both sides, the sabre M 1827 for officers of the Russian cavalry was forged circa 1800 and featured a strikingly grooved, single-edged blade. Embellished with an etched depiction of a mounted hussar with the inscription "Vt Hussar", the gold-inlaid inscription "For the Turkish campaign 1877-1878" and the Cyrillic owner's monogram "Ja.G", surmounted by a noble's coronet on the obverse, the rare weapon achieved a winning bid of 21,000 euros, its limit of 20,000 euros notwithstanding.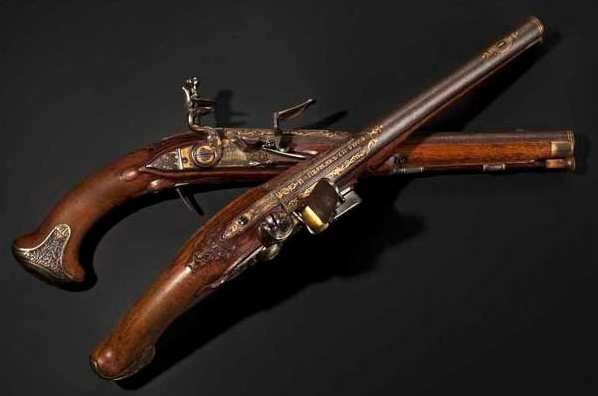 Lot Nr. 5448. A pair of significant silver-mounted flintlock pistols by Ivan Permiak in St. Petersburg, circa 1770. Sold for 80,000 euros. © 2011 - 2016 Hermann Historica oHG
Two-stage barrels, octagonal then round, of finely patterned Damascus steel with smooth bore in calibre 14 mm. The breeches and muzzles with gold-inlaid floral and blossom decorations. The tops of the barrels bear the gold-inlaid Cyrillic signature "I. Permiak. SP. Burg." Gold-lined vent holes. Flintlocks with finely cut and engraved blossom and rocaille ornaments on a ground of gold. Gold-inlaid Cyrillic signature "Ivan Permiak". The cocks worked en suite. Unusual trigger system with covered folding triggers, gold plated release buttons, one trigger slightly bent. Elegant, lightly carved walnut full stocks (one piece with a restored crack in the lock plate area) with horn nose cap. Elaborately engraved, partially gold-plated and chiselled silver furnitures with intricate flowers and trophies of war. Original whalebone ramrods with horn tips (one slightly damaged, the other with a replaced tip). Length of each 42.5 cm.
Ivan Permiak is among the most famous and talented of Russian master gunsmiths, his works can be traced from 1740 onwards. He manufactured pieces for the Russian court, among them luxurious guns for Tsarina Catharine the Great. Cf. "Getchina Arsenal", St. Petersburg, 2001, Atlant Publishing, pp. 144, 181.
Orders and Insignia
Stealing the show in the orders section were a number of outstanding decorations from Russia, including the group of Orders of St. Vladimir belonging to an officer in the Hanseatic Legion. Up for sale was the large cross of the order in 4th class until 1816, worked in gold, its cross arms enamelled in black and translucent red, as well as the eight-rayed breast star of the 1st class of the same order, with both medals attracting their share of admiration. Thus, the distinguished decorations from the time of the Napoleonic and Wars of Liberation each found a buyer for their estimates of 20,000 euros and 15,000 euros respectively. With a reserve of 5,000 euros, the beautiful early issue of the breast star to the Order of Alexander Nevsky, produced by Eduard, with the obverse medallion enamelled in translucent red, white and green, fetched 8,500 euros. Once again, it became apparent that the demand for the Prussian decoration for military achievements, the legendary Pour le Mérite order, was as high as ever. The order cross was offered for sale from the complete estate of the orders and documents awarded to a divisional general during World War I, Generalmajor Wilhelm von Groddeck (1861 - 1937). This version, produced by Wagner and Friedländer of Berlin, was awarded in 1918; selling for its asking price of 17,000 euros, it is sure to grace even the most prestigious collection on account of its historical significance and flawless condition.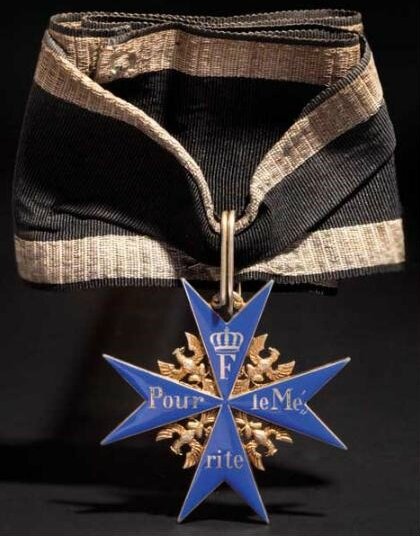 Lot Nr. 5136. Generalmajor Wilhelm von Groddeck - an Order pour le mérite. Sold for 17,000 euros. © 2011 - 2016 Hermann Historica oHG
Pour le Mérite order in the standard, gilt silver issue of 1918 in absolutely immaculate condition and without any damage to the enamel whatsoever. The order cross in the solid minted version, as supplied by the companies Wagner and Friedländer of Berlin on the instructions of the General Orders Commission. The characteristic strike flaw in the plumage of the eagle at four o'clock on the front can be documented in orders issued by both manufacturers as they shared the embossing tools to produce the highest decoration for bravery in this phase of World War I. The mark of fineness "938" stamped in the lower cross arm and "800" in the lower loop of the suspension ring to represent the alloys used for enamelled and non-enamelled orders parts, as stipulated in the contract. The order cross looped through the original, long neck ribbon, which has been customised with press studs at the ends. Breathtakingly beautiful order cross. Width 53.5 mm. Weight 26.4 g.
Inviting bids from 3,000 euros for an order badge that had not been documented hitherto in specialist phaleristic literature, the badge of honour for a court lady of Empress Carlota of Mexico (1840 - 1927), gracefully wrought in gold with blue enamelled blossoms and laurel branches, was acquired for the excellent sum of 7,600 euros.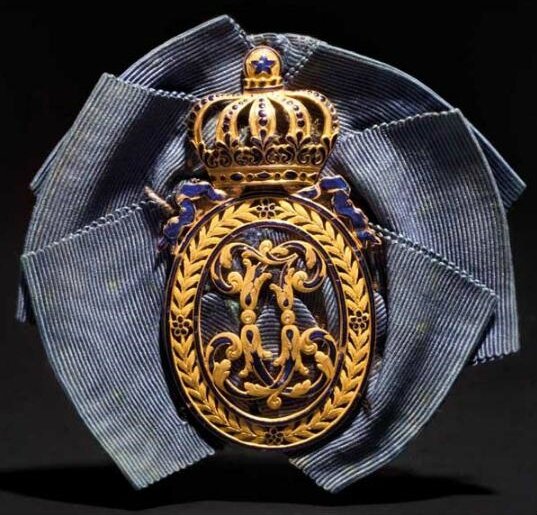 Lot Nr. 5023. A Badge of Honour for a court lady of Empress Carlota of Mexico (Carlota de México). Sold for 7,600 euros. © 2011 - 2016 Hermann Historica oHG
The decoration is exquisitely wrought in gold and openwork, with four laurel branches that are pierced with blue enamelled blossoms within an oval (with blue enamelled border). At the centre is the partially enamelled name cipher "CI" (Carlota Imperatrice). The oval is surmounted by the likewise partially enamelled imperial crown with decorative pendilia (chipping) and stitched onto a blue ribbon bow. Width 33.2 mm. Weight including ribbon 12.9 g.
A magnificent example of outstanding craftsmanship (probably French) of this thus far unpublished badge of honour of the imperial Mexican court, which is neither described by Srsen/Stehliková, Prague 1999, nor by Frid/Frid, Mexico 2014. An example was verified to be part of the Corbin collection in the 1980s.
Princess Charlotte of Belgium (1840 - 1927) was daughter to King Leopold I, as a result of her marriage with Emperor Franz Joseph I's younger brother, Archduke Ferdinand Maximilian, in 1857, she became Archduchess of Austria and, when he accepted the Mexican crown in 1864, Empress of Mexico. After her husband's execution in 1867 she led a reclusive life in Belgium.
Fine antique and modern firearms
Once again, the fine antique and modern firearms section reported extremely encouraging results. Two wheellock rifles with rich bone inlays from Cieszyn, both produced circa 1650, certainly appealed to the private and institutional collectors. The delicately engraved inlays of the tschinke, lot number 1034, were embellished with hunting scenes and grotesque masks; valued at 11,000 euros, it sold for 15,000. Meanwhile, lavishly adorned with brass and green coloured bone inlays and chiselled brass furniture with floral engravings, the second rifle found a new owner for its reserve of 13,500 euros. Furthermore, an exceptionally fine wheellock puffer for enlisted men of the Saxon Electorate Palace Life Guard, circa 1580/90, was acquired for its asking price of 12,500 euros; the splendidly ornate walnut full stock was embellished with engraved and blackened bone. The true pièces de résistance in this section, a pair of deluxe percussion pistols made circa 1840 by the skilful hands of the renowned gunsmith J. C. A. Brun, were bound to meet with the approval of the international collectors. The exquisitely fine silver inlays engraved with graphic and floral ornaments, gold-inlaid signatures, elaborate tendril decoration chiselled on the percussion locks and arrestingly beautiful, grained half stocks all accentuated the significance of these superb examples of the gun maker's craft, in untouched condition; with bids opening at 15,000 euros, a connoisseur finally parted with 22,000 euros. Bids had been invited from 9,000 euros for another eminently high grade, unusual pair of pistols, likewise of exceptionally famous manufacture, namely a pair of percussion pistols made by Lebeda of Prague, circa 1850. The price quickly jumped to the winning bid of 12,500 euros.