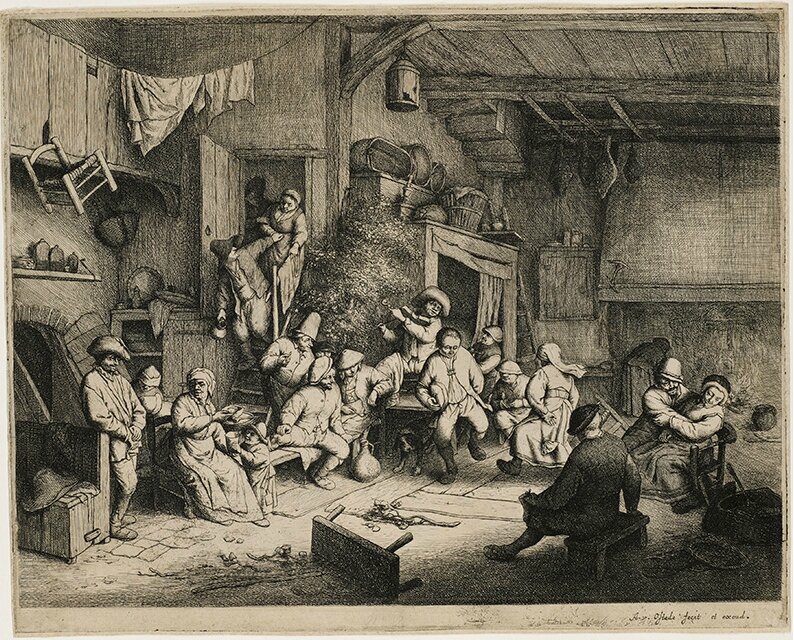 Adriaen van Ostade, The Dance in the tavern, 1650-1655, etching, 259 x 322 mm. Private Collection, Photo: Cultural scanner Rosenau.
BREMEN.- For the first time in Germany, the Kunsthalle Bremen brings together Adriaen van Ostade's (1610– 1685) entire printed work. Alongside Rembrandt, van Ostade was an outstanding painter and master of printmaking during the Dutch Golden Age, depicting simple contemporary life in his etchings. The exhibition "Rogues, Rascals and Children: The Prints of Adriaen van Ostade" (until 3 July 2016) presents for the first time major holdings from a private collection. Works by contemporaries such as Rembrandt complete the show.

In addition to Rembrandt, Adriaen van Ostade (1610–1685) occupies an outstanding position in Dutch genre art. He was a master of the art of etching. His light, extremely subtle and detailed etchings not only reveal intimate observations of his subjects but also a fine sense of humor. Whereas his early prints testify to a certain tendency to caricature, his later works reproduce rural life without a moralizing or coldly analytical gaze. In his fifty etchings, van Ostade faithfully depicted life in peasant hovels, turbulent drinking sprees in inns, and simple people dancing, singing, gambling, and gossiping on the street.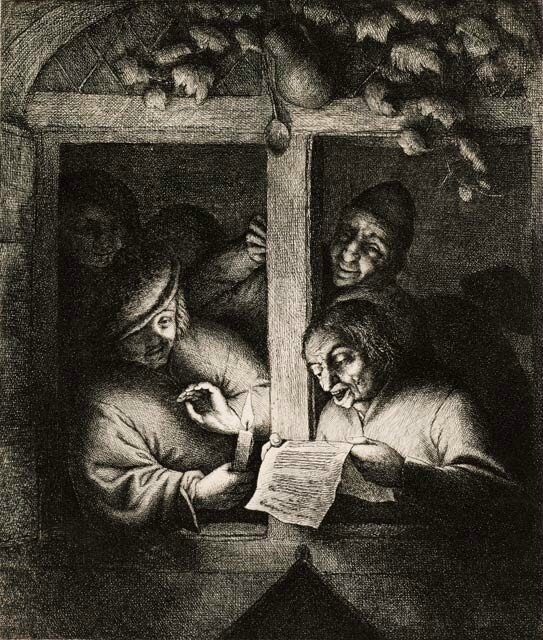 Adriaen van Ostade, The singer at the window, 1665, etching, 262 x 207 mm, Private Collection. Photo: Cultural scanner Rosenau.
The exhibition compares van Ostade's etchings to similar subjects found in works by his contemporaries, such as Rembrandt, Esaias van de Velde and Claes Janszoon Visscher. In this manner, viewers can see how van Ostade was inspired by Rembrandt, who was only a few years older: It is difficult to conceive of van Ostade's distinctive figures without Rembrandt's early figures of beggars. In spite of this, van Ostade's figures appear more self-contained, radiating a harmony that is expressed in the consolidation of their form, whereas Rembrandt's figures are marked by inner conflict.

The show takes an in-depth look at the complexity and subtlety of van Ostade's pictorial compositions as well as his technical precision. Van Ostade, who has been frequently overshadowed by Rembrandt's preeminence, is given his rightful place in art history as an outstanding master of the art of etching and a talented visual innovator.
Adriaen van Ostade, Man and woman in conversation, 1665-1671, etching, 102 x 85 mm, Private Collection. Photo: Cultural scanner Rosenau.
The Exhibition and Outstanding Works on Display
The exhibition, with around one hundred works on display, brings together van Ostade's entire printed work for the first time in Germany. In addition to etchings from the holdings of the Kunsthalle Bremen, the exhibition presents a major collection of exquisite early prints from a private collection, seen here for the first time. Along with small etchings, which can be shown in various stages to illustrate the creative process, copper plates and preliminary drawings from renowned public collections, such as the Hamburg Kunsthalle, the Department of Prints and Drawings in Berlin and the Städel Museum in Frankfurt will be on display. Through these drawings, in which individual figures and even entire compositions are developed down to the smallest detail, it is possible to follow the origins of the etchings and the transformation of van Ostade's style from the 1640s to the mid-1660s