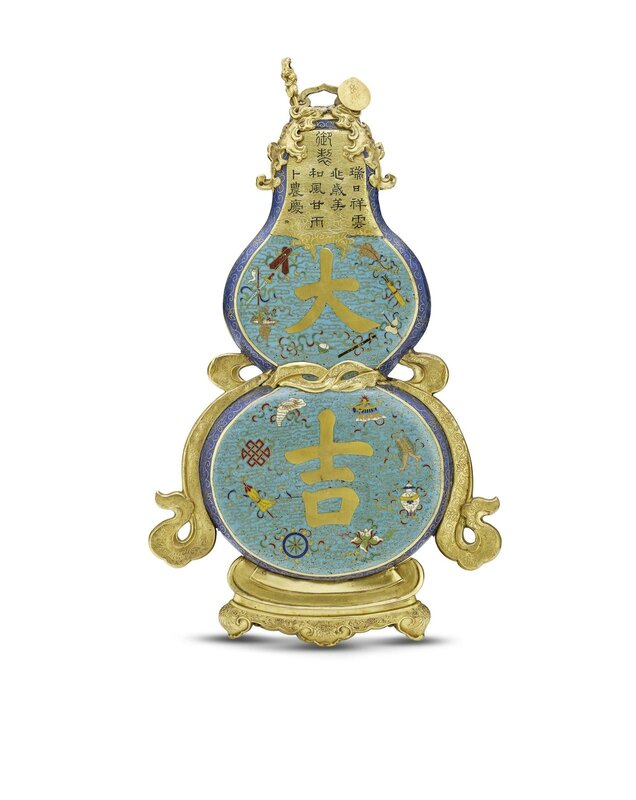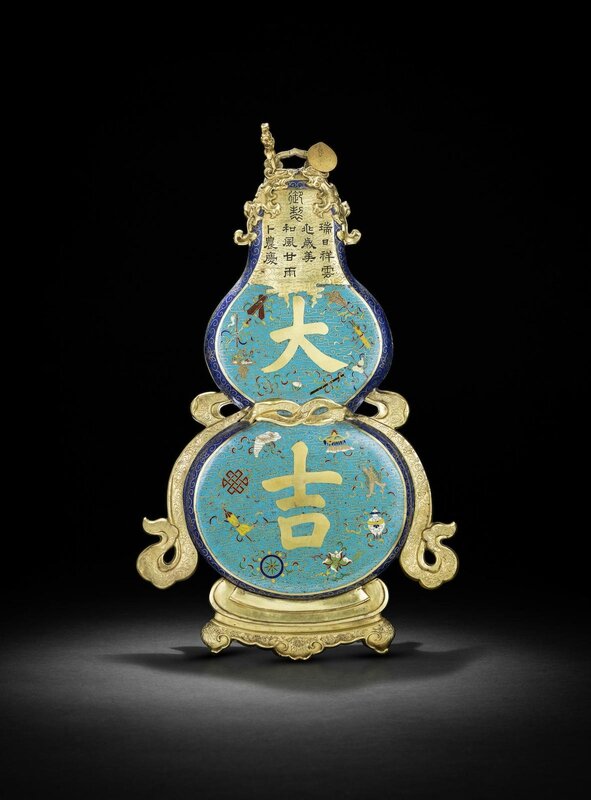 Lot 4. An Imperial cloisonné enamel double-gourd wall vase, Qianlong period (1736-1795);Sold for HK$ 1,096,000 (€ 130,033). Estimate HK$200,000 - 300,000 (€23,000 - 34,000). Sold for HK$ 1,096,000 (€ 130,033). Photo: Bonhams.
Cast as a double-gourd vase and stand, the upper and lower lobes finely enamelled with the characters da and ji in gilt, encircled by the Eight Daoist Emblems, anbaxian, and the Eight Buddhist Emblems, bajixiang, respectively, tied at the waist with a gilt ribbon, all on a rich turquoise ground embellished with extensive scrolling clouds, surmounted by an Imprial inscription reserved on a bell-shaped gilt ground flanked by a pair of confronting stylised dragons at the top. 55cm (21 5/8in) high.
Note: The inscription is part of an Imperial poem included in the category of belles-lettres (jibu 集部) in The Complete Library of the Four Treasures (Siku Quanshu 四庫全書) which was completed during the Qianlong reign in 1782. The couplet reads:
御製
瑞日祥雲兆歲美
和風甘雨卜農慶
which may be translated as:
'Imperially made.
Auspicious days and clouds bring years of goodness;
Gentle wind and sweet rain bring celebration to the farmers.'
The present lot exemplifies cloisonné enamel production specially commissioned for the Imperial court during the Qianlong period demonstrated in its colourful opulence, technical virtuosity combining enamelling, casting and chasing, and displaying an Imperially composed poem concerned with the well-being of the people and imbued with auspicious portents.
The shape of a double-gourd was particularly favoured for its auspicious association with fertility and longevity. Since the bottle gourd contains numerous seeds, it could be used to symbolise a lineage with many descendants. Double-gourd-shaped decorative objects and vessels made for the Qing court often bear the characters daji, heralding the coming of 'great fortune'. The auspicious symbolism in the present lot is doubly reinforced by the Eight Daoist Emblems, anbaxian decorating the upper gourd, which are closely related to longevity; and the Eight Buddhist Emblems, bajixiang on the lower gourd, which in addition to the Buddhist symbolism, are also believed to bring peace and blessings. The Qing court adhered to both beliefs, so aptly combined in the present lot.
See a related double-gourd cloisonné enamel wall vase enclosing an Imperial inscription and the daji characters, Qianlong, illustrated in the Compendium of Collections in the Palace Museum: Enamels 2, Cloisonné in the Qing Dynasty (1644-1911), Beijing, 2011, pl.190. Related double-gourd shaped daji wall vases, plaques or vessels were produced in a wide variety of materials including porcelain, jade, lacquer, rock crystal, clocks, painted enamel, and zitan.
Compare with a pair of similar cloisonné enamel plaques but in slightly smaller sizes, Qianlong, which was sold in our London rooms, 11 July 2005, lot 65.
Bonhams. AUCTION 23347: FINE CHINESE CERAMICS AND WORKS OF ART, 10:00 HKT - HONG KONG, ADMIRALTY