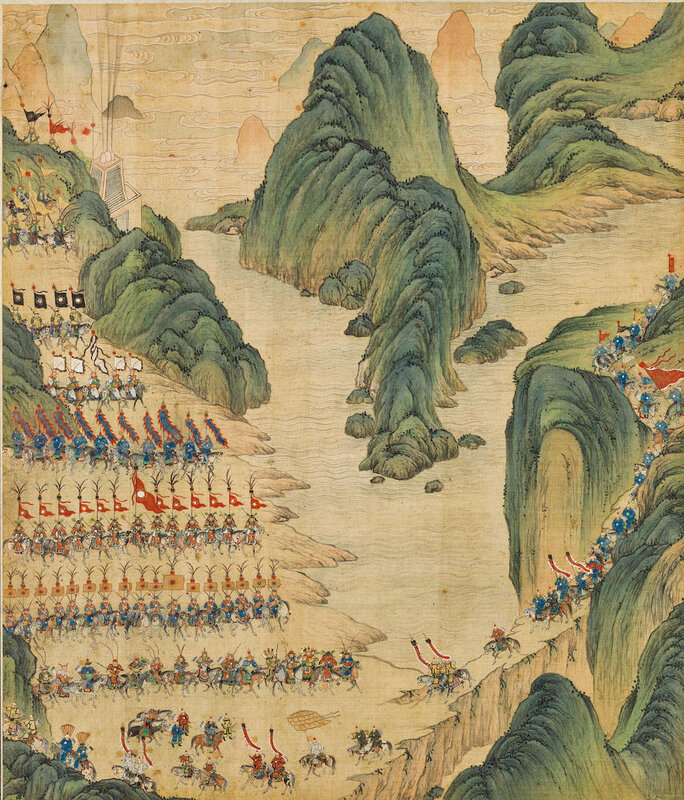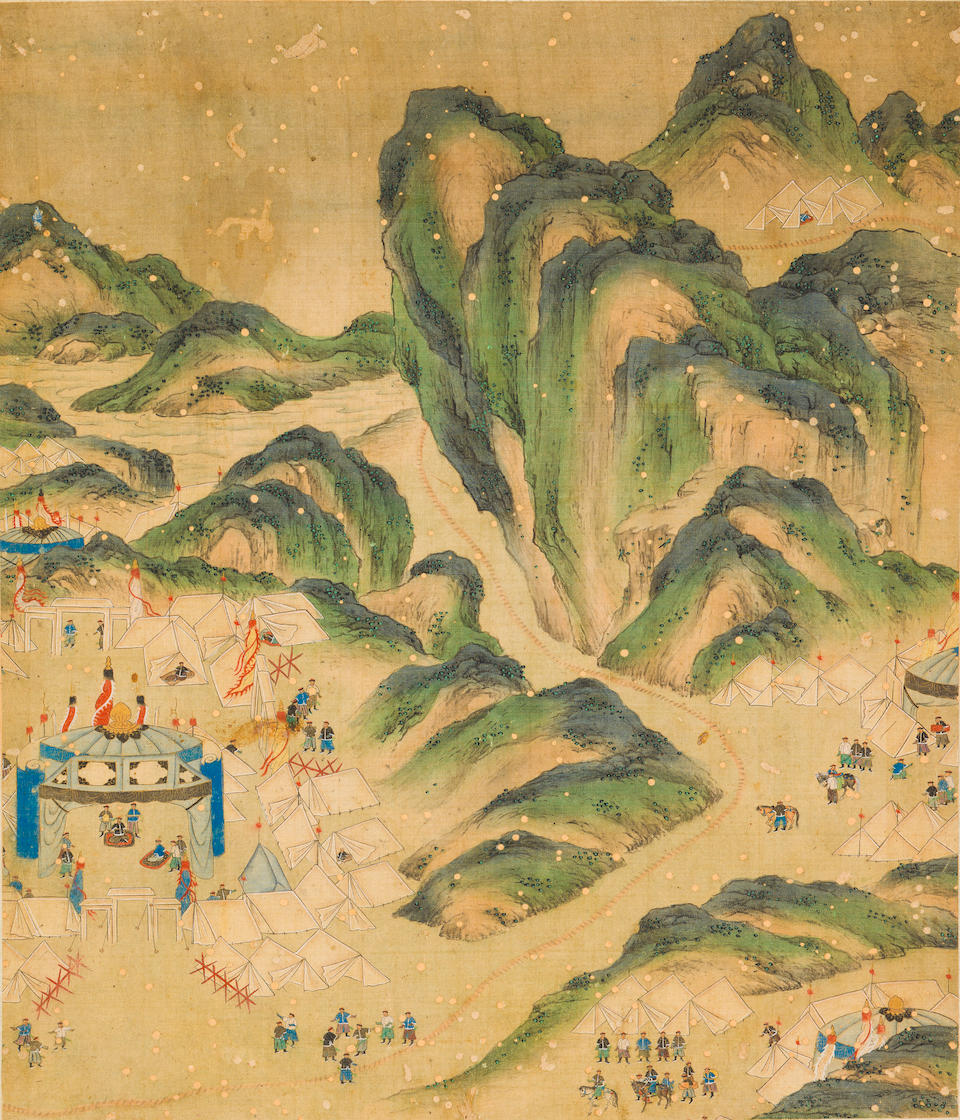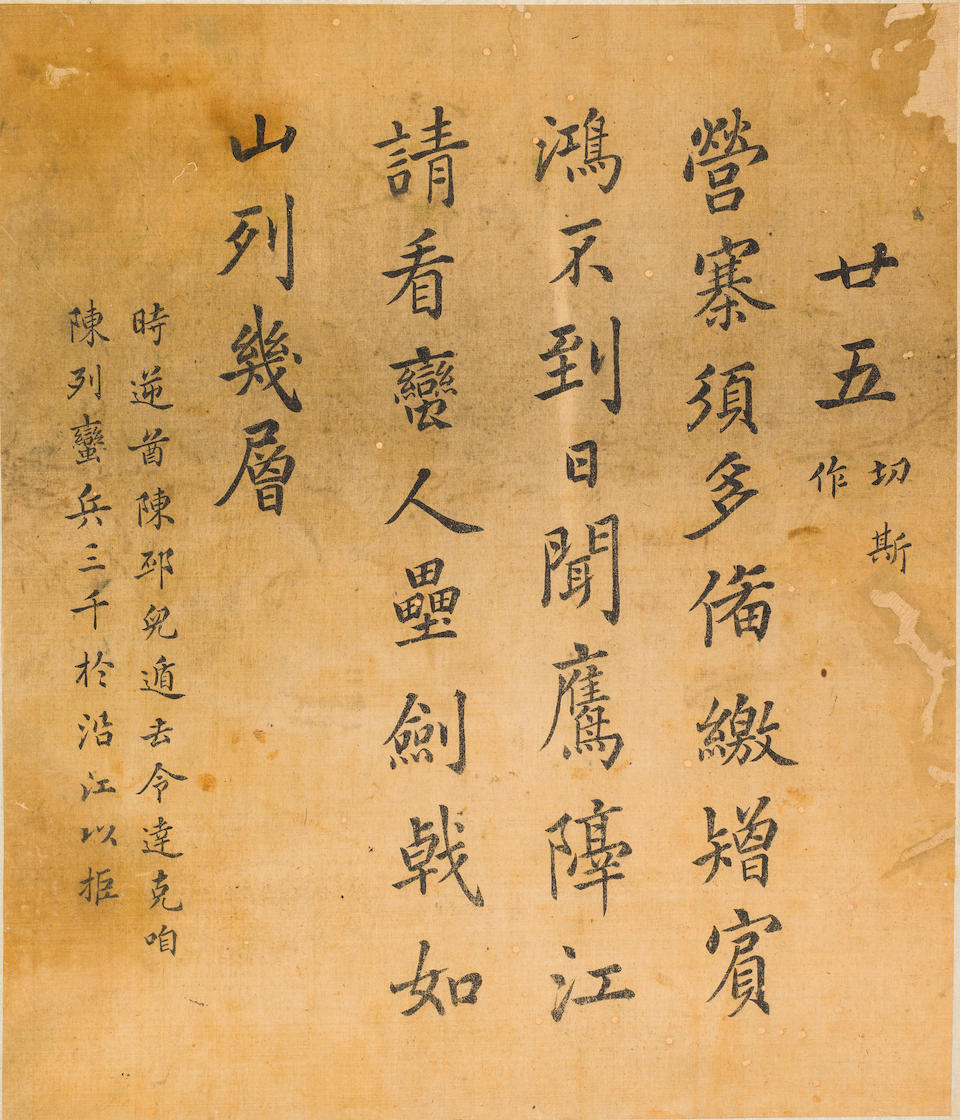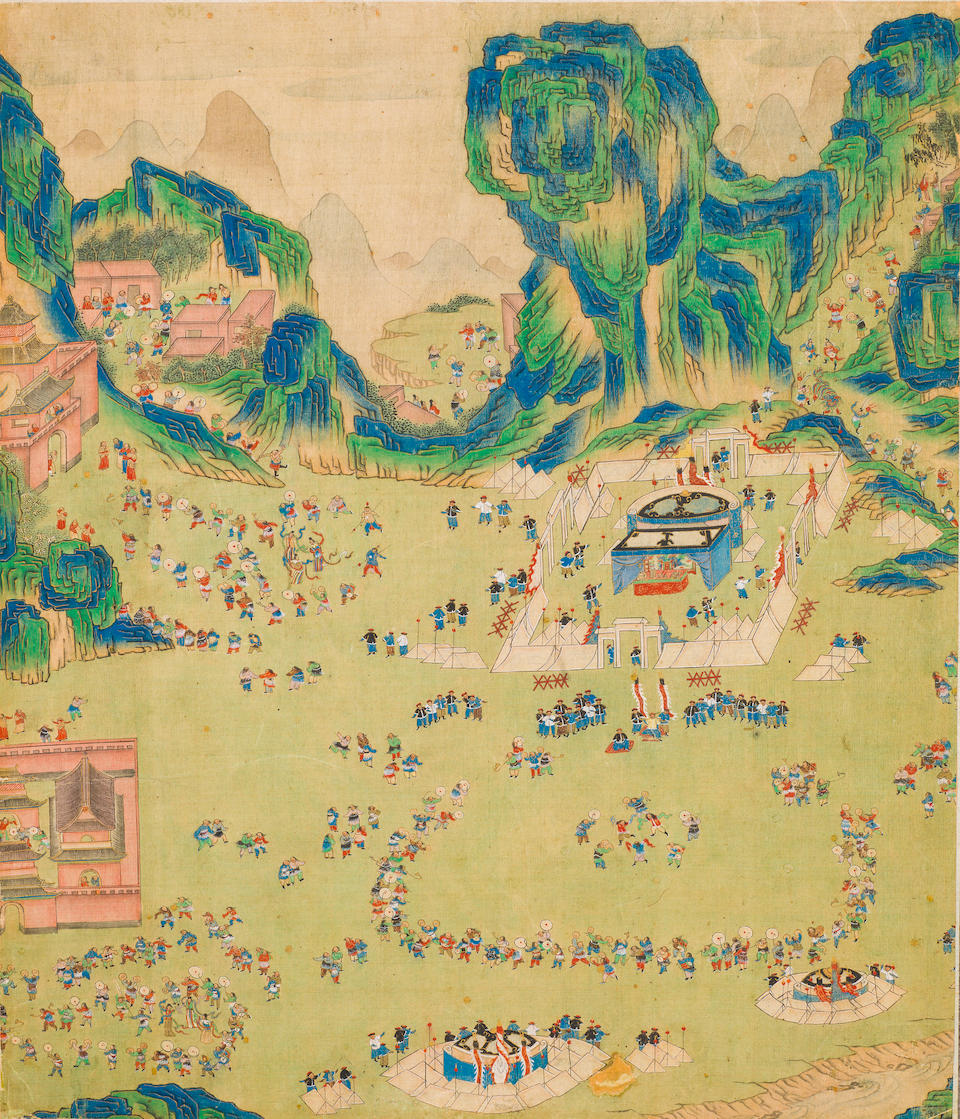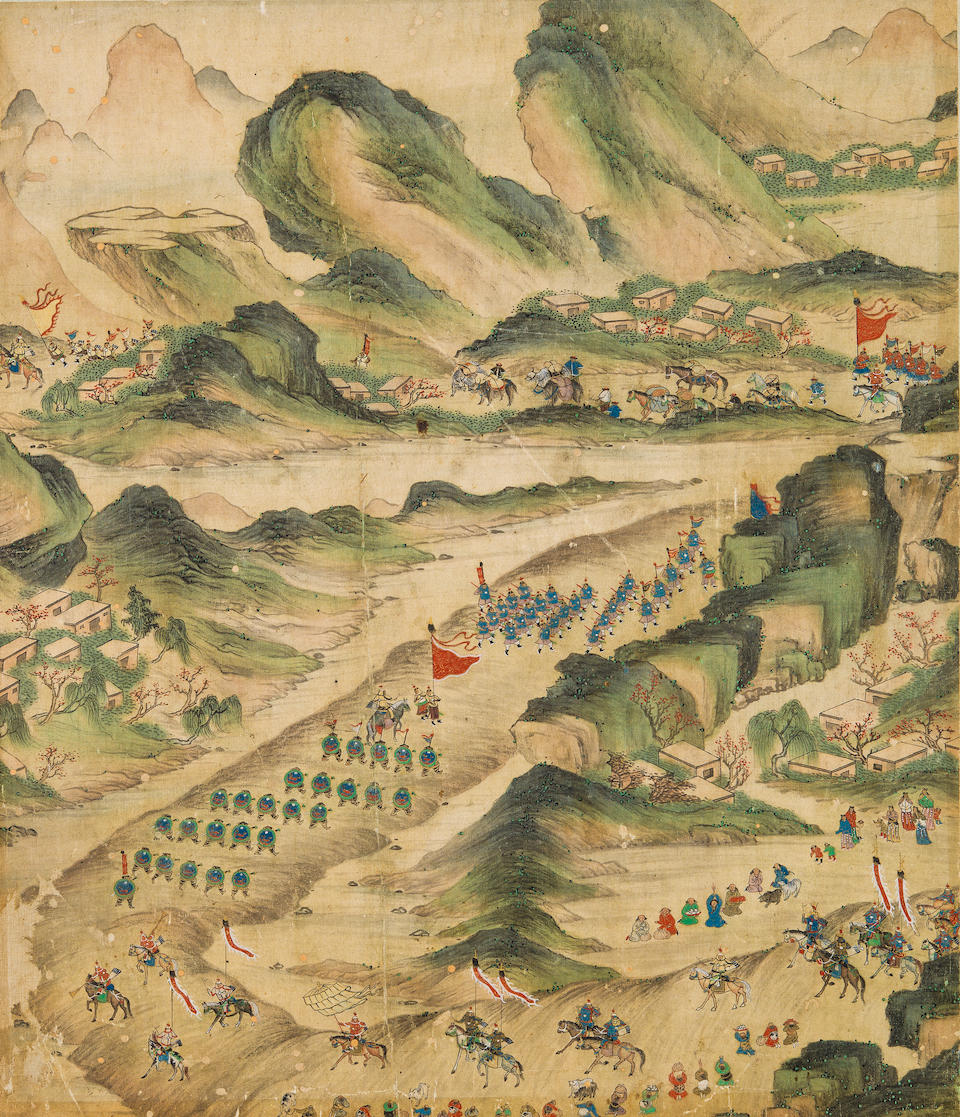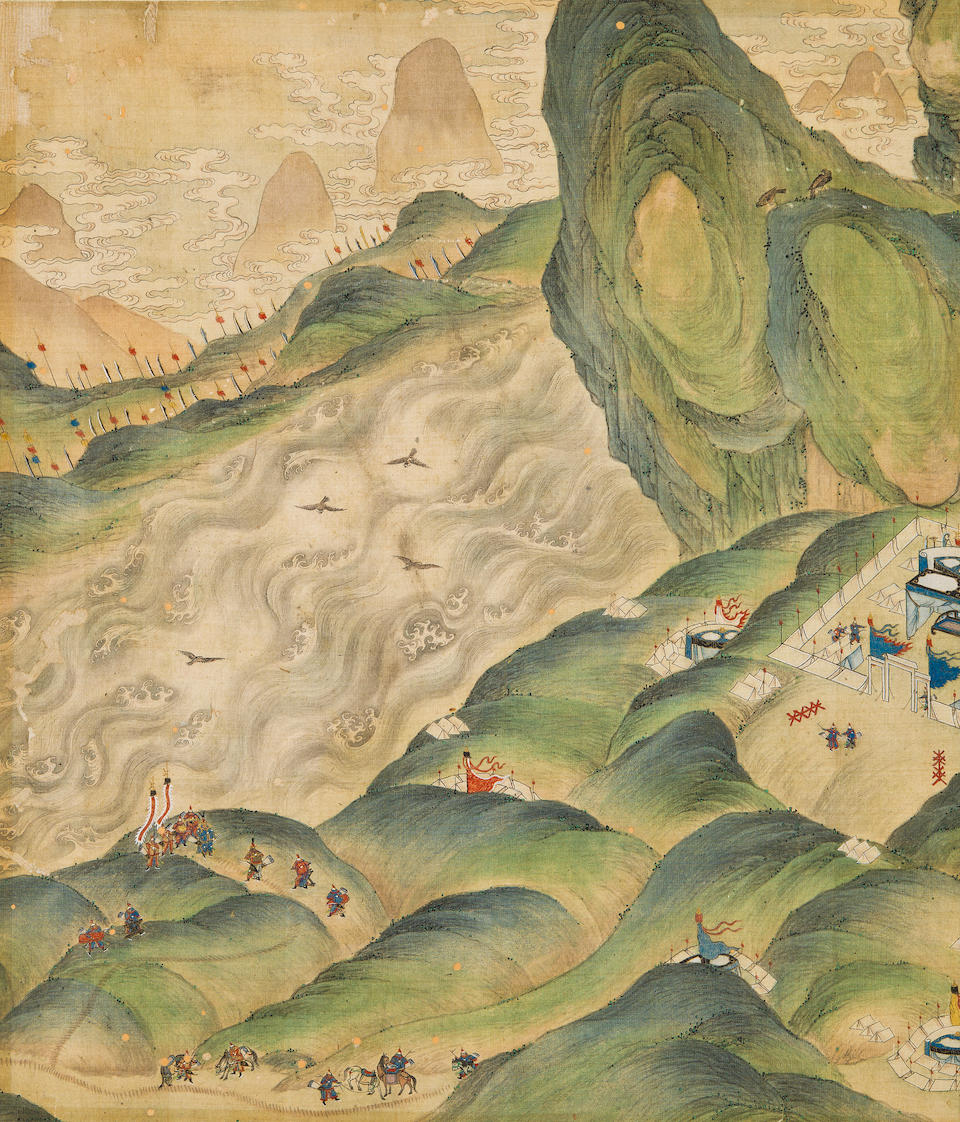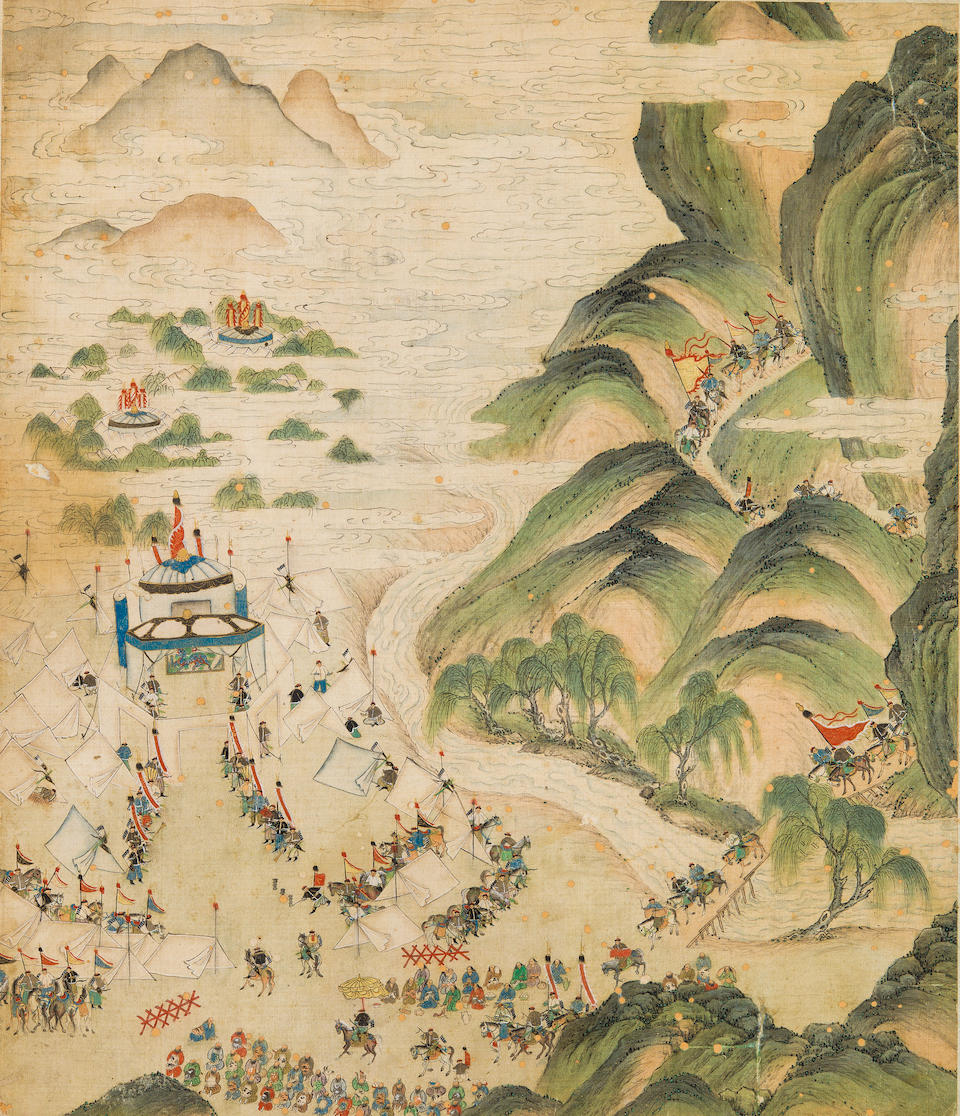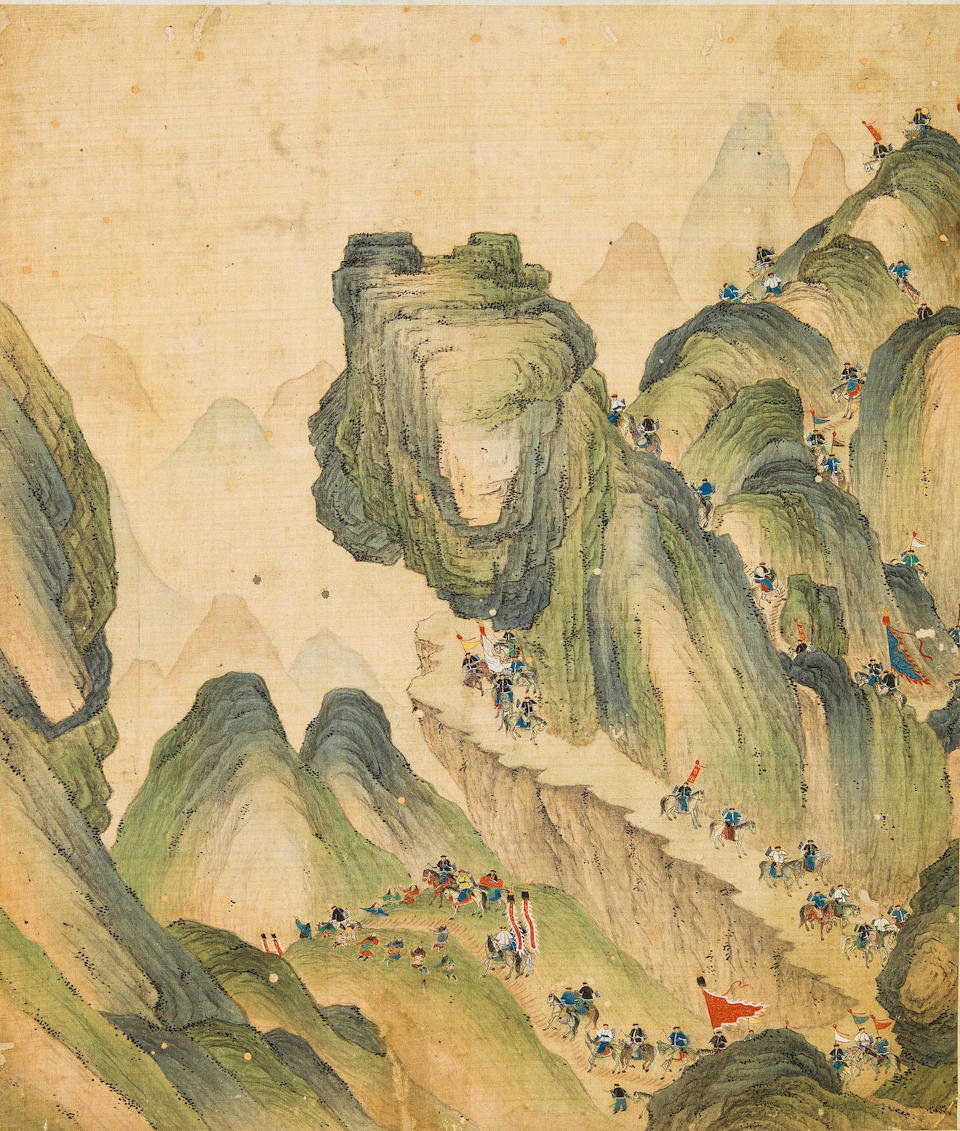 Lot 8. An album with seven sections of a painting, Early 18th century. Each: 46cm (18 1/8in) x 39.5cm (15 1/2in). Estimate HK$150,000 - 200,000 (€17,000 - 23,000). Sold for HK$ 687,500 (€ 81,567). Photo: Bonhams.
Ink and colour on silk, comprising seven album leaves depicting scenes of the Qing military expedition to Tibet of 1720, leaf four with accompanying separate leaf with a kaishu inscription, detached album cover (9).
Provenance: Lieutenant-Colonel T.S.Cox and thence by descent.
Note: The rare documentary series of paintings depict scenes commemorating the Qing military campaign in Tibet in 1720, when the Kangxi emperor sent an army to expel the Dzungar Mongols from Tibet and established a Chinese protectorate over the country.
In 1719, the Kangxi emperor mobilised two simultaneous invading forces to Tibet: a main expedition force of twelve thousand troops from Kokonor (modern day Qinghai province) and another force numbering three thousand troops (one thousand Manchu troops and two thousand Green Standard troops) departing from Sichuan province. Qing soldiers including elite Bannermen from the Eight Banners were called to arms for the war effort involving at least three divisions: Bordered Yellow Banner (鑲黃旗), Bordered Red Banner (鑲紅旗) and Bordered Blue Banner (鑲藍旗), as depicted on the present lot. The mastermind behind this campaign was Nian Gengyao (1679-1726), a Chinese military commander with extensive military experience on the western frontier of the Qing empire. On 24 September 1720, the Sichuan expedition conquered Lhasa; see Dai Yingcong, The Sichuan Frontier and Tibet: Imperial Strategy in the Early Qing, University of Washington Press, 2009, p.81.
The fourth section of the paintings is accompanied by inscription, which reads:
廿五
切斯作
營寨須多備繳矰,賓鴻不到日聞鷹。
隔江請看蠻人壘,劍戟如山列幾層。
時逆酋陳邳兒遁去,令達克咱陳列蠻兵三千,於沿江以拒。
and can be translated as:
Twenty-five
By Qiesi
The military camps needs to prepare as many arrows and traps as possible,
cry of the eagles heard at dawn but our allies have yet to arrive.
Across the river are the ramparts of the enemy barbarians,
their swords and spears plenty in layers like mountains.
The leader of the enemy Chen Pier retreated,
he ordered Da Kezan to take command of three thousand troops,
and resisted us at the river.
Bonhams. AUCTION 23347: FINE CHINESE CERAMICS AND WORKS OF ART, 10:00 HKT - HONG KONG, ADMIRALTY