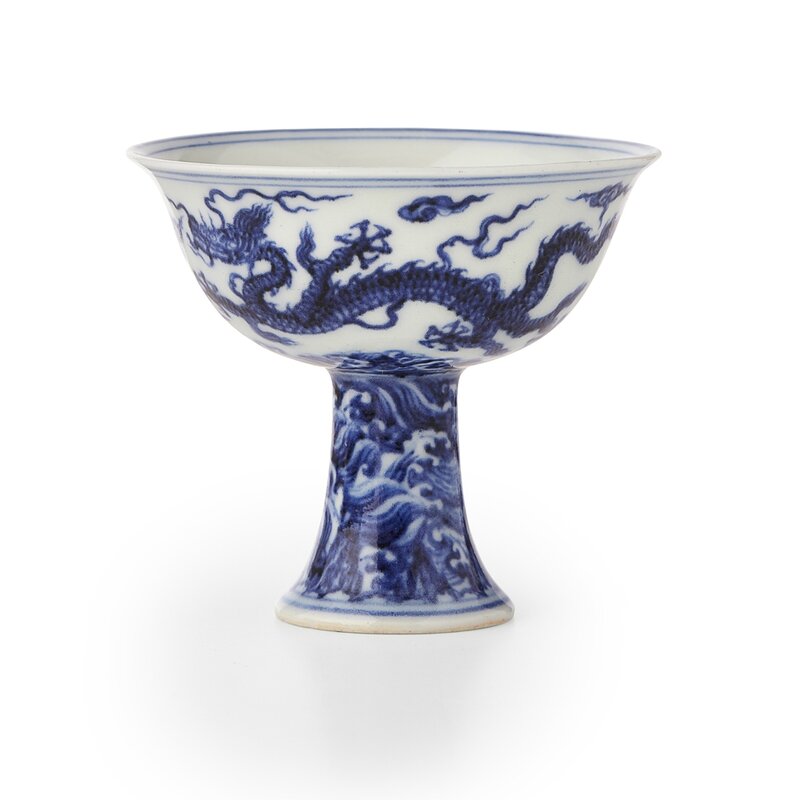 Lot 84. From the Ernest Thornhill Collection. Highly important blue and white 'Dragon' stem cup, Xuande six-character mark and of the period. Estimate HK$ 22,000,000-44,000,000. Photo Lyon & Turnbull.
PHILADELPHIA, PA.- Lyon & Turnbull, Scotland's Oldest Auction House, will partner with Freeman's, America's Oldest Auction House, for their inaugural auction in Hong Kong at the Liang Yi private museum on May 31. Following their 2015 sponsorship of Asia Week Hong Kong, along with their successful 15-year transatlantic marketing alliance, an auction in Hong Kong was the next step for the two auctioneers.
This specially curated debut sale of Chinese Works of Art, will include approximately 150 lots ranging porcelain, jade, bronze, lacquer, furniture and early wares. The sale includes many highlights from private American and British collections. Of particular note from Lyon & Turnbull, a magnificent blue and white 'Dragon' dish Chenghua dish from a private English collection, estimated at $340,000-560,000 HKD and a rare pair of 17th century huanghuali 'Southern Officials Hat' Chairs from the Collection of Mr. J. Ritchie. From Freeman's is an important private collection of fine Chinese huanghuali furniture and various ceramics estimated at $6,4000,0000-11,800,000 HKD.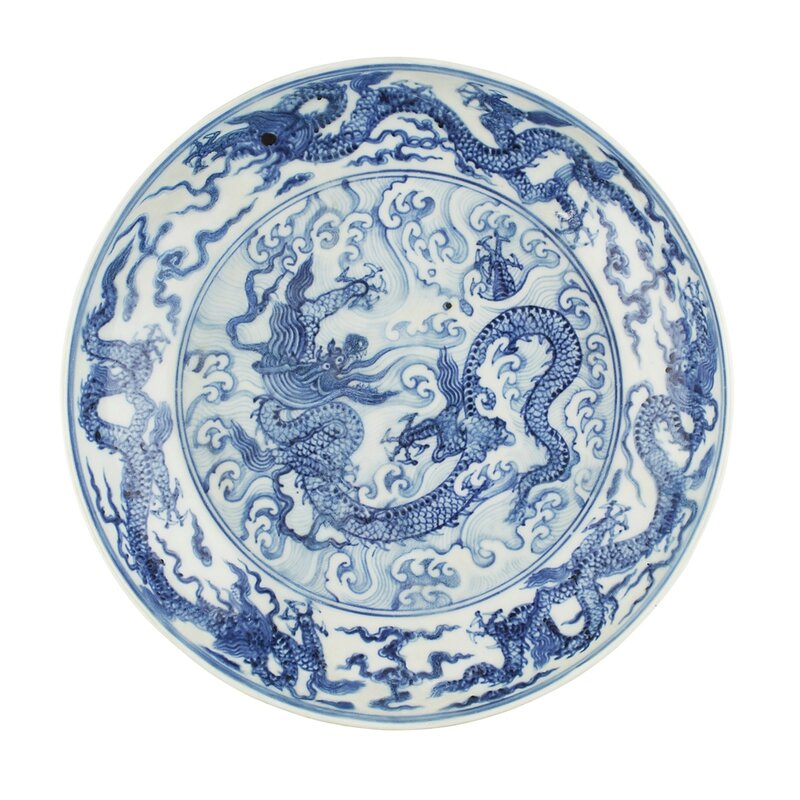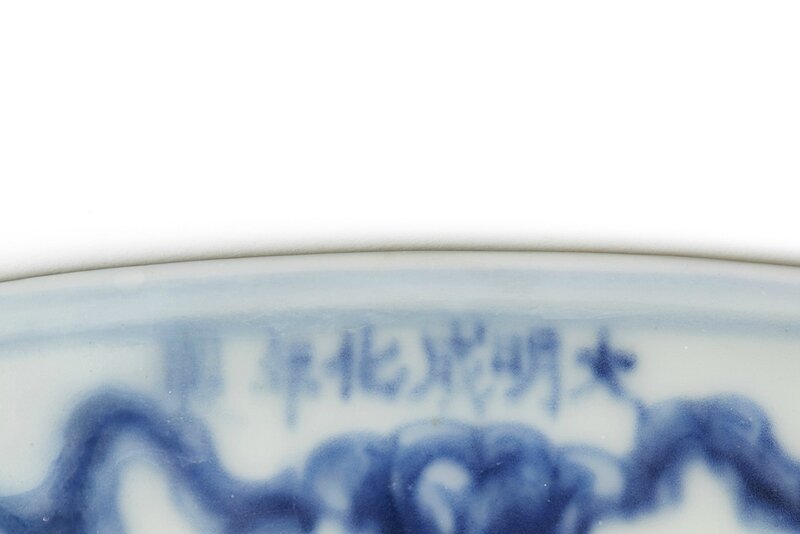 Lot 85. A magnificent blue and white 'Dragon' dish, Chenghua six-character mark and of the period. Estimate HK$ 340,000-560,000. Photo Lyon & Turnbull.
well potted with rounded sides resting on a short slightly tapering foot, elaborately painted in soft blue tones with a medallion enclosing a single five-clawed dragon amongst crested waves, his sinuous body with powerful legs and finely detailed scales, surrounded on the cavetto by three striding five-clawed dragons chasing each other amongst ruyi clouds, the exterior decorated with further ruyi clouds and inscribed with a six-character reign mark below a double-ring, the base unglazed - 30.1cm diam
Provenance: Private English Collection.
Note: Following the passing of the Chinese emperor Xuande and the empowerment of the Empress Dowager as regent, the interregnum period of blank ceramics commenced. With the implementation of an edict banning the production of blue and white wares, which had flourished in production and use under the emperor Xuande, Empress Dowager promoted a new style in ceramics. Following her passing and the succession of Chenghua we encounter not only a revival in the production of blue and white wares but a period where it can be argued that it reached its zenith, as it is considered the main rival to Xuande wares. The earlier pieces, still with the darker imported cobalt remaining from Xuande, show transition into the lighter blues of locally mined cobalt that the period is more known for. The locally mined cobalt was more malleable to prepare and apply, resulting in the replacement of the 'heaped and piled' effect to a much softer and even toned greyish blue. Comparatively very few pieces of Chenghua wares bear the reign mark of the period. However, examples such as the present dish with the Chenghua reign mark allow us to understand that it was accorded official approval and intended for Imperial use with the dragons all endowed with five claws.

For further reading, see D. Macintosh (1994): Chinese Blue and White Porcelain.

For a very similar example see Sotheby's Hong Kong, 24th November 1981, lot 106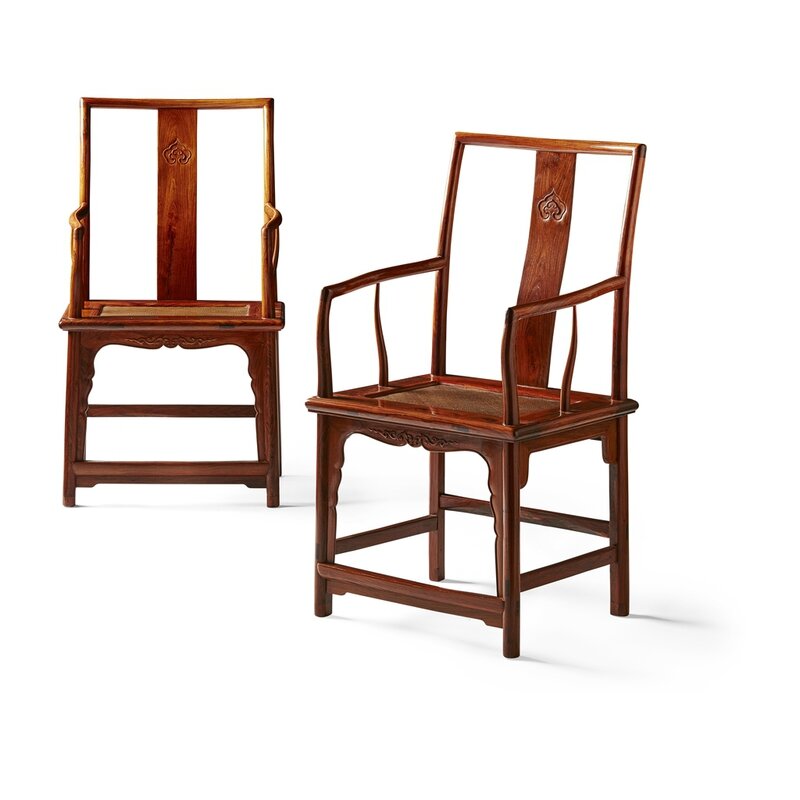 Lot 11. A rare pair of huanghuali 'Southern Officials Hat' Chairs, Ming dynasty, 17th century. Estimate HK$ 900,000-1,300,000. Photo Lyon & Turnbull.
each with shaped top rails above a gently curved splat finely carved with a ruyi roundel, the hard mat seat within a rectangular frame with ornate shaped and scroll carved aprons, raised on rounded square section legs united by stepped stretchers with a foot rest (2) - 56cm wide, 100cm high, 45cm deep
Provenance: The Collection of Mr. J Ritchie; purchased from Martin Fung Antiques & Furniture Co., Hollywood road, Hong Kong in 1987, accompanied by the original receipt and certificate of antiquity.

Note: This pair of armchairs is an excellent and rarely found example known as 'Southern official's hat.' Unlike the Northern type, the ends of the Southern official's chairs do not protrude.

The name 'official's hat,' in Chinese guanmaoyi, derived from the chairs' resemblance to the winged hat that was part of the formal attire of Ming officials, used exclusively by members of the elite class. Thus, even today, they are regarded as symbols of status and authority by the Chinese.

These two chairs embody a timelessness in the way they combine linear simplicity with sophistication of detail, loyalty to the traditional canon with a striking sense of modernity. Each is elegantly proportioned, with the narrow top rail supported on gracefully curved rear posts. The S-shaped splat is carved with a delicate ruyi-head medallion. The Huanghuali wood is of an attractive golden yellowish-brown tone with a mesmerizing translucent shimmer. The high-back form of the chairs is typical of the Ming dynasty.

With the excellent material and superb craftsmanship, there is no doubt that they are the work of a highly skilled artist and are of a rare quality.

For similar examples, see Wang Shixiang: Connoisseurship of Chinese Furniture, p. 46, pl. A76; Wang Shixiang: Classic Chinese Furniture, p. 90, pl. 48; Christie's sale in their New York rooms on 22nd-23rd March 2012, lot 1735.

The renowned Thornhill Stem Cup is tipped to be the star lot of the sale. This 600-year-old technically brilliant Ming blue and white cup is virtually unseen outside of museum collections and famous in the Chinese art world for its quality and rarity. Enjoyed by the Xuande Emperor during his reign (1425-1435), this Imperial masterpiece is considered by experts to be the most important piece of porcelain to come out of the UK in the last decade.
The Stem Cup was the most valuable of 270 items bequeathed to the Staffordshire University by Mr. Ernest Thornhill in 1944, having originally been sent there during wartime to safeguard the collection. Upon rediscovering the collection, which has been hidden away in storage for a significant number of years, the University appointed Lyon & Turnbull to sell the Stem Cup so that it can raise funds to build a permanent new home for the remainder of the collection at its Stoke-on-Trent campus. This resource centre will enable student access to the collection for their study, complying with the original bequest and wishes of Mr. Thornhill.
Deputy Vice Chancellor at Staffordshire University Rosy Crehan continues: "The Thornhill Collection is an important part of the University's heritage and an exciting part of our future. The sale of the Stem Cup is enabling the University to tell the story of the Thornhill collection to a global audience. The journey began at Asian Art in London in November when the Stem Cup was publically exhibited in the UK for the first time in 20 years. Its exhibition in America in March and then in Hong Kong in May ahead of the sale, will provide the first international platform for this important piece and will spread the story of the Thornhill Collection far and wide."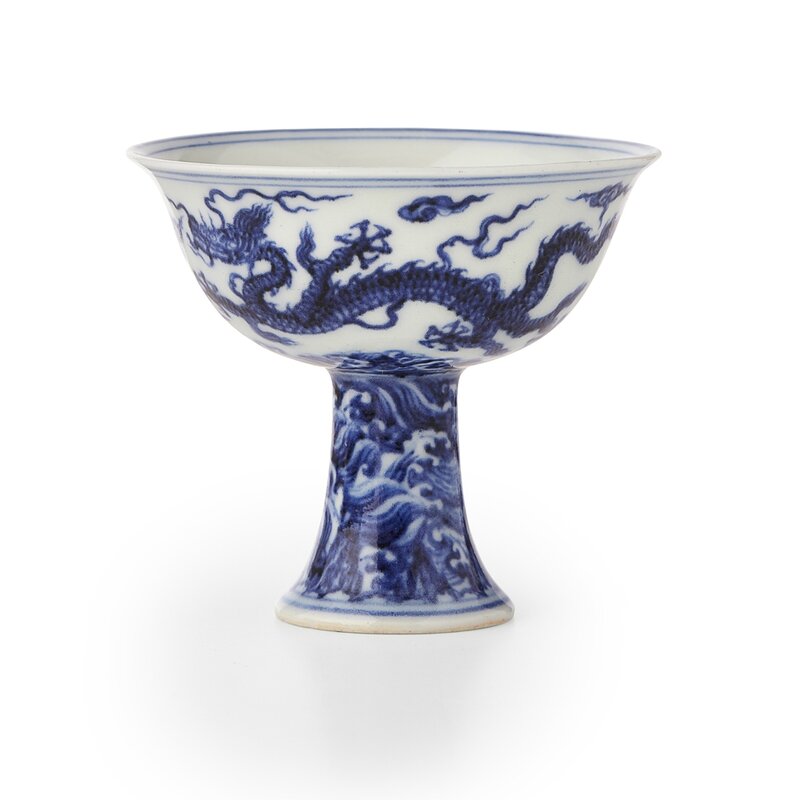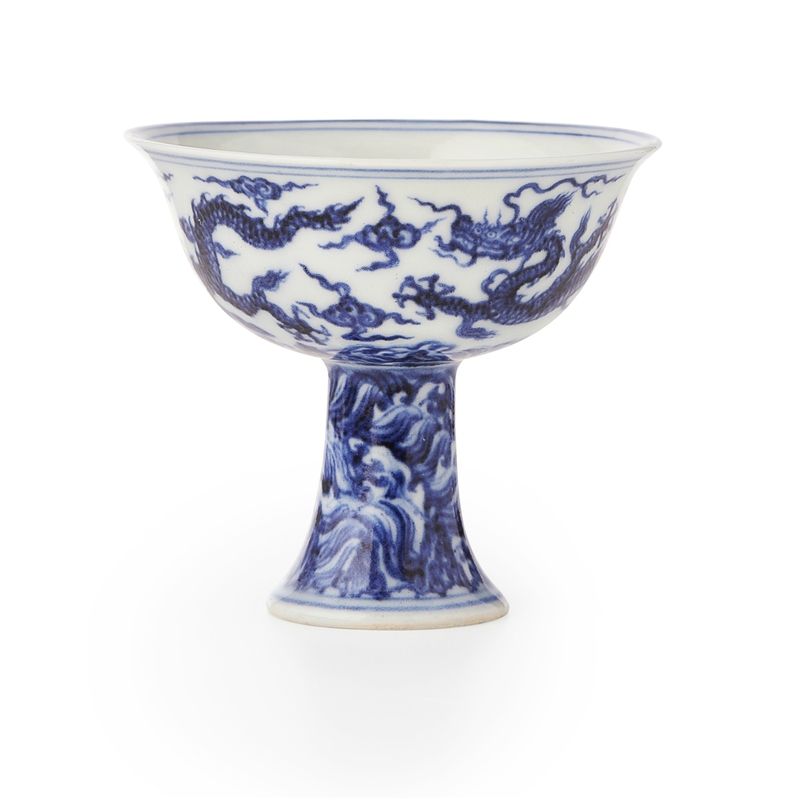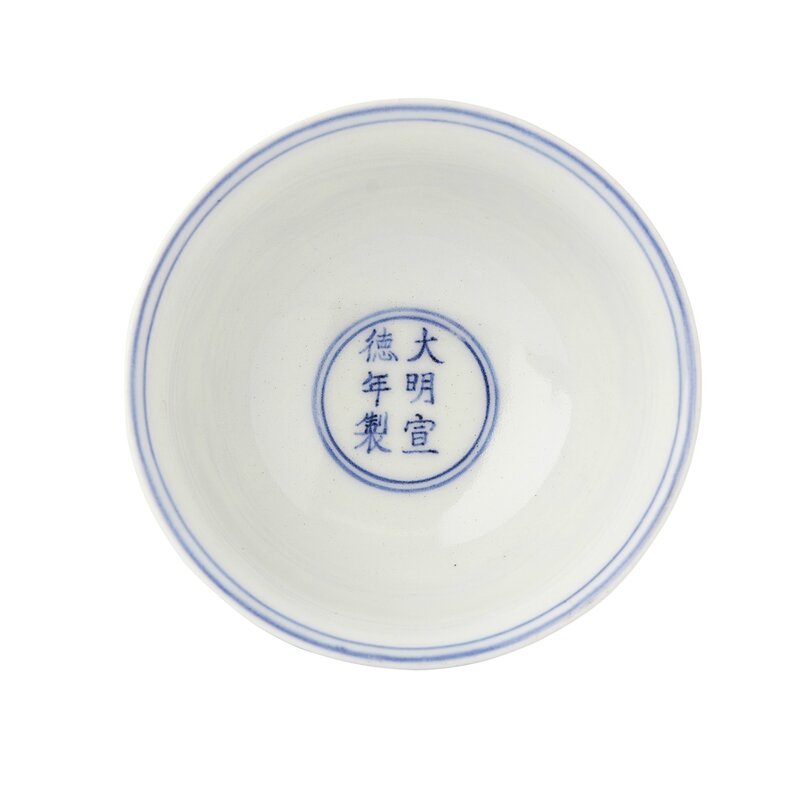 Lot 84. From the Ernest Thornhill Collection. Highly important blue and white 'Dragon' stem cup, Xuande six-character mark and of the period. Estimate HK$ 22,000,000-44,000,000. Photo Lyon & Turnbull
the sides finely painted in dark blue tones with two five-clawed dragons chasing the eternal flaming pearl amongst clouds, above a sea with crashing waves tipped in white, with rocks around the base, the interior painted with the six-character reign mark within double lines and circled by double rings repeated on the inside and outside rim, and on the foot - 8.7cm high, 9.8cm diam
Provenance: From the Ernest Thornhill Collection; bequeathed to Staffordshire University, 1944-present.

Note: The Thornhill Stem Cup is an excellent example of its type, which is virtually unseen outside museum collections. The motif of flying dragons was popular in the Yuan dynasty (1271-1368), but was revived in the Xuande (1425-1435) as can be seen in this case. The fearsome five-clawed dragon flies amongst flames, chasing the eternally flaming pearl, above a sea with crashing waves tipped in white, with rocks seen around the base. The Stem Cup is crowned by the elegantly painted six-character reign mark within the cup, and circled by double rings, repeated on the inside and outside rim, and on the foot. This is a truly remarkable and rare piece, of a type not seen at auction for many years.

The reign of the Emperor Xuande commenced when the Ming dynasty (1368-1644) had been in power for 60 years, and China found herself thriving under new leaders. They had a capable and just government, there were no recent wars or natural disasters, and artistic inspiration was allowed to flourish at the kilns at Jingdezhen in Jiangxi Province. Xuande was a much respected leader, well read and versed in the classics, and a talented artist in his own right. He was fascinated by porcelain and was a keen collector. The word Ming translates as brilliant, and this applies to the treasures produced during the reigns of the triumvirate of Emperors; Yongle, Xuande and Chenghua. Scholars agree that the reign of the Xuande Emperor represents the apogee of blue and white ceramic production during the Ming dynasty. The clay was purified several times to produce the whitest and finest porcelain.

The wares' unique qualities include the glaze, which is thick and lustrous, with a buttery softness to it that responds to touch, and a luminosity unsurpassed in later wares. This glaze is untainted by age, and consequently the pieces still give us the same pleasure today as when the Emperor Xuande held them in his hands. Very few examples exist outside museum collections. Today, The National Palace Museum, acknowledged to hold the finest collection in the world, has a collection of over 2,000 various Xuande pieces.

Literature: The Thornhill Stem Cup is illustrated in Transactions of the Oriental Ceramics Society 1983–1984, Vol. 48.

The History of the Thornhill Collection
Ernest Thornhill lived in Clapham, London and was a British pharmacist registered with the Royal Pharmaceutical Society from 1890 to 1936. Thornhill is acknowledged as an ardent and knowledgeable collector of Asian ceramics, collecting from a number of sources including the renowned firm of Bluett & Sons. Few details are known about his personal life, but he nevertheless has made his mark with the philanthropic legacy he left behind him.

In 1926 and in 1933 Thornhill donated six pieces of his collection to the British Museum, however it was not until later, during the London Blitz in World War II, that he sent the remaining 276 pieces to the then North Staffordshire Technical College for safekeeping. As a mark of appreciation to the college for their generosity he later bequeathed the entire collection to them for its future study and appreciation.

Over time the college merged with a number of institutions to become Staffordshire University and the collection has remained at the University ever since. In the 1970s, Professor Flavia Swann, Head of Art and Design History at North Staffordshire Polytechnic, ensured that the collection was fully catalogued, thanks to funding from the Spode Trust. In addition a scholarly paper describing the Collection was published in the Transactions of the Oriental Ceramics Society 1983-1984, Vol.48. In keeping with the wishes of Mr Thornhill, all the works were displayed at the University until the early 1990s.
Sale highlights have been on tour internationally in the month's leading up to the sale, in London, Philadelphia (home of Freeman's) and New York during New York Asian Week, prior to its final preview at the Liang Yi Museum in Hong Kong on the 28th, 29th, 30th May, before the sale on the 31st May 2016.
Sale highlights includes: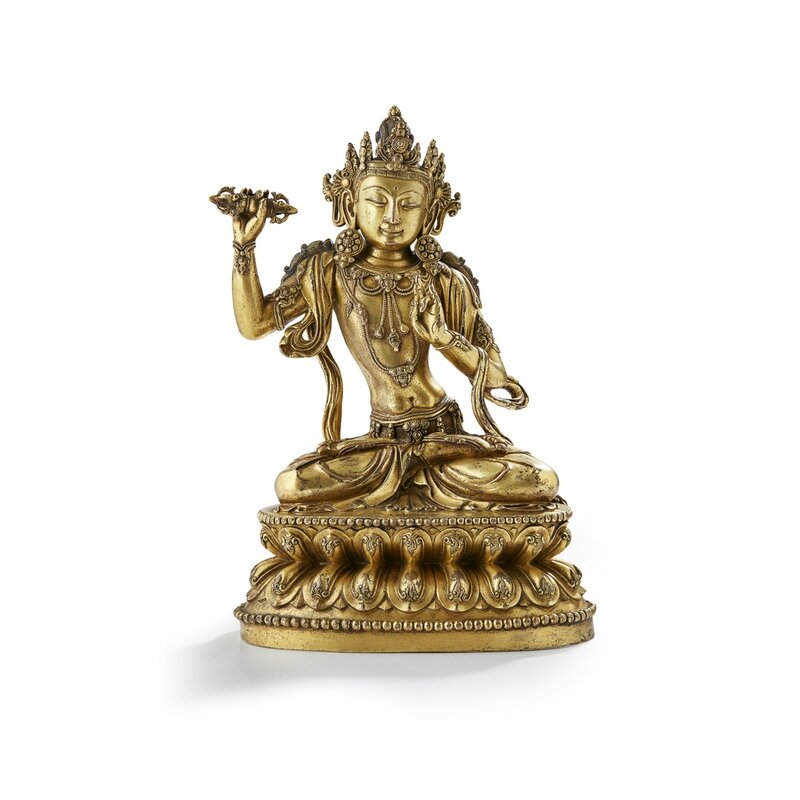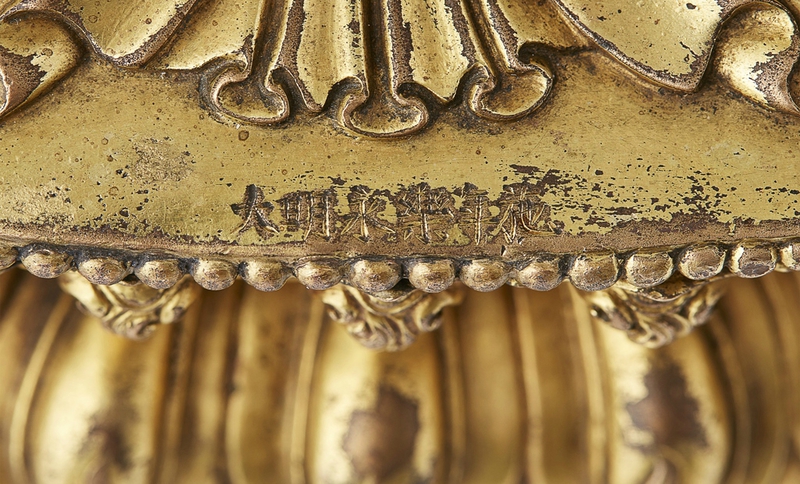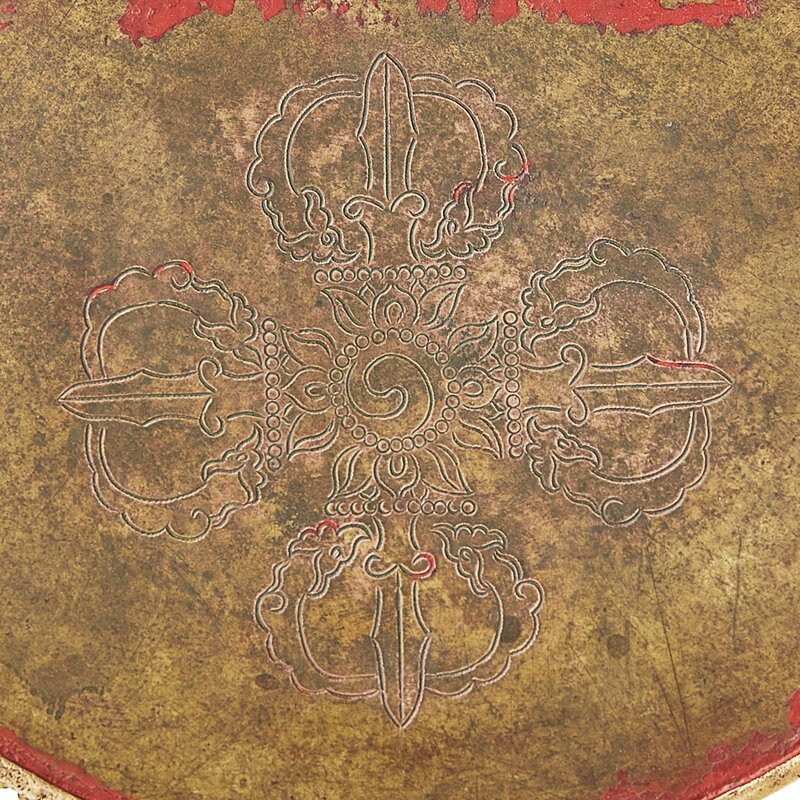 Lot 132. A superb gilt-bronze figure of Vajrapani, Yongle incised mark and of the period. Estimate HK$ 2,200,000-3,400,000. Photo Lyon & Turnbull.
the bodhisattva finely cast seated in dhyanasana on a double-lotus base, his raised right arm holding a vajra and the other held up in tarjani mudra, wearing a long flowing dhoti tied at waist and gathered in folds around his feet, the slightly tilted face in a serene expression with downcast eyes and smiling lips, framed by an elaborate diadem, the front of the base incised with a six-character mark reading 'Da Ming Yong Le Nian Shi' (bestowed in the Great Ming Yongle period), the base plate incised with a double vajra with remains of red lacquer - 25cm high
Provenance: Private English Collection.

Note: For a very similar gilt-bronze figure from the Xuande period, see Christie's sale in their Hong Kong rooms on 26th November 2014, lot 3107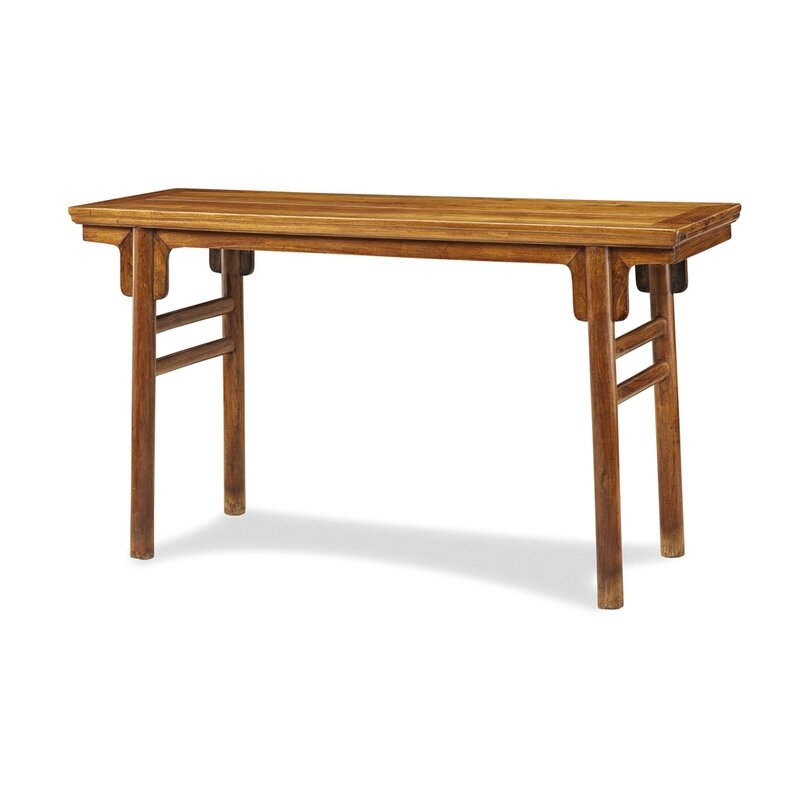 Lot 3. A fine huanghuali painting table, pingtouan, Ming dynasty. Estimate HK$ 2,000,000-4,000,000. Photo Lyon & Turnbull.
with rectangular top and ice-plate edge, over a shaped apron with round cylindrical legs - 83.8cm high, 147.3cm long, 52.1cm wide
Provenance: Property from a Midwest American collection; previously purchased from Ellsworth & Goldie, Ltd. with original receipt.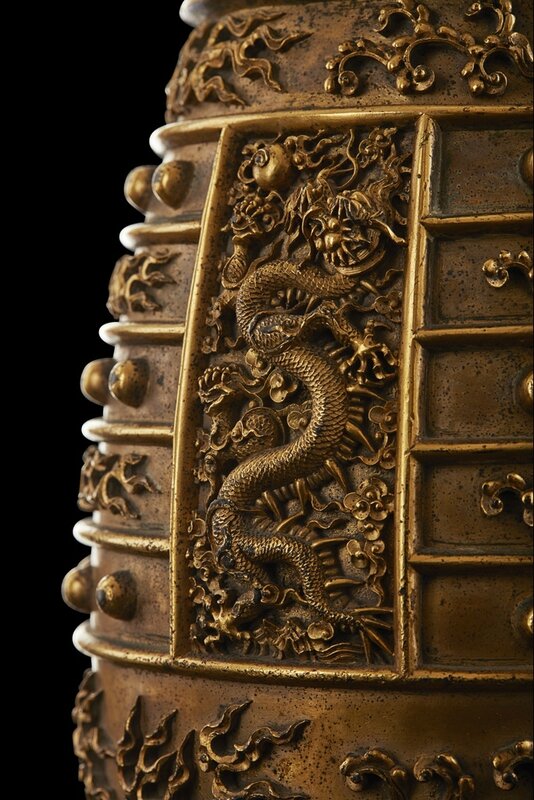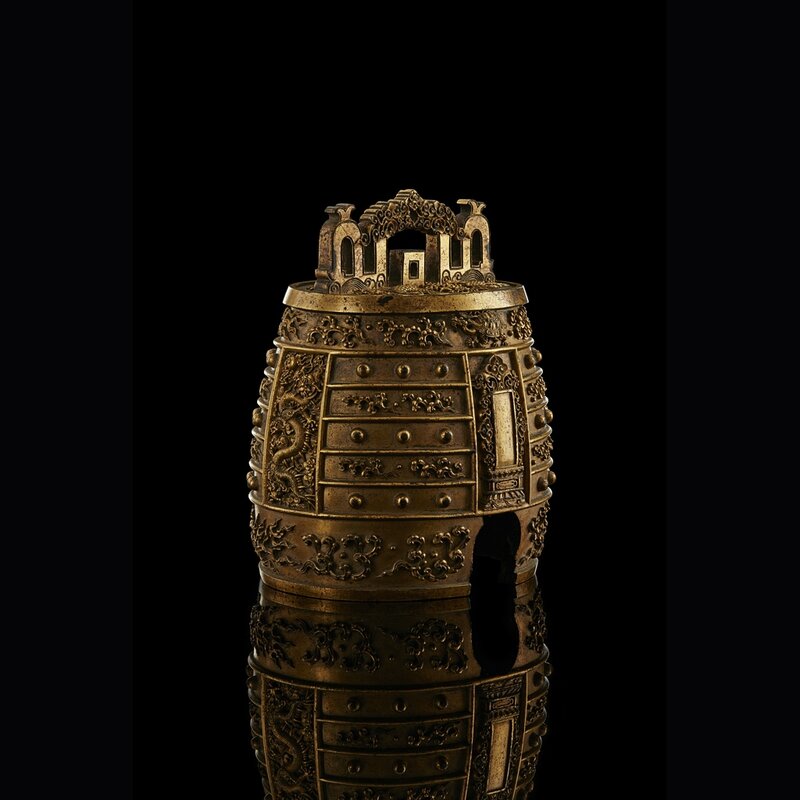 Lot 112. A rare and important Imperial gilt-bronze ritual bell, bianzhong, Ming dynasty. Estimate HK$ 1,700,000-2,700,000. Photo Lyon & Turnbull.
finely cast of slightly flattened barrel form, surmounted with a handle in the shape of swirling clouds above two pairs of cranes and phoenix flying amongst clouds on the top, the sides decorated with five bands of alternating bosses and stylised flames between a frieze of dragon-tortoise and phoenix at the top and a frieze of stylised frames at the bottom, each of the wider sides centred by an empty rectangular panel framed with ruyi clouds and raised on a lotus pedestal, each of the narrower sides decorated with a panel containing a five-clawed dragon amongst swirling clouds - 27cm high
Provenance: From the collection of an important military family.

Note: Known in Chinese as bianzhong, gilt bronze bells were an exclusive and important part of imperial court rituals and ceremonies. In the Qing dynasty (1644-1911), bianzhong were commonly played during ceremonies at the Temple of Heaven and the Temple of Agriculture, as well as during imperial banquets and state rites. Bells of this type were usually assembled in graduate sets of sixteen, producing twelve different musical tones and four repeated tones of a lower octave. Their respective musical notes were determined by their thickness. As depicted in court paintings, bianzhong would have been suspended in two tiers of eight over tall and elaborate wooden frames. Some of these bells were reputed to have left China during the late 19th and early 20th century. A few of these bells, particularly from the Ming dynasty, have resurfaced at auction over the past decade, including an identical gilt-bronze bell sold at Sotheby's Paris, 9th June 2010, lot 43. Another similar sample was sold at Freeman's on 14th March 2015, lot 65.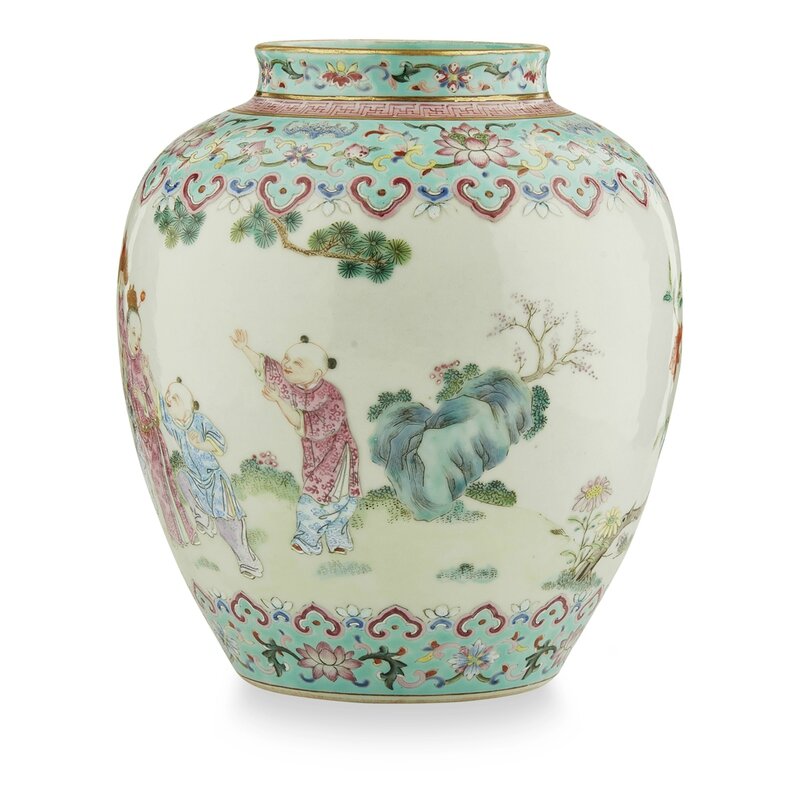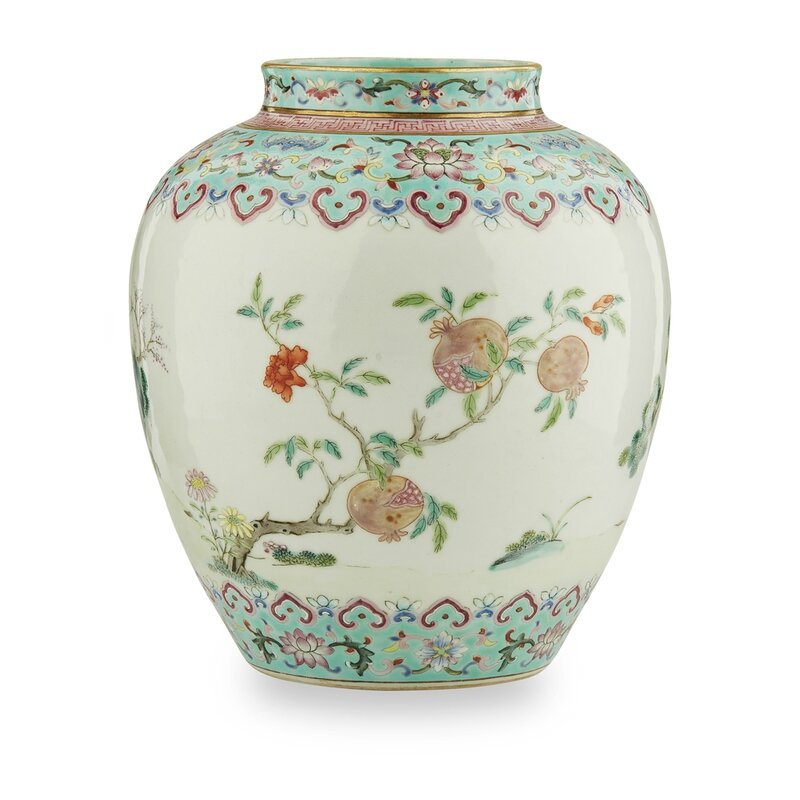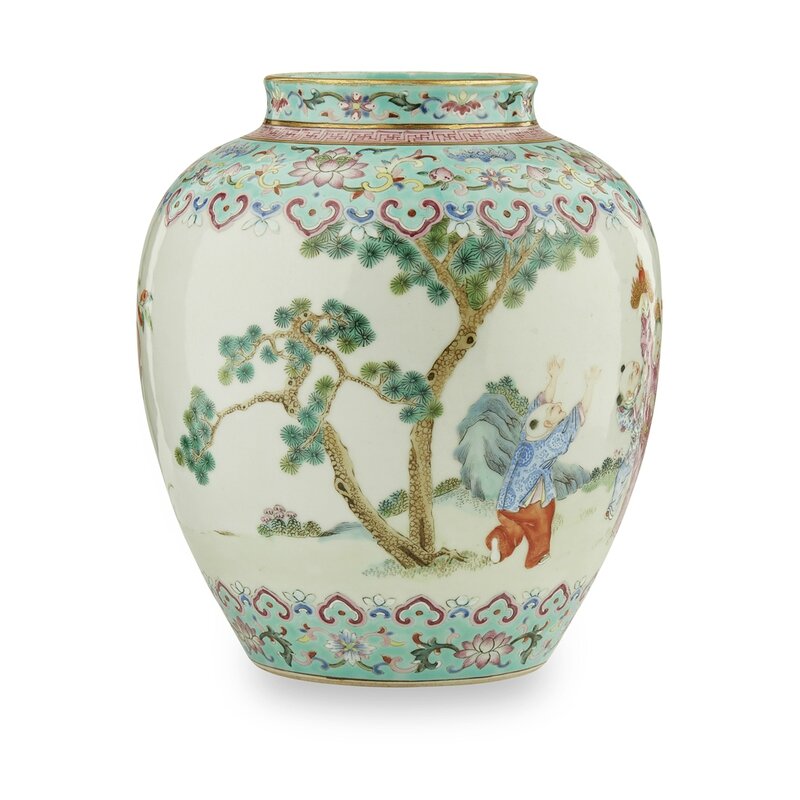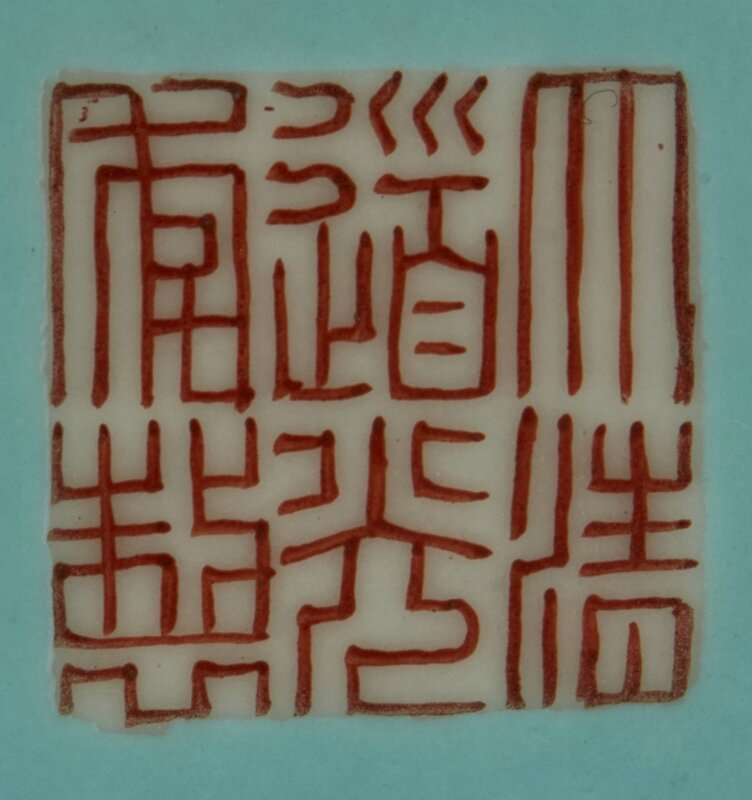 Lot 103. A fine famille rose ovoid 'wu zi deng ke' vase, Daoguang seal mark and of the period. Estimate HK$ 1,500,000-2,000,000. Photo Lyon & Turnbull.
the ovoid body delicately and skilfully enamelled with a young scholar wearing a red robe and a red cap, holding aloft a large helmet and surrounded by four smaller boys leaping with excitement to reach for the helmet, all set within a garden of rocks and pines, the reverse decorated with a flowering pomegranate branch bearing three fruits, all between turquoise-ground borders containing meandering lotus scrolls, bats and ruyi-heads - 19.1cm high
Provenance: Private English Collection.

Note: The subject of five boys fighting for a helmet is a very popular motif in China. Referring to the five boys competing for distinction, the narrative symbolises the blessing for one's sons to achieve outstanding results in the civil service examinations. Helmet (kui) is a pun for 'leader', which also indicates first place in the imperial examination.
For related Daoguang vases, but decorated with a ruby ground around the elongated neck and foot, such as one depicting children in a Dragon Boat Race, and another decorated with fruiting pomegranate trees, see The Complete Collection of Treasures of the Palace Museum: Porcelains with Cloisonné Enamel Decoration and Famille-Rose Decoration, Hong Kong, 1999, pls.189 and 194.
For another comparable vase with Daoguang mark and of the period, see Sotheby's sale in their Hong Kong rooms on 7th October 2010, lot 2162.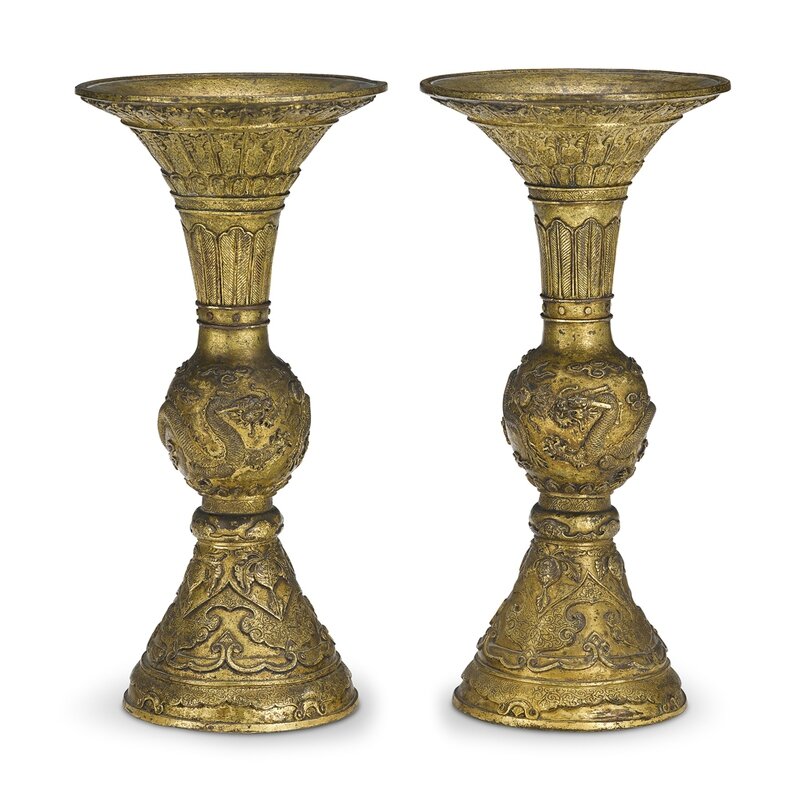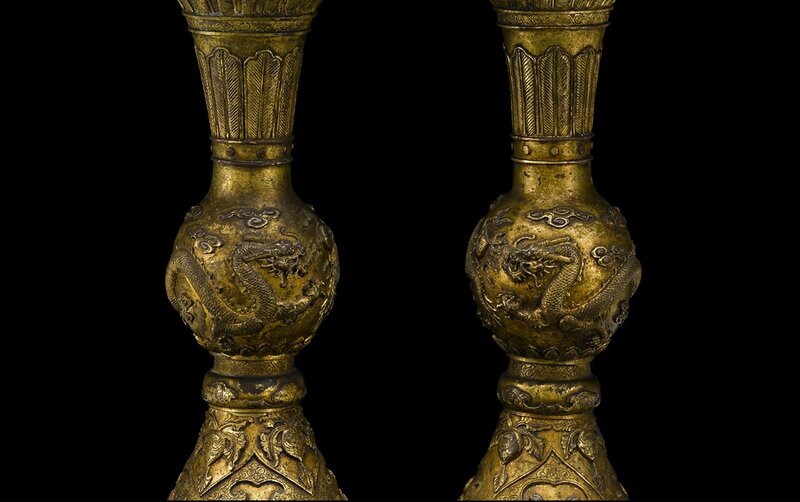 Lot 126. A rare pair of Chinese gilt-bronze 'Dragon' beaker vases, Qing dynasty, 17th-18th century. Estimate HK$ 1,200,000-1,500,000. Photo Lyon & Turnbull.
with the globular central bulb finely cast to show a dragon chasing the flaming pearl, the splayed lower section with raised brackets and overlapping petal formed lappets, the trumpet neck cast with upright leaves and overlapping lappets and acanthus leaves (2) - 33.2cm high
Provenance: Sotheby's New York, 19th September 2015, sale n09437, lot 730.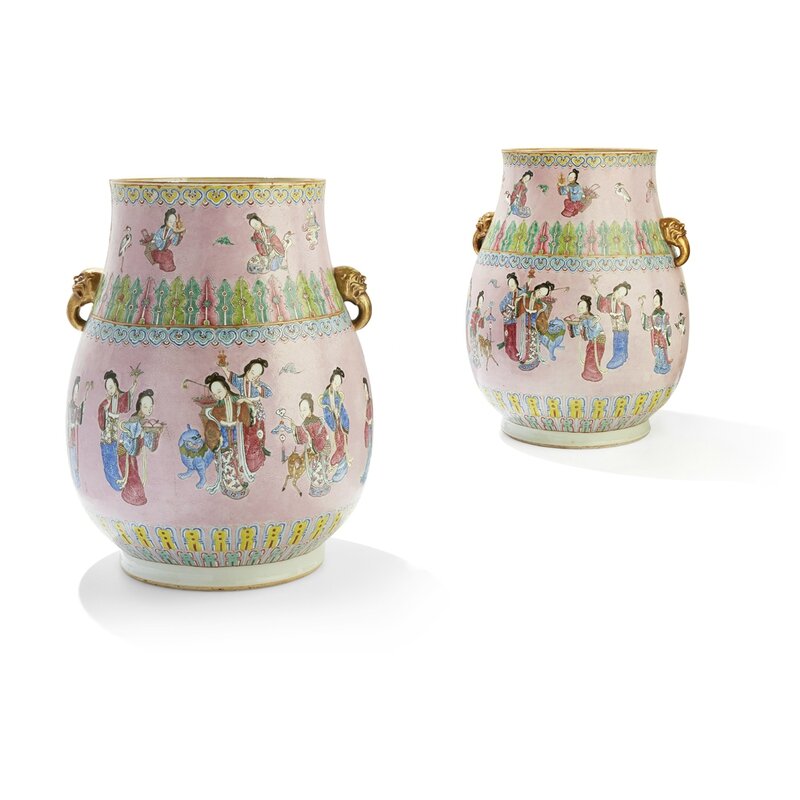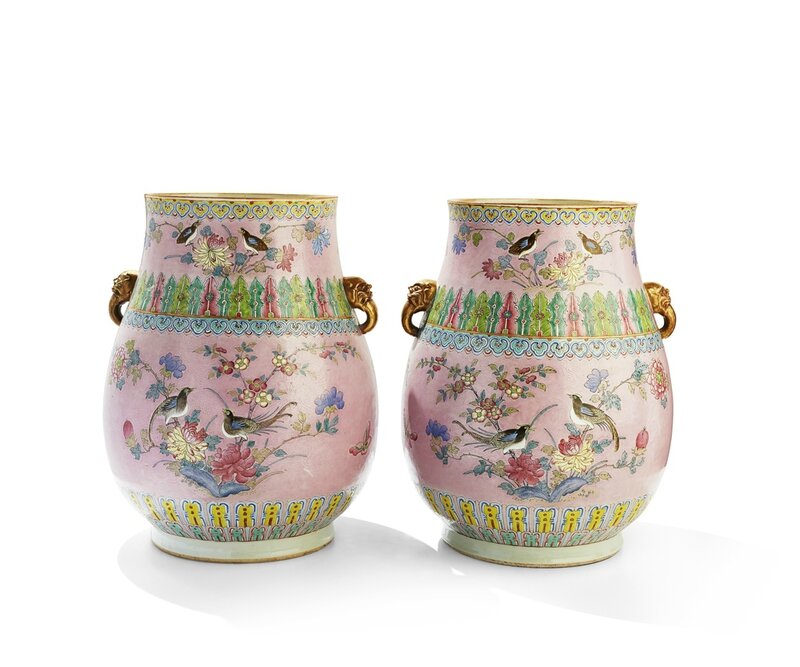 Lot 106. Magnificent pair of large famille rose vases, Qing dynasty, 18th-early 19th century. Estimate HK$ 1,000,000-1,500,000. Photo Lyon & Turnbull.
of pear shape supported on a short circular foot, with truncated neck and wide mouth, flanked by a pair of gilt dragon-head loop handles at the shoulder, the exterior elaborately painted with birds perched upon flowering branches and seven young ladies presenting emblems of longevity to Lan Caihe of the Daoist Eight Immortals, symbolizing the Daoist dream of long life and immortality, all on a rose-pink ground densely anke-incised with cloud scrolls and between ruyihead, plantain lappet and petal bands (2) - 50.2cm high
Provenance: From the Sze Yuan Tang Collection; acquired at the beginning of the 21st century from Imperial Oriental Art (established in 1993), then located at 790 Madison Avenue, New York.
This pair of vases were exhibited in the Hong Kong Maritime Museum from 2006 to 2015 with the inventory number HKMM2012.0005.0001-2.

Lot 81. A fine Guan-type cong vase, Southern Song dynasty. Estimate HK$ 900,000-1,500,000. Photo Lyon & Turnbull.
modelled after the archaic jade cong, the rectangular body supported on a short waisted footring, rising to a flat shoulder and a thick circular neck, each corner carved with eight raised horizontal bands, each within a raised rectangular panel, covered overall in a thick pale celadon glaze - 27cm high
Provenance: Property from a Midwest American collection.

Note: These vases imitate the archaic ritual jade objects in shape and colour, and represent one of the most characteristic types of Song ceramics. This form is known particularly from the Neolithic Liangzhu culture. A fine example from the Shanghai Museum, Shanghai, was included in the exhibition Gems of Liangzhi Culture, Hong Kong Museum of History, Hong Kong, 1992, cat. no. 57. A similarly glazed Cong vase is also situated at the Shanghai Museum. For an auction example of similar form, see Christie's sale in their Hong Kong rooms on 28th May 2014, lot 3402.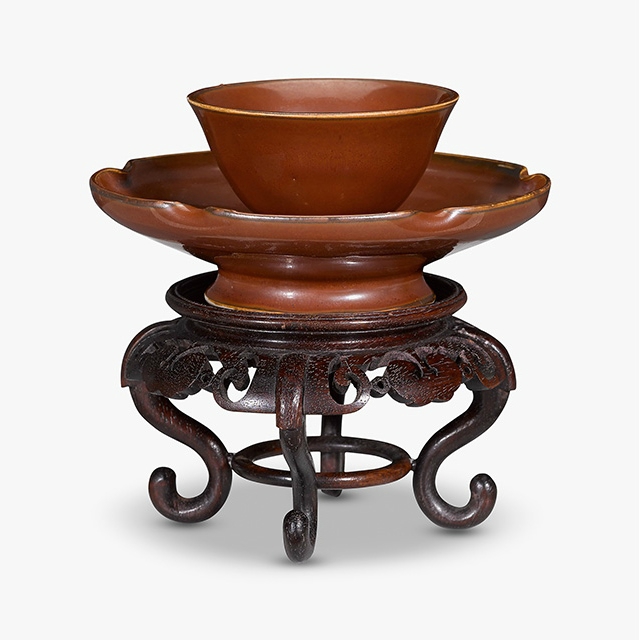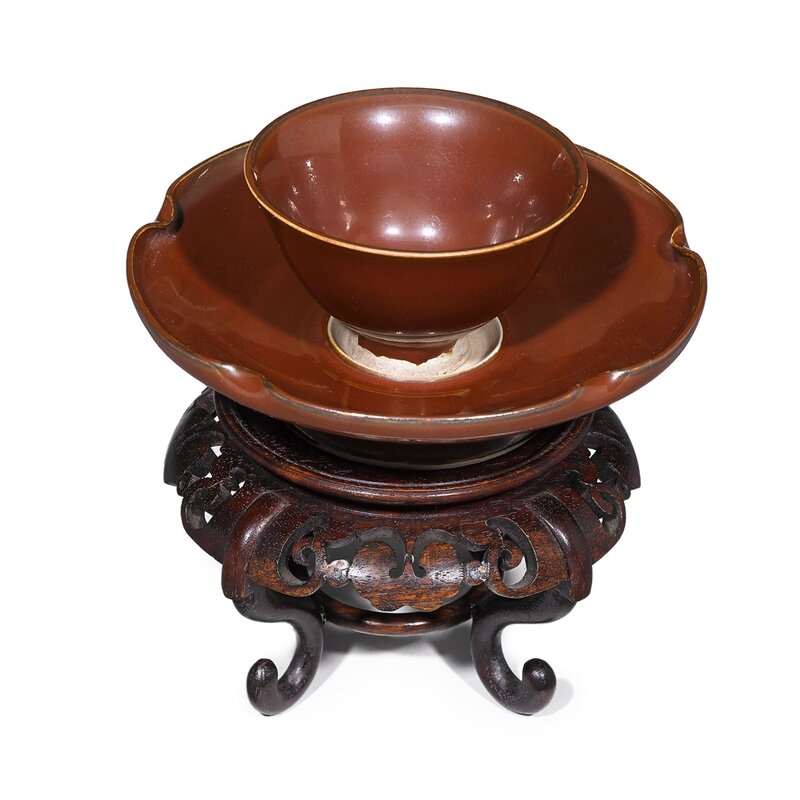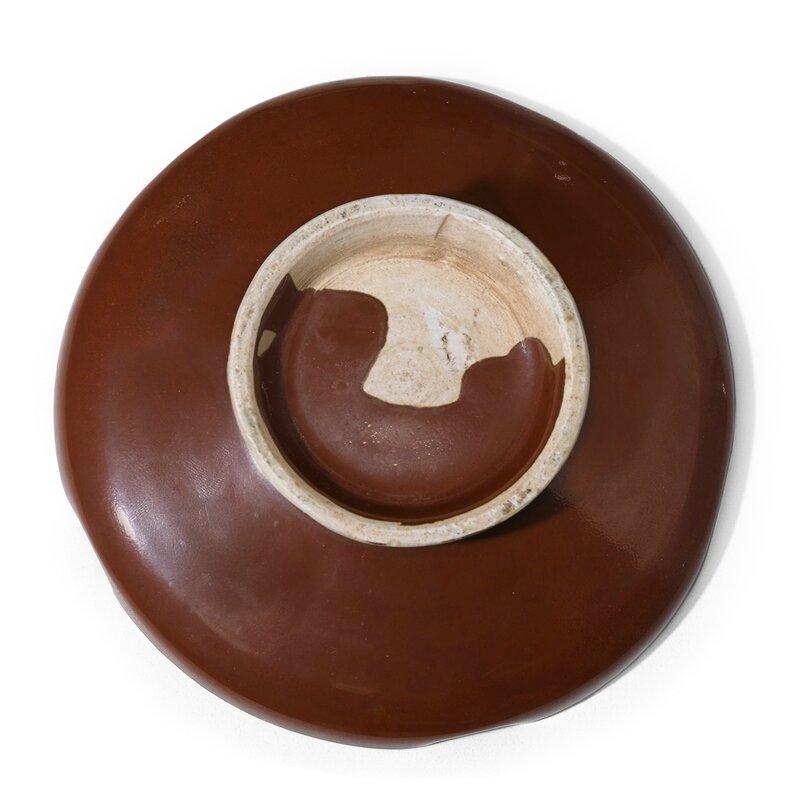 Lot 78. A fine Chinese Ding ware brown-glazed teacup and saucer, Song-Yuan dynasty. Estimate HK$ 900,000-1,600,000. Photo Lyon & Turnbull.
both covered in thick reddish brown glaze, thinning to the rims, the cup raised on a tall unglazed foot to a lightly everted rim, the saucer raised on a partially glazed splayed foot issuing folded, petal-like edge, the centre unglazed - 7cm high
Provenance: Property from a Midwest American collection.

Note: Brown glazes were utilized at several northern Chinese kilns in the Song and early Jin periods, including the Ding and Yaozhou kilns, and seem to have been especially admired on vases and forms associated with the tea ceremony. The Gegu Yaolun, published in AD 1388, notes that 'purple' (i.e. brown) and black Ding ware even more expensive than white Ding wares. See Sir Percival David, Chinese Connoisseurship - The Ko Ku Yao Lun, London, 1971, p. 141.
A similarly glazed tea cup and saucer set of a different form can be found at the Victoria and Albert Museum. For a covered tea bowl of similar glaze, see Christie's sale in their New York rooms on 26th March 2010, lot 1331.
Lot 4. A huanghuali table, Ming dynasty. Estimate HK$ 800,000-1,200,000. Photo Lyon & Turnbull.
of rectangular form with inset plank top, over twin drawers and shaped apron, raised on slightly splayed cylindrical legs - 80cm high, 95.3cm long, 50.8cm wide
Provenance: Property from a Midwest American collection; previously purchased from Ellsworth & Goldie, Ltd.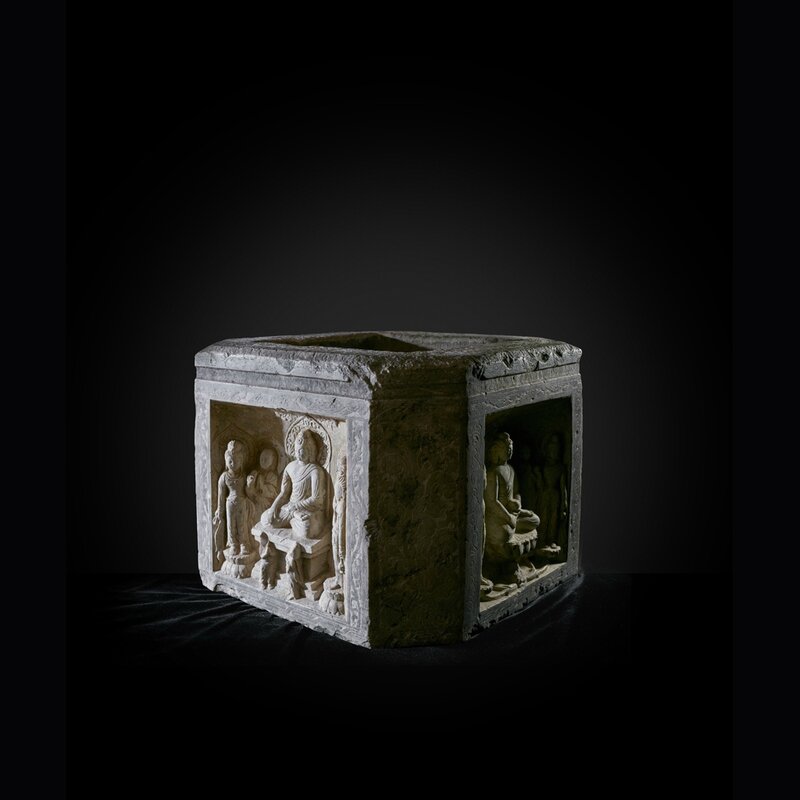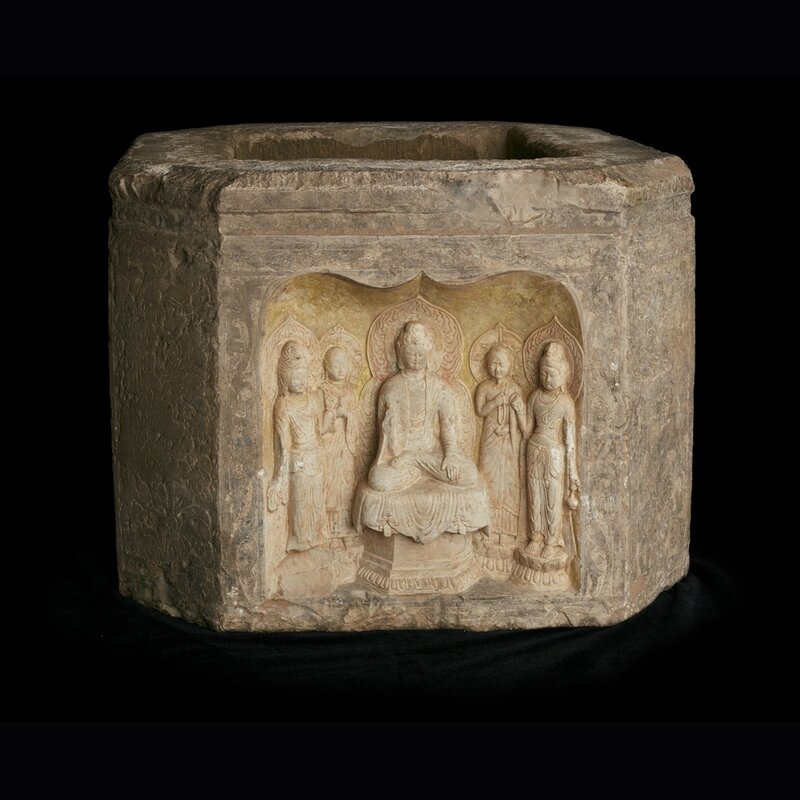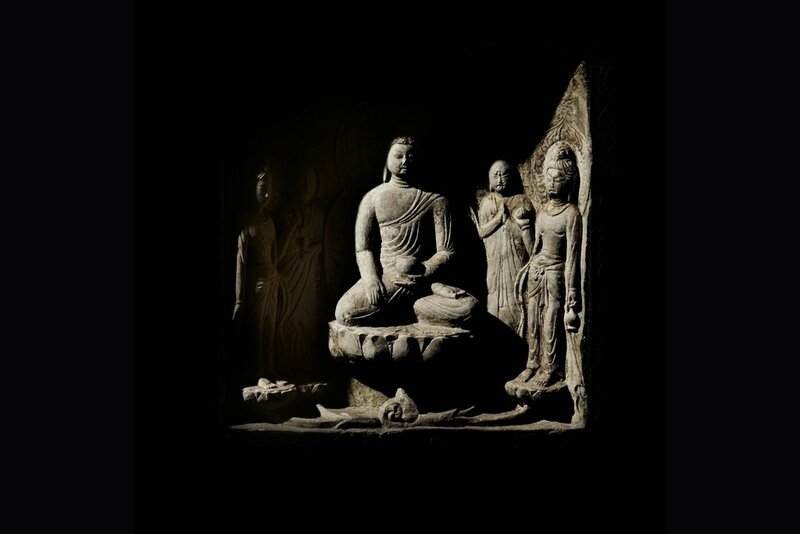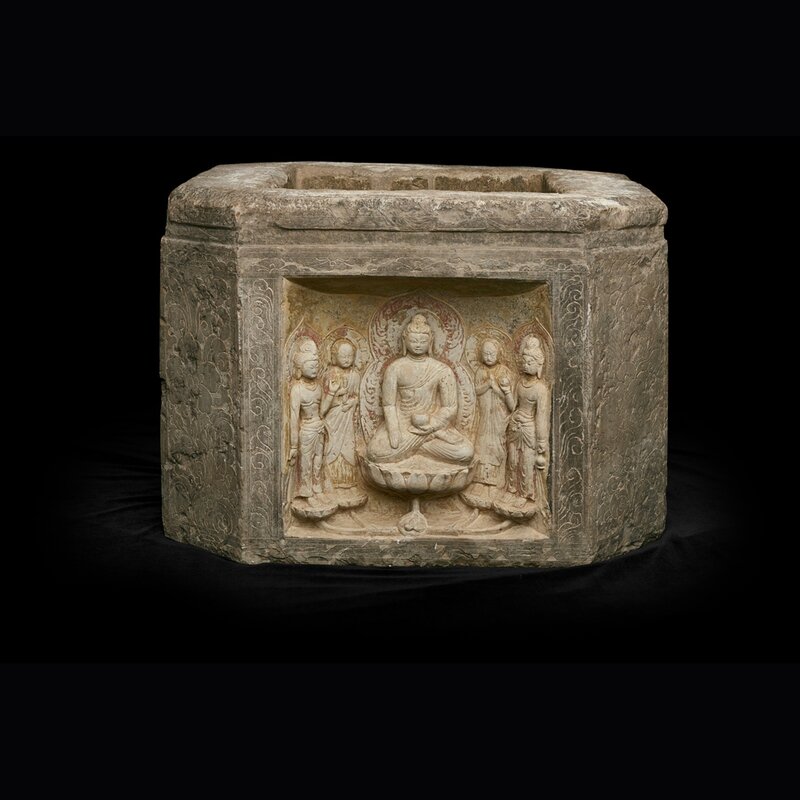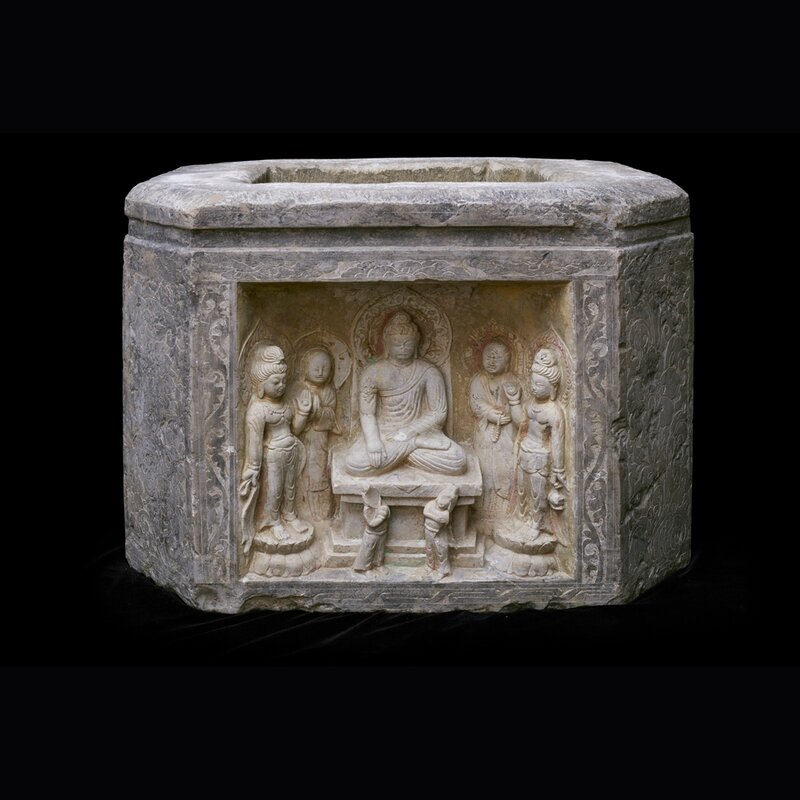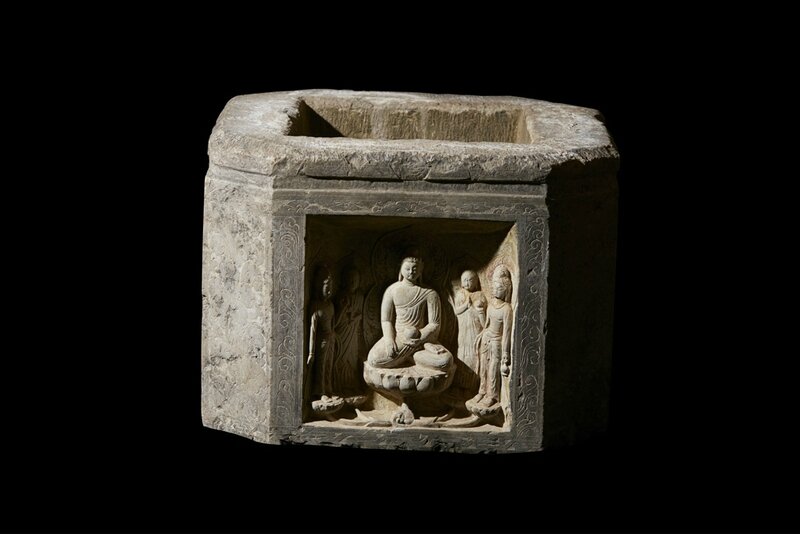 Lot 69. A rare and magnificent carved stone reliquary, Tang dynasty. Estimate HK$ 800,000-1,200,000. Photo Lyon & Turnbull.
of square section with chamfered corners, each of the four wider sides carved with a niche with bas-relief depictions of Shakyamuni Buddha seated in dhysanasana on a lotus blossom at the centre, flanked by bodhisattvas and disciples standing on lotus bases, the narrower sides incised with floral scrolls - 48cm long, 48cm wide, 34.5cm high
Provenance: From the Sze Yuan Tang Collection; acquired in Hong Kong in the 1980s.

Note: With the transmission of Buddhism from India to China, the custom of building pagodas for the sepulchral burial of Buddhist relics also transmigrated to China. The Indian stupa, which is shaped as an inverted bowl, served as the architectural model for the Chinese pagoda while at the same time coming to adopt Chinese characteristics.

Receptacles for Buddhist relics (Sanskrit: sarira) such as the present lot would have been deeply interred in a vaulted crypt in the foundation of pagodas. Among the ones that have been excavated in China, none can be dated before the 5th century. It was between the Northern Dynasties and the Tang Dynasty that the making of Buddhist reliquaries and their burial under pagodas of monasteries flourished.

The traditional Chinese Buddhist reliquary is typically a square-shaped stone chest with a chamfered lid. The stone chest however is only the outermost layer in a nest of three to five containers. The reliquary excavated from Dayunsi monastery in Jingchuan, Gansu Province, for example is comprised of four nested containers: a stone casket with a chamfered lid, a gilt bronze casket, a silver sarcophagus, and finally a gold coffin in which a glass bottle containing grains of sarira was found.

Of the stone reliquaries known, most are of plain form with the sides uncarved and only the lid inscribed. Stone reliquaries with bas-relief carvings around the sides, typically depicting scenes from the life of Shakyamuni Buddha, are extremely rare. A stone reliquary with bas-relief carving, also from the Tang Dynasty, is mentioned in P.E.Karetzky: A Scene of the Parinirvana on a Recently Excavated Stone Reliquary of the Tang Dynasty, in East and West, Vol. 38, No. 1/4 (December 1988), pp. 215-230.

For further reading, see Hong Yang: Ancient Buddhist Reliquaries in China and Korea, in: Chinese Archaelogy, Vol. 10, Issue 1, 2010.