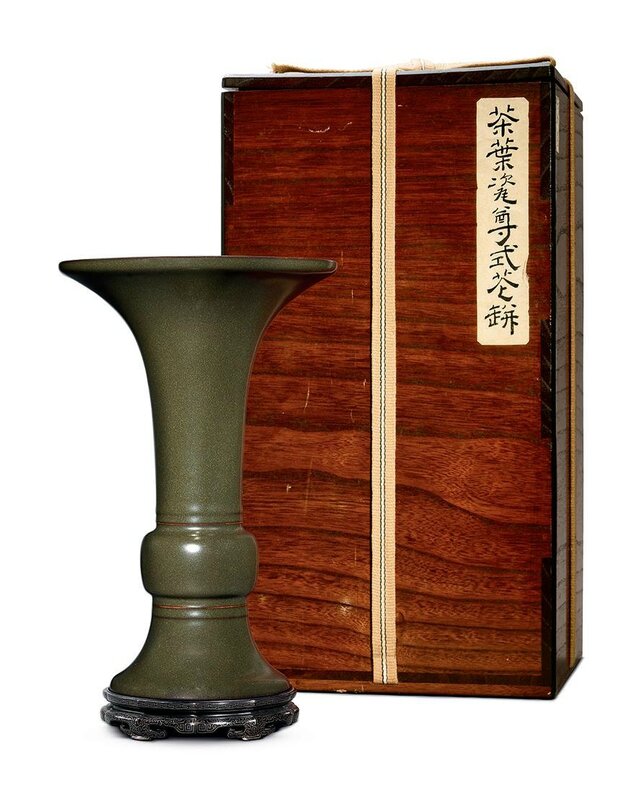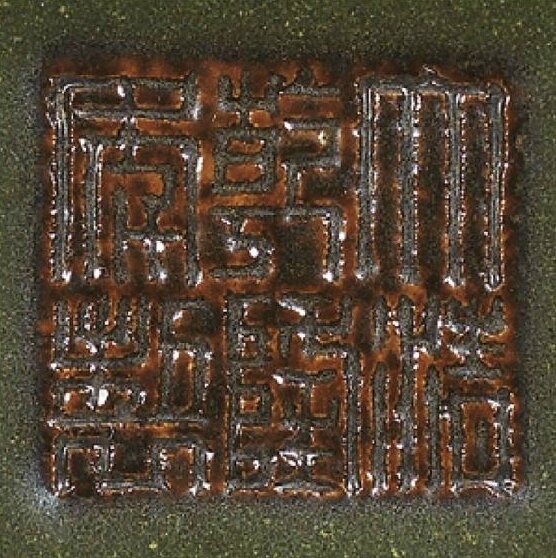 Lot 3217. A fine and very rare teadust-glazed gu-shaped vase, Qianlong impressed six-character seal mark and of the period (1736-1795). Estimate HK$4,500,000 – HK$6,500,000 (US$582,050 - $840,739). Photo Christie's Image Ltd 2016.
The vase is finely potted with a compressed globular mid-section above a short spreading foot, rising to a long trumpet neck with a wide flared rim, covered overall with an even rich unctuous glaze of deep, moss-green tone. 10 1/4 in. (26 cm.) high, silver wire-inlaid wood stand, Japanese double wood boxes
Provenance: Baron Fujita Family Collection
Sold at an auction organised by Osaka Bijitsu Club, held at the Baron Fujita family residence, on 10 May 1929, no. 244 (a page from catalogue in fig .1)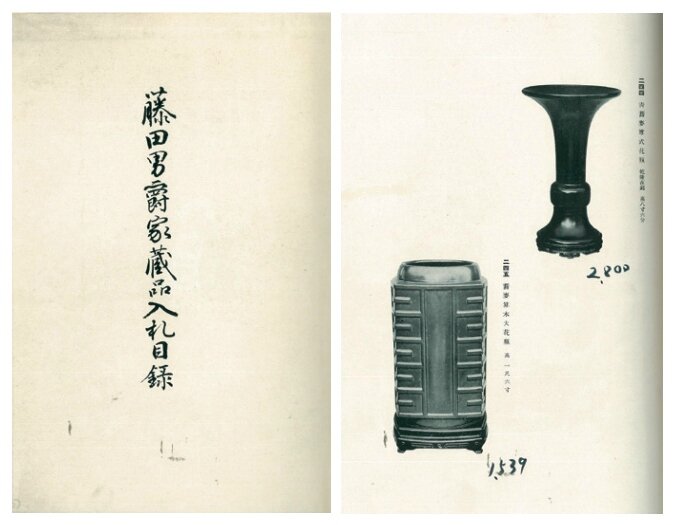 fig. 1 The present lot illustrated in the Catalogue of the Baron Fujita Collection, Osaka, 1929
Notes: Baron Denzaburo Fujita (1841-1912) made his fortune in construction, mining, and railroads, all of which contributed greatly to the modernization of the Japanese nation. He utilised his financial resources to assemble a private collection of masterworks, including choice examples of Chinese art. As a connoisseur of the Tea Ceremony, Denzaburo Fujita had a particular taste for tea utensils, and collected a number of masterpieces in the category, a passion that was shared by his son Heitaro Fujita (1869-1940), who particularly favoured Chinese works of art. The 'Yohen Tenmoku' Jian tea bowl in the Fujita Collection was acquired by Heitaro Fujita, and is one of the registered National Treasures in the Collection.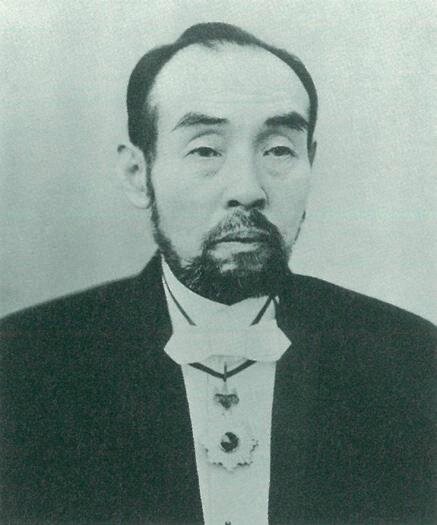 Fujita Denzaburō
An auction of items from the Family Collection was organised by the most prominent art dealers in Osaka in 1929. The auction was held at the Fujita family home.
The shape of this elegantly potted vase follows that of the archaic bronze gu from the Shang and Zhou dynasties. This adaption, however, is rendered with an undecorated surface omitting any complex motifs normally found on archaic bronzes, which accentuates the graceful contours of the vase. Vases of this form were made in various glaze colours during the Yongzheng and Qianlong reigns, but those applied with teadust glaze are rare. A smaller Qianlong teadust-glazed gu (19.2 cm. high) is in the National Palace Museum, illustrated in Monochrome Porcelains of the Ch'ing Dynasty, Taipei, 1981, colour pl. 30. A Qianlong teadust-glazed gu of smaller size (20.5 cm. high) and moulded with flanges on the body, is in the Baur Collection, illustrated in The Baur Collection- Chinese Ceramics, vol. 3, Geneva, 1972, pl. A395. Compare also to two Qianlong-marked vases of similar size and form, but covered with Ru-type glaze, one in the Baur Collection, illustrated in ibid, pl. A340; and another one in the Zande Lou Collection, illustrated in Qing Imperial Monochromes: The Zande Lou Collection, Hong Kong, 2005, pl. 27.
Christie's. THE IMPERIAL SALE / IMPORTANT CHINESE CERAMICS & WORKS OF ART, 1 June 2016, Convention Hall