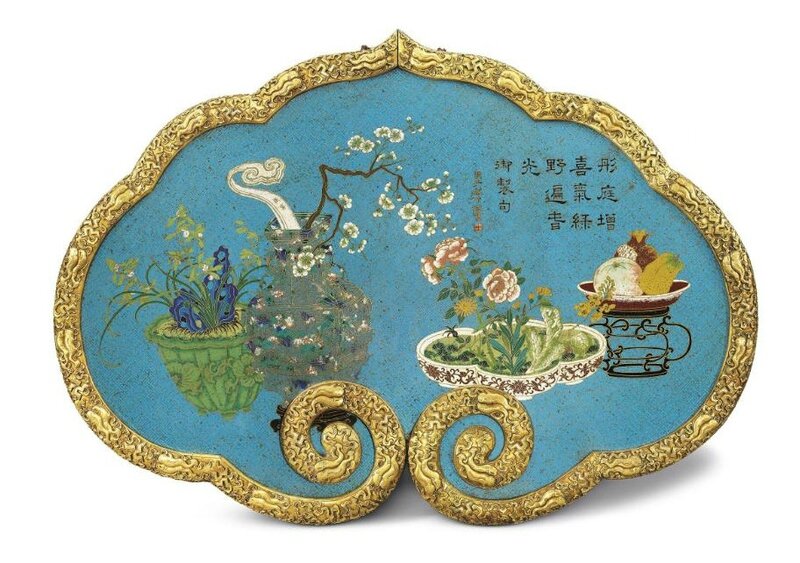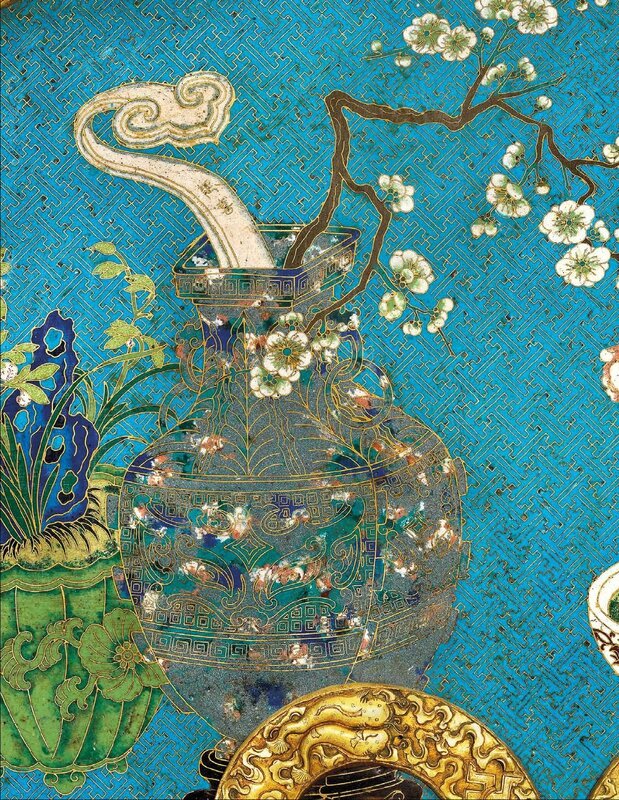 Lot 3028. A magnificent Imperial inscribed cloisonne enamel and gilt-bronze ruyi-shaped panel, Qianlong period (1736-1795). Estimate HK$12,000,000 – HK$15,000,000 ($1,552,592 - $1,940,741). Price Realized HK$15,640,000 ($2,023,545). Photo Christie's Image Ltd 2016.
The ruyi-shaped plaque is delicately enamelled in multiple colours, depicting various precious objects including a Jun flower pot; a bronze hu; a quatrefoil jardiniére; and a raised red-glazed dish, all below an Imperial poem enamelled in black, followed by an inscription and a seal in red, all enclosed within an elaborate gilt-bronze frame. 41 3/4 in. (106 cm.) wide
Provenance: The Heber R. Bishop (1840-1902) Collection
The Anderson Galleries, New York, early 1900s
Sold at Bonhams London, 11 July 2005, lot 58
THE PROPERTY FROM THE ROBERT CHANG COLLECTION
This year Mr. Robert Chang celebrates his 90th birthday, while Christie's Hong Kong is celebrating its 30th Anniversary. In the past 50 years many of the finest examples of Chinese art to come onto the market have passed through the hands of Mr. Chang, who is one of the most pre-eminent collectors and dealers in the field. Born in Suzhou, at an early age Mr. Chang moved to Shanghai where his father owned a well-known antique business. After 1949, Mr. Chang relocated to Hong Kong and there established highly successful businesses in textiles and antiques, while putting together one of the most remarkable collections of Chinese art. Heads always turn whenever Mr. Chang enters an auction room in his timeless dashing outfits. He sits in the front row and bids steadfastly which instantly energises any room.
Heber R. Bishop (1840-1902) was a New York banker, entrepreneur and philanthropist, most notably recognised for his jade collection, which was the first and largest collection of Chinese jades in the latter half of the 19th century in America. He formed his collection partly through the help of Stephen Bushell, who wrote extensively on Chinese art and ceramics. He bequeathed his jade collection of over 900 pieces to the Metropolitan Museum of Art.
Literature: Colorful, Elegant, and Exquisite- A Special Exhibition of Imperial Enamel Ware from Mr. Robert Chang's Collection,Suzhou, 2007, pp. 50-51.
Exhibited: Suzhou Museum, Colorful, Elegant, and Exquisite- A Special Exhibition of Imperial Enamel Ware from Mr. Robert Chang's Collection, 28 December 2007-8 May 2008, catalogue, pp. 50-51.
Notes: The inscription on the upper panel is a poem by the Qianlong Emperor, ending with chen Yu Minzhong jing shu, 'Respectfully written by your servant, Yu Minzhong', followed by a seal chen Yu Mingzhong in red enamel.

The inscription may be translated as:

The vermilion court is swelling with happiness;
The verdant field is basking in spring light!

This stanza is extracted from a poem composed by the Qianlong Emperor titled 'Poem on a Banquet for the Empress Dowager at the Zhonghua Palace', recorded in Volume 13 of Guochao Gongshi (History of the Qing Imperial Palace). Although the poem was composed by the Emperor, the calligraphy is based on an original by Yu Minzhong (1714-1779). Yu was an influential official at court who gained the title of Zhuang Yuan (ranking first in the Imperial civil service examination) in 1737, and was responsible for the compilation of Siku Quanshu (Complete Books of the Four Repositories).

The depiction of an array of precious antique objects became a popular motif on Qing-dynasty Imperial works of art, and this motif acquired the name bogu tu (Picture of Antiquities), after Xuanhe Bogu Tu, the catalogue of Song Huizong's archaic bronze collection compiled in 1123. Inspired by Song Huizong's spirit of archaism, the collecting of antiques became a fashionable pursuit amongst the literati, giving rise to the popularity of bogu tu motifs on works of art in succeeding periods. Bogu tu was a particularly favoured motif on hanging panels, intended to decorate the homes of literati, but it was seldom appropriated for cloisonné enamel pieces. The present cloisonné enamel panel, decorated with a range of antique objects rendered in brightly coloured enamels and enclosed within an ornately cast gilt-bronze frame, reflects the Qianlong Emperor's pursuit of achaism as well as Imperial splendour. Large-sized cloisonné enamel panels in the shape of a ruyi are also highly unusual. Thus the present panel is truly remarkable not only for its exceptional workmanship and richness in colours, but also for its intriguing combination of a rare motif and shape with a visually striking and pleasing execution.

Two rectangular panels depicting landscape scenes and also with calligraphy by Yu Minzhong are in the collection of the Palace Museum, published in Compendium of Collections in the Palace Museum - Enamels (3) - Cloisonne in the Qing Dynasty (1644-1911), Beijing, 2011, pls. 63-64. Another similar example with Yu's calligraphy is in the collection of the National Palace Museum, illustrated in Enamel Ware in the Ming and Ch'ing Dynasties, Taipei, 1999, pl. 45.
Christie's. 30 YEARS: THE SALE, 30 May 2016, Convention Hall